The Wave, Muscat comes good
It was a sweltering hot day in Muscat, Oman, for the final showdown at the Extreme Sailing Series, where the venue saved the best for last, with winds that blasted across the course at a steady 20 knots, with gusts of 26, before a final race shoot out.
Four teams were gunning for the top spot and there was no room for error, with just four points between them – and 20 points on the table for the taking. The defending champions and home team on The Wave, Muscat was strong from the gun, with an aggressive start that saw them lead the fleet of the line, and Leigh McMillan, Sarah Ayton, Pete Greenhalgh, Kinley Fowler and Nasser Al Mashari didn't look back, snatching victory from the hands of the Kiwi, Swiss and Danish teams in contention, to claim not only the win, but taking them to the top of the overall Series leaderboard.
"It was too close for comfort, that's for sure," commented an elated McMillan after racing. "Today we had a fight on our hands, we knew we had to be exceptional and raise our game. I was just enjoying the sailing, the challenge of it, the situations that were tight and it all worked out for us. The wind came in and it was absolutely amazing sailing out there, absolutely perfect for the Extreme 40s."
Today's racing was all about brute power and strength, requiring a huge shift in mindset for the teams, having raced in light breeze all week.
The eleven Extreme 40s powered off the start line, blasted to the windward mark and wrestling their boats to bear away around the top mark, before unfurling their gennakers and flying downwind, hitting speeds into the high 20s.
One team which had the formula nailed was Emirates Team New Zealand, with two race wins and a third place in the final race enough for them to claim second overall, bettering their fourth place finish from Singapore, which for skipper Dean Barker, was the objective this week: "We wanted to improve after Singapore, we wanted to sail well and get on the podium here, and we've achieved it. There's still a lot we can improve on but in saying that everyone struggles with the conditions and the guys remained very positive throughout even when things didn't feel like they were going our way. We had a good chance to get onto the podium, and to get a second place we're really happy."
Overnight leader Alinghi came out of the blocks with a win in the first race of the day, but couldn't replicate the performance, and a fourth place in the last race left the Swiss settling for third, one point behind the Kiwis. The team's helmsman Morgan Larson commented: "We should be pleased with the result in such a tough field but we were quite disappointed with how we sailed today. We need to do a better job staying out of the fray and we didn't achieve that today and The Wave, Muscat did and you've got to hand it to them, they earned the win. It's a long season ahead and if we can keep on the podium this year we'll have a shot at the title at the end of the year, this will be our objective."
The Danish match racing experts on SAP Extreme Sailing Team came heartbreakingly close to a podium position, leading the pack for most of the day, but found themselves stuck in the tussle mid-fleet in the final race, and unable to make a clean break, with a sixth place in the final race leaving them in fourth place overall. However the team has shown a marked improvement from Singapore, where it finished tenth, and co-skipper Jes Gram-Hansen was quick to talk about what they've learned here: "We're a little bit disappointed not to be on the podium. We sailed a great regatta which literally came right down to the last race. In hindsight I think we sailed well, which is what we will take away from this. It was a difficult day today with good breeze but it was a bit up and down for us. We were a little unlucky at times but overall we sailed pretty well. I think we have a great team, a good boat and the pace to match the best teams in the Extreme Sailing Series."
The Russian skipper on Gazprom Team Russia Igor Lisovenko seemed to have a point to prove today, and the team, helmed by two-time Series winner Paul Campbell-James, was moving up the leaderboard, relishing the stiff breeze with a string of consistent results elevating them to fifth place overall – topping their eighth place in Singapore. Campbell-James commented: "We got another bullet today, and we almost won the last one, but Leigh (McMillan) just managed to sneak around us on the second leg. Today was the best day of racing this year with a good bit of breeze, it got really exciting there in the middle where the leaderboard was constantly changing and it was just really fun."
Realteam finished the event in sixth place, five points behind the Russians, leaving it a solid fourth place on the overall Series leaderboard, with Red Bull Sailing Team in seventh on 145 points, one point ahead of Groupama Sailing Team.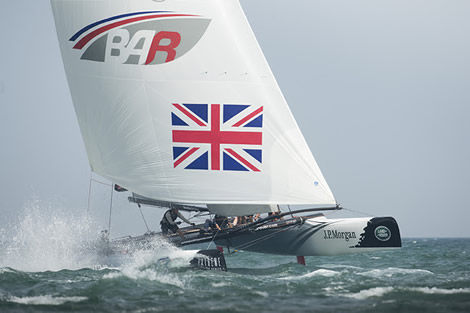 Heading into the final day, J.P. Morgan BAR was within touching distance of the podium, but the Brits struggled under the building breeze, before a burst hydraulics pipe in the penultimate race forced them to retire for the day, missing the final two races of the event and dropping them down to their ninth place position.
Tactician, Paul Goodison explained: "It was a tough day out there today. We sailed reasonably well for the first race then struggled a little bit with some of the situations we got into in the next few races, so things weren't going great. Then we realised that we had a a hydraulic problem, that got worse and worse to the point where we couldn't pull the sails in."
Despite an attempt to fix the problem by the shore team, J.P. Morgan BAR was unable to compete in the double point finale. A disappointed skipper, Ben Ainslie commented after racing: "It was a really tough day with the change of conditions and having to learn a whole new skill set in the boats. Unfortunately the gear failure really cost us the final two races and knocked us back in the overall standings so, that was very disappointing.
"But during the event there has been a lot of positives; yesterday we really developed our light air sailing skills so we are moving forward but it's a very difficult challenge in such a highly talented fleet. The fact that we are new to the class and because of the logistics we are unable to train - so effectively we are training through the series so that makes it challenging."
Pippa Wilson concluded: "We have a few things to nail down for China, expecting it to be quite windy so potentially lots of drama and action! But really looking forward to the event and moving forward as team."
Oman Air and GAC Pindar struggled for consistency in the testing Omani conditions, but both showed moments of brilliance, posting a handful of results in the top half of the fleet over the course of the four-day event.
Muscat has delivered some incredibly hard fought racing over 29 races, and the fleet have just under six weeks to regroup, debrief and prepare themselves for racing in Qingdao, China, presented by Land Rover, over 1-4 May.
Results

1st The Wave, Muscat (OMA) Leigh McMillan, Sarah Ayton, Pete Greenhalgh, Kinley Fowler, Nasser Al Mashari 188 points.
2nd Emirates Team New Zealand (NZL) Dean Barker, Glenn Ashby, James Dagg, Jeremy Lomas, Edwin Delaat 180 points.
3rd Alinghi (SUI) Morgan Larson, Anna Tunnicliffe, Pierre-Yves Jorand, Nils Frei, Yves Detrey 179 points.
4th SAP Extreme Sailing Team (DEN) Jes Gram-Hansen, Rasmus Køstner, Thierry Douillard, Peter Wibroe, Nicolai Sehested 176 points.
5th Gazprom Team Russia (RUS) Igor Lisovenko, Paul Campbell-James, Alister Richardson, Pete Cumming, Aleksey Kulakov 158 points.
6th Realteam by Realstone (SUI) Jérôme Clerc, Arnaud Psarofaghis, Bryan Mettraux, Thierry Wassem, Nils Palmieri 153 points.
7th Red Bull Sailing Team (AUT) Roman Hagara, Hans-Peter Steinacher, Mark Bulkeley, Nick Blackman, Stewart Dodson 145 points.
8th Groupama sailing team (FRA) Franck Cammas, Sophie de Turckheim, Tanguy Cariou, Thierry Fouchier, Devan Le Bihan 144 points.
9th J.P. Morgan BAR (GBR) Ben Ainslie, Nick Hutton, Paul Goodison, Pippa Wilson, Matt Cornwell 137 points.
10th Oman Air (OMA) Rob Greenhalgh, Tom Johnson, Will Howden, Hashim Al Rashdi, Musab Al Hadi 123 points.
11th GAC Pindar (AUS) Seve Jarvin, Troy Tindill, Ed Smyth, Sam Newton, David Gilmour 94 points.
Extreme Sailing Series™ 2014 overall standings
Position / Team / Points
1st The Wave, Muscat (OMA) 19 points.
2nd Alinghi (SUI) 18 points.
3rd Emirates Team New Zealand (NZL) 16 points.
4th Realteam by Realstone (SUI) 13 points.
5th Groupama sailing team (FRA) 9 points.
6th Red Bull Sailing Team (AUT) 9 points.
7th Gazprom Team Russia (RUS) 9 points.
8th SAP Extreme Sailing Team (DEN) 8 points.
9th J.P. Morgan BAR (GBR) 6 points.
10th Oman Air (OMA) 3 points.
11th GAC Pindar (AUS) 2 points.
Back to top
Back to top