Rán 5 - latest Mini Maxi
Winning all but two races at Gaastra PalmaVela after just two weeks in the water, proved that Niklas Zennström's brand new Rán V has set a new benchmark in the Mini Maxi class.
Launched in 2009, the original Rán II, now Roberto Tommasini Grinover's Robertissima, was clearly one of the most successful race boats of her time, with a career that included two Rolex Fastnet Race overall victories plus an impressive four Mini Maxi World Championship titles. However five years old – an impressive amount of time to remain competitive – the boat was at times beginning to show her age.
As Skipper and Team Leader, Tim Powell explains: "We felt that the old boat had a very good career, but it was being a bit superseded. In some conditions that boat is super fast, but over a whole range, particularly offshore, it was starting to struggle, losing stability."
Their previous Mini Maxi apparently used to struggle in light airs, but after shedding some weight and various other mods ended up performing well particularly in these conditions, particularly sub-11/12 knots. Fortunately this is what they saw last September in Porto Cervo, the team's last regatta in the boat before it was sold to her new Italian owner.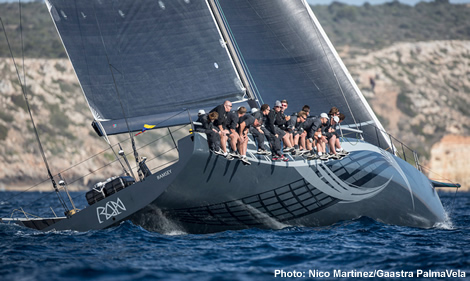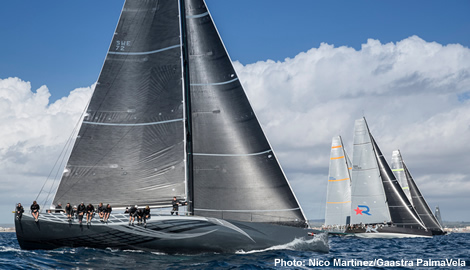 Compared to some Mini Maxi campaigns, which stock a rich armoury of rigs, sails, keels, etc, the original Rán was relatively modest and, for example, still has her original rig. The boat was fitted with a new fin in 2012 when the newer Judel Vrolijk designs Bella Mente and Stig came out with slightly deeper draught. As Tim Powell says of the old boat: "I think Judel Vrolijk got it pretty right with that boat, straight off the drawing board. That means you didn't have to do as much optimisation afterwards." And still she performs – at PalmaVela one of the two races not won by the latest Rán, was claimed by Robertissima.
Commissioning a new Mini Maxi is a slightly unusual process for while most Grand Prix race boats are designed and optimised to a box rule, Mini Maxis are designed to race under IRC, albeit with the constraints placed on it by the International Maxi Association, that governs the class, of 72ft maximum length and a maximum IRC TCC of 1.600. Surprisingly, given that the boats are somehow built to a secret rule, the latest designs – the two 2012 generation JVs and the new Mark Mills-designed Alegre, launched last year – are all converging in terms of their overall dimensions.
The new Rán has a draught of 5.2m, a beam of 5.75m and in fact she is actually 40mm longer than her predecessor, which was built before the 72ft maximum length limit was introduced (however this small difference has allowed them to gain a crewmember – they now up to 22 on board.) She has a narrower waterline and with less wetted surface area the aim is for her to perform at least as well as the old boat in light conditions.
Displacement and right moment were two targets the design team aimed for. Her displacement is fractionally lighter than the old boat which weighed in at 16,860kg at the Worlds in September, compared to 16,750kg for the new boat. According to Tim Powell they knew the righting moment of their previous boat and could make an educated guess at the equivalent figures for their competition but he admits that under IRC it is never 100% certain how the numbers will turn out.
Also the displacement seems heavy if you compare a Mini Maxi to a more complicated, albeit slightly shorter, VO70, which weighs 14,500kg. "The rule pushes you in that direction," explains Powell. "We are a bit lighter than before, but you want the same righting moment as the other boats."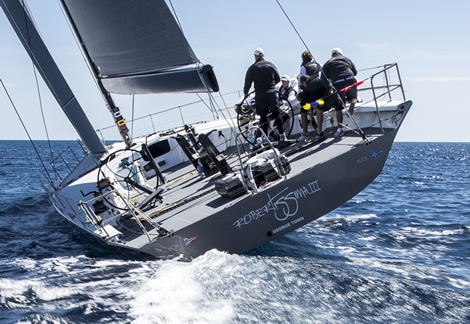 However the new Rán is a step up over her competition, particularly in terms of her hull shape. The old boat had a single chine, and aft her topsides flared out above this. However the new shape is a development of that used on the last generation Judel Vrolijk TP52 designs, such as Audi Sailing Team powered by ALL4One. This features a chine, with no flare above this – this now believed to get penalised under IRC – and a second, much softer chine below the waterline.
Niklas Zennström explains: "Rán 2 was the first of her generation, although it was still a development from Numbers [the Judel Vrolijk 66]. Then we had Bella Mente and Stig (which is now Jethou), which were refinements and it is like what you see with the TP52 fleet - there were several years when there were big steps in refinements and over the last few years the steps haven't been so big. But we feel that also, making a choice of the type of boat with Rolf [Vrolijk] and Tobias [Kohl – from Judel Vrolijk] that going for the new hull shape was the right thing to do and that we should take a little leap of faith. We felt we did enough simulations and tank tests, that it would be a jump forwards."
Unlike the TP52s which are strictly windward-leeward machines these days, the Mini Maxis must be genuine all-rounders, capable of sailing inshore and offshore, competitive on both windward-leewards and coastal races. The program for the new Rán for example will be similar to that of the old boat, with the focus being on major offshore races such as the Fastnet, but also inshore/coastals like the World Championship in Porto Cervo. This year the boat will also be competing in the Giraglia Rolex Cup and the Middle Sea offshore races, with the RORC Caribbean 600 and the Fastnet prospects for 2015.
"The boat has to cover a lot of bases, so I don't think you can really try and pick a wind speed too hard. It needs to be a good all-round performer," says Powell.
Given that one of the last boats we stepped on was a Volvo 65, the new Rán V feels like she has a lot less freeboard and is a lot more inshore-orientated. In fact, according to Powell, this is not the case - her freeboard is much the same as the old boat and even her maximum beam is only 10mm more. However she does hold her maximum beam at deck level all the way aft and the blister coachroof has also disappeared, making her deck sleek and flush.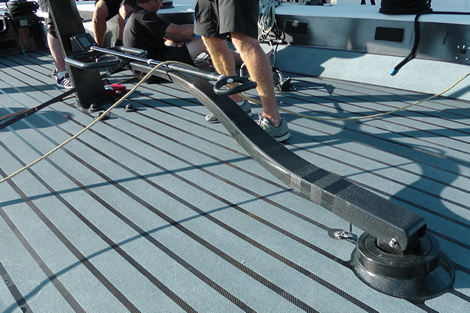 Tiller steering
One of her most talked about features is that the new Rán is the first Mini Maxi to have tiller steering, which over the last decade has been slowly featuring on larger and larger boats (remember Peter de Ridder's Mean Machine which was the first TP52 to go this way seven or so years ago and today no modern 52s have wheels).
In fact, even better, the new Rán can convert between tiller steering and twin wheels. Barely noticeable when she has the tiller in are two little bobbles in her cockpit sole grip tape that are the apertures for where the posts for the wheels go either side of the cockpit.
"Niklas loves the tiller on the TP52 and we spoke about it to Judel Vrolijk, they were like 'what a crazy idea, why not?' So we thought we'd give it a go and it's actually been fantastic so far," says Powell. "We've been out in 25 knots blasting downwind at 20+ knots and driving with the tiller hasn't been an issue. The only thing is that you are not going to go power reaching across the Irish Sea with a tiller, otherwise you wouldn't be able to walk for about two days afterwards."
So the wheels will go in for the offshores and Powell says there's very little difference in weight between the two systems. There's been no compromise on the size of the rudder blade, although for the designers it was a case of getting the balance right. "It makes the boat very nice to drive especially in those lighter airs when the wheels are struggling."
At present the tiller hooks directly onto the top of the rudder stock. With the wheels are in use the steering cables connect to a quadrant on the rudder stock, as normal.
A side effect of having a tiller is that the tiller is understandably large – around 0.5m longer than the one on their TP52 and as a result the helmsman sits further forward in the boat. "When Niklas is helming I think there are 13 people behind him and there are only a few people in front to protect him," says Powell, who sits directly behind the helmsman. "I have to say it's working really well because actually I'm right next to the runner guy and I have good comms with him and Jim our main sheet grinder. And Niklas gets to hear it all."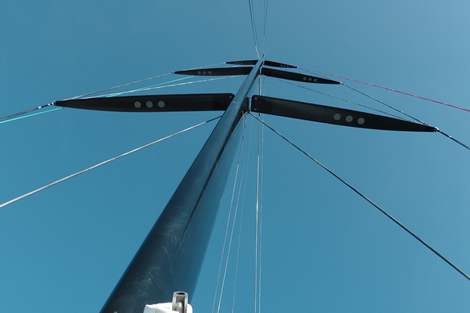 Back to in-line spreaders
The new Rán follows Hap Fauth's Bella Mente in her Southern Spars TPT carbon fibre mast having in-line spreaders (on the previous Rán they were swept back by 20°) with carbon EC6 shrouds. To control the mast there are both backstays and checkstays, both fitted with deflectors. On the positive side, in-line spreaders gives you greater control of the rig and flexibility in mainsail shape, but the downside is the necessity for more attention to be paid on the backstays – Bella Mente for example recently dismasted during the Voiles de St Barts, the spar believed to have broken just above the gooseneck.
The mast has a Harken track and cars for the mainsail luff rather than a bolt rope (like the Volvo 65 set-up), as Powell explains that if you have a hybrid car/bolt rope system it ends up being heavy and they have no plans to built separate inshore and offshore rigs.
The runners are carbon EC6 but covered in a new 'speed film' which Southern Spars has developed that is thinner, lighter and lower windage than conventional braid.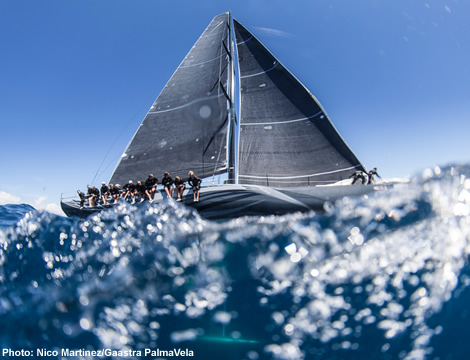 Part of the reason to go with in-line spreaders is that it makes trimming the mast easier with less recourse to hydraulics which are now believed to be being penalised under IRC. While rams are still used for many sail controls, they have managed to shed them from the forestays and mast butt, which are typically required for swept-back spreader rigs.
Harken supplied the boat's extensive winch package and some of the winches have ceramic coatings. This is all bedding in, but before Palmavela even started, less than two weeks into sailing her, Powell admitted they'd already burned through one set of runner tails and sheets.
The winch system and the carbon fibre pedestals were designed and in the latter case manufactured by Jon Williams at StayInPhase. As before the grinders not only power the winches, but the rotary pump for some of the hydraulics, as well as the below-deck reel for the spinnaker take-down line.
The hydraulic system was designed by Ian Lovering. Typically the rotary pump is used for items where there is a long travel in the hydraulic cylinders, such as the backstay deflectors, runners and checkstays, whereas other smaller functions, such as the jib sheet control, outhaul and cunningham, are operated by hand pumps.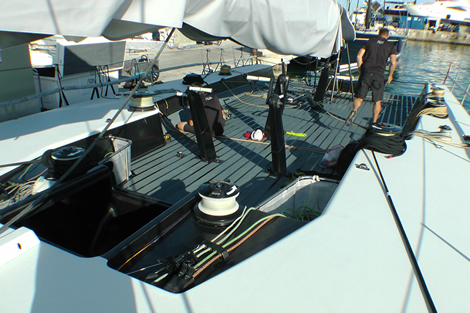 KISS
Generally throughout the boat efforts have been made to simplify everything and improve efficiency. Powell gives an example. "There is a lot of horse power - you've got four pedestals and eight people - but something weird with these boats is that if you want to hoist an 80kg guy up the mast, you need six people on the handles. That's not just because of the gearing, but because of the added fraction. So we've work hard at reducing that. If you can trim the sails in quicker, you can get going faster."
They have also simplified what each pedestal does. Instead of each grinder being able to lock in anything via his cockpit sole mounted button, they have reverted to each pedestal having more specific tasks. "On the old boat, the mainsheet grinder had about eight buttons to control the whole boat, we are going back to the old way of doing things," explains Powell. "We've tried to split things up so it doesn't all fall on one guy trying to do absolutely everything."
However it is still possible to hook in all the pedestals for hoists, although, for example, the aft pedestal is primarily for operating the hydraulic rotary pump for the backstays. "There is a bit of a combination of how you come into the bottom mark - these guys have got to do a bit of hydro work and then they'll help the string drop and then they finish off the hydro, get the main sheet in and get the runners up, so they're quite busy."
They is still some art of grinding on board and on the Mini Maxi it is still not a case of getting big guys in to provide the horsepower while someone else punches the buttons to direct their efforts.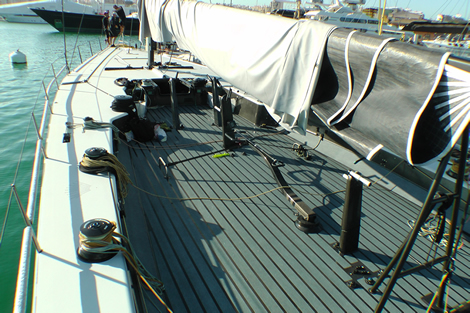 Cockpit
In terms of their deck geometry, Powell says they looked at many ideas, including the Alegre-style sloping deck, but in the end opted for something similar to the Stig arrangement, bringing the primaries closer to the jib trimmer. "The problem is that we all sheet so close now – the jib sheeting angle is 3-4° these days, so all the jib trimmer sees is the back of the jib which makes it quite hard for him to trim and he can't come in too much because he'll encroach on what everyone else is doing in the cockpit."
They have also opted for twin main sheet winches instead of a single main sheet winch mounted on central pod for the obvious reason that there is now a tiller taking up the central cockpit area. While this will have resulted in a slight weight penalty, Powell points out that again it improves efficiency and now up the traveller is actually a harder wind than the main sheet. "The old style system with the central pod and the main sheet running along the boom to the mast then back along the floor of the boat, has a lot of friction."

The traveller has its own pair of smaller winches located aft and slightly outboard of the main primaries. The spinnaker sheets are on a system similar to Diverse's Reeler that sucks the sheet ends down below to keep the cockpit clear. "They seem to work alright, but you have to manage them," advises Powell.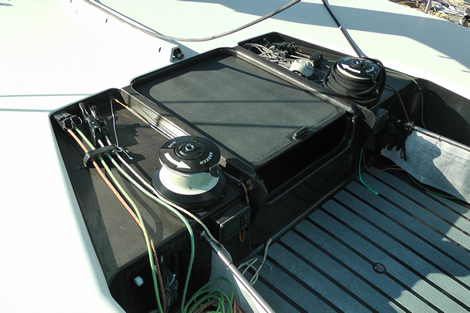 The pit is divided in two around the companionway as it was felt on a boat of this size it is necessary to have two pitmen – in this case Brendan Darrer and Alan Smith. Lines run aft from the mast in a well beneath the coachroof to ensure watertight integrity as well as a clear deck.
The jib sheet fairlead is operated from a lateral track each side with the line controlling the up-down leading forward and the car on the track, determining inboard-outboard control (and the sheeting angle) is operated via a hydraulic ram located on deck under a cover immediately aft of the mast.
In a tiny well outboard of these tracks is the end of the hobble line. Tim Powell 'reminds us' what this does: "You are coming into the bottom mark and you hoist the jib, clip that on, put it on the leeward traveller winch, wind it in and then the jib's is kind of in when you come to drop the spinnaker and then once the sheet's off then you can just suck the jib over. It allows us to maintain better control basically.
It's a John Gundersen idea - he was fighting hard for that one."
Flush mounted in the deck and cockpit sole are some cameras. This isn't the full-on VSPARS system some boats have, but something navigator Steve Hayles put together. Rather than being a trimming tool, it is much more basic and allowing the team simply to keep a record of sail shapes at particular moments and to see how sails deteriorate. "I have a little button by the main sheet winch which I press and it fires off a shot for the two main cameras," says Powell - so stills, not video.
The 3Di sails have been designed by Mickey Eckhart with the sail development program run by Jeremy Robinson out of North UK. In terms of the sail areas, they are all similar to the last boat with a 180sqm mainsail and 130sqm working jib while the biggest kite is 490sqm. The inventory obviously changes depending on if they are doing windward-leewards or coastal/offshore races when they break out the reaching inventory. All the downwind and reaching sails are masthead with the exception of a fractional Code 0. All the halyards are on locks or at least can be if required.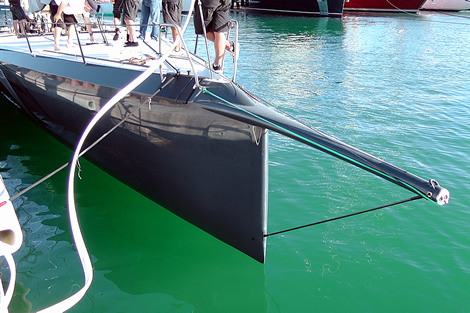 Foredeck
Most noticeable about the foredeck is that it has a chamfered deck to hull join, a la VO65 and modern day IMOCA 60s. This offers a lighter solution to the conventional rounded gunnel as one side of a triangle is obviously lighter than two and typically even with female tooling and master builders like Persico involved, creating a radiused edge requires use of filler. Aft of the shrouds there is a conventional radiused gunnel as here the crew will be hiking and it is necessary to keep their weight as far outboard as possible.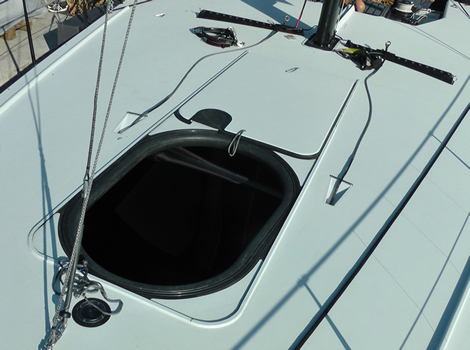 On the foredeck there is a sizable hatch, slightly skewed with its aft end further to port, fitted with a pneumatic seal to keep it watertight. Below the hatch on its aft side is a giant carbon fibre roller (made by StayinPhase) that encourages spinnakers to be sucked below without destroying them. On the previous Rán, the dropline for the spinnaker ran aft down the port side of the boat, across the transom and then up to the starboard side to a reel located beneath the starboard pit winch. On the new boat the dropline goes aft down the port side but then directly forward to its reel. According to Tim Powell this is an evolution of the arrangement they have on their TP52 and again the aim is one of efficiency and reducing friction.
Unusually the bowsprit on the new boat has shrunk slightly. This is because thanks to the in-line spreaders the whole sail plan has been moved aft, so the boom length remains similar to the old boat at around 10m. Powell explains: "A swept back spreader rig would be roughly 30-40cm further forward in a boat so you can have the same STL. So in a regatta where it's the bowsprit that crosses the line first, in starts we have to be 30cm closer to the line!"
We weren't allowed to take photos down below but to our untrained eye there wasn't anything particularly radical. Between the two ring frames around the keel area there is a nice carbon fibre seat from where Steve Hayles gets to navigate from wirelessly, unless he's on deck. The ring frames however are deeper than they were on the older boat. There is an enclosed head compartment mid-ships immediately forward of the mast fitted with a smart carbon fibre potty.
Compared to a TP52, there is much less of a cat's cradle down below as on those boats they rely considerably more on purchase systems rather than hydraulics.
While they weren't fitted when we saw the boat at PalmaVela, in offshore mode, there are pipecots that will be fitted down each side of the boat aft.
Construction
The new Rán took roughly six months to design with a build time of around nine months – fairly swift for a boat of this size. Construction was fully in carbon-Nomex, out of carbon fibre female tooling, all of it CNC milled and as Tim Powell says: "Wherever they can make a mould, they make a mould." That leads to incredible accuracy, not only of the build, but of the weights involved. As a result the boat came out within 10kg of her design weight... "That's pretty impressive. They've done a very good job."
The overall quality of her build is fantastic. Construction was this time carried out by Persico in Italy with uber-builder Jason Carrington on board as project manager (having previously done the Abu Dhabi VO70 there). For Persico, building yachts is a relatively small part of their business as they principally work for the automotive industry and they are also known for being the mould maker of choice for the Italian boating industry.
Numbers
In terms of performance, the new Rán is expected to be quicker across the board. Upwind in anything over 10 knots they are sailing at 10.5-11 knots while in 25 knots off the breeze they can do 21 knots and two sail reaching 18.
"The top speeds on most of these boats always come on deliveries normally back from Hobart where they cane it and normally do about 35 knots!" says Powell. "But when we are racing I don't think we have seen more than 24 when they launch themselves down massive waves."
So do they plane at all? "I'd say they are pretty close to planing. They get up a bit and get going pretty quickly and they are a beautifully-sized boat - they do the offshores and inshores so well. In inshores you have 21 people and the harder the effort you put in, the better they go. The TP52s are big dinghy in comparison and a small yacht, but these are another step up, you need a serious amount of power to sail them, with big grinders, etc. This is proper big boat sailing where you need to a lot of grunt. Basically the sail area is twice as big on the mainsail and twice as big on the jib as the 52."
Given Rán V's performance at Gaastra Palma Vela after such a short work-up time, clearly Niklas Zennström's team is in a good place. Of course it is not only the boat. That they have been able to get going so quickly is because they have an extremely experienced crew plus a slick shore team which has spent the last years already running their previous Mini Maxi.
Unquestionably the racing in the Mini Maxi class is getting better and better, converging in competitiveness with the 52s. "The game has really been picked up," says Zennström. "All the boats are really good and also getting more similar. We are still racing on handicap, but they are sufficiently small differences that it is more boat for boat racing. You need to have really good starts and if you make any mistakes, you are behind. In terms of competitiveness it is not a big difference from the 52 now. But the big difference is that you don't have pro drivers and also these boats you can take offshore."
Nonetheless one imagines that the other Mini Maxi teams must be worried, for as Zennström concludes: "Right out of the box the boat is really good, it feels quick and I'm sure there is more optimisation we can do over time..."
Back to top
Back to top