Groupama gets an unwelcome passenger
The penultimate days racing in Singapore delivered one of the most dramatic moments in the eight-year history of Extreme Sailing Series.
In winds varying from 5 to 23 knots across the race course, Team Aberdeen Singapore caught one of the biggest gusts of the day as they came into the finish line, struggled to hold off the pace and ploughed right on board Franck Cammas' Groupama Sailing Team. The Extreme 40 pitlane, built on part of Singapore's F1 track, is busy tonight with Groupama expecting to be back on the race track tomorrow with a new mast. However, the damage assessment is not yet complete on Team Aberdeen Singapore.
Cammas explained what happened: "We had big gusts and as we were finishing a gybe we saw Aberdeen come really fast from behind and that's the moment when they came over us breaking the mast. Besides the broken mast the damage is not too serious and it is mainly on the mast, the mainsail, the jib and a hole on the trampoline so I think we will be able to race tomorrow with another mast. Tanguy Cariou is the only crew member hurt but it's only superficial injuries. He was in the middle of the trampoline where the boat fell, which was the worst spot. Three crew members jumped off the boat. It's the risk of racing. What is tricky here is that the wind is quite strong and very gusty which is difficult to anticipate. It's not easy."
Six races were sailed that saw the Leigh McMillan skippered The Wave, Muscat up their game, winning 50% of the days races, and locking their sights on current event leaders, Alinghi.
"Everything is going so fast, as you can see from the shore with the few clashes out there, and it's all about improving communication," commented McMillan. "The dynamics on the boat every race, every day, is coming together very nicely. It's a great performance and we're happy that we're putting in good results. We're fighting for podium spot, which is exactly where we want to be. We want to keep doing the same thing, finding how to work as a team. Overall great performance from everyone today and we'll keep going to get that spot."
Alinghi will lead the fleet going into the final day, having sat in pole position since race nine. But despite a 31 point cushion at the top of the leaderboard, helmsman Morgan Larson is all too aware how quickly things can change on the stadium race course: "We're never fully confident with sailors of this calibre! But we're happy with the way we're sailing right now. It was a magical day. We put ourselves in a few risky situations and nearly collided with Emirates Team New Zealand but the guys did an amazing job on our boat and let the sails out to try and keep behind, flying our hull right over. That is the kind of teamwork that has gotten us where we are and we hope that tomorrow we can keep sailing this way and stay out of trouble."
Team Aberdeen Singapore is currently assessing the damage to its boat, and a full update as to whether they will be back on the racetrack tomorrow will be available at approximately 2200 local time in Singapore.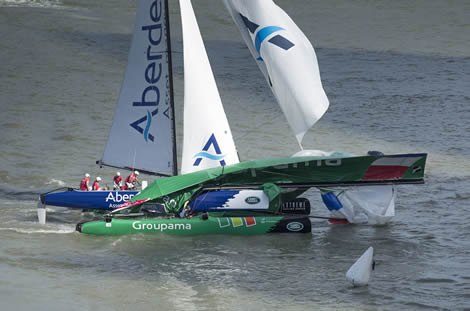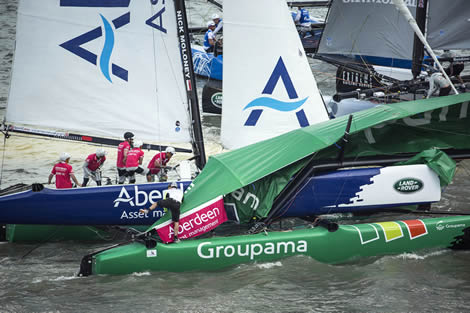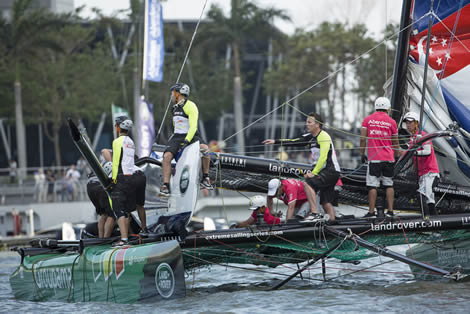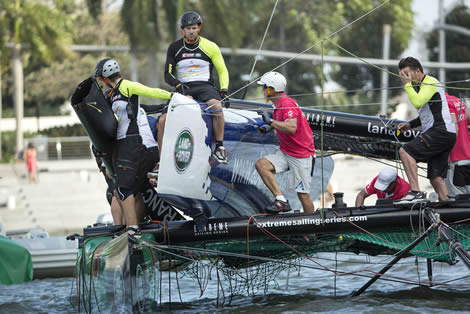 Results:

1st Alinghi (SUI) Morgan Larson, Stuart Pollard, Pierre-Yves Jorand, Nils Frei, Yves Detrey 163 points.
2nd The Wave, Muscat (OMA) Leigh McMillan, Sarah Ayton, Pete Greenhalgh, Kinley Fowler, Nasser Al Mashari 132 points.
3rd Realstone (SUI) Jérôme Clerc, Arnaud Psarofaghis, Bruno Barbarin, Thierry Wassem, Sebastien Stephant 130 points.
4th Red Bull Sailing Team (AUT) Roman Hagara, Hans-Peter Steinacher, Mark Bulkeley, Nick Blackman, Haylee Outteridge 117 points.
5th Emirates Team New Zealand (NZL) Dean Barker, Glenn Ashby, James Dagg, Jeremy Lomas, Edwin Delaat 117 points.
6th Groupama sailing team (FRA) Franck Cammas, Sophie de Turckheim, Tanguy Cariou, Thierry Fouchier, Devan Le Bihan 104 points.
7th J.P. Morgan BAR (GBR) Ben Ainslie, Nick Hutton, Paul Goodison, Pippa Wilson, Matt Cornwell 103 points.
8th SAP Extreme Sailing Team (DEN) Jes Gram-Hansen, Rasmus Køstner, Thierry Douillard, Peter Wibroe, Nicolai Sehested 95 points.
9th Gazprom Team Russia (RUS) Igor Lisovenko, Paul Campbell-James, Alister Richardson, Pete Cumming, Aleksey Kulakov 89 points.
10th Oman Air (OMA) Rob Greenhalgh, Tom Johnson, Will Howden, Hashim Al Rashdi, Musab Al Hadi 88 points.
11th GAC Pindar (AUS) Seve Jarvin, Troy Tindill, Ed Smyth, Sam Newton, Alexandra South 49 points.
12th Team Aberdeen Singapore (SIN) Nick Moloney, Adam Beashel, Scott Glen Sydney, Tom Dawson, Justin Wong 47 points.
Back to top
Back to top