Youngest skippers show their form
A pair of first-time wins amid challenging conditions by the two youngest skippers in the fleet highlighted the first day of match racing at America's Cup World Series San Francisco. The forecast soon went from an indian summer into the depths of winter this afternoon as the race course was covered in a blanket of fog filled with winds gusting over 20 knots.
Peter Burling of Team Korea, at 21 the youngest skipper in the fleet, and China Team's Phil Robertson, at 25 the second youngest, both scored their first victories in the dense wind. The wind blowing against an ebb tide produced a short, sharp chop on San Francisco Bay and tested the skills of the sailors.

Burling took over the helm of Team Korea two weeks ago, yet showed the calm of a veteran in leading his crew to a nail-biting 2-second victory over the Chris Draper-helmed Luna Rossa Piranha.

"We're really happy to come away with a win there," said Burling, who at London 2012 won a 49er silver medal behind Nathan Outteridge who he's replaced at Team Korea. "We had a good start and built a massive lead, and then made it pretty hard for ourselves in the end. But I'm proud of the guys that we managed to get it done in the end."

Burling's crew struggled to control the gennaker in the rough conditions, but were aided by a penalty on the Italian catamaran, which almost capsized after sailing out of bounds.

The challenges on the race course were noted as some crews came to complete stops during manoeuvres. The AC45 wingsail catamarans are quick in straight lines, but lose a lot of momentum whenever they tack or gybe.

Robertson suffered the cruelest fate on the day. China Team lost its first race of the day but followed it up with a 6-second victory over Luna Rossa Piranha in the second race. Robertson and crew then sustained damage to the frames in their wingsail while gybing and were forced to miss their third race and a chance to advance to the quarterfinal round.

"We were about five minutes before our start and put in a jibe, and the carbon structure in the wing fell apart on us. It almost snapped in half up the middle," said Robertson, who has skippered China Team since May. "It's a bit disappointing and also a fairly major situation. The shore crew will have to work all night so we can get back out there tomorrow."

While China Team was eliminated from the match racing championship, Team Korea advanced to the quarterfinal round where it will meet Artemis Racing – White (Terry Hutchinson).

Other crews to advance include Artemis Racing–Red (Nathan Outteridge), Emirates Team New Zealand (Dean Barker), Energy Team (Loïck Peyron) and J.P. Morgan BAR (Ben Ainslie). The quarterfinal round will be held over Thursday and Friday.

Outteridge, the new skipper of Artemis Racing–Red and at 26 the third youngest skipper in the fleet, had an up and down day. He lost his first match against Team Korea and then won against Luna Rossa Swordfish before getting the walkover win against China Team.

"As you can see it was a bit windier today than we had in training," said Outteridge. "The waves were quite rough. We got to a point where we thought if we push it harder we might go over. Basically, we just tried to stay in touch and not make any errors. We didn't make it easy, but in the end we got through."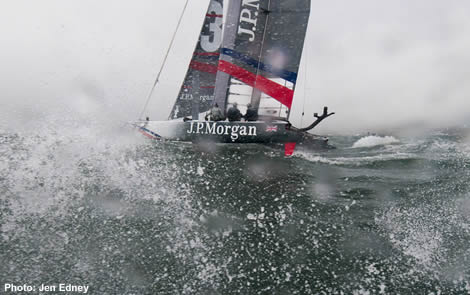 For Ben Ainslie and his crew on Team J.P.Morgan BAR, it was set to be a testing day, as the crew headed out into the strongest conditions they have sailed in so far. They lined up against Luna Rossa Swordfish in their first match race of the day, a win would see J.P.Morgan BAR head straight into the quarter finals.
A perfect start by Ainslie saw J.P.Morgan BAR fly past Luna Rossa, extending to hold a five boatlength lead heading up the first beat. Spanish skipper Iker Martinez struggled to stay in touch, conceding a penalty after passing the boundary line on the downwind leg. J.P.Morgan BAR extended and crossed the line for a comfortable win seeing them qualify for the quarter-finals.
Speaking dockside after racing, J.P.Morgan BAR skipper Ben Ainslie commented: "It was a great day, we had some really difficult conditions. We really haven't sailed in that level of breeze before so there was a bit of uncertainty there, but the guys dealt with it really well. We had a great start and we got round the course well, the maneouvres were very clean so it was a good confidence boost, especially in such challenging conditions so a good result for us heading into the fleet racing tomorrow. I was a little under the weather yesterday which didn't help, but it certainly helped for the weigh in! Anyway, hopefully I will be feeling more on form tomorrow, I think it's going to be good fun getting into the fleet racing and we can't wait to get started".
J.P.Morgan BAR's veteran trimmer Simon Daubney added: "Ben did a great job at the start, we've done a lot of practice starting drills and he's been going really really good. That's the thing that I keep getting impressed with by Ben, he learns something once and then he just nails it, he's figured out a lot of stuff really quickly, and the last week and a half of training has been great for all of us, but really good for him. That was the start that we needed and hopefully we can keep it going. The result and performance today is a great boost going into tomorrow's racing. Today was about as windy as we sail in here, so it was good to have a solid performance out there".
The first two quarterfinal matches are scheduled tomorrow just after noontime. A break in the racing will ensue before all 11 boats in the fleet return to the water for the first two of seven scheduled fleet races at 5:10 pm PDT.

Results
Team Korea bt. Luna Rossa Piranha, +:02
Energy Team bt. China Team, +:56
Emirates Team New Zealand bt. Artemis Racing – Red, +:50.8
J.P. Morgan BAR bt. Luna Rossa Swordfish, +1:15
China Team bt. Luna Rossa Piranha, +:06
Artemis Racing – Red bt. Luna Rossa Swordfish, +:33
Artemis Racing – Red bt. China Team (DNS)

Quarterfinal Pairings
Thursday (12:25 pm PDT): Team Korea vs. Artemis Racing – White
Thursday (12:42 pm PDT): Energy Team vs. Emirates Team New Zealand
Friday (4:05 pm PDT): Artemis Racing – Red vs. Oracle Team USA Coutts
Friday (4:22 pm PDT): J.P. Morgan BAR vs. Oracle Team USA Spithill
Back to top
Back to top