Highest British result and first rookie
Having posted a consistent 8-11-14-13 over the four legs, Sam Goodchild on Shelterbox-Disaster Relief finished 11th overall, the highest British finisher in the recent history of the race, following Phil Sharp's 18th place in 2011, only bettered by Clare Francis' fifth in 1975.
"I am fairly happy with that – I can't complain," said Goodchild, 23, on his arrival in Dieppe, although admitting he was 'broken'. "This last leg made us realise that the first three legs were really easy. You couldn't sleep for the whole 160 miles along the south coast of the UK - it was just on the edge the whole time. The benefits of putting your kite up against not doing so were massive, which is why there was a 50 mile split in the fleet."
In Friday night's 35 knot conditions, Goodchild said it was the first time in three years of Figaro sailing that he's had to put in a reef sailing downwind. Over the last two and half days he has spent so much time on the helm that he arrived in Dieppe unable to move his wrists. He admitted having had to turn winch handles using his elbows.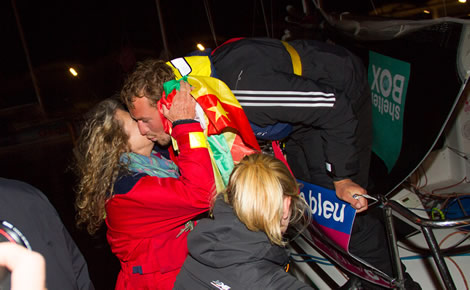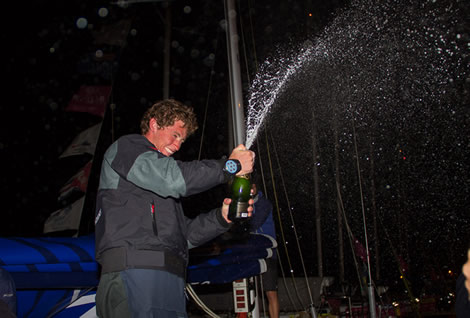 Artemis Offshore Academy graduate Jack Bouttell, 22, become the first British Figaro sailor ever to win the Bizuth prize for the top rookie finisher. He finished leg four in 21st position, leaving him 21st overall, 4 hours 9 minutes and 28 seconds ahead of second placed rookie, Benedict Hochart on Adocis/IB Remarketing.
"I didn't think I'd do it, but to pull it off is pretty incredible," said Bouttell. "I am really pleased. It is a good first year. It has exceeded my expectations."
Of this leg, Bouttell said the scariest bit was sailing through the Chenal du Four with rocks everywhere in thick fog (a classic Solitaire scenario). After enduring 30-40 knots along the south of the UK on Friday night, the ride back across the Channel this afternoon was particularly wet. "It was a reach across the Channel - quite fast and very, very wet. I have salt in every orifice..."
While Sam Goodchild looked was walking dead this time, Nick Cherry on Magma Structures was much churpier on his arrival tonight, compared to the end of leg 3 in Roscoff. Despite being a late addition to the Artemis Offshore Academy line-up this year, the former UK Match Racing National Champion, put in a consistent performance to end this year's Solitaire 17th.
"I think I sailed quite well in three out of four legs and I have definitely improved since last year, so I am happy," said Cherry. "Thinking, planning and reflecting on last year helped. This time I was a lot more relaxed and focussed on what I needed to."
Cherry, 28, enjoyed the challenge of this last leg, starting with the light, tactical, upwind work of the first 24 hours. "Going through the rocks in the Chenal du Four in the mist - me and Jack right next to each other, looking down and seeing a rock and the depth going down to about 0.2m at one point which was pretty terrifying."
He seemed to make the best of the reach along the UK south coast last night. The toughest part he said was between the Lizard and Start Point when he just made it around the latter without having to drop his kite. "I gained quite a lot of places by doing that."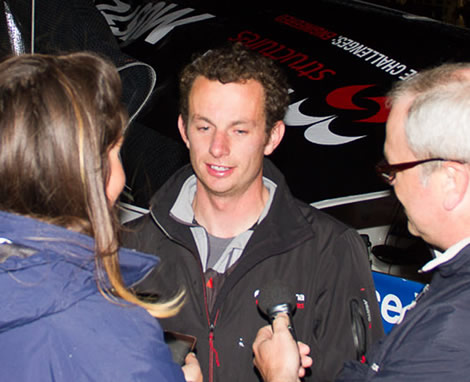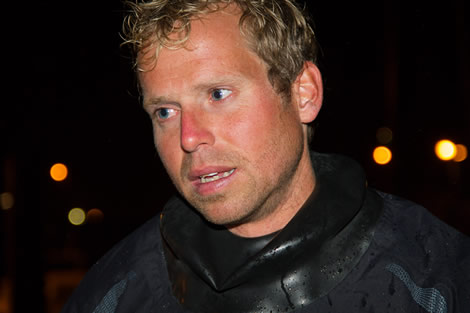 Artemis Offshore Academy scholarship winner Ed Hill came ashore finishing this leg in 30th place, leaving him 29th overall and fourth rookie. However he had the best war story.
In the big conditions last night, he had first managed to trash his small spinnaker while passing Start Point. He then wondered whether he should hoist his big kite, despite there being too much wind and the wind angle being too high. But with 70 miles to go to Needles Fairway Buoy he said he had no choice.
Having the big kite up resulted in issues, including in a full rudder out, laying the boat on its side pitchpole while passing Anvil Point. Fortunately Hill was prepared, managed to release the halyard without destroying the kite, but enough was enough and continued to Needles Fairway goose winged, despite being against the tide.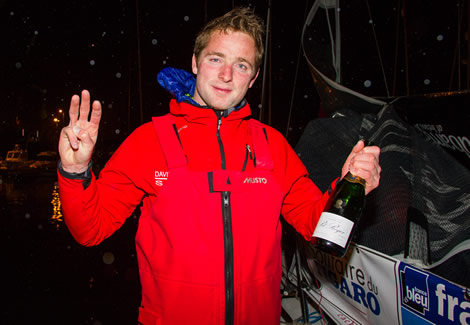 Ireland's David Kenefick on Full Irish was the biggest riser in last night's big conditions. 33rd around Wolf Rock he had recovered ten places by Portland Bill. The ride was definitely one to remember: "I hoisted it at 0200 and just drove all night. The boat was underneath the water the whole time. I've never done anything like that before, fully powered up. I was waiting for the rig to go down but it stayed up. I was terrified."
The significant drama for Kenefick, at 22 the youngest competitor on the race, came on the approach to the Needles Fairway buoy, when he suddenly found all his sails flapping. The strop attaching the main sheet to the boom snapped in a Chinese gybe. To round the mark he had to drop the kite and while he was doing this his jib sheets came out of their blocks.
"It was an amazing leg, in fact the whole month has been amazing," said Kenefick, who ended up third in the rookie division and 28th overall.
Henry Bomby, skipper of Rockfish, felt he had started this leg badly and then had dithered in deciding whether to go inshore or offshore rounding the north coast of Ouessant on the first night. Last night Bomby said was the hardest of the whole Solitaire. "Life on board was really hard, moving around was impossible. It was really hard work."
He finished this leg in 24th, also end this Solitaire du Figaro in 24th overall. "I am not too displeased - I thought it would be a lot worse than that given how unhappy I have been with the legs in general. The thing with the Solitaire is that you make so many mistakes that you kick youself for every single one of the, but everyone does the same."
With two results in the 10-20 range this year, for 2014 the aim will be to get an Anglo-Saxon sailor into the top 10.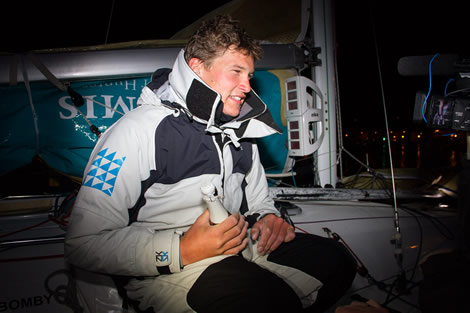 Back to top
Back to top