Victory for Armel le Cleac'h
Two times winner of La Solitaire du Figaro Armel Le Cléac'h, skipper of Banque Populaire, crossed the finish line in Gijòn, on the north coast of Spain at 16:21:43 CEST today, to win leg two from Porto.
Le Cleac'h covered the 298 miles from Porto to Gijòn in 2 days, 3 hours and 11 minutes at a theoretical average speed of 5.8 knots. With today's win his personal record of leg wins in La Solitaire goes up to six victories in ten participations. For Le Cleac'h this is also the second occasion he has won into Gijòn following on from the 2010 race.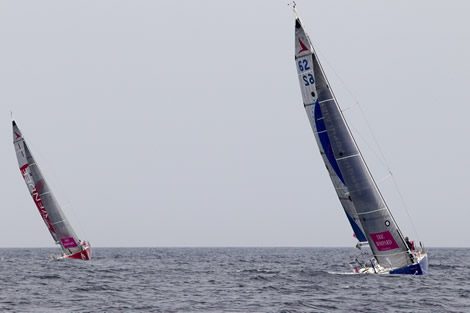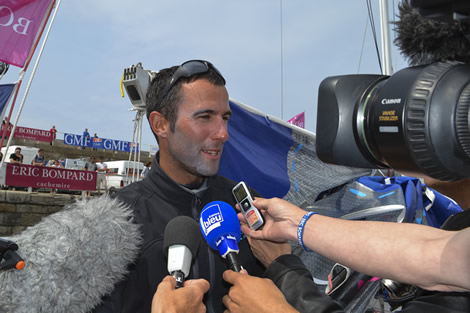 On the final few miles, Le Cleac'h got involved in a match race with former Olympic 49er sailor Morgan Lagravière on Vendée, who eventually crossed the finish in second only 59 seconds after Le Cleach. By coincidence Lagravière also came in second into Gijòn in 2012.
Once on the pontoon, a contented Le Cleac'h commented: "It went all the way to the line - that young guy [Lagravière] gave me a hard time. I'm super happy - it was a very good leg. After the first one, it feels good to get a win. It's very good for my morale. I have sailed well, I'm satisfied with how I've sailed, especially in the last 24 hours. I made an excellent strategy and made up for the first leg, which was not that brilliant. I don't know yet how many places I will catch up in the overall results... It's good anyway, for me, for my sponsor to finally be able to win a race after so many second places I got recently."
Lagravière added: "I must have something for second places, because it is the third time in three years! Unfortunately I skipped victory for almost nothing: Armel (Le Cléac'h) covered till the end to stop me from overtaking. I'm happy because on the overall there are some who have taken some time. And mentally this is pretty pleasant for the rest of the race to come. We are only mid-way and there is still a lot to play for. It's important to be self-confident, to believe in one's skills and performance. Even if we slept quite a lot, these are very tiring legs..."
Third place went to Anthony Marchand on Bretagne Crédit Mutuel Performance, who finished at 16:26:12, while fourth went to Jérémie Beyou on Maître CoQ. Yann Eliès on Groupe Quéguiner-Leucémie espoir claimed fifth place which is enough for him to maintain his overall lead in La Solitaire du Figaro 2013 at this the half way stage, still with an advantage of 57 minutes.
It was another good result for Sam Goodchild on Shelterbox – Disaster Relief who was once again the first non-French skipper to finish in Gijòn. He finished in an impressive ninth place in the 41 boat fleet, just over 30 minutes behind Le Cleac'h. Just over three minutes behind Goodchild, was Nick Cherry on Magma Structures arriving home in 14th while, after a slow start, Henry Bomby on Rockfish staged a brilliant recovery, finishing in 20th.
Goodchild commented on his performance: "I'm much happier with this Leg. I feel I sailed myself into 11th, as opposed to getting lucky and ending up in the top 10. Hopefully the two together will do some good to the overall rankings.
"The key moment was after Finisterre, going around Ortegal, that bit of land when you turn the corner and you go right... There was a lot to play there and I went from the back to near the front so that was good. The first bit off Portugal was quite difficult, one small difference made quite a big overall impact and that was quite hard to get control on, but after that it was trying and be near people. First part was horrible, didn't enjoyed it all, I felt very disappointed and fairly down. Thankfully I caught up again. After there was some gybing to do, some I did good, some badly but all in all it paid off".
"The first half of the race was awful for me, so I spent most of the time sleeping, as it was the only way to have a good time. But seriously, the first half was awful so I did spend a lot of time relaxing then and then after we got around Cape Finisterre I spent a bit of time sleeping there as I knew we wouldn't get much on this last day - which paid off. Probably because I was at the back of the fleet and sleeping at the beginning of the race and I then managed to climb up the ladder a bit when everyone else was sleeping. I haven't slept in the last 24 hours, but before that I got enough to make up for it.
"When we were looking at the weather charts it said that the wind would go easterly, but it went south. So we were all sailing offshore looking for this easterly and suddenly it all came in from the south, so we all starting beating in and then it turned left and became more of an easterly - that was a bit of a surprise. But generally it did what it said it was going to do, it came east and then just rotated the other way around.
"I was pretty tried at the start of this leg, which I was quite worried about on start day, so I'm going to try and get more sleep now than I did before. But once we've done Leg 3 it'll be a bit easier. I'm just going to sleep as much as I can now.
"I broke nothing during the leg. A new fork is my only job on my jobs list now! Once I've done that I've got nothing to do but sleep and prepare really - I'm in a fairly good place."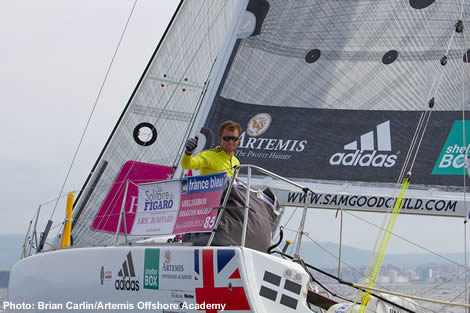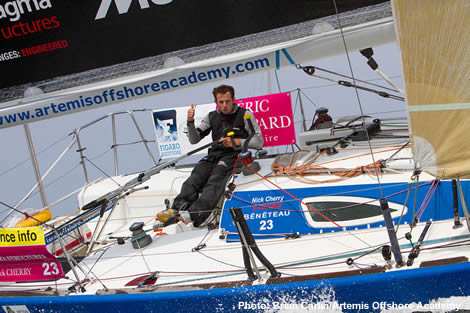 Nick Cherry added: "I never really knew where the wind was coming from, I tried to stay in the middle of the boats and point towards the finish and in the end the wind came in, so I'm happy. The key moment was when the wind filled in at the end, I stayed out and some of the boats were stuck inside. I decided to stay in the fleet because I wasn't really sure what boats were around me so if I had it totally wrong, I still had half of the boats behind me. Tha was my best guess... and it worked out ok. Compared to the first leg I felt pretty similar, I had more sleep, so I feel pretty good now, It was a bit easier than the first one. My goal is to be in the top half and I'm being at the moment so I'm super happy".
The only female entrant this year race, Claire Pruvot aboard Port de Caen Ouistreham was the first rookie in Gijòn. The young match racer turned offshore skipper closed in 16th overall. Arriving 5 minutes 23 seconds astern of Pruvot in 18th place was David Kenefick on Full Irish, the second 'bizuth' on this leg while Jack Bouttell on Artemis 77 was just 31 seconds behind his Irish team mate. Significant Bouttell was just 5 minutes 54 seconds behind Pruvot. Having had a lead over the French woman of around 10 minutes after leg one, Bouttell has managed to hang on to the rookie lead, although his advantage is now down to a slender 5 minutes 2 seconds.
Bouttell reported: "It was a tricky leg, standard Figaro, very frustrating, but similar to the first leg in that there were a lot of different winds, some light winds, no wind and some good sailing around Cape Finisterre with the kite up.
"It sort of went alright, I made so many mistakes in this race, that I can't even describe it. A lot of times it was like ;wow, this has gone really badly', but I managed to pull it back and not finish too badly. I just kept at it.
"It was very difficult to know what the wind was doing - I had no idea most of the time. I was trying to take into account what Nico has given us and also the weather we get from Gilles [Chiorri - Race Director] on board as well. It was just very difficult and any weather we got from the MET office on the VHF was very different to what it was anyway, so it was a bit of luck and a bit of hope of the best.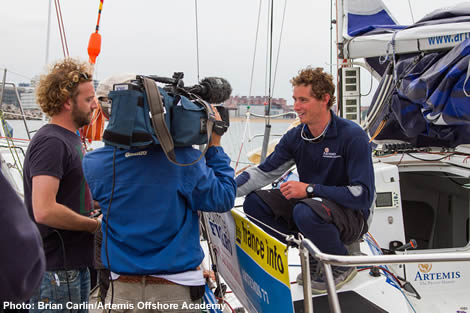 "It was another hard call, I didn't want to be inshore in any sense when that shift came in early on Monday morning, as I didn't want to end up in a situation where there was bugger all wind - offshore was just a lot safer. My game is always to take as little risk as possible and stay with the fleet - take no risks basically.
"I got enough sleep, the first night I got plenty. Any time there was stable wind and the pilot could drive I was straight to sleep, still a lot of the race to go so keeping well rested is key at the moment. I thought this Leg would have taken a little longer, I wasn't expecting to me on the dock at 18:00, more mid-night/early morning. It's nice to get in as the last bit of the race was very frustrating with the only wind coming from where you want to go, typical. Standard."
Leg 2 results
| | | | | | |
| --- | --- | --- | --- | --- | --- |
| Pos | Boat | Skipper | Arrived | TTL | Av speed |
| 1 | BANQUE POPULAIRE | Armel Le Cleac'h | 10/06/2013 16:21:43 | | 5.82 |
| 2 | VENDEE | Morgan Lagraviere | 10/06/2013 16:22:42 | 0d 0h 0mn 59sec | 5.82 |
| 3 | BRETAGNE - CREDIT MUTUEL PERFORMANCE | Anthony Marchand | 10/06/2013 16:26:12 | 0d 0h 4mn 29sec | 5.81 |
| 4 | MAITRE COQ | Jeremie Beyou | 10/06/2013 16:26:56 | 0d 0h 5mn 13sec | 5.81 |
| 5 | GROUPE QUEGUINER - LEUCEMIE ESPOIR | Yann Elies | 10/06/2013 16:29:45 | 0d 0h 8mn 2sec | 5.81 |
| 6 | DLBC | Yoann Richomme | 10/06/2013 16:33:29 | 0d 0h 11mn 46sec | 5.8 |
| 7 | LA SOLIDARITE MUTUALISTE | Damien Guillou | 10/06/2013 16:37:05 | 0d 0h 15mn 22sec | 5.79 |
| 8 | GENERALI | Nicolas Lunven | 10/06/2013 16:38:41 | 0d 0h 16mn 58sec | 5.79 |
| 9 | SKIPPER MACIF 2012 | Fabien delahaye | 10/06/2013 16:40:32 | 0d 0h 18mn 49sec | 5.79 |
| 10 | SEPALUMIC | Frederic Duthil | 10/06/2013 16:42:47 | 0d 0h 21mn 4sec | 5.78 |
| 11 | SHELTERBOX - DISASTER RELIEF | Sam Goodchild | 10/06/2013 16:52:12 | 0d 0h 30mn 29sec | 5.76 |
| 12 | SKIPPER MACIF 2011 | Paul meilhat | 10/06/2013 16:53:34 | 0d 0h 31mn 51sec | 5.76 |
| 13 | TBS | Michel Desjoyeaux | 10/06/2013 16:53:43 | 0d 0h 32mn 0sec | 5.76 |
| 14 | MAGMA STRUCTURES | Nick Cherry | 10/06/2013 16:55:36 | 0d 0h 33mn 53sec | 5.76 |
| 15 | GROUPE FIVA | Alexis Loison | 10/06/2013 16:56:10 | 0d 0h 34mn 27sec | 5.76 |
| 16 | PORT DE CAEN OUISTREHAM | Claire Pruvot | 10/06/2013 17:12:30 | 0d 0h 50mn 47sec | 5.73 |
| 17 | SKIPPER HERAULT | Xavier Macaire | 10/06/2013 17:14:33 | 0d 0h 52mn 50sec | 5.72 |
| 18 | FULL IRISH | David Kenefick | 10/06/2013 17:17:53 | 0d 0h 56mn 10sec | 5.72 |
| 19 | ARTEMIS 77 | Jackson Bouttell | 10/06/2013 17:18:24 | 0d 0h 56mn 41sec | 5.72 |
| 20 | ROCKFISH | Henry Bomby | 10/06/2013 17:39:50 | 0d 1h 18mn 7sec | 5.68 |
| 21 | BRETAGNE - CREDIT MUTUEL ESPOIR | Corentin Horeau | 10/06/2013 17:40:52 | 0d 1h 19mn 9sec | 5.68 |
| 22 | LAFONT PRESSE | Mathieu Girolet | 10/06/2013 17:42:45 | 0d 1h 21mn 2sec | 5.67 |
| 23 | ADOCIS / IB REMARKETING | Benoit Hochart | 10/06/2013 17:51:06 | 0d 1h 29mn 23sec | 5.66 |
| 24 | GROUPE SNEF | Jean-Paul Mouren | 10/06/2013 18:04:21 | 0d 1h 42mn 38sec | 5.63 |
| 25 | BERNARD CONTROLS | Jean-Pierre Nicol | 10/06/2013 18:08:06 | 0d 1h 46mn 23sec | 5.63 |
| 26 | GEDIMAT | Thierry Chabagny | 10/06/2013 18:13:25 | 0d 1h 51mn 42sec | 5.62 |
| 27 | CERCLE VERT | Gildas Morvan | 10/06/2013 18:26:48 | 0d 2h 5mn 5sec | 5.59 |
| 28 | IN EXTENSO - Experts comptables | Nicolas Jossier | 10/06/2013 18:35:22 | 0d 2h 13mn 39sec | 5.58 |
| 29 | AGIR RECOUVREMENT | Adrien Hardy | 10/06/2013 18:44:42 | 0d 2h 22mn 59sec | 5.56 |
| 30 | SEIXO HABITAT | Julien Villion | 10/06/2013 18:45:38 | 0d 2h 23mn 55sec | 5.56 |
| 31 | DESTINATION DUNKERQUE | Thomas Ruyant | 10/06/2013 18:49:30 | 0d 2h 27mn 47sec | 5.55 |
| 32 | DFDS SEAWAYS | Frederic Rivet | 10/06/2013 19:21:36 | 0d 2h 59mn 53sec | 5.5 |
| 33 | LES RECYCLEURS BRETONS | Simon Troel | 10/06/2013 19:26:27 | 0d 3h 4mn 44sec | 5.49 |
| 34 | PRATI BÛCHES | Vincent Biarnes | 10/06/2013 19:29:24 | 0d 3h 7mn 41sec | 5.49 |
| 35 | THERMACOTE France | Yannig livory | 10/06/2013 19:37:15 | | 5.47 |
| 36 | CARNAC THALASSO & SPA | Gilles Le Baud | | | |
| 37 | REGION BASSE NORMANDIE | Joan Ahrweiller | | | |
| 38 | ARTEMIS 37 | Edmund Hill | | | |
| 39 | JEHOL | Didier Bouillard | | | |
| 40 | REGION AQUITAINE / ATELIER DE France | Amaiur Alfaro | | | |
| NL | JOANNA | Louis-Maurice Tannyeres | | | |
Combined results

| | | | |
| --- | --- | --- | --- |
| Pos | Boat / Skipper | Cumulative time | TTL |
| 1 | GROUPE QUEGUINER - LEUCEMIE ESPOIRYann Elies | 5 days, 6h 23m 11s | - |
| 2 | SEPALUMICFrédéric Duthil | 5 days, 7h 20m 17s | 0h 57m 06s |
| 3 | GROUPE FIVAAlexis Loison | 5 days, 8h 7m 12s | 1h 44m 01s |
| 4 | SKIPPER HERAULTXavier Macaire | 5 days, 8h 13m 11s | 1h 50m 00s |
| 5 | VENDEEMorgan Lagravière | 5 days, 8h 16m 47s | 1h 53m 36s |
| 6 | BANQUE POPULAIREArmel Le Cléac'h | 5 days, 8h 20m 31s | 1h 57m 20s |
| 7 | DLBCYoann Richomme | 5 days, 8h 23m 4s | 1h 59m 53s |
| 8 | MAITRE COQJérémie Beyou | 5 days, 8h 27m 0s | 2h 03m 49s |
| 9 | SHELTERBOX - DISASTER RELIEFSam Goodchild | 5 days, 8h 31m 41s | 2h 08m 30s |
| 10 | GENERALINicolas Lunven | 5 days, 8h 31m 44s | 2h 08m 33s |
| 11 | SKIPPER MACIF 2011Paul Meilhat | 5 days, 8h 38m 6s | 2h 14m 55s |
| 12 | LA SOLIDARITÉ MUTUALISTEDamien Guillou | 5 days, 8h 40m 33s | 2h 17m 22s |
| 13 | SKIPPER MACIF 2012Fabien Delahaye | 5 days, 8h 44m 14s | 2h 21m 03s |
| 14 | MAGMA STRUCTURESNick Cherry | 5 days, 8h 46m 10s | 2h 22m 59s |
| 15 | BERNARD CONTROLSJean-Pierre Nicol | 5 days, 8h 57m 50s | 2h 34m 39s |
| 16 | TBSMichel Desjoyeaux | 5 days, 9h 8m 15s | 2h 45m 04s |
| 17 | GEDIMATThierry Chabagny | 5 days, 9h 31m 11s | 3h 08m 00s |
| 18 | ARTEMIS 77Jackson Bouttell * | 5 days, 9h 36m 13s | 3h 13m 02s |
| 19 | PORT DE CAEN OUISTREHAMClaire Pruvot * | 5 days, 9h 41m 15s | 3h 18m 04s |
| 20 | CERCLE VERTGildas Morvan | 5 days, 9h 42m 54s | 3h 19m 43s |
| 21 | BRETAGNE CRÉDIT MUTUEL PERFORMANCEAnthony Marchand | 5 days, 9h 46m 15s | 3h 23m 04s |
| 22 | LAFONT PRESSEMatthieu Girolet | 5 days, 10h 37m 48s | 4h 14m 37s |
| 23 | IN EXTENSO experts comptablesNicolas Jossier | 5 days, 10h 38m 33s | 4h 15m 22s |
| 24 | ROCKFISHHenry Bomby | 5 days, 10h 43m 57s | 4h 20m 46s |
| 25 | AGIR RECOUVREMENTAdrien Hardy | 5 days, 11h 1m 48s | 4h 38m 37s |
| 26 | ADOCIS / IB-RemarketingBenoît Hochart * | 5 days, 11h 6m 14s | 4h 43m 03s |
| 27 | DFDS SEAWAYSFrédéric Rivet | 5 days, 11h 17m 59s | 4h 54m 48s |
| 28 | DESTINATION DUNKERQUEThomas Ruyant | 5 days, 11h 21m 2s | 4h 57m 51s |
| 29 | PRATI'BÛCHESVincent Biarnes | 5 days, 11h 26m 2s | 5h 02m 51s |
| 30 | FULL IRISHDavid Kenefick * | 5 days, 11h 38m 48s | 5h 15m 37s |
| 31 | BRETAGNE – CRÉDIT MUTUEL ESPOIRCorentin Horeau * | 5 days, 11h 40m 9s | 5h 16m 58s |
| 32 | SEIXO HABITATJulien Villion | 5 days, 13h 9m 11s | 6h 46m 00s |
| 33 | THERMACOTE FRANCEYannig Livory | 5 days, 13h 50m 36s | 7h 27m 25s |
| 34 | LES RECYCLEURS BRETONSSimon Troel * | 5 days, 17h 42m 19s | 11h 19m 08s |
| 35 | GROUPE SNEFJean Paul Mouren | 5 days, 18h 25m 36s | 12h 02m 25s |
| 36 | ARTEMIS 37Edmund Hill * | 3 days, 6h 9m 17s | - |
| 36 | CARNAC THALASSO & SPAGilles Le Baud | 3 days, 9h 40m 18s | - |
| 36 | JEHOLDidier Bouillard | 3 days, 7h 55m 2s | - |
| 36 | JOANNALouis Maurice Tannyères | 3 days, 11h 3m 45s | - |
| 36 | REGION AQUITAINE / ATELIERS DE FRANCEAmaiur Alfaro | 3 days, 13h 50m 28s | - |
| 36 | REGION BASSE NORMANDIEJoan Ahrweiller * | 3 days, 8h 51m 33s | - |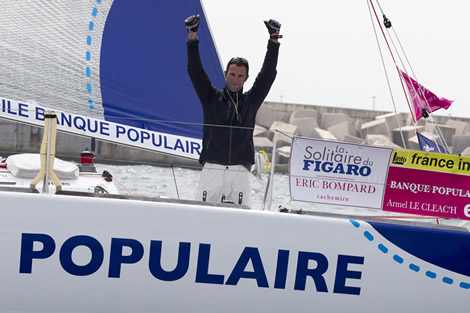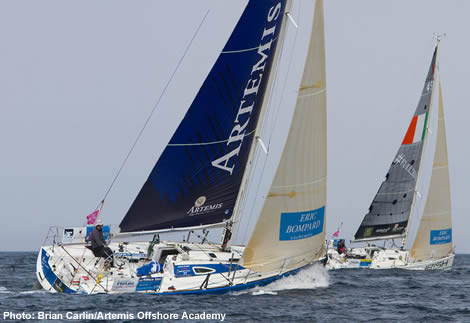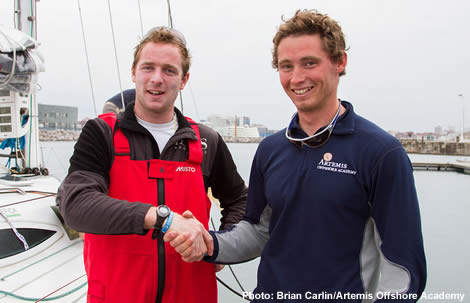 Back to top
Back to top