Strong Brit finish
The Artemis Offshore Academy training scheme for budding singlehanded offshore racers shows its first real signs of bearing fruit at the end of the opening leg of La Solitaire du Figaro Eric Bompard cashere, with strong results from the British contingent.
Following Yann Elies's victory, arriving at 16:03 local time, Sam Goodchild and his Shelterbox-Disaster Relief succeeded in holding on to eighth place, finishing the 536 miles leg at 17:49. This represented the 23-year-old's highest ever leg finish in what is his third year of Figaro racing. Goodchild's preview best was 14th on last year's third leg, while the highest Brit finishers in recent history have been Nigel King's 6th place into Dieppe in 2009 and Sam Davies' fifth place into Portsmouth in 2004.
"It's been a good start to the Solitaire du Figaro," commented Goodchild. "I spent the first half of the race getting back into the game after a bad start and then rounding Cape Finisterre was crazy with short, steep waves, 35-40 knots of wind and Figaro debris flying all over the place. The Portuguese coast then provided a whole new gambling game on the weather front that I'm sure no one will ever fully understand, resulting in an unexpected leader board that will leave some of the favourites pretty unhappy. But I fortunately had a bit of luck from somewhere that helped me to 8th and that I can be happy with.
"I'm happy with my position, I'm aware that I had also some luck on my side. This is one leg, there are three more, and the gaps are small. There is still a long way to go. It was different, very interesting between Finisterre and here, nobody knew what was going to happen. The first part was about being careful, exiting the Gironde was quite interesting, in the Bay of Biscay I did some things well and some badly, managed to make some gains at Finisterre and then it was a gambling game. I broke too many spinnakers in my previous Solitaires so this time I changed early because I knew it was going to be windy."
The next Brit to finish was Magma Structures and skipper Nick Cherry who arrived 11 minutes after Goodchild to take 11th place. Still reeling upon reaching the finish, Cherry reported: "I'm very happy to have arrived. The second night around Cape Finisterre was absolutely amazing. I've never had so much fun on the boat in my life, with Magma Structures going for it at 20 knots in the dark! It was all a bit of a gamble after that with the light airs after the Cape, but I did win the lottery in the end. I am very happy with my result."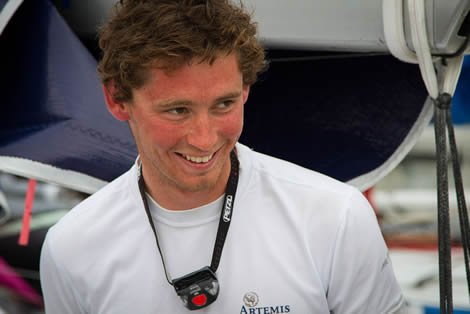 While Goodchild and Cherry talked whale collisions and dolphins on the dock, the Academy's youngest sailor, Jack Bouttell, sailing his way into the history books to become the first Artemis Offshore Academy skipper and British competitor to take home a Rookie division Leg win in the Solitaire du Figaro.
Finishing 23rd overall, Bouttell beat second place Rookie and La Solitaire's only female entrant Claire Pruvot to the top spot by 11 minutes and four seconds. "Very happy with my result," said Bouttell, still damp from a showering of Pol Roger champagne. "The highlight of my race was Cape Ortegal, where we had 30-35 knots and I reached a new top speed for the Figaro – it was pretty full on. It was in fact so full on I also tore my big spinnaker from head to foot after planning to do a safe drop, so I had to spend some time making a repair."
The roaring winds of Cape Ortegal played havoc with the fleet, ripping, bursting, wrapping and jamming spinnakers left right and centre, before the wind completely shutting down only switching on intermittently on different parts of the race tracked between Cape Finisterre and the finish in Porto.
The most promising part of the race from the British perspective was when Bouttell's fellow Artemis Offshore Academy rookie Ed Hill pulled up to 3rd on Tuesday night as the boats offshore were becalmed. But Hill subsequently also fell foul of light airs just 40 miles to the line, seeing his slide down the leaderboard to 30th.
"I had managed to keep up with the Classe Figaro big boys for the majority of the race, which was my goal from the off," he explained, still relishing his first Solitaire du Figaro experience. "But then in the middle of the night I sailed into a hole with no wind. Two hours and 15 minutes later I got out, but my position was well down the pan by then. It was a shame, but more importantly I sailed a good race and I feel really positive going into the next Leg. I'm blown away by the support of everyone back home and just want to say thanks!"
Hill was in good company. Two time Vendee Globe winner, Michel Desjoyeaux, a three time winner of La Solitaire was leading the race on Monday morning, but ended up arriving in Porto in 21st place, and previous Solitaire du Figaro winners Armel Le Cleac'h and Jéremie Beyou also suffered finishing in 18th and 19th positions respectively.
Artemis Offshore Academy Graduate Henry Bomby also suffered at the hands of the light winds, dropping from a top 20 position he had held for the majority of the race to 28th, finishing just behind HIll in 27th: "This was a really a very tough race," he said, disappointed. "When we got to the front at Cape Finisterre, I had an impressive 22 knots on the clock, which is my record! But then after rounding the Cape I chose a conservative route that did not pay off."
"The first leg is now done and as far as Figaro legs go it was a classic," concluded Academy Race Coach Marcus Hutchinson. "Nick sailed a blinder, Sam delivered a masterful race, Jack did a superb job and Ed and Henry didn't get the results they deserved. There were many different leaders, plenty of wind, plenty of calm, plenty of days at sea and plenty of tired sailors at the finish and of course, there are still Legs 2, 3 and 4 to look forward to."
Leg 1 results

| | | | | | |
| --- | --- | --- | --- | --- | --- |
| Pos | Boat | Skipper | Arrived | Time | Spd |
| 1 | GROUPE QUEGUINER - LEUCEMIE ESPOIR | Yann Elies | 05/06/2013 16:03 | | 7.13 |
| 2 | SEPALUMIC | Frederic Duthil | 05/06/2013 16:47 | 0d 0h 44mn 4sec | 7.06 |
| 3 | BERNARD CONTROLS | Jean-Pierre Nicol | 05/06/2013 16:59 | 0d 0h 56mn 18sec | 7.04 |
| 4 | SKIPPER HERAULT | Xavier Macaire | 05/06/2013 17:08 | 0d 1h 5mn 12sec | 7.03 |
| 5 | GROUPE FIVA | Alexis Loison | 05/06/2013 17:21 | 0d 1h 17mn 36sec | 7.01 |
| 6 | CERCLE VERT | Gildas Morvan | 05/06/2013 17:26 | 0d 1h 22mn 40sec | 7 |
| 7 | GEDIMAT | Thierry Chabagny | 05/06/2013 17:27 | 0d 1h 24mn 20sec | 7 |
| 8 | SHELTERBOX - DISASTER RELIEF | Sam Goodchild | 05/06/2013 17:49 | 0d 1h 46mn 3sec | 6.96 |
| 9 | SKIPPER MACIF 2011 | Paul meilhat | 05/06/2013 17:54 | 0d 1h 51mn 6sec | 6.96 |
| 10 | DLBC | Yoann Richomme | 05/06/2013 17:59 | 0d 1h 56mn 9sec | 6.95 |
| 11 | MAGMA STRUCTURES | Nick Cherry | 05/06/2013 18:00 | 0d 1h 57mn 8sec | 6.95 |
| 12 | GENERALI | Nicolas Lunven | 05/06/2013 18:03 | 0d 1h 59mn 37sec | 6.94 |
| 13 | SKIPPER MACIF 2012 | Fabien delahaye | 05/06/2013 18:03 | 0d 2h 0mn 16sec | 6.94 |
| 14 | VENDEE | Morgan Lagraviere | 05/06/2013 18:04 | 0d 2h 0mn 39sec | 6.94 |
| 15 | DFDS SEAWAYS | Frederic Rivet | 05/06/2013 18:06 | 0d 2h 2mn 57sec | 6.94 |
| 16 | PRATI BÛCHES | Vincent Biarnes | 05/06/2013 18:06 | 0d 2h 3mn 12sec | 6.94 |
| 17 | IN EXTENSO - Experts comptables | Nicolas Jossier | 05/06/2013 18:07 | 0d 2h 3mn 45sec | 6.94 |
| 18 | BANQUE POPULAIRE | Armel Le Cleac'h | 05/06/2013 18:08 | 0d 2h 5mn 22sec | 6.94 |
| 19 | MAITRE COQ | Jeremie Beyou | 05/06/2013 18:10 | 0d 2h 6mn 38sec | 6.93 |
| 20 | LA SOLIDARITE MUTUALISTE | Damien Guillou | 05/06/2013 18:13 | 0d 2h 10mn 2sec | 6.93 |
| 21 | TBS | Michel Desjoyeaux | 05/06/2013 18:24 | 0d 2h 21mn 6sec | 6.93 |
| 22 | AGIR RECOUVREMENT | Adrien Hardy | 05/06/2013 18:27 | 0d 2h 23mn 40sec | 6.91 |
| 23 | ARTEMIS 77 | Jackson Bouttell | 05/06/2013 18:27 | 0d 2h 24mn 23sec | 6.91 |
| 24 | PORT DE CAEN OUISTREHAM | Claire Pruvot | 05/06/2013 18:38 | 0d 2h 35mn 19sec | 6.89 |
| 25 | DESTINATION DUNKERQUE | Thomas Ruyant | 05/06/2013 18:41 | 0d 2h 38mn 6sec | 6.89 |
| 26 | LAFONT PRESSE | Mathieu Girolet | 05/06/2013 19:05 | 0d 3h 1mn 37sec | 6.85 |
| 27 | ARTEMIS 37 | Edmund Hill | 05/06/2013 19:09 | 0d 3h 5mn 51sec | 6.85 |
| 28 | ROCKFISH | Henry Bomby | 05/06/2013 19:14 | 0d 3h 10mn 41sec | 6.84 |
| 29 | ADOCIS / IB REMARKETING | Benoit Hochart | 05/06/2013 19:25 | 0d 3h 21mn 42sec | 6.82 |
| 30 | BRETAGNE - CREDIT MUTUEL PERFORMANCE | Anthony Marchand | 05/06/2013 19:30 | 0d 3h 26mn 37sec | 6.82 |
| 31 | BRETAGNE - CREDIT MUTUEL ESPOIR | Corentin Horeau | 05/06/2013 20:09 | 0d 4h 5mn 51sec | 6.76 |
| 32 | THERMACOTE France | Yannig livory | 05/06/2013 20:13 | 0d 4h 9mn 55sec | 6.75 |
| 33 | FULL IRISH | David Kenefick | 05/06/2013 20:30 | 0d 4h 27mn 29sec | 6.73 |
| 34 | SEIXO HABITAT | Julien Villion | 05/06/2013 20:33 | 0d 4h 30mn 7sec | 6.73 |
| 35 | JEHOL | Didier Bouillard | 05/06/2013 20:52 | 0d 4h 49mn 6sec | 6.7 |
| 36 | REGION BASSE NORMANDIE | Joan Ahrweiller | 05/06/2013 21:51 | 0d 5h 48mn 7sec | 6.62 |
| 37 | CARNAC THALASSO & SPA | Gilles Le Baud | 05/06/2013 22:40 | 0d 6h 36mn 52sec | 6.55 |
| 38 | JOANNA | Louis-Maurice Tannyeres | 05/06/2013 23:53 | 0d 7h 50mn 19sec | 6.45 |
| 39 | LES RECYCLEURS BRETONS | Simon Troel | 06/06/2013 00:25 | 0d 8h 22mn 26sec | 6.41 |
| 40 | REGION AQUITAINE / ATELIER DE France | Amaiur Alfaro | 06/06/2013 00:50 | 0d 8h 47mn 2sec | 6.38 |
| 41 | GROUPE SNEF | Jean-Paul Mouren | 06/06/2013 02:31 | | 6.26 |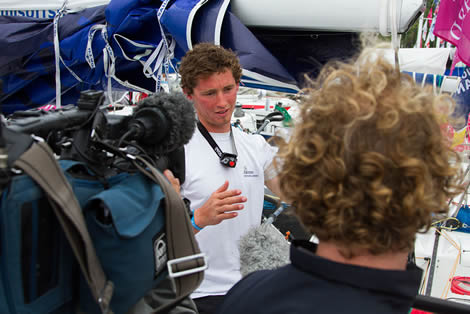 Back to top
Back to top