Solitaire du Figaro underway
Sunday June 2nd 2013, Author:
James Boyd
, Location: none selected
The Solitaire du Figaro Eric Bompard cashmere 2013 set sail at lunchtime today off Pauillac, half way up towards Bordeaux on the mighty Gironde river.
After some rain this week, summery conditions and a moderate NNEerly wind prevailed for the start which got underway for the 41 singlehanded one-designed at 1100UTC (1300 local) some two miles upriver of Pauillac.
In a light northerly breeze, the boats had to tackle some two knots of unfavourable flood tide as they took on a lap up and down the river before heading off properly. To get out of the worst of the tide the fleet divided between the two river banks and it was eventually the group that went to the west bank before venturing out into the river to round the weather mark that prevailed with Jean-Pierre Nicol on Bernard Controls first around ahead of Fred Duthil on Sepalumic.
For British followers there was much whooping and hollering as British former Match Racing National Champion Nick Cherry on Magma Structures rounded the weather mark in third place.
Heading back up the river towards Bordeaux under kites and the aim was to stay in the middle of the river to gain the maximum current (while attempting to avoid the numerous logs and bits of tree floating down the river - there was a lot debris in the water, that yesterday was the cause of an engine on one of the boats). At the leeward mark it was Paul Meilhat on Skipper MACIF 2011 that led around with Jean-Pierre Nicol, followed by Jeremie Beyou on Maitre Coq, Gildas Morvan (Cercle Verte), Adrian Hardy (AGIR Recouvrement), Yoann Richomme (DLBC) and the first 'bizuth' (aka Solitaire first timers) Simon Troel on Bretons Recyclage.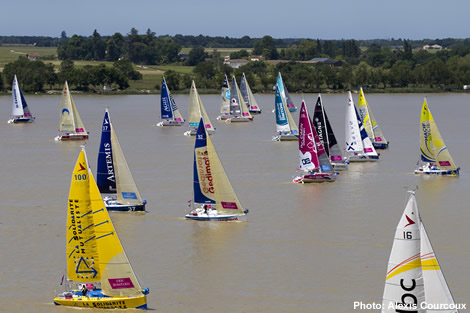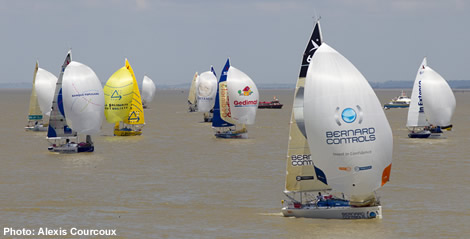 Heading down the river, Damien Guillou on La Solidarite Mutualiste ran into an underwater obstruction and sustained some damage but this was not felt to be serious enough to stop the skipper from continuing.
With Meilhat leading, Beyou pulled up to second with Nicol and Morvan but of note was the meteoric rise up to fifth place of Michel Desjoyeaux sailing TBS, having been mid-fleet on the brief run just an hour earlier.
Among the Brits Cherry, Rockfish's Henry Bomby, Jack Bouttell and Ed Hill were all within the top 20 boats, with Sam Goodchild in the next bunch fighting to recover from a poor start.
At the last buoy, 23 miles from Verdon Point at the mouth of Gironde the order of the top boats was:
1-Paul Meilhat (Skipper Macif 2011)
2-Jérémie Beyou (Maître CoQ)
3-Jean Pierre Nicol (Bernard Controls)
4-Gildas Morvan (Cercle Vert)
5-Michel Desjoyeaux (TBS)
6-Frédéric Duthil (Sepalumic)
7-Adrien Hardy (Agir recouvrement)
8-Thierry Chabagny (Gédimat)
9-Vincent Biarnes (Prati'Bûches)
10-Nick Cherry (Magma Structures) 1st foreigner
11-Armel Le Cléac'h (Banque Populaire)
12-Fabien Delahaye (Skipper Macif 2012)
13-Simon Troël (Les recycleurs bretons) 1st bizuth
By the time the boats had reached the Radio France buoy at the mouth of the Gironde the top 10 was:
1 - Jeremie Beyou (Maitre Coq) at 18:05
2 - Michel Desjoyeaux (TBS)
3 - Adrien Hardy (AGIR Recouvrement)
4 - Paul Meilhat (Skipper MACIF 2011)
5 - Jean-Pierre Nicol (Bernard Controls) at 18h07
6 - Julien Villion (Seixo Habitat)
7 - Vincent Biarnes (Prati'Buches)
8 - Fabien Delahaye (Skipper MACIF 2012)
9 - Thierry Chabagny (Gedimat)
10 - Armel Le Cléac'h (Banque Populaire)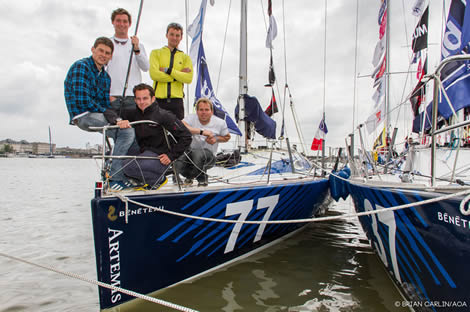 After such a lengthy build-up to the race, there was a sense of relief this morning among the British skippers, the Artemis Offshore Academy rookies Jack Bouttell and Ed Hill and graduates Sam Goodchild, Henry Bomby and Nick Cherry.
Jack Bouttell warned of this leg from Bordeaux across the Bay of Biscay to Porto in Portugal: "The first leg up river will be one of the hardest parts of the race, with forty one 33ft Figaro boats pushing through a fairly narrow passage in variable tides and with shallow areas to avoid. My aim for the race is a clean start and then take the rest of the course in third gear, not taking risks and just sailing consistently. We've still got another three legs to go after this!"
Nick Cherry was gagging to get underway: "I'm totally ready to go. I think we will have about 200 tacks to complete before we get out of the Gironde Estuary. It's going to be interesting start to the race and I'm ready for it. I'm also looking forward to all of the downwind spinnaker action to follow."
Now out into the Bay of Biscay the competitors are expecting downwind sleighride towards Cape Finisterre at the northwestern point of Spain, where the wind will as usual accelerate greatly, before dropping off as they head down the western coast of Spain and on to the Portugese stopover port.
Cherry continues: "After we get past Finisterre when the wind shuts down the fleet will compress again adn we will be 2.5 days in and we'll all be tired and there will be a lot of tactical decisions about how far off the coast to go to get the most wind. Past Finisterre they say the wind doubles from what you've had before so if we have got 15-20 knots going across Biscay we might have 35 or 40 knots downwind around the corner, downwind which could be brilliant."
"Leg 1 will be quite a mental leg requiring clever sailing," Ed Hill explained. "After the big winds of the Cape, the wind is set to drop and become shifty due to a wind shadow. We'll have to make a call as to how far inshore or offshore we're going to sail to get the best breeze."
"Trying to get away safely and not do anything stupid will be important," said Goodchild of his plans for the start, and then... "We have the spinnaker up pretty much the whole leg which includes 35 knots around Finistere and possibly 5 knots around the other side. I am looking forward to lining up against everyeone. We have done some training races, but not everyone has been there. So seeing where we are and trying to come out of leg one without too big a deficit and having something to build on for leg 2-4 is the aim."
"I feel confident, relaxed and ready to go," added Henry Bomby. "The build up this week has been world's apart from last year. I used up so much emotional energy through nerves and my short time to prepare that I was exhausted by the time it came to racing. This year I am just ready to get out there and put in the performance I want to."
For the build-up week for this year's Solitaire du Figaro, the fleet was based alongside the Gironde in the heart of Bordeaux, France's third largest city. This coincided with Bordeaux's Fete de Fleuve festival. According to Pierre Bojic, boss of la Solitaire's organiser, Pen Duick, 500-600,000 are expected to have passed through the Festival this week. 60,000 people were logged on and off the tall ship moored alongside the Solitaire fleet. According to Bojic, Bordeaux was a success and he hopes to return here in 2015.
Photos from Brian Carlin / www.cubeimages.com
Back to top
Back to top