Solitaire du Figaro 2013 - runners and riders
| | | | | |
| --- | --- | --- | --- | --- |
| Skipper | Age | Boat name | Previous | Best results |
| | | | SdeFs | |
| Joan Ahrweiller | 29 | Region Basse Normandie | R | |
| Amaiur Alfaro | 41 | Region Aquitaine/Ateliers de France | 5 | 37th 2001/2 |
| Jeremie Beyou | 36 | Maitre CoQ | 12 | 1st 2005, 2011, 3rd 2004 |
| Vincent Bairnes | 39 | Prati'Buches | 4 | 13th 2008 |
| Henry Bomby (GBR)_ | 22 | Rockfish | 1 | 31st 2012 |
| Didier Bouillard | 49 | Jehol | 5 | 28th 2012 |
| Jack Bouttell (GBR) | 22 | Artemis 77 | R | |
| Thierry Chabagny | 41 | Gedimat | 11 | 2nd 2006 |
| Nick Cherry (GBR) | 28 | Magma Structures | 1 | 25th 2012 |
| Fabien Delahaye | 28 | Skipper MACIF 2012 | 4 | 2nd 2011 |
| Michel Desjoyeaux | 47 | TBS | 11 | 1st 1992, 1998, 2007, 2nd 1991, 1996, 2005, 3rd 2003 |
| Fred Duthil | 39 | Sepalumic | 9 | 2nd 2007, 3rd 2008, 2009 |
| Yann Elies | 39 | Groupe Queguiner-Leucemie Espoir | 13 | 1st 2012, 2nd 2004, 2009 |
| Matthieu Girolet | 39 | Lafont Presse | 4 | 29th 2012 |
| Sam Goodchild (GBR) | 23 | Shelterbox-Disaster Relief | 2 | 24th 2012 |
| Damien Guillou | 30 | La Solidarite Mutualiste | 3 | 20th 2012 |
| Adrien Hardy | 28 | AGIR Recouvrement | 5 | 14th 2011 |
| Ed Hill (GBR) | 30 | Artemis 37 | R | |
| Benoit Hochart | 27 | ADOCIS / IB-Remarketing | R | |
| Corentin Horeau | 23 | Bretagne-Credit Mutuel Espoir | 1 | 23rd 2012 |
| Nicolas Jossier | 37 | In Extenso experts comptables | 5 | 13th 2012 |
| Dave Kenefick (IRE) | 21 | Full Irish | R | |
| Morgan Lagraviere | 26 | Vendee | 2 | 2nd 2012 |
| Gilles le Baud | 64 | Carnac Thalasso & SPA | 3 | 1st 1973, 1978 |
| Armel le Cleac'h | 36 | Banque Populaire | 9 | 1st 2003, 2010, 2nd 2000 |
| Yannig Livory | 46 | Thermacote France | 3 | 34th 2012 |
| Alexis Loison | 28 | Groupe Fiva | 7 | 8th 2012, 2008 |
| Nicolas Lunven | 30 | Generali | 6 | 1st 2009, 3rd 2012 |
| Xavier Macaire | 32 | Skipper Herault | 2 | 10th 2011, 2012 |
| Anthony Marchanrd | 28 | Bretagne Credit Mutuel Performance | 3 | 9th 2011 |
| Paul Meilhat | 31 | Skipper MACIF 2011 | 3 | 5th 2011 |
| Gildas Morvan | 44 | Cercle Vert | 17 | 2nd 2008, 3rd 1999-2001 |
| Jean Paul Morren | 50 | Groupe SNEF | 26 | 6th 1991 |
| Jean-Pierre Nicol | 34 | Bernard Controls | 6 | 15th2011 |
| Claire Pruvot | 36 | Port de Caen Ouistreham | R | |
| Yoann Richomme | 29 | DLBC | 3 | 19th 2010, 2012 |
| Fred Rivet | 35 | DFDS Seaways | 4 | 14th2008 |
| Thomas Ruyant | 32 | Destination Dunkerque | 2 | 16th2012 (Mini Transat 2009 - 1st) |
| Louis Maurice Tannyeres | 55 | Joanna | 3 | 41st 2010 |
| Simon Troel | 26 | Les Recycleurs Bretons | R | |
| Julien Villion | 25 | Seixo Habitat | 1 | 18th |
As discussed in our interviews with the leading Brits heading into Sunday's start of 44th Solitaire du Figaro - Eric Bompard cachemire, this year's effective world championship of singlehanded offshore racing is set to be one of the most competitive in the recent history of the race. Not since 2009 has been such a number of potential winners among the 41 competitors.
"Usually one talks of 15 potential candidates to win, but this year you might well consider 20," says Michel Desjoyeaux when asked for his prediction. TBS's skipper leads the field in this year's race being one of only three people to have won the Solitaire three times (1992, 1998, 2007), along with other legends of the race, Philippe Poupon (1982, 1985 and 1995) and Jean le Cam (1994, 1996, 1999). But most impressive about Le Professeur is his consistency. In 11 past participations, his first being in 1990, he has only been off the podium on four occasions.
Behind him on two victories apiece and hoping to level the score are Banque Populaire skipper Armel Le Cléac'h (2003, 2010) and Maître CoQ's Jérémie Beyou (2005, 2011), plus another legend of the race making his return this year, Gilles Le Baud, skipper of Carnac Thalasso & Spa, who won in both 1973 and 1978, when the race was backed by another French newspaper and known as Course de l'Aurore.
On single wins are Generali skipper Nicolas Lunven (2009) and the defending champion Yann Eliès sailing Groupe Quéguiner-Leucémie Espoir. Except for Gilles Le Baud, whose goal, now he's 64 ambition is pure to finish in style, all the others are potential winners.
But there are many other with the potential to win, ranging from the old and high experienced to the young and talented. In the former category unquestionably is Cercle Verte skipper Gildas Morvan who has previously sailed he race 17 times during which time he has scored five leg wins and four overall podium finishes, his best result being second in 2008. Morvan has lost none of his edge - he won the singlehanded Trophe BPE in 2009 and last year's doublehanded Transat AG2R. Could this be his year....finally???
Having competed a mere nine time before is Frédéric Duthil, skipper of Sepalumic, who has previously had three leg wins and has finished n the podium three times from 2007-2009.
Among the young blades, the favourites are the runners-up in the last two races: Skipper Macif 2012's Fabien Delahaye in 2011 and ex-Olympic 49er sailor Morgan Lagravière, skipper of Vendée, who come home just behind Yann Eliès in 2012.
Beyond this there are several dark horses, outside bets, most of the younger generation. These include Anthony Marchand (Bretagne - Crédit Mutuel Performance), Adrien Hardy (AGIR Recouvrement), Jean-Pierre Nicol (Bernard Controls), Xavier Macaire (Skipper Hérault) and Paul Meilhat (Skipper MACIF 2011).
The winner will have to be consistently good over the four legs of this year's race, 1,938 miles of competition, from Bordeaux to Porto to Gijon (N Spain) up to Roscoff and on to the finish in Dieppe. As described by someone who knows the race all too well - Gildas Morvan: "There is always an incredible line-up. Those who won never, ever did so easily. This race is tough, you fight more against yourself than the others". Words of wisdom.
So who are the skippers' favourites?

Anthony Marchand, Bretagne Crédit Mutuel Performance: "Each of us has his own favourite. Mine is Yann (Eliès). He is really focused to do well in this Solitaire. I've seen that when we were training in Port La Forêt last winter. Armel (Le Cléach') and Jérémie (Beyou) both have other big projects and it is harder for them to focus just on this race. Me, I have the chance to do well, maybe win a leg and be consistent with the others".

Michel Desjoyeaux, TBS: "Usually one talks of 15 potential candidates to victory, but this year you can well consider 20. I can't see one who stands out. Maybe on Friday I will be able to tell you more… Me? I will tell you in one month's time, on 23 June in Dieppe".

Sam Goodchild, Shelterbox Disaster Relief: "I think six or seven can win it. My personal favourite would probably be Jeremie Beyou, but then there's Armel, Mich can win it, Morgan Lagraviere, Yann Elies, who won it last time. Dark horse? I reckon Julian Villian is pretty strong for his age. He was a bizuth last year. He is doing the Tour Voile with Groupama this year. He hasn't been sailing a Figaro this winter, he's been trimming the main for Franck Cammas. You imagine he'd learn a bit from that. He is probably the strongest of the youngsters".

Alexis Loison, Groupe Fiva: "Who will be the winner? Me, of course! I'm joking, naming names is hard. Il will give all I have, I see myself as an outsider. During winter training I found Jérémie Beyou extremely strong, not to mention Yann Eliès…"

Thomas Ruyant, Destination Dunkerque: "Lucky he who knows! Maybe me, why not? My favourites are Nico (Lunven) and Yann (Eliès), they're strong. And myself too, I will race with no inferiority complex".

Corentin Horeau, Bretagne - Crédit Mutuel Espoir: "Hard to say, I would place Anthony Marchand in the top three. I think he is in good shape, has raced well in the Transat and prepared well last winter. He is ready for it. And then there's the great 'classics' like Beyou, Eliès, Morvan and then Morgan (Lagravière), who can also do well".

Damien Guillou, La Solidarité Mutualiste : "As always, the truth is that on the last editions there is always been a past winner who came back to the game and dominated. This year the level is so high. Past winners and some who still have to, but are so well prepared. I guess that there is at least a dozen who could win".

Fabien Delahaye, Skipper MACIF 2012 : "At least 15 can win, five or six among the past winners. And the experts like Gildas (Morvan), Thierry (Chabagny), Fred Duthil. Everyone can be fast, it will be decided by weather strategy. On my part, I will give it a try. Paul (Meilhat) is also very strong, he is fast and self-confident. There are many who could…"

Gildas Morvan, Cercle Vert : "A Solitaire is never easy to win, very tough for everyone, star or not. Whatever happens, it will be hard. There are some good youngsters, some veterans who come back for more. But this race is also a battle with yourself, more than against the others. The level is always so high at the Solitaire."

Thierry Chabagny, Gedimat : "I don't think it will be a past winner. And that's good, because there will be more chance for everyone. But it will be someone who trained well, who has a long-time sponsor, who is focused and is able to sail well for over a month. It will not be a shocker but someone out of the 25 who can win this year".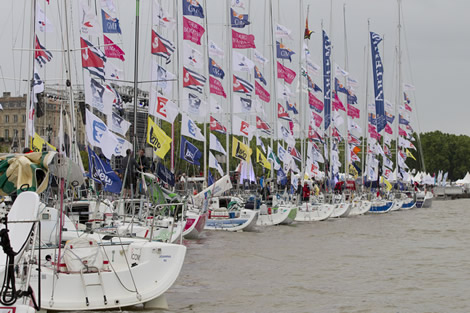 Back to top
Back to top