Home straight
Wednesday November 16th 2011, Author:
James Boyd
, Location: none selected
IMOCA 60 positions at 1030 GMT (click on image to enlarge)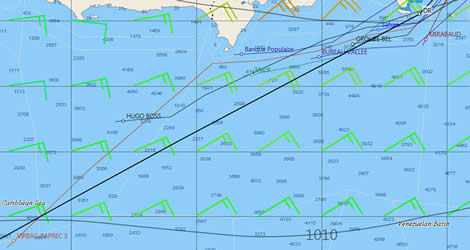 Class40 positions at 1030 GMT (click on image to enlarge)
Charts above courtesy of Expedition/Tasman Bay Navigation Systems and PredictWind. Latest scheds below
The end is in sight now for the leaders in the Transat Jacques Vabre's IMOCA 60 class. Leader Jean Pierre Dick and Jeremie Beyou on Virbac Paprec 3 passed the eastern tip of the Dominican Republic yesterday morning at around 0500 followed by Alex Thomson and Guillermo Altadill on Hugo Boss at 1000, Francois Gabart and Seb Col on MACIF at 2100, Banque Populaire at 0100 this morning and since then all but Mike Golding and Bruno Dubois on Gamesa have passed through.
At the moment the finish line off Porto Limon, Costa Rica is pretty much dead downwind and with 541 miles to run, Virbac Paprec 3's ETA is early on Friday morning UTC. Hugo Boss put in a hitch to the north this morning and is currently laying Porto Limon although an area of high pressure is forecast to develop over the Caribbean Sea on Thursday night, so there will be one last hurdle for the crews to jump.
In the Multi50 match race, Yves le Blevec and Sam Manuard aboard Actual flew down the Caribbean chain to round Barbados at 1100 UTC yesterday, the multihulls having to sail a longer course because of their superior boat speed. They are now half way across the Caribbean Sea heading for the finish line from a totally different angle to the 60s.
Over the last 48 hours the Class40 crews have enjoyed fast running conditions. Potentially benefitting most from these should have been 40 Degrees and Solo who due to their northerly position were first to pick up the strong northeasterlies. However they have managed to make little inroads into the leaders, Yannick Bestaven and Eric Drouglazet on Aquarelle.com, who remain resolutely in front, 237 miles ahead of third placed 40 Degrees with Damien Seguin and Yoann Richomme on ERDF Des pieds et des mains still second and still furthest south.
The high pressure to their north, generating the present welcome easterly winds, looks set to be replaced by another giant area of high pressure originating from the east coast of the USA over the weekend. Generally favourable conditions are forecast to remain until Tuesday next week when the front runners should be passing the eastern end of the Dominican Republic.
Back to top
Positions at 1030 GMT
| | | | | | | | | | | |
| --- | --- | --- | --- | --- | --- | --- | --- | --- | --- | --- |
| Pos | Boat | Crew | Lat | Long | Spd | Crs | Spd | Dist | DTF | DTL |
| | | | | | 4hr aver | | 24 hours | | | |
| | IMOCA 60 | | | | | | | | | |
| 1 | Virbac-Paprec 3 | Jean-Pierre DICK- Jérémie BEYOU | 14 30.88' N | 75 01.25' W | 17.3 | 227 | 15.9 | 381.4 | 542.1 | 0 |
| 2 | Hugo Boss | Alex THOMSON - Guillermo ALTADILL | 16 27.26' N | 73 17.45' W | 14.7 | 269 | 13.5 | 318.9 | 688.1 | 145.9 |
| 3 | Macif | François Gabart-Sébastien COL | 17 09.10' N | 71 14.69' W | 15.4 | 258 | 13.7 | 347.7 | 810 | 267.9 |
| 4 | Banque Populaire | Armel LECLEACH-Christopher PRATT | 17 28.66' N | 71 24.35' W | 15.2 | 266 | 13.4 | 348.4 | 812.3 | 270.1 |
| 5 | BUREAU VALLEE | Louis BURTON-Nelson BURTON | 17 24.98' N | 70 10.53' W | 15.7 | 262 | 13.1 | 321.9 | 871 | 328.9 |
| 6 | Groupe Bel | Kito DE PAVANT -Yann REGNIAU | 17 38.62' N | 69 30.38' W | 15.8 | 253 | 15 | 361.9 | 903 | 360.8 |
| 7 | Safran | Marc GUILLEMOT - Yann ELIES | 17 50.31' N | 69 12.86' W | 14.4 | 250 | 14.6 | 354.4 | 931.4 | 389.3 |
| 8 | Mirabaud | Dominique WAVRE -Michèle PARET | 17 37.31' N | 68 23.14' W | 13.1 | 209 | 14 | 322.8 | 967.5 | 425.3 |
| 9 | GAMESA | Mike GOLDING - Bruno DUBOIS | 18 35.42' N | 68 09.89' W | 14.8 | 210 | 13 | 310.5 | 1008.5 | 466.4 |
| ABD | Akena Verandas | Arnaud BOISSIERES - Gérald VENIARD | | | | | | | | |
| ABD | PRB | Vincent RIOU -Hugues DESTREMAU | | | | | | | | |
| ABD | DCNS 1000 | Marc THIERCELIN-Luc ALPHAND | | | | | | | | |
| ABD | Cheminées Poujoulat | Bernard STAMM -Jean-François CUZON | | | | | | | | |
| | | | | | | | | | | |
| | Multi50 | | | | | | | | | |
| 1 | ACTUAL | Yves LE BLEVEC-Samuel MANUARD | 13 45.44' N | 64 49.40' W | 16.8 | 279 | 13 | 329.3 | 1092 | 0 |
| 2 | Maitre Jacques | Loic FEQUET- Loic ESCOFFIER | 13 11.39' N | 59 46.98' W | 3.6 | 235 | 9.6 | 266.7 | 1381.2 | 289.2 |
| ABD | Crêpes Whaou ! | Franck Yves ESCOFFIER- Antoine KOCH | | | | | | | | |
| ABD | Monopticien.com | Julien MABIT-Etienne MABIT | | | | | | | | |
| ABD | Prince de Bretagne | Lionel LEMONCHOIS- Matthieu SOUBEN | | | | | | | | |
| ABD | FenetreA - Cardinal | Erwan LE ROUX-Didier LE VOURCH | | | | | | | | |
| | | | | | | | | | | |
| | Class40 | | | | | | | | | |
| 1 | Aquarelle.com | Yannick BESTAVEN-Eric DROUGLAZET | 25 59.74' N | 52 28.11' W | 11.6 | 267 | 10.7 | 229 | 1983 | 0 |
| 2 | ERDF Des pieds et des mains | Damien SEGUIN-Yoann RICHOMME | 25 02.47' N | 49 32.91' W | 6.9 | 249 | 9.8 | 220.1 | 2109.9 | 126.9 |
| 3 | 40 degrees | Hannah JENNER-Jesse NAIWARK | 27 20.52' N | 48 18.11' W | 8.7 | 251 | 10.8 | 224.7 | 2220.1 | 237.1 |
| 4 | Solo | Aasberg Rune-Smen LOVGREN | 29 29.89' N | 49 10.76' W | 10.4 | 215 | 9.9 | 232.9 | 2233.4 | 250.4 |
| 5 | Phoenix Europe Express | Stéphanie ALRAN-Jean-Edouard CRIQUIOCHE | 23 31.90' N | 44 35.87' W | 7.4 | 245 | 8.8 | 202.7 | 2352.8 | 369.8 |
| 6 | 11th Hour Racing | Nick HALMOS-Hugh PIGGIN | 25 05.82' N | 44 26.61' W | 11.6 | 255 | 9.3 | 223.6 | 2378.5 | 395.6 |
| 7 | Groupe PICOTY | Jacques FOURNIER-Jean Christophe CASO | 25 48.67' N | 43 32.45' W | 10.8 | 259 | 7.5 | 177.3 | 2435.9 | 453 |
| 8 | HIP ECO BLUE | Andrea FANTINI-Stella TOMMASO | 25 34.24' N | 37 02.18' W | 7.2 | 218 | 6.7 | 125.8 | 2779 | 796.1 |
| 9 | Partouche | Christophe COATNOAN-Etienne LAFORGUE | 23 27.05' N | 34 06.07' W | 8.2 | 233 | 7.4 | 129.2 | 2926.7 | 943.8 |
| ABD | Bureau Veritas - Dunkerque Plaisance | Stéphane LE DIRAISON- Thomas RUYANT | | | | | | | | |
| ABD | Comiris Pole Santé Elior | Thierry BOUCHARD-Gilles BERENGER | | | | | | | | |
| ABD | Concise 2 | Ned COLLIER WAKEFIELD-Sam GOODCHILD | | | | | | | | |
| ABD | Avis Immobilier | Eric GALMARD-François SCHEECK | | | | | | | | |
| ABD | Lecoq Cuisine | Eric LECOQ-Eric DEFERT | | | | | | | | |
| ABD | Gust buster | Anna Maria RENKEN-Jakica JESIH | | | | | | | | |
| ABD | Initiatives - Alex Olivier | Tanguy DE LAMOTTE-Eric PERON | | | | | | | | |
Back to top