Winning track?
Friday November 11th 2011, Author:
Andi Robertson
, Location: none selected
Sailing with co-skipper Jérémie Beyou on Virbac-Paprec 3, race leader Jean-Pierre Dick knows that the strategy that they and second placed Alex Thomson and Guillermo Altadill on Hugo Boss have followed has the hallmarks of a possible victory, but the double winner of the Barcelona World Race and the two-time Transat Jacques Vabre victor, was pressing for every fast mile today, knowing full well that final days in the Caribbean still have the potential for pitfalls.
With water sluicing the deck, fully powered under maximum gennaker area, Dick and Beyou were – like those who are valiantly pursuing them over 300 miles behind – swapping helm time regularly, enjoying the adrenalin rush of keeping the boat close to the edge knowing that they have a small slow down ahead. After that, Dick said today, they should have a direct route under northerly breezes which they should get to first: "We have a little ridge to get through, but it will not be as bad for us as the boats to the south. There will always be wind, then we get a northerly which will pick up and get us down to Santo Domingo under spinnaker which is interesting for us and should be good.
"The thing is that there are so many random possibilities towards the end of a race like this, and so you have to keep pushing for every mile. But we try to save the boat and keep it in good condition. Towards Costa Rica there are big squalls, a possible lottery aspect that you have to factor in."
Alex Thomson's mojo seems to be re-booted. His partnership with Guillermo Altadill has seen them pushing relentlessly to keep pace with the newer generation VPLP-Verdier design, and the British-Spanish duo were still only 43.3 miles off the pace set by Virbac-Paprec 3. Many miles can be lost and gained on the final nights closing to Costa Rica, and the Hugo Boss duo will know they perhaps don't have the firepower to overhaul the French duo on speed, but if they can stay in Virbac-Paprec 3's slipstream an opportunity might come knocking nearer the final days.
The battle for third is all consuming. Incumbent through today has been Mike Golding and Bruno Dubois again on Gamesa, but they appear to have fallen prey to the advance of poster boys François Gabart and Seb Col on MACIF. On this afternoon's 1600 UTC sched MACIF had the tiniest of margins, arcing gently NW, while Gamesa has been gybing downwind. The two were on converging course, some seven miles apart on the water. And Armel Le Cléac'h, the Jackal, on Banque Populaire with Chris Pratt is in the running too, some 20 miles behind, also on a NW trajectory to avoid the zone of light winds ahead.
From on board MACIF, Sebastien Col, reported: "Everything is going well and we're having lots of fun. We are a bit put out by the high pressure ridge passage but it is motivating to come back at the fleet leaders and we manage to have some good speeds for the past two days. I hope they are scared of us ! It's sunny. The night has a full moon, everything comes together nicely to attack the leaders!
We could spend hours at the helm, but we are being careful with Francois, we swap over often to keep up the speed. We must sail as fast as we can, there has been no tactical options for the past two days, and we must hang in to put pressure on the guys in front, and drop the guys behind, even if it is not that easy with boats like Safran or Groupe Bel."
Aboard Safran today, Yann Eliès admitted that their best hope as it stands, is third.
In the Multi 50 duel, Actual has first place locked down but that was not stopping the two Loïc's Fequet and Escoffier on Maitre Jacques from trying a different option just so they are not simply following in the tracks of Yves Le Blevec and Sam Manuard on the leading Multi.
In the Class 40, Aquarelle.com reign supreme, adding 37 miles to their lead since the same time yesterday. Hannah Jenner and Jesse Naimark-Rowse on 40 Degrees have been going well, losing slightly to their rivals to the south Groupe Picoty, who are eight miles ahead in third.
Aboard Gust Buster, Anna-Maria Renken admitted today that she and her rookie co-skipper Slovenian Jacika Jesih were relieved to have emerged from the worst of the storms now which had seen them with 50kts and big seas. Unfortunately news came later today that the two girls are reported to be heading for Ponta Delgada on the Azores island of Sao Miguel in the Azores to try and repair a damaged rudder.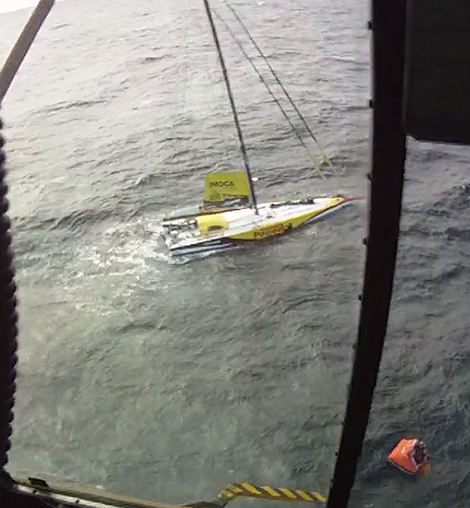 News of some of the retirements is positive. Off the Breton coast the fishing boat Agrion has Initiatives Alex Olivier in tow and a delicate towing operation for Cheminées Poujoulat, making around 1.5 knots, is hoped to conclude in the Azores on Saturday.
Top three standings at 1700 CET:
IMOCA
1 - Virbac Paprec 3 (Jean-Pierre Dick - Jérémie Beyou) : 2083,3 milles to finish
2 - Hugo Boss (Alex Thomson - Guillermo Altadill) : 43,4 milles to leader
3 - Macif (François Gabart - Sébastien Col) : 305,3 milles to leader

Multi50
1 - Actual (Yves Le Blevec - Samuel Manuard) : 2704,3 milles to finish
2 - Maitre Jacques (Loïc Fequet - Loïc Escoffier) : 220,1 milles to leader
Class40
1 - Aquarelle.com (Yannick Bestaven - Eric Drouglazet) : 2916,2 milles to finish
2 - ERDF Des Pieds et des Mains (Damien Seguin - Yoann Richomme) : 142,1 milles to leader
3 - Groupe Picoty (Jacques Fournier - Jean-Christophe Caso) : 225,8 milles to leader
Back to top
Back to top