Tough night
Monday November 7th 2011, Author:
James Boyd
, Location: none selected
IMOCA 60 positions at 0730 GMT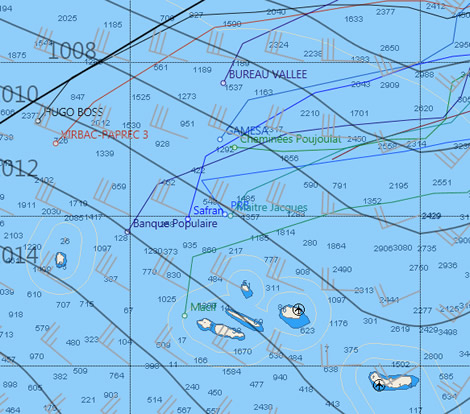 Class 40 positions at 0730 GMT (click on image to enlarge)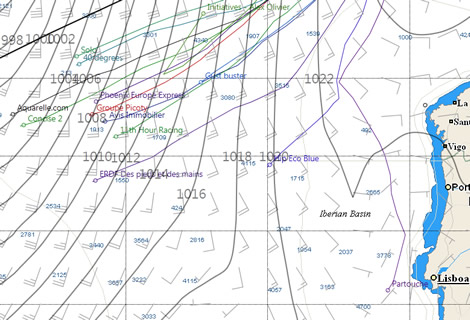 Charts above courtesy of Expedition/Tasman Bay Navigation Systems and PredictWind.
It has been hard night for the IMOCA 60s in the Transat Jacques Vabre fleet as they encountered a violent front over overnight. There have been damage reports from Cheminées Poujoulat, which was lying third, and to PRB which is heading for the Azores. To the east the Class 40s have still to encounter it. In the Multi 50 fleet leader Actual, south of the Azores, were south of the front and still have the toughest period to go.
PRB, skippered by 2004-5 Vendée Globe winner Vincent Riou, is heading to the Azores for a pit-stop to see what they can do about a crack in a forward bulkhead. After the front passed them last night with winds of 35-40kts Vincent Riou and Hugues Destremau made a check to ensure the boat was not damaged. At 0430 CET they reported that they have found the crack. According to the crew there is no water ingress but they plan to head to the Azores to assess.
"I think it is better to go there and see what we can do, given the future wind and sea states, rather than risk anything." They have said they will head for the island of Terceira where they plan to dock at Praia de Vitoria. PRB was making 8-9 knots towards this haven and were around 100 miles away.
"I think we will need at least three days to complete the necessary repairs," Riou informed his team this morning.
Cheminées Poujoulat reported to race direction last night that they had a leak, with water coming in from the starboard bow. They are around 140 miles north of the Azores and had slowed the boat, heading in an easterly direction early this morning while they decide what they can do.
In staying with the northern route the Hugo Boss crew of Alex Thomson and Guillermo Altadil expected it to be bad last night, and fortunately the front behaved as it was expected and this morning the leaders were in good shape. They are leading the pack on the chase to the southwest now after tacking. While they are in the north, Banque Populaire remains on the middle course in third and MACIF were just 40 miles north of Faial in the Azores this morning.
Guillermo Altadil reported this morning: "The night was okay. We were sailing with winds of 35 kts with gusts of 45 knots. Now at the moment the sea state is okay, it is sailable and we are trying to keep the boat together and not break too many things. It is going to be like this for another 24 hours, maybe calmer through today to 35 knots, probably tonight more – up to 50knots, so I think it will be 24 hours, We are doing our normal watch system but have been just discussing the long term strategy after this low pressure, how we negotiate the high pressure in front with no wind, but first of all we have to come from this storm with the boat in one piece."
At the latest sched Hugo Boss lead Jean-Pierre Dick and Jérémie Beyou by 5.5 miles with Banque Populaire in third, 30 miles behind. They were expecting another 24 hours of stormy weather. Dick reported: "We have been through the worst of the front with a wind shift four hours ago, with gusts to 40-42 knots. It was hard, powerful stuff. It was almost a winter low, with a lot of wind and rain. The boat, Virbac-Paprec 3 seems tough. We took the northern option rather more difficult so I hope it pays. We take the worst of the depression and so we try to maximise the gains from it."
Elsewhere in the IMOCA 60s, Marc Thiercelin's 60 DCNS 1000 has officially retired. They have suffered serious power charging problems which they have been unable to solve.Yannick Bestaven on Aquarelle.com, leader of the fleet of Class 40 at the start of the front.
The Class 40 has yet to feel the full force of the front. From Aquarelle.com, Yannick Bestaven reported: "It is just starting, with 30 knots from the south and we are in the beginning of the front which will last about six hours. We are making 11kts, it is slamming but you get used to it. We are under staysail and two reefs at the moment with the third ready to go because we expect 40 knots."
Back to top
Positions at 0730 UTC
| | | | | | | | | | | |
| --- | --- | --- | --- | --- | --- | --- | --- | --- | --- | --- |
| Pos | Boat | Crew | Lat | Long | Spd | Crs | Spd2 | Dist | DTF | DTL |
| | | | | | 4 hour av | | 24 hours | | | |
| | IMOCA 60 | | | | | | | | | |
| 1 | Hugo Boss | Alex THOMSON - Guillermo ALTADILL | 41 14.00' N | 31 35.27' W | 13.4 | 222 | 12.4 | 296.7 | 3318.6 | 0 |
| 2 | Virbac-Paprec 3 | Jean-Pierre DICK- Jérémie BEYOU | 40 56.48' N | 31 16.61' W | 14.2 | 223 | 12.7 | 304.6 | 3324 | 5.5 |
| 3 | Banque Populaire | Armel LECLEACH-Christopher PRATT | 39 46.57' N | 30 02.39' W | 13.5 | 210 | 11.8 | 282.1 | 3348.7 | 30.1 |
| 4 | Macif | François Gabart-Sébastien COL | 38 40.07' N | 29 03.34' W | 13 | 198 | 10.9 | 261 | 3367.9 | 49.4 |
| 5 | Safran | Marc GUILLEMOT - Yann ELIES | 39 56.77' N | 28 59.92' W | 14.5 | 195 | 11.1 | 262.5 | 3397 | 78.5 |
| 6 | Groupe Bel | Kito DE PAVANT -Yann REGNIAU | 39 02.86' N | 28 26.20' W | 10.5 | 235 | 10.3 | 243.8 | 3402.8 | 84.2 |
| 7 | PRB | Vincent RIOU -Hugues DESTREMAU | 40 00.70' N | 28 21.29' W | 8.8 | 151 | 9.1 | 218.2 | 3426.1 | 107.5 |
| 8 | GAMESA | Mike GOLDING - Bruno DUBOIS | 40 59.79' N | 28 26.50' W | 10.2 | 214 | 9.2 | 219.1 | 3443.6 | 125 |
| 9 | Cheminées Poujoulat | Bernard STAMM -Jean-François CUZON | 40 53.33' N | 28 11.35' W | 1.4 | 98 | 6.8 | 160.5 | 3451.9 | 133.3 |
| 10 | BUREAU VALLEE | Louis BURTON-Nelson BURTON | 41 43.10' N | 28 23.75' W | 11 | 205 | 9.9 | 236.7 | 3461.7 | 143.1 |
| 11 | Mirabaud | Dominique WAVRE -Michèle PARET | 40 43.63' N | 26 30.59' W | 10.1 | 246 | 8.2 | 192.8 | 3515.7 | 197.2 |
| 12 | DCNS 1000 | Marc THIERCELIN-Luc ALPHAND | 44 31.09' N | 14 50.10' W | 11.6 | 59 | 12.3 | -281.6 | 4077.8 | 759.2 |
| ABD | Akena Verandas | Arnaud BOISSIERES - Gérald VENIARD | 46 28.64' N | 1 47.14' W | | | | | | |
| | | | | | | | | | | |
| | MULTI50 | | | | | | | | | |
| 1 | ACTUAL | Yves LE BLEVEC-Samuel MANUARD | 35 43.19' N | 26 24.88' W | 13.9 | 267 | 10.3 | 190.5 | 3962 | 0 |
| 2 | Maitre Jacques | Loic FEQUET- Loic ESCOFFIER | 39 59.45' N | 28 15.95' W | 6.1 | 222 | 9.5 | 224.6 | 3980.3 | 18.3 |
| ABD | Crêpes Whaou ! | Franck Yves ESCOFFIER- Antoine KOCH | 43 22.11' N | 8 23.24' W | | | | | | |
| ABD | Monopticien.com | Julien MABIT-Etienne MABIT | 47 16.51' N | 2 25.48' W | | | | | | |
| ABD | Prince de Bretagne | Lionel LEMONCHOIS- Matthieu SOUBEN | 43 22.15' N | 8 23.22' W | | | | | | |
| ABD | FenetreA - Cardinal | Erwan LE ROUX-Didier LE VOURCH | 47 35.23' N | 3 01.55' W | | | | | | |
| | | | | | | | | | | |
| | CLASS 40 | | | | | | | | | |
| 1 | Aquarelle.com | Yannick BESTAVEN-Eric DROUGLAZET | 43 01.90' N | 24 04.31' W | 10.3 | 250 | 10.5 | 251.6 | 3668.8 | 0 |
| 2 | Concise 2 | Ned COLLIER WAKEFIELD-Sam GOODCHILD | 42 44.82' N | 23 43.04' W | 10.9 | 253 | 10.4 | 246.7 | 3677.9 | 9.1 |
| 3 | ERDF Des pieds et des mains | Damien SEGUIN-Yoann RICHOMME | 41 17.97' N | 21 09.62' W | 9.4 | 246 | 10.4 | 242.3 | 3761.4 | 92.6 |
| 4 | Groupe PICOTY | Jacques FOURNIER-Jean Christophe CASO | 43 01.96' N | 21 17.16' W | 10.6 | 251 | 10.2 | 237.8 | 3784.9 | 116.1 |
| 5 | 40 degrees | Hannah JENNER-Jesse NAIWARK | 44 18.09' N | 21 43.93' W | 9.3 | 243 | 9.3 | 223.2 | 3789.6 | 120.8 |
| 6 | Solo | Aasberg Rune-Smen LOVGREN | 44 30.02' N | 21 49.48' W | 10 | 245 | 10.3 | 245.7 | 3789.7 | 120.9 |
| 7 | Phoenix Europe Express | Stéphanie ALRAN-Jean-Edouard CRIQUIOCHE | 43 22.85' N | 21 02.62' W | 9.8 | 245 | 10.1 | 234.9 | 3796.2 | 127.4 |
| 8 | Avis Immobilier | Eric GALMARD-François SCHEECK | 42 51.32' N | 20 50.04' W | 10.2 | 260 | 10.4 | 247 | 3800.8 | 132 |
| 9 | 11th Hour Racing | Nick HALMOS-Hugh PIGGIN | 42 26.72' N | 20 26.23' W | 9.5 | 246 | 9.7 | 221.5 | 3810.9 | 142.1 |
| 10 | Gust buster | Anna Maria RENKEN-Jakica JESIH | 43 49.49' N | 17 25.91' W | 9.7 | 234 | 8.7 | 193.1 | 3959.4 | 290.6 |
| 11 | HIP ECO BLUE | Andrea FANTINI-Stella TOMMASO | 41 40.56' N | 15 00.40' W | 9.5 | 231 | 6.9 | 129.7 | 4035.9 | 367.1 |
| 12 | Partouche | Christophe COATNOAN-Etienne LAFORGUE | 38 18.97' N | 10 48.88' W | 7.4 | 215 | 9 | 21.2 | 4199.6 | 530.8 |
| ABD | Bureau Veritas - Dunkerque Plaisance | Stéphane LE DIRAISON- Thomas RUYANT | 47 19.27' N | 9 46.89' W | | | | | | |
| ABD | Comiris Pole Santé Elior | Thierry BOUCHARD-Gilles BERENGER | 49 38.86' N | 1 37.21' W | | | | | | |
| ABD | Lecoq Cuisine | Eric LECOQ-Eric DEFERT | 48 22.67' N | 4 29.32' W | | | | | | |
| ABD | Initiatives - Alex Olivier | Tanguy DE LAMOTTE-Eric PERON | 45 38.09' N | 17 12.85' W | | | | | | |
Back to top