Victory for The Wave
Cardiff Bay saved the best for last for the 11-boat Extreme 40s with Alinghi, The Wave, Muscat and J.P. Morgan BAR battled it out until the bitter end for the top positions, in one of the closest – and most exciting – three-horse races seen in the Series, which resulted in a three way collision and three consecutive penalties in the final race.
Utlimately The Wave, Muscat took advantage of the tussle to sail away with the Cardiff leg of the 2014 Extreme Sailing Series presented by Land Rover – and importantly closing in on Alinghi on the overall 2014 Series leaderboard.
A relieved McMillan commented: "We're on track this season, there's nothing more we can do that's for sure. The competition is very tight and Alinghi have been really slick this year and have brought in some unbelievable performances. To get one over on them here kind of brings it back down by a point and if we are going to keep pushing them hard, and they do the same to us it's going to go down to the crunch."
That left Ben Ainslie and Morgan Larson in a straight shoot out for second, but the British skipper couldn't break the domination of Switzerland's Alinghi, with Larson snatching it from the grasps of J.P. Morgan BAR.
Alinghi's Olympic champion tactician Anna Tunnicliffe talked through the final race: "We were waiting for Leigh (McMillan) to tack and he drove us right into the boats rounding the mark and boats started coming at us head first. We ended up above the mark so we couldn't bear away and at the same time, Ben (Ainslie) was coming round into the side of us and it all turned into a mess. All three boats were tangled on each other. It's very frustrating, but hopefully we can learn from our mistakes, we're still on top which is good – the damage could have been worse. We need to move on to Istanbul and refocus for that event."
Ben Ainslie's J.P. Morgan BAR was on fire and threatening all day, posting a steady stream of consistent results and slowly chipping away at the leading pack to put itself in the running.
Despite just missing out on second place, Ainslie said he was satisfied with the final position, his team this week joined by local Olympic sailor, Bleddyn Mon: "It has been a great improvement to see us on the podium and great to challenge with the top teams today. It's a big step forwards and hopefully we can continue this for the rest of the Series. Sailing with Paul Campbell-James was fantastic, he has taught us a lot about these boats and Bleddyn was a great addition, he worked incredibly hard. We are looking forward to sailing with Paul Goodison in Istanbul and as we develop further in the event."
In traditional UK Bank Holiday style, the day started with an onslaught of rain, before the clouds lifted, the breeze picked up and the fleet played out the final races in a beautiful 15 knots of breeze, with lots of ducking and weaving, hitting top speeds of 20 knots. In a programme of eight races on the final day, Red Bull Sailing Team made a late surge with their best results of the week, including a pair of wins on the tight race course, to upgrade their overnight position from eighth, to fourth at the close of play.
Double Olympic champion skipper Roman Hagara commented: "We found out how to start well on the racecourse which was key. We had good boat work and were good at approaching the marks; we did almost everything right. We finished the Act in fourth so that's a really good result for us, and looking ahead to Istanbul, we need to start the first day as we finished it here."
A further four points back in fifth place is the Swiss Realteam – and significantly for them, a disappointing 11th place for Emirates Team New Zealand, has seen Jerôme Clerc and his Swiss team leapfrog up the Series leaderboard, to third place.
The battle in the bottom half of the leaderboard was just as fierce, with only three points separating eighth placed Gazprom Team Russia to 11th placed Emirates Team New Zealand.
Cardiff has once again delivered an outstanding event, with 90,000 spectators getting front row seats to the action, as part of the Cardiff Harbour Festival.
Results
1st The Wave, Muscat (OMA) Leigh McMillan, Sarah Ayton, Pete Greenhalgh, Kinley Fowler, Nasser Al Mashari 210 points.
2nd Alinghi (SUI) Morgan Larson, Anna Tunnicliffe, Pierre-Yves Jorand, Nils Frei, Yves Detrey 205 points.
3rd J.P. Morgan BAR (GBR) Ben Ainslie, Nick Hutton, Paul Campbell-James, Bleddyn Mon, Matt Cornwell 203 points.
4th Red Bull Sailing Team (AUT) Roman Hagara, Hans-Peter Steinacher, Mark Bulkeley, Shaun Mason, Stewart Dodson 186 points.
5th Realteam by Realstone (SUI) Jérôme Clerc, Arnaud Psarofaghis, Bruno Barbarin, Bryan Mettraux, Thierry Wassem 182 points.
6th Oman Air (OMA) Rob Greenhalgh, Ted Hackney, Kyle Langford, Hashim Al Rashdi, Musab Al Hadi 175 points.
7th SAP Extreme Sailing Team (DEN) Jes Gram-Hansen, Rasmus Køstner, Thierry Douillard, Jonas Hviid-Nielsen, Brad Farrand, Nicolai Sehested 174 points.
8th Gazprom Team Russia (RUS) Igor Lisovenko, Phil Robertson, Matt Adams, Pete Cumming, Aleksey Kulakov 154 points.
9th Groupama sailing team (FRA) Franck Cammas, Romain Motteau, Tanguy Cariou, Thierry Fouchier, Devan Le Bihan 154 points.
10th GAC Pindar (AUS) Nathan Wilmot, Hugh Styles, Ed Smyth, Seve Jarvin, James Wierzbowski 153 points.
11th Emirates Team New Zealand (NZL) Dean Barker, Ray Davies, James Dagg, Jeremy Lomas, Edwin Delaat 151 points.
Extreme Sailing Series 2014 overall standings
1st Alinghi (SUI) 47 points.
2nd The Wave, Muscat (OMA) 45 points.
3rd Realteam by Realstone (SUI) 34 points.
4th Emirates Team New Zealand (NZL) 33 points.
5th J.P. Morgan BAR (GBR) 25 points.
6th Gazprom Team Russia (RUS) 22 points.
7th Red Bull Sailing Team (AUT) 20 points.
8th SAP Extreme Sailing Team (DEN) 18 points.
9th Oman Air (OMA) 16 points.
10th Groupama sailing team (FRA) 15 points.
11th GAC Pindar (AUS) 5 points.
Full replay of today here:

Highlights: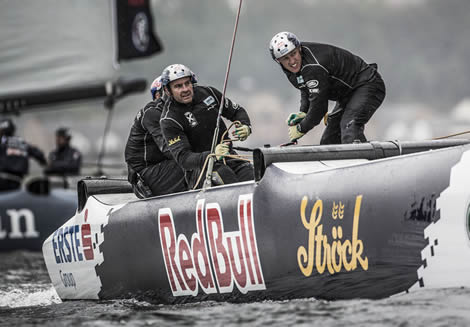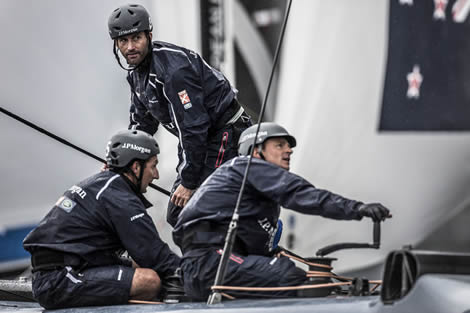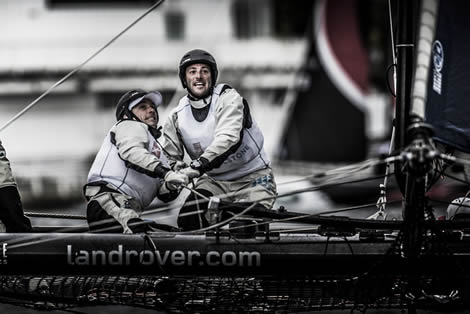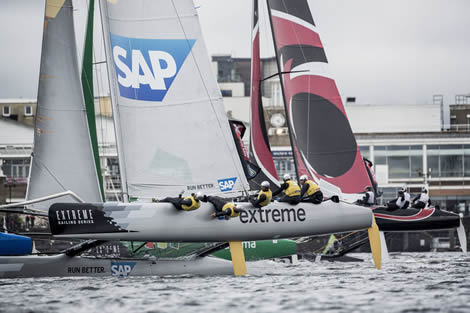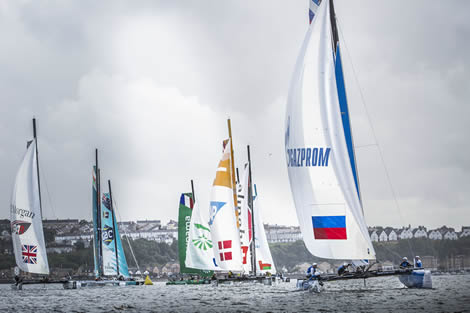 Back to top
Back to top