Hutchinson and Barker through
The Terry Hutchinson-steered Artemis Racing – White and Emirates Team New Zealand, helmed by Dean Barker scored convincing wins in the quarterfinal round of the match racing championship at the America's Cup World Series San Francisco.
Racing on a relatively calm San Francisco Bay – with the wind blowing 9-13 knots and a flat sea – Artemis Racing–White defeated Team Korea steered by Peter Burling while Emirates Team New Zealand beat Loick Peyron and his Energy Team.

The day's racing program was interrupted after the two matches to allow the Blue Angles an opportunity to practice over the Bay for Fleet Week this weekend.

Racing is scheduled to resume later today with the first two of seven scheduled races in the fleet racing championship. The first race is scheduled to begin at 5:10 pm PDT.

Both matches were won by the more experienced crews, who opened big leads on the upwind legs after holding slim advantages through the leeward gate. In the case of the New Zealanders, they regained the lead after losing it on the downwind leg.

"We had a nice start and were going well, but we jibed in a light spot and they had a good jibe and came out quick," said Barker. "We had a piece of them at the first cross upwind and got back in front, and from there sailed a solid leg to the windward mark. It's never a straightforward racecourse; there are always opportunities out there."

Hutchinson and the Artemis Racing–White crew welcomed back tactician Iain Percy in a wire-to-wire win. "Iain brings a sound platform to throw ideas off of, particularly in pre-start. He's one of the best sailors in the world," said Hutchinson. "These races are good opportunities for us to develop our relationship for future."

The two remaining quarterfinal matches are scheduled for tomorrow afternoon, with Artemis Racing–Red (Nathan Outteridge) racing Oracle Team USA Coutts (Russell Coutts) at 4:05 pm PDT and JP Morgan BAR (Ben Ainslie) meeting Oracle Team USA Spithill (Jimmy Spithill) at 4:22 pm PDT.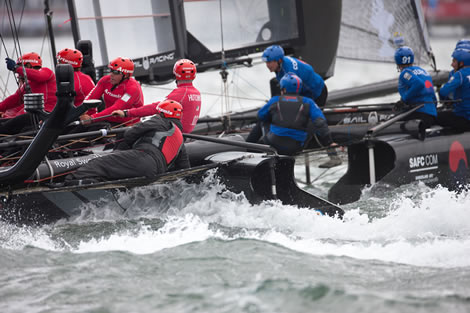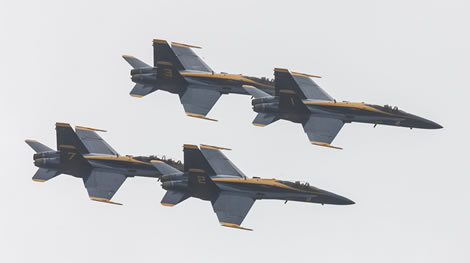 Back to top
Back to top