Vendee Globe: Leaders gunning for Cape Horn
Monday December 31st 2012, Author:
James Boyd
, Location: none selected
This morning Francois Gabart on MACIF has regained the lead of the Vendee Globe in the umpeenth time the race leaders have swapped positions. At the latest sched the young French skipper has just over 600 miles to go before reaching Cape Horn which MACIF and Banque Populaire will round tomorrow afternoon.
Image above courtesy of Expedition with GRIB files from Predictwind
Positions at 0800 UTC
Pos
Skipper
Boat
Lat
Long
Spd
Crs
VMG
Spd
Dist
DTF
DTL
1 hour aver
24hr aver
1
François Gabart
MACIF
56°44.64'S
85°23.47'W
21
100°
20.8
17.5
421
7609.9
0
2
Armel Le Cléac'h
Banque Pop
56°27.47'S
85°45.87'W
19.3
94°
19.3
16.9
406.6
7623.5
13.5
3
Jean-Pierre Dick
Virbac
53°04.88'S
93°31.37'W
17.2
95°
16.5
17.4
417.5
7932.2
322.3
4
Alex Thomson
Hugo Boss
52°00.46'S
110°12.44'W
18.8
87°
18.8
17.5
420.4
8516.6
906.6
5
Jean Le Cam
SynerCiel
50°04.00'S
139°24.10'W
15.3
98°
15.1
13.8
331.9
9616.7
2006.7
6
Mike

Golding
Gamesa
49°55.97'S
148°59.99'W
17.3
58°
16.8
15.2
365.3
10009.2
2399.3
7
Dominique Wavre
Mirabaud
50°17.32'S
150°19.78'W
14
71°
14
14.8
355.4
10064.4
2454.5
8
Javier Sanso
Acciona
51°31.77'S
152°49.64'W
10.6
64°
10.2
16.9
406
10173.1
2563.1
9
Arnaud

Boissières
Akena Verandas
52°27.53'S
158°35.83'W
17.5
82°
17.5
17.1
411.1
10391.3
2781.4
10
Bernard Stamm
Cheminees
52°06.61'S
159°29.12'W
19.4
89°
19.4
18.5
444.2
10422.2
2812.2
11
Bertrand De Broc
Votre nom
50°19.94'S
173°51.63'E
17.1
94°
16.9
14
335.8
11422.7
3812.8
12
Tanguy

Delamotte
Initiatives Coeur
52°57.42'S
166°48.29'E
13.8
87°
13.6
12.9
309.9
11655.3
4045.4
13
Alessandro Di Benedetto
Team Plastique
50°23.65'S
139°43.45'E
13.3
103°
13.1
11
263.3
12664.2
5054.2
RET
Vincent

Riou
PRB
Damage to hull and lower shroud after collision with drifting buoy (24 Nov)
RET
Zbigniew Gutowski

Energa
Autopilot failure (21 Nov)
RET
Jérémie Beyou
Maitre CoQ
Broken hydraulic ram (19 Nov)
RET
Sam Davies
Saveol
Dismasted (15 Nov)
RET
Louis Burton
Bureau Vallee
Rammed by a fishing boat, rigging damage (14 Nov)
RET
Kito de Pavant
Groupe Bel
Rammed by a fishing boat, hull damage (12 Nov)
RET
Marc Guillemot
Safran
Titanium keel broke (10 Nov)
The leaders are back on a charge once again with the wind into the northwest, both boats having made more than 400 miles over the last day. MACIF has diverged slightly to the south, but in round the world terms the boats remain, as ever, neck and neck. They are heading directly towards Cape Horn and at their present speeds should be rounding Cape Horn at around 1600 UTC tomorrow.
The ice threat around the Horn is being very carefully monitored. Closest to them as they round Cape Horn will be a 200m long, 100m high berg which is reported to be grounded beside Diego Ramirez island, 50 miles southwest of Cape Horn and is believed to be spawning smaller growlers. And this berg is just one of five in the area, although the others are more to the east and south of the leaders' current courses.
"I'm concerned about the ice in the Cape Horn area," said Banque Populaire skipper Armel Le Cléac'h yesterday. "It's a little unusual in that zone, but we'll deal with it. It's not fun to sail close to the coast in such conditions, with icebergs, but we'll use the latest info given by Race Committee. François [Gabart] and I will be very careful and if we do see ice, we'll let each other know. That's another good thing about being so close. If you really want to be as safe as possible, the radar is not enough. We're lucky because when you're at 56°S, nights are very short and that helps when you are looking around, checking for icebergs. Except when there's fog, of course!"
The lead duo will also be looking at the weather in the South Atlantic and whether there is an opportunity to take the short cut and head through the Strait of Le Maire between Isla de los Estados and the Tierra del Fuego mainland. This decision is also determined by whether the boats want to leave the Falkland Islands to port or starboard (the latter option represents the shortest course). To the north of the Falklands there are some very attractive strong southerlies between a depression to the east and an area of high pressure off the Argentine coast, but while getting there and leaving the Falklands to starboard, the wind looks set to go soft on Tuesday.
Third placed Virbac-Paprec 3 continues to take a more northerly route towards the Horn (good from an ice point of view). Although they are riding the same system, for Virbac the wind is slightly backed compared to the leaders and Dick is awaiting the next front which should put more of a northerly component into the breeze allowing him to get south. Sailing a more direct route to the Horn, but with a slightly less favourable wind angle, Virbac has stopped closing on the leader, but has only lost 10 miles to them in the last 24 hours.
Alex Thomson on Hugo Boss has done well, taking 10 miles out of Virbac's lead over him over the last day despite heading on a less than optimum course to the northeast in order to cross the Pacific East icegate. At the latest sched Hugo Boss is on the final approach to the western end of the gate and will be shortly hightailing southeast again. Thomson looks set to be able to point Hugo Boss towards to the Horn more directly than the three boats ahead, without being too far north, like Virbac, or having to dive south as the front runners had to.
Thomson doesn't have to do too much looking over his shoulder. Fifth placed Jean le Cam on SynerCiel is now up to 1,100 miles behind him.
SynerCiel passed through the Pacific West icegate yesterday and despite being so far behind Hugo Boss is riding the same depression, only the southwesterlies in the northwest quadrant of this system.
Behind the rest of 'the oldies' are heading for the western end of the Pacific West icegate. While Dominique Wavre on Mirabaud was alarmingly just 8 miles behind 48 hours ago, Mike Golding and Gamesa has managed to extend this back up to 55 at 0800 this morning. The western end of the icegate is 165 miles away for Gamesa at the latest sched and hopefully the British skipper will make it around before the wind backs into the southwest as is forecast this afternoon.
This morning Golding reported: "It's been a bit of a pain because I have ended up between sails and so have been a bit compromised. With the A3 up then the boat is just overpressed quickly and the pilot struggles. But it is what it is. I had to make a quick decision because of that yesterday night when I had to bring the bow up a bit quicker and head more directly for the gate. It is always hard because the VMG falls and it is so tempting to carry on. It has closed in now, it is foggy, drizzly, rainy and unpleasant. And it is cold. Inside the boat everything is damp."
Golding is looking forward to 2013's arrival. "In 2013 I have promised to renovate the house which we bought last year. And at the moment I am hoping I get invited back to race in the Caribbean. I definitely need some sun on my bones in 2013!"
For UK readers, Golding has been invited to appear live on the BBC News Channel at approximately 1900 this evening.
Golding is leading what at present is the 'closest' group in this Vendee Globe, with the four boats behind him within 412 miles at the latest sched. Bernard Stamm on Cheminees Poujoulat looks to be back up to speed and has racked up the biggest 24 hour run across the fleet (444 miles). If Stamm's powerful Juan K design is to make gains over her rivals it should be in this Pacific section of the Southern Ocean.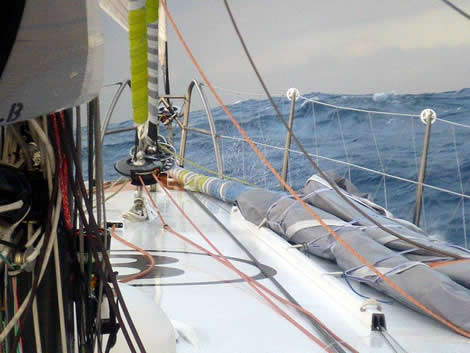 Back to top
Back to top