Class 40s in the Transat Jacques Vabre
| | | |
| --- | --- | --- |
| 11TH HOUR RACING | Nicholas Halmos , Hugh Piggin (USA/NZL) | Owen Clarke (2008) |
| 40 DEGREES | Hannah Jenner, Jesse Naimark-Rowse (USA) | Owen Clarke (2009) |
| AQUARELLE.COM | Yannick Bestaven, Eric Drouglazet (FRA) | Verdier Tyker 40 (2010) |
| AVIS IMMOBILIER | Eric Galmard, François Scheeck (FRA) | Akilaria 40 (2007) |
| BUREAU VERITAS - DUNKERQUE PLAISANCE | Stéphane Le Diraison, Thomas Ruyant (FRA) | Pogo 40S2 (2011) |
| COMIRIS POLE SANTÉ ELIOR | Thierry Bouchard, Gilles Berenger (FRA) | Akilaria 40 RC2 (2009) |
| CONCISE 2 | Ned Collier Wakefield, Sam Goodchild (GBR) | Akilaria 40 RC2 (2010) |
| ERDF - DES PIEDS ET DES MAINS | Damien Seguin, Yoann Richomme (FRA) | Rogers 40 (2007) |
| GROUPE PICOTY | Jacques Fournier, Jean-Christophe Caso (FRA) | Pogo 40S2 (2010) |
| GUST BUSTER | Anna Maria Renken, Jakica Jesih (GER, SLO) | Akilaria RC2 Cat0 (2011) |
| HIP ECO BLUE | Andrea Fantini, Tommaso Stella (ITA) | Akilaria 40 (2006) |
| INITIATIVES - ALEX OLIVIER | Tanguy de Lamotte, Eric Péron (FRA) | Rogers 40 (2007) |
| LECOQ CUISINE | Eric Lecoq, Eric Defert (FRA) | Pogo 40 (2007) |
| PARTOUCHE | Christophe Coatnoan, Etienne Laforgue (FRA) | Pogo 40S2 (2011) |
| PHOENIX EUROPE EXPRESS | Stéphanie Alran, Jean-Edouard Criquioche (FRA) | Pogo 40 (2006) |
| SOLO | Rune Aasberg, Simen Lovgren (NOR) | Express 40 (2008) |
While the fleet may not be of the incredible size we saw in the Route du Rhum last year, the competition among the 16 Class 40s should be hot in the Transat Jacques Vabre, when it sets sail tomorrow.
Despite not having the newest boat, favourite must still be Tanguy de la Motte on his 2007 Rogers design Initiatives Alex Olivier. However De la Motte suffered a set-back last week when his co-skipper, round the world and Figaro veteran Sebastien Audiagne, was forced to pull out with an injury to his hand. He has been replaced by Figaro sailor Eric Peron.
De la Motte and Peron will be up against competition that is becoming increasingly stiff with the influx of fresh talent. New to the Class 40 fleet are Mini sailors Stephane Le Diraison and 2009 Mini Transat winner, Thomas Ruyant aboard their new Pogo 40 S2, Bureau Veritas-Dunkerque Plaisance. "We have been training together in Lorient and they are usually up to speed with us and they are two really good sailors," says De la Motte.
Also new to the class is Vendee Globe skipper Yannick Bestaven who has teamed up with former Solitaire du Figaro winner Eric Drouglazet aboard one of the newest Verdier-designed Tyker 40s, backed by Bestaven's regular sponsor, Aquarelle.com. While this team should be strong they came close to disaster en route to the start when they broke a rudder stock, causing the back of the boat to flood and then their alternator caught fire as they were trying to make St Quay.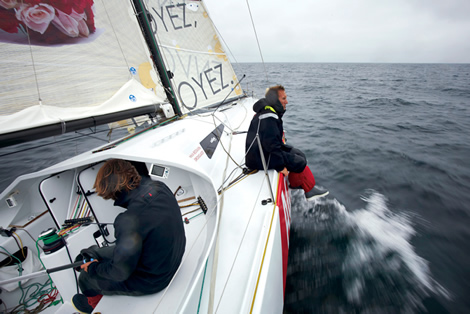 Class40 regular Thierry Bouchard is back competing with leading Tour Voile sailor Gilles Berenger. Bouchard's Comiris Pole Sante Elior was one of the first Akilaria RC2s to be launched and is regularly one of the leading performers in the class. Meanwhile, one of the longest Class 40 skippers, Christophe Coatnoan, has got rid of his original JPK design and acquired a new Pogo 40 S2, his latest Partouche. Coatnoan is racing with Swiss-German Class 40 sailor Axel Strauss.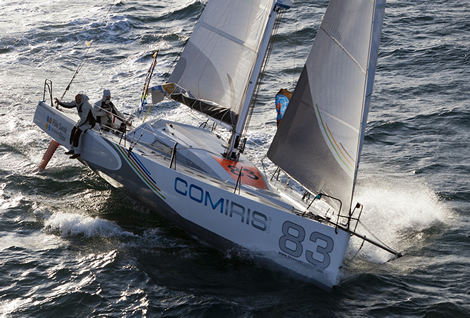 The Class40 is unusual in attracting France's leading paralympic sailors. While Bruno Jourdren isn't competing on this occasion, Damien Seguin, the 2.4m gold medallist from Athens and silver medallist in Beijing, is, aboard Des Pieds et des Mains, the Rogers-designed sistership to de le Motte's boat. Seguin is competing with Figaro sailor Yoann Richomme.
The Brits are reasonably well represented in the Class 40. The youngest team in the race, and winner of Saturday's prologue race is sailing Tony Lawson's Akilaria RC2 Concise in the form of Ned Collier Wakefield, 23, and 2011 Artemis Offshore Academy scholarship winner, Sam Goodchild, 21.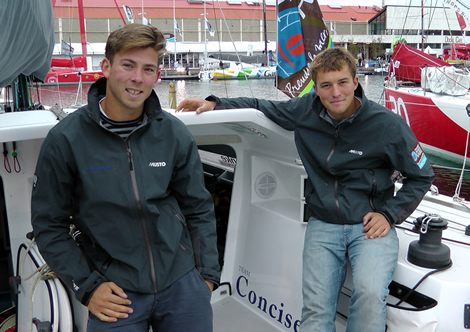 "We want to learn as much from the experience as we can," Collier Wakefield told us. "Fortunately we have a boat that is pretty well prepared and we've done almost 10,000 miles in, maybe not together, but at least the boat has done it and we have broken everything that we think is going to break. A lot of the 10,000 miles has been crewed, but at least that means we have been able to work the boat up and work on the polars, etc." Their boat was campaigned in the Route du Rhum last year by Pete Goss, while the regular Concise crew took over again for this year's RORC Caribbean 600 and then the Transatlantic Race back, followed by the Rolex Fastnet Race and the Class 40 Worlds.
As to the relative performance of the boats Goodchild, who to date has completed three transatlantic crossings in Class 40s, states: "There are boats that are fast in different conditions. We will be fast reaching, lose a bit reaching and hold our own downwind. Then there are other bats, like the Owen Clarkes which will have legs on us VMG downwind and in light stuff upwind. I don't think we have much to worry about."
In the Class 40, two sails can be exotic and after Bernard Stamm was the first to use North 3Di Kevlar sails in the Route du Rhum last year, so Concise now has a Kevlar 3Di main and Solent.
Meanwhile Hannah Jenner is sailing Peter Harding's 40 Degrees with American shore crew Jesse Naimark-Rowse. German Anna Maria Renken, who was to have teamed up with Jenner in the Global Ocean Race until they found themselves short on the required funding, is competing on board a Category 0 Akilaria RC2 (ie with a bigger cockpit) which is owned by Celox, a unique Austrian operation that runs a sailing academy, manages a number of professional sailor, runs the One Sail loft in Australia and are also the Akilaria distributors for Austria.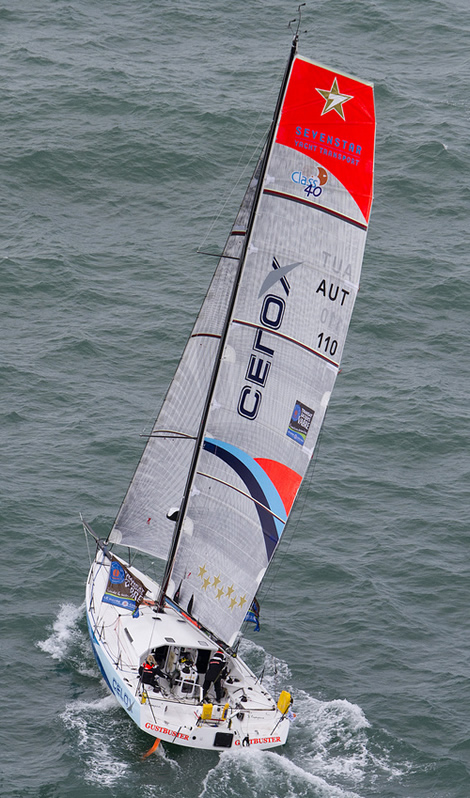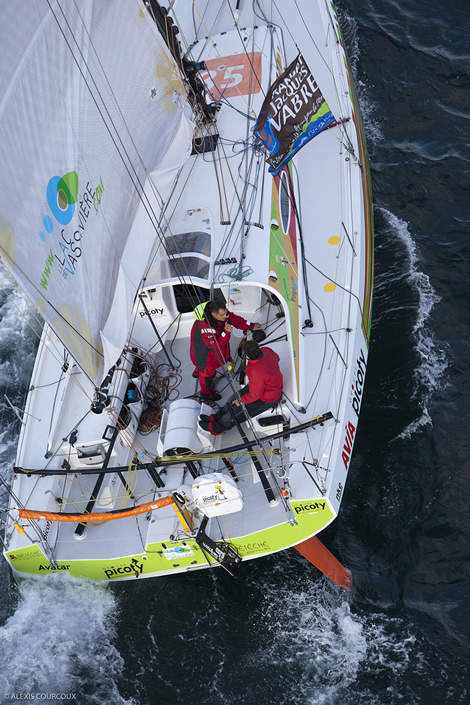 Back to top
Back to top