Tied after 190 races
Thousands of onlookers were on the edge of their seats as The Wave, Muscat clinched victory in the 2013 Extreme Sailing Series in Florianopolis presented by Land Rover, in one of the closest ever-final races in the seven-year history of the Series.
Under the Brazilian sun and with a perfect 10 knots of breeze, Leigh McMillan, Ed Smyth, Pete Greenhalgh, Hashim Al Rashidi and Musab Al Hadi were leading the fleet as they went into the final all important double points race. But out to upset the apple cart were the Swiss America's Cup winners on Alinghi – and they almost managed it!
A second in the final race was enough for Morgan Larson and the team to prise victory overall in Florianopolis from McMillan's grasp, and the Swiss came tantalizingly close to adding the 2013 Series title to their winning haul – within four points in fact in the final race – but McMillan's crew proved unstoppable.
It is a fitting finish for the long term Series rivals who wrap up an incredible 2013 Series tied on points – the first time in the history of the elite level Stadium Racing series that this has happened, with The Wave, Muscat coming out on top after countback.
"This is exactly how I thought the end result would go!" said McMillan. "We haven't been able to shake Alinghi all year, they haven't really put a foot wrong! We knew they were going to do everything possible, the last few days they've been absolutely hammering us around the racecourse. They did an exceptional job in that last race getting in front and we were just lucky we just got the right corner of the course and the shift was big enough that we were able to keep in the game! It's a massive relief for what has been a couple of emotional days!"
The two teams locked sights one another when the start gun went in Brazil four days ago, the two team instantly going into match racing mode, fighting out their own private battle. Alinghi helmsman Larson reflected on the rivalry that has been rife all year: "It felt like from the very start of the season it would come right down to that last race and even after the first day of this event Leigh slipped ahead a little bit, and we knew we would have to fight and we could get it back! Leigh capitalised on some big wind shifts and he deserved his victory!" Going on to praise his crew he added: "This year has been an amazing team effort and I really enjoyed sailing with the Swiss team. The guys onboard really welcomed me in the team; I couldn't dream of a better situation personally!"
There was also jubilation dockside for Red Bull Sailing Team, which had done enough going into the final race to secure third place on the overall Series leaderboard – the first time they have stood on the Series podium in four years on the circuit. A third place in Florianopolis was the icing on the cake for double Olympic Tornado gold medallist Roman Hagara. "It feels really good! It's very important for the team, we worked really hard all season and we will enjoy it now to be on the podium, but we still had some tough races in the middle of the year, but that's racing! The end of the season was better for us we were competing with the top boats, we were still in there in the last race and it will be good for next season. The teams are more consistent now and it's a tough battle at the top of the fleet! It seems to always come down to the last race, which is really good and it shows the quality of the sailors here in the Series which is exactly what we want."
Over the 2013 Series McMillan's The Wave, Muscat team picking up five event wins, kicking off on their home waters in Oman. This year have welcomed newcomer 24-year-old Omani F18 sailor Musab Al Hadi to their crew, joining McMillan, bowman Omani Hashim al Rashidi, Brit Pete Greenhalgh (mainsheet) and Kiwi Ed Smyth (tactician) – all veterans of The Wave, Muscat's 2012 winning team.
Mark Turner, Executive Chairman of Series organisers OC Sport reflected on a successful 2013 and looked ahead to an even bigger 2014. "For us, 2013 has been a hugely significant year. First with the signing of our Series Main Partner Land Rover and also in terms of the sporting competition which has gone to another level this year as we saw today with the incredible fight for the podium. Next year is going to be one of the most exciting Series to date – we have some venues returning, as well as venturing into new territories that will take us to four continents. And on the teams front, we can expect one of the most competitive line-ups we have ever had. Watch this space."
2013 leaderboard
1st The Wave, Muscat (OMA) 74 points.
2nd Alinghi (SUI) 74 points.
3rd Red Bull Sailing Team (AUT) 61 points.
4th SAP Extreme Sailing Team (DEN) 51 points.
5th Realteam (SUI) 49 points.
6th GAC Pindar (NZL) 42 points.
7th Team X Invitational 34 points.
8th Team Korea (KOR) 16 points.
Results - Florianopolis
1st Alinghi (SUI) Morgan Larson, Stuart Pollard, Pierre-Yves Jorand, Nils Frei, Yves Detrey 219 points.
2nd The Wave, Muscat (OMA) Leigh McMillan, Ed Smyth, Pete Greenhalgh, Musab Al Hadi, Hashim Al Rashdi 215 points.
3rd Red Bull Sailing Team (AUT) Roman Hagara, Hans-Peter Steinacher, Matthew Adams, Simon Cooke, Kinley Fowler 208 points.
4th ChinaSpirit (CHN) Phil Robertson, Garth Ellingham, Brad Hooker, Louis Viat, Nick Catley 184 points.
5th Realteam (SUI) Arnaud Psarofaghis, Bruno Barbarin, Thierry Wassem, Nils Palmieri, Jérôme Clerc 164 points.
6th GAC Pindar (NZL) Will Tiller, Matt Steven, Stewart Dodson, Tom Bentham, Shaun Mason 159 points.
7th SAP Extreme Sailing Team (DEN) Jes Gram-Hansen, Rasmus Køstner, Pete Cumming, Mikkel Røssberg, Nicolai Sehested 122 points.
8th Team Brazil Mapfre (BRA) Clínio de Freitas, André Mirsky, Daniel Santiago, André Chang, Bruno di Bernardi 61 points.
Full replay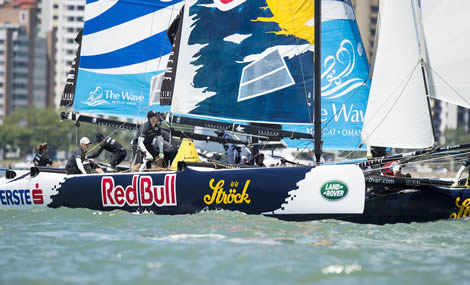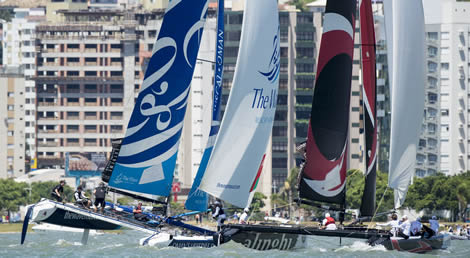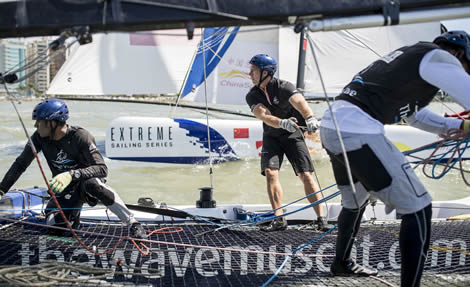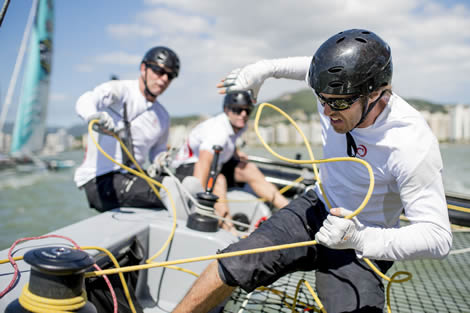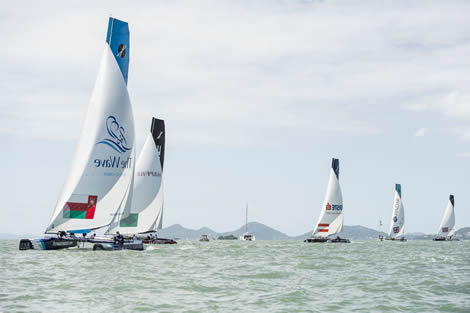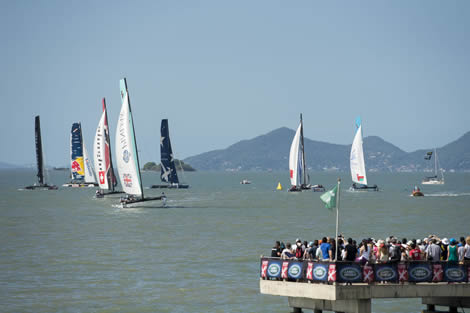 Back to top
Back to top