Swiss lake day....with rain
Quashing all fears of a shut down in Cardiff Bay on the opening day of the Extreme Sailing Series Cardiff the light airs that looked set to characterise the day's racing filed in enough for three points scoring races to be held.
Out on the course the Swiss dominated, with 2013 newcomers Realteam leading after day one and circuit veterans Alinghi exercising its new weapon in Olympic gold medallist Anna Tunnicliffe, putting them in second. Never far from the podium top spot, Leigh McMillan's The Wave, Muscat waits in the wings in third at the end of day one.
The Extreme Sailing Series skippers tonight joined British and Irish lions heroes and two of international rugby's best-known stars, Leigh Halfpenny and Alex Cuthbert at the Cardiff Blues home ground to see for themselves what the Welsh do best.
Today's light winds didn't make for easy racing, with the teams utilising every inch of their tactical prowess to pull off the slick manoeuvres needed to guide their Extreme 40 catamarans around the tight course, as Alinghi headsail trimmer Nils Frei explained: "Light air is always tricky because it's shifty most of the time, each little puff can make a difference! Having raced on the lake (Geneva) we're quite used to these conditions! It's all about communication onboard and focus on the racecourse. With all the little puffs of wind and the science of the land means we need a lot of communication onboard as every little puff makes a difference!"
A delighted Jérôme Clerc, who's Swiss Realteam is used to training in the lighter conditions of Lake Geneva, mirrored Frei's thoughts on the dock. "Light wind sailing is difficult, the goal is always to go fast and to not get stuck in the traffic. We try to sail our own race and avoid other boats to ensure we are fast, which seemed to work. When the course is tight, the boats are close and the wind is shifty, so you have to be an opportunist."
Extreme Sailing Series rookies ChinaSpirit today came racing onto the circuit with gumption, posting a respectable third and fourth in the first and last races of the day, putting the team a respectable fifth overall on the leaderboard: "It was good to get out there racing, it's a different intensity to the practice races we've had with the added pressure of results" enthused the teams match racing expert skipper Phil Robertson post race. "We've got a few things to work on, communication can always be tidier – but overall we're happy and we'll come back tomorrow." Describing their first Extreme Sailing Series experience in three words, Roberston announced: "Small, tight and exciting! It's very tactical out there. This isn't your usual sailing."
Swapping the tide for turf, the Extreme Sailing Series skippers headed to the home of the Cardiff Blues rugby team to soak up a little Welsh culture and rub shoulders with two of Wales' top sporting stars, British and Irish Lions hot shots and international Rugby players Leigh Halfpenny and Alex Cuthbert.
Local lad and British Sailing Team member Dave Evans who is skippering Team Wales Land Rover this week could not hide his excitement at the prospect of the meet and greet exclaiming: "Everyone will probably wind me up as I'm a big rugby fan! I tried a bit of rugby for fun over the last year or two and got beaten up pretty bad so I think I will leave it to them. I would love to get them out on an Extreme 40! Guys with that much power would be pretty useful on this boat!"
Back on the boats tomorrow, the Extreme 40 teams will return to Cardiff Bay to battle it out from 1400 BST. With gusts of up to 20 knots forecast, the teams and are bracing themselves for an all action, hull flyer of a day. This will be broadcast live from 1600-1700 BST with expert commentary from Richard Simmonds and Hannah White
Results

1st Realteam (SUI) Jerome Clerc, Bruno Barbarin, Tanguy Cariou, Cédric Schmidt, Thierry Wassem 27 points.
2nd Alinghi (SUI) Morgan Larson, Anna Tunnicliffe, Pierre Yves Jorand, Nils Frei, Yves Detrey 23 points.
3rd The Wave, Muscat (OMA) Leigh McMillan, Ed Smyth, Pete Greenhalgh, Musab Al Hadi, Hashim Al Rashdi 21 points.
4th Red Bull Sailing Team (AUT) Roman Hagara, Hans Peter Steinacher, Matthew Adams, Simon Cooke, Graeme Spence 20 points.
5th ChinaSpirit (CHN) Phil Robertson, Garth Ellingham, William Wu, James Williamson, Nick Catley 18 points.
6th SAP Extreme Sailing Team (DEN) Jes Gram-Hansen, Rasmus Køstner, Pete Cumming, Mikkel Røssberg, Nicolai Sehested 18 points.
7th GAC Pindar (NZL) Brad Farrand, Ian Williams, Thomas Hedegaard, Søren Secher, Tom Blampied 16 points.
8th Team Wales Land Rover (GBR) Dave Evans, Chris Grube, Will Howden, Tudur Owen, Trystan Seal 13 points.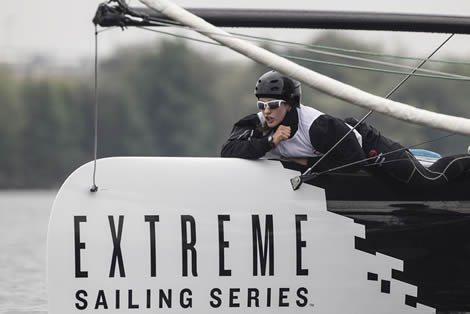 Back to top
Back to top