London 2012 day six: Percy, Simpson and Ainslie assured of medals
See the race reports on the Finn, Star, 470 Men, 470 Women, 49er, Laser Men, Laser Women, Rick Tomlinson's photo gallery and Carlo Borlenghi's photo gallery.
In Weymouth for day six of the sailing events at London 2012 a crescendo is rising with fleet racing for the Finns and Stars now complete and only the top 10 in both classes left in the competition.
While the 470 Women had their first day of racing it was apparent that for some this Olympic Games is already over with some Stars and Finns being put to bed in a heading-for-the-ferry kind of way. The RS:Xs had a day off today.
After yesterday's high within the British camp, there were mixed fortunes today. In the 470 Team GBR's results were still exemplary with recently crowned World Champions Hannah Mills and Saskia Clark conforming with thedailysail's form guide and leading the Women after day one, albeit with some almighty competition on their tail. In the Men, Luke Patience and Stuart Bithell put in another outstanding performance, their 4-2 today leaving them still in the lead, six points clear of the Aussie favourites Mat Belcher and Beijing gold medallist Malcolm Page – a dream start, but can they continue it?
For the 49ers it was a costly day, with three races all on the shifty Nothe course in front of the spectators. This made for a high scoring day throughout the fleet and, after the high of their two bullets yesterday, Britain's Stevie Morrison and Ben Rhodes had a higher scoring day than most with a 17-4-20. Disappointment.
After his solid performance yesterday there are two more races to go in the Laser, but medal prospects have all but slipped away for poor Paul Goodison due to his ill-timed back injury. Frankly it is terrible to see him put himself through this torture after having had such high hopes of defending his Olympic gold medal on home waters. He lies eighth, 48 points from first. At the front of the fleet the inevitable has happened with Australian favourite Tom Slingsby regaining the lead from Cypriot Pavlos Kontides.
In the Radial there is also a new overall leader with Belgium ace Evi van Acker slipping ahead of the Irish Express, Annalise Murphy, to hold first by just one point. Britain's Alison Young put in a solid 6-8 keeping her in touch. She is in fifth place, but with some work to do, now 14 points off first. In the points the top five are already breaking away, but Young is still hanging on to their coat tails.
But the big news today was on the Weymouth Bay South course in the Stars and Finn, both classes staging their final full fleet races.
In the Finn, Ben Ainslie admitted that he had finally found his "turbo button" and while in today's first race he posted a sixth, in the second the Ainslie of old was much in evidence, leading the race by a country mile, to the extent that on the final upwind he was clearly contemplating some engagement with Danish arch-rival and overall leader, Jonas Høgh-Christensen.
At the time the Dane was holding second with co-conspirator in yesterday's leeward mark touching incident, the Netherland's Pieter-Jan Postma, close behind in third. Up ahead Ainslie slowed down and there was much looking over his shoulder at the chasing pair as the clogs whirred and he weighed up whether it would be worth messing with the Dane to allow some boats to get between them. In the end he thought better of it and ultimately Postma obliged and overtook Høgh-Christensen without any intervention.
Was he aware of the significant of finishing between Ainslie and Høgh-Christensen, Postma was asked when he came ashore. "I wasn't actually! I just saw it now and it makes things really exciting."
The end result is that Sunday is lining up to have one of the most interesting medal races of all time, with Høgh-Christensen currently two points ahead of Ainslie. If there is adequate breeze on the Nothe course, (as it seems likely there will) these two are likely to be engaged in their own personal match race, something which Ainslie has written the script for after his decisive knock about with Robert Scheidt in the Laser's final race in Sydney.
We asked Robert Scheidt if he had any advice for the Dane: "Against Ben it is a hard one. We will see what he can manage, but Ben has got a lot of experience in that kind of racing, so we will see."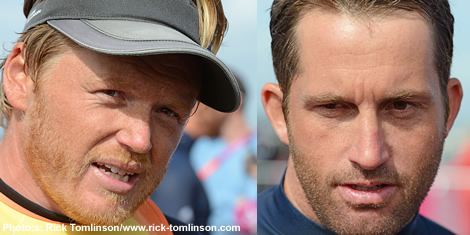 While Høgh-Christensen is defending Paul Elvstrøm record's as the most successful Olympic sailor of all time - the great man (now 84) has been in contact with Høgh-Christensen to offer his encouragement - Ainslie has the advantage that since Sydney he has been crowned Match Racing World Champion. Unfortunately though, there won't be the opportunity for him to show his most vindictive streak as there is still Pieter-Jan Postma to worry about. Going into the medal race – which is a double points scorer remember - Ainslie's lead over the third-placed Dutchman is 14 points, so if he sails Høgh-Christensen to the back of the 10-boat fleet and himself comes home ninth, this allows Postma the freedom to finish in either first or second place to claim gold. Which is not on.
The good news is that at this stage, given the points spread back to fourth placed Jonathan Lobert, while bronze is still up for grabs, both Høgh-Christensen and Ainslie are already assured of a medal.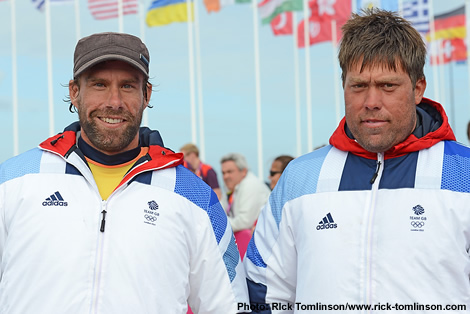 In the Star the situation is fractionally more comfortable for Iain Percy and Andrew Simpson with a six point lead going into the medal race, but this only represents three places. Here there is now a 23 point leap back from third placed Swedes, Freddie Loof and Max Salminen, to Norways' Eivind Melleby and Petter Morland Pedersen in fourth, all three of the leaders – the Brits and Swedes plus Brazil's Robert Scheidt and Bruno Prada – are assured of medals, only who gets which colour has yet to be determined. It should be noted that these three were also the medallists from Beijing.
A coincidence? "I think it is very due to the conditions," says Robert Scheidt. "If you had had a light wind week, things would be more mixed. Because we had 15-20 knots every day the people who are more prepared and have done more training, they put a lot of points on the rest. I think ourselves, the Swedish and Brits, we are a step ahead in these conditions than the others."
Sunday is going to be one interesting day for Olympic sailing.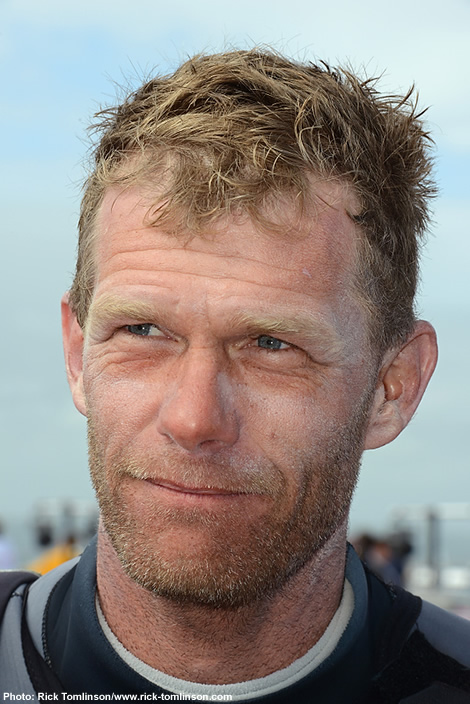 Back to top
Back to top