Third victory for Jeremie Beyou
When he crossed the finish line off Cherbourg-Octeville at 11h20m50s (UTC +2hrs) this morning to win the 45th edition of La Solitaire du Figaro overall for the third time Jérémie Beyou, sailing Maître Coq, wrote himself into the solo race's record books, joining only three skippers to have triumphed overall three times.
Delivering almost metronomic consistency over the four stages, Beyou stepped up to win the final 390 miles stage from Les Sables d'Olonne which started on Sunday evening and took the 36 boat fleet via Manacles rocks by Falmouth, bettering his regular third place finishes which the Breton skipper from the Bay of Morlaix had successively returned into Plymouth, Roscoff and Les Sables d'Olonne.


Beyou won the race in 2005 and 2011 and so now joins an elite group of skippers who have won it three times, Philippe Poupon (1982-1985-1995) and Jean le Cam(1994-1996-1999) Michel Desjoyeaux (1992-1998-2007). He triumphed over a race course which in the end totalled 1970 miles – after this fourth leg was shortened – and which offered a full complement of wind conditions.
On aggregated elapsed time Beyou won by 17 minutes and 56 secs over the four legs. He started in Les Sables d'Olonne on Sunday night with four skippers within 24 minutes and 02 seconds of his leading, reference cumulative time, Corentin Horeau (below - Bretagne Credit Mutuel Perfomance) was closest at 15 mins 13 secs behind. But through the final hours Beyou kept his rivals in check and still even managed to win the final leg.


Steering Maître Coq across the finish line, exhausted but elated he crossed 54 seconds ahead of second placed Adrien Hardy (AGIR Recouvrement) and 1 minute and 53 seconds ahead of third placed Corentin Douguet (Un Maillot pour La Vie). His nearest rival for the overall title Horeau finished fourth across the line, 2 minutes and 43 seconds behind him.


Finishing at 11:38:39, Britain's Sam Goodchild (Team Plymouth) completed what has been an otherwise disappointing race for him, in a creditable 13th place, his best finish this time, but not as strong as he had hoped to be after finishing 11th overall last year with a best leg of eighth.


Best British skipper overall is rookie Sam Matson (Artemis 21) who ended his first La Solitaire du Figaro-Eric Bompard cachemire in 15th overall. After 12th, 18th and 20th places on the previous legs, Matson, who grew up sailing on Devon's Exe estuary, found himself snared in a no go zone of light winds not long after Sunday evening's Leg 4 start and had to fight back from the lower reaches of the fleet to cross 25th today.


But he stands 15th overall, an excellent opening to his professional solo racing career. If he was disappointed to have ceded the Beneteau Bizuth's award to his French rival Gwenolet Gahinet (below), he was more than happy with his final 15th place.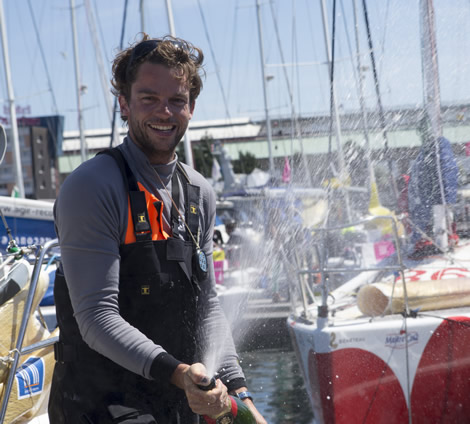 Ireland's David Kenefick (Full Irish-Le Comptoir Irelandais) marked his improvement since his first participation last year when he finished 23rd overall, five places better than in 2013 and 20th on Leg 4.


Beyou who celebrated his 38th birthday last Saturday, first raced this legendary, addictive solo challenge as a 20 year old. This was his 14th participation – and today his seventh leg win - and the first overall triumph in the colours of sponsors Maître Coq who announced they are supporting him through two further Figaro programmes and a parallel IMOCA Open 60 campaign for the 2016 Vendée Globe after two successive heartbreaking abandonments early in both the 2008-9 race and the 20012-13 race. He won the 2011 Transat Jacques Vabre with Jean-Pierre Dick on Dick's Virbac-Paprec 3. He proved his form earlier this season by winning the Solo Maître Coq and finished fourth in the Solo Concarneau.


From the start in Deauville, the skipper who went on to win the race resisted all the challenges and ended the race in style. But he had suffered a few tense moments along the way. On the first leg between Deauville and Plymouth when the wind dropped off around the Isle of Wight, then once again at the Fastnet, when the whole fleet got back together again in a calm that was to last for ages in the second leg… And it happened again off Belle-Île, when the wind vanished for hours...

Each time, Jérémie Beyou found the solution to join the group making their getaway. His ability to remain alert all the time, his determination during the tense and wide open finishes in the four legs, his consistency in achieving a good performance and his cool-headed approach have once again been rewarded, this time in Cherbourg-Octeville.
Beyou commented: "I had made three podiums before on this race and that was not easy. La Solitaire du Figaro-Eric Bompard cachemire is never easy. But is all good. I have never won the last leg before. It was all very hard but in the end I managed it. When I was in Deauville we talked a lot about it and there were certain things which were certain but also plenty of doubts. It was a much harder Figaro for me than previous editions, always getting back into it. The dismasting of Yann (Elies) and damage to Fabien. These are sad but in the end they are opportunities which you have to seize and you have to stay focused. In this end this was a particular, special Solitaire. I stayed focused and stuck to my goal, to be consistent." And he kept his focus when his main title rivals suffered damage which shot their overall chances to pieces, Yann Eliès – who was bidding for three back to back titles – losing his mast while leading leg 1, and the race leading Fabien Delahaye suffering a shroud damage before the start of Leg 3 which cost him more than two hours of delay.
"It was a great last leg. I had two or three problems on board which meant I struggled at first to really push and go with Corentin (Horeau) and I used the pilot a lot to start with. I said that the first thing I had to do was catch Corentin and then keep him behind me. And that was the most difficult part of it, keeping him behind me. Then keeping him behind me I lost out a little bit. But no worries. I had made three podiums before and that was not easy. La Solitaire du Figaro-Eric Bompard cachemire is never easy. But is all good. I have never won the last leg before. It was all very hard but in the end I managed it. When I was in Deauville we talked a lot about it and there were certain things which were certain but also plenty of doubts. It was a much harder Figaro for me than previous editions, always getting back into it. The dismasting of Yann (Elies) and damage to Fabien. These are sad but in the end they are opportunities which you have to seize and you have to stay focused. In this end this was a particular, special Solitaire. I stayed focused and stuck to my goal, to be consistent."
Eliès, winner of the last two editions, tried to put a brave face on his disappointment. Losing his mast was terminal for his third title, and missing out on a podium into Cherbourg-Octeville today did not enhance his mood : "After all the times I was at the front of the three stages it would have been good to finish with a podium. Yesterday was tough, I was head to head with Jérémie, and conditions were not easy. But I guess it ends as it should. Yesterday I found myself looking for speed. On balance it is not good, I did not win my third Solitaire partly because I was dismasted and neither have I equalled Jean Le Cam's record (10 stage wins). Looking at the numbers does not help, most people will see how close I could have been to the third victory. If I had not dismasted I could have been head to head with Jérémie."
Sam Matson GBR (Artemis 21) 15th overall : "It is unbelievable. To finish my first Solitaire in fifteenth I am just over the moon. It shows the level that the rookies are playing at this year. I think I have worked pretty hard for the last three years for this and did quite a lot of offshore preparation, and then taking each leg as it comes, knowing that you can keep going. I had a really good first leg and I have lived in the hype of that and knowing I was fast enough at times. When I entered the Solitaire I did not expect to finish this well. To finish in such a strong position is great. And to finish best of the Brits is important too because this is a talented, hard working group."
Sam Goodchild GBR (TEAM PLYMOUTH) : 22nd overall: "It is good to finish the race on a better note but the result is still only as good as my worst result last year but improvements have been made, but this Figaro has been about learning the hard way. Under jib I suffered most. It was difficult. This leg was better, I felt like I sailed a sensible race, and there were points when I was good. I am disappointed but not regretful and have learned some lessons. The biggest lesson is preparation, on all sides, mentally I was a bit too chilled out, I did not really have enough money early enough, and there are many things in terms of preparation I need to think about. I need time to reflect now before I decide what I am doing next."
Dave Kenefick IRL (Full Irish-Le Comptoir Irelandais), 23rd overall: "I did not have the best start but worked my way into the top 10 for a while but the big mistake I made was at Ushant when I had three very good guys behind me and it was dark, rainy and misty and they clearly knew all the rocks well, and I was a bit too cautious, a bit nervous compared to these guys and I lost them, and then I did not have a great leg from Portsall to Manacles. It was the first time id used the small spinnaker. Boats were sailing past me with their big spinnakers, I wanted to go high and couldn't. I was broaching everywhere. I feel asleep at one point and woke up about a metre from a rock off Guernsey. And so it really is an amazing feeling to be here at the end of my second Figaro. I never really aimed at a result, I just wanted to feel satisfied. I think I sailed better at times than my results on the leg, but it is so hard to stay with the guys who have done this for 15 or 20 years compared to me who is young and building up experience. It is good, I am happier than last year and spending more time in the group. I remember looking at this two years ago and not realising how tough it is. It is incredibly tough."
Nick Cherry, GBR (Redshift) 26th overall: "I hit the windward mark and then proceeded to hoist with the kite on the wrong side, so that was frustrating. I broke my outhaul before the start and had rigged a safety but it flogged itself off. So I had to use the reef as an outhaul. I would have quite liked a reef on the way back across the channel last night. That was a bit frustrating. I did not see the pattern through the first night. On the last leg that is probably the tiredest I have been on a boat, I could hardly move the gear from side to side. But it was the most fun leg, and the hardest. But at the start I always knew it would be hard to come away with a result I was proud of. I am just focused on next year now.I have to work on making the boat go fast when reaching. I gave away a lot of distance with silly boat handling errors. So I will go and practice and do every manoeuvre and sail change this winter until I am sick of it, and every angle from spinnaker to jib reaching."
Leg 4 results Les Sables d'Olonne to Cherbourg
1 Jeremie Beyou (Maître Coq) 2 days 18hrs 20 mins 50 secs
2 Adrien Hardy (AGIR Recouvrement) +54 secs
3 Corentin Douguet (Un Maillot pour la Vie) +1m 32s
4 Corentin Horeau (Bretagne Credit Mutuel Performance) +2m 43s
5 Yann Eliès (Groupe Queguiner-Leucemie Espoir) +3m 52s
6 Vincent Biarnes (Guyot Enevironnement) +4m 10s
7 Paul Meilhat (SMA) +4m 40s
8 Charlie Dalin (Normandy Elite Team) +6m 50s
9 Yoann Richomme (Skipper Macif 2014) +11m 47s
10 Fabien Delahaye (Skipper Macif 2012) +14m 15s
GBR and IRL
13 Sam Goodchild (Team Plymouth) +17m 47s
20 Dave Kenefick IRL (Full Irish-Le Comptoir Irelandais) +43m 27s
23 Nick Cherry (Redshift) +50m 28s
25 Sam Matson (Artemis 21) +1h 07m 41s
26 Jack Bouttell (GAC Pindar) +1h 10m 33s
28 Richard Mason (Artemis 77) +1h 15m 19s
30 Ed Hill (Macmillan Cancer Support) +1h 18m 01s
32 Henry Bomby (Redfish) +1h 27m 30s
36 Alan Roberts (Artemis 23)
Back to top
Overall results:
| | | | | | | | | |
| --- | --- | --- | --- | --- | --- | --- | --- | --- |
| Pos | Boat | Skipper | Leg 1 | Leg 2 | Leg 3 | Leg 4 | Total | From 1st |
| 1 | MAITRE COQ | Jérémie Beyou | 3d 3h 3m 32s | 3d 3h 59m 47s | 3d 18h 15m 13s | 2d 18h 20m 50s | 12d 19h 39m 22s | - |
| 2 | BRETAGNE CRÉDIT MUTUEL PERFORMANCE | Corentin Horeau | 3d 3h 18m 26s | 3d 3h 58m 23s | 3d 18h 16m 56s | 2d 18h 23m 33s | 12d 19h 57m 18s | 0h 17m 56s |
| 3 | NORMANDY ELITE TEAM | Charlie Dalin | 3d 3h 6m 6s | 3d 4h 11m 45s | 3d 18h 19m 38s | 2d 18h 27m 40s | 12d 20h 5m 9s | 0h 25m 47s |
| 4 | INTERFACE CONCEPT | Gildas Mahé | 3d 3h 31m 36s | 3d 4h 3m 12s | 3d 18h 7m 46s | 2d 18h 44m 12s | 12d 20h 26m 46s | 0h 47m 24s |
| 5 | SMA | Paul Meilhat | 3d 3h 10m 26s | 3d 4h 44m 24s | 3d 18h 43m 3s | 2d 18h 25m 30s | 12d 21h 3m 23s | 1h 24m 01s |
| 6 | ARMOR LUX - LE COMPTOIR DE LA MER | Erwan Tabarly | 3d 3h 8m 24s | 3d 4h 52m 30s | 3d 18h 28m 30s | 2d 18h 42m 24s | 12d 21h 11m 48s | 1h 32m 26s |
| 7 | AGIR RECOUVREMENT | Adrien Hardy | 3d 3h 19m 2s | 3d 4h 10m 57s | 3d 19h 24m 2s | 2d 18h 21m 44s | 12d 21h 15m 45s | 1h 36m 23s |
| 8 | UN MAILLOT POUR LA VIE | Corentin Douguet | 3d 4h 17m 3s | 3d 4h 23m 26s | 3d 18h 40m 11s | 2d 18h 22m 22s | 12d 21h 43m 2s | 2h 03m 40s |
| 9 | GROUPE FIVA | Alexis Loison | 3d 2h 53m 50s | 3d 4h 11m 4s | 3d 19h 5m 8s | 2d 19h 36m 32s | 12d 21h 46m 34s | 2h 07m 12s |
| 10 | GEDIMAT | Thierry Chabagny | 3d 3h 16m 18s | 3d 4h 24m 26s | 3d 19h 49m 4s | 2d 18h 36m 28s | 12d 22h 6m 16s | 2h 26m 54s |
| 11 | CERCLE VERT | Gildas Morvan | 3d 3h 9m 34s | 3d 4h 13m 17s | 3d 20h 13m 5s | 2d 18h 42m 59s | 12d 22h 18m 55s | 2h 39m 33s |
| 12 | GUYOT Environnement | Vincent Biarnes | 3d 4h 27m 47s | 3d 5h 12m 58s | 3d 18h 50m 39s | 2d 18h 25m 0s | 12d 22h 56m 24s | 3h 17m 02s |
| 13 | SAFRAN - GUY COTTON | Gwenolé Gahinet * | 3d 4h 11m 45s | 3d 5h 32m 59s | 3d 19h 15m 17s | 2d 19h 8m 37s | 13d 0h 8m 38s | 4h 29m 16s |
| 14 | OVIMPEX - SECOURS POPULAIRE | Anthony Marchand | 3d 4h 12m 28s | 3d 4h 45m 53s | 3d 21h 7m 43s | 2d 18h 47m 34s | 13d 0h 53m 38s | 5h 14m 16s |
| 15 | ARTEMIS 21 | Sam Matson * | 3d 3h 52m 39s | 3d 5h 33m 51s | 3d 20h 5m 56s | 2d 19h 28m 31s | 13d 1h 0m 57s | 5h 21m 35s |
| 16 | GENERALI - HORIZON MIXITE | Isabelle Joschke | 3d 4h 18m 35s | 3d 7h 19m 30s | 3d 19h 11m 2s | 2d 18h 59m 23s | 13d 1h 48m 30s | 6h 09m 08s |
| 17 | SKIPPER HERAULT | Xavier Macaire | 3d 4h 12m 10s | 3d 6h 16m 42s | 3d 20h 51m 5s | 2d 18h 45m 59s | 13d 2h 5m 56s | 6h 26m 34s |
| 18 | GENERALI | Alain Gautier | 3d 4h 31m 25s | 3d 5h 42m 56s | 3d 21h 17m 54s | 2d 18h 35m 57s | 13d 2h 8m 12s | 6h 28m 50s |
| 19 | SKIPPER MACIF 2014 | Yoann Richomme | 3d 5h 33m 29s | 3d 5h 54m 24s | 3d 20h 9m 10s | 2d 18h 32m 37s | 13d 2h 9m 40s | 6h 30m 18s |
| 20 | DFDS SEAWAYS | Frédéric Rivet | 3d 4h 21m 23s | 3d 6h 57m 56s | 3d 19h 47m 24s | 2d 19h 22m 41s | 13d 2h 29m 24s | 6h 50m 02s |
| 21 | IN EXTENSO experts comptables | Nicolas Jossier | 3d 4h 34m 45s | 3d 6h 47m 27s | 3d 19h 42m 33s | 2d 19h 34m 12s | 13d 2h 38m 57s | 6h 59m 35s |
| 22 | TEAM PLYMOUTH | Sam Goodchild | 3d 5h 35m 28s | 3d 6h 43m 21s | 3d 20h 29m 29s | 2d 18h 38m 39s | 13d 3h 26m 57s | 7h 47m 35s |
| 23 | FULL IRISH - Le Comptoir Irlandais | David Kenefick | 3d 5h 31m 41s | 3d 6h 42m 5s | 3d 20h 13m 25s | 2d 19h 4m 29s | 13d 3h 31m 40s | 7h 52m 18s |
| 24 | ARTEMIS 77 | Rich Mason * | 3d 5h 31m 33s | 3d 5h 56m 0s | 3d 20h 36m 19s | 2d 19h 36m 9s | 13d 3h 40m 1s | 8h 00m 39s |
| 25 | GAC Pindar | Jackson Bouttell | 3d 5h 16m 0s | 3d 6h 58m 27s | 3d 20h 3m 58s | 2d 19h 31m 23s | 13d 3h 49m 48s | 8h 10m 26s |
| 26 | REDSHIFT | Nick Cherry | 3d 5h 44m 27s | 3d 7h 3m 44s | 3d 20h 14m 56s | 2d 19h 11m 18s | 13d 4h 14m 25s | 8h 35m 03s |
| 27 | LA SOLIDARITÉ MUTUALISTE | Damien Guillou | 3d 5h 5m 18s | 3d 7h 12m 2s | 3d 20h 11m 51s | 2d 19h 45m 26s | 13d 4h 14m 37s | 8h 35m 15s |
| 28 | RED | Henry Bomby | 3d 4h 43m 34s | 3d 7h 38m 3s | 3d 20h 30m 43s | 2d 19h 48m 20s | 13d 4h 40m 40s | 9h 01m 18s |
| 29 | DARWIN - Les marins de la Lune | Clément Salzes * | 3d 5h 35m 7s | 3d 7h 9m 53s | 3d 19h 55m 59s | 2d 20h 2m 35s | 13d 4h 43m 34s | 9h 04m 12s |
| 30 | SKIPPER MACIF 2012 | Fabien Delahaye | 3d 3h 1m 17s | 3d 4h 0m 19s | 4d 4h 46m 23s | 2d 18h 35m 5s | 13d 6h 23m 4s | 10h 43m 42s |
| 31 | MADE IN MIDI | Gwenael Gbick * | 3d 5h 47m 38s | 3d 8h 28m 19s | 3d 20h 14m 7s | 2d 20h 31m 7s | 13d 7h 1m 11s | 11h 21m 49s |
| 32 | GROUPE QUEGUINER - LEUCEMIE ESPOIR | Yann Elies | 3d 16h 17m 49s | 3d 3h 0m 1s | 3d 18h 8m 13s | 2d 18h 24m 42s | 13d 7h 50m 45s | 12h 11m 23s |
| 33 | BRETAGNE – CRÉDIT MUTUEL ESPOIR | Sébastien Simon * | 3d 5h 14m 8s | 3d 4h 39m 48s | 4d 4h 46m 23s | 2d 19h 6m 57s | 13d 9h 47m 16s | 14h 07m 54s |
| 34 | ARTEMIS 23 | Alan Roberts * | 3d 5h 24m 10s | 3d 7h 32m 41s | 3d 20h 14m 54s | 3d 1h 2m 30s | 13d 10h 14m 15s | 14h 34m 53s |
| 35 | GROUPE SNEF | Jean Paul Mouren | 3d 12h 57m 49s | 3d 7h 33m 5s | 3d 20h 2m 51s | 2d 21h 54m 45s | 13d 14h 28m 30s | 18h 49m 08s |
| 36 | MACMILLAN CANCER SUPPORT | Edmund Hill | 3d 14h 57m 49s | 3d 7h 45m 47s | 3d 20h 6m 43s | 2d 19h 38m 51s | 13d 14h 29m 10s | 18h 49m 48s |
| 37 | PORT DE CAEN OUISTREHAM | Claire Pruvot | 3d 6h 1m 56s | 3d 7h 34m 24s | 4d 4h 46m 23s | 3d 3h 2m 30s | 13d 21h 25m 13s | 25h 45m 51s |
| NC | REGION BASSE NORMANDIE | Joan Ahrweiller | 3d 12h 9m 53s | 3d 10h 28m 19s | 4d 4h 46m 23s | | 0 | |
Back to top