Solitaire du Figaro - leg 4 underway
Today, Artemis' team of eight British Solitaire du Figaro skippers got a glimpse into what it's like to embark on the Vendée Globe, parading their one-design Figaro Bénéteau IIs out of Les Sables d'Olonne to the cheers of hundreds of well wishers lining the walls of the iconic canal.
Setting out on the final 490 mile Solitaire leg from Vendée to Cherbourg via the English south coast, the 36 remaining Solitaire du Figaro competitors crossed the Leg 4 start line at 1600BST with a sense of caution. Taking it easy in a spritely 20 knots of wind and big rolling waves, Redshift skipper Nick Cherry was again the first British skipper at the windward mark, followed by Henry Bomby (RED) and Sam Goodchild (Team Plymouth) behind him in the top 20 and the rest of the Brits behind them. Going into the fourth and final leg of the 2014 mile race, Academy Rookie Sam Matson leads the British charge sitting 14th in the overall rankings and second Rookie – just 32 minutes and 25 seconds behind the current leading Rookie Gwenolé Gahinet (Safran-Guy Cotten).
"I have a lot of respect for Gwenolé, he's a really cool guy and I've got a lot of time for him," Matson announced on the docks ahead of the start. "I went to congratulate him after his Leg 3 win – and tell him that I'm glad he wasn't any further ahead! I said to him that if he does that to me again he's going to win, but he replied with 'well if you do what you did in Leg 1, then you will win.' He's right, it's still all up in the air for sure – ideally I'll beat him by 33 minutes in the next leg, but anything can happen when you're offshore. You can't take a single thing for granted."
Next in the overall rankings behind Matson is fellow British Rookie Rich Mason, sitting 22nd overall and third in the Rookie division. After a sailing a sterling race for the majority of Leg 3 [that frustratingly came to nothing, losing many places in the final hours of the leg], Mason is looking to put in a repeat performance in the final leg – this time avoiding any crippling areas of no wind: "The final stage will be an interesting one, as lots of the skippers are started to feel quite fatigued and perhaps aren't in the position they want to be. There could be some big splits in the fleet and some people might take bigger risks than they usually would to try to get back in contention. I'm not interested in taking any risks, I want to sail as best as I can and try not to tire myself out too soon."
Initially excited by the gutsy conditions for the start, the skippers soon learned that this was a weather 'ruse' and instead they can again look forward to a long, light and sail flapping leg, conditions that have been a characteristic of this year's Solitaire du Figaro: "It's looking like we'll have quite breezy conditions for the first half of race along the French coast, before the wind then dies along the south coast of England," explained GAC Pindar skipper Jack Bouttell. "This is always hard, because you get your adrenaline up going fast and then suddenly you've stopped. The whole regatta has been super light and I think everyone is a bit over it now, but that's how it is. You can't change the weather you can only make the best of it."
Currently sitting 23rd in the overall rankings, Bouttell is just one hour behind Isabelle Joschke (Generali-Mixité Horizon) in 16th – making his 2014 goal of top 15 not totally out of reach: "If I can beat Isabelle by an hour then I could still do it, but to finish inside the top 20 would be great for me this year. With a quarter of the race left to sail, anything is possible."
The final 490 miles of the 2014-mile race sees the fleet head north from Les Sables d'Olonne through the Chaussée du Sein, past Ouessant and to the Manacles buoy at Lizard Point, Cornwall. From Lizard, the fleet will battle against strong tides in light winds past Start Point and Portland Bill, all the way to the Needles Fairway in one final hurrah through home waters: "I'm really glad that the race director chose this course rather than the second option along the French coast. Sailing home to the overall finish line through home waters is going to be so cool, almost like doing one final lap of honour before it's all over," Matson concluded.
From the Needles, conditions are expected to get even lighter as the fleet drops south onto the home straight to Cherbourg. Leg 4 is expected to take four days and four nights at sea, seeing the fleet cross the finish line sometime on Thursday 3rd July. This is it for the British solo skippers, their last chance to make their mark on the 2014 Solitaire du Figaro.
Alan Roberts added: "I'm looking forward to Leg 4, being a dinghy sailor before this I don't know the south coast particularly well, but it will be nice to sail close to home. It's not going to be easy on the coastal leg from Start Point along to the Needles with light winds forecast, but from which direction – we don't know. Leg 4 is looking quite similar to Leg 3, in that the conditions will be unpredictable, light and fluky – characterising the 2014 Solitaire du Figaro.
"I really want to try and get a good start on this final leg. My last three legs something has happened as we head offshore that has set me back and left me playing catch up for the whole leg. I'd like to make this final leg the one where that doesn't happen. I've always been behind and chasing, but with this type of racing you've got to be in with the pack.
"The Solitaire experience has been amazing, both on the water and on shore – it's unlike anything I've ever done before. We go out racing for four days and then come back in so much happens with media, skipper activities and then the prize giving and official dinners. It's non-stop."
Rich Mason: "This leg I hope to sail as well as I did in the last leg. I was pretty happy with my performance during the race, it just happened that at the end I fell into a hole and got overtaken. If I can put in a similar performance this time around, I'll be pretty happy. My aim is to stay with the front pack off the start line and then just keep on doing what I've been doing.
"It's the last leg, but it's still a quarter of the race. People seem to be winding down a little bit and thinking about the end, but I don't think that's the right attitude. There's still a massive chunk of the race to sail and it doesn't really make any difference that it's the end, the only difference for me is that it's the last chance to push my name up the leader board and we get to have a couple more beers at the end.
"It's so frustrating to have defined my whole race in Leg 3, it's not what I wanted. Overall the race has been really good, it's been really interesting. It's totally unique, an onshore and offshore experience and I've never been to an event with so much put on between the racing. The atmosphere on the pontoons and the camaraderie between the skippers too is really good, everyone is friendly and willing to offer out words of advice."
Ed Hill, Macmillan Cancer Support: "There looks set to be some nice breeze at the start of Leg 4, but I reckon by tonight it's going to drop off. It looks like we're going to finish the race in typical 2014 Solitaire du Figaro conditions, tricky, light, flappy sails and crappy. By the time we're along the south coast it will be really tough, with a truck load of counter tide, very little wind and lots of headlands to round. It's going to be another long and challenging leg.
"Sadly we've not had the glamour conditions we had last year, there's not really been a leg to write home about and think 'that was incredible' and just be happy that you survived it. You'd think that over a month we'd get some exciting conditions at some point, but we haven't. I think by the time we start the good breeze is going to begin dropping off. I'm really hoping that there will be quite a lot of breeze on the start.
"Generally I don't mind sailing in light airs, I used to think I was quite good at it. It's the 0 knots of wind that I've got a weakness in. Clearly I'm not moving the boat quickly enough through when we stop and then I'm not quick enough starting again. Of course I like a little bit more breeze as it's more fun, I think every sailor here would tell you that, but it's still a race whatever the conditions. For me this month has just been really mentally tough, and when you know you've go a weakness and every leg is relying on you being good in that area, you start to feel a bit exploited by it – but that's life.
"This is the last leg of the Solitaire and I want to go out there and just enjoy it more, maybe take a few more risks. I just want to go out and have a good leg, I want to be able to come into Cherbourg and just tick it off and know that I've had a decent leg. We'll see."
Jack Bouttell, GAC Pindar: "The first two legs were not my legs, but by Leg 3 my performance has improved and I hope that it can only get better in Leg 4. It's looking like another long one, and I'm sure that the whole fleet is going to be wrecked by the end of another four-day leg. So I'm just going to keep pushing the whole way, as I think there will be guys who should be in the top 10 but aren't in the top 10 taking bigger risks and perhaps not pushing too hard – so there could be positions to gain back there.
"My performance has gradually got better the more time on the water I've had during the race. It's quite frustrating thinking where you could've been if you'd had that time before the race, but you just can't think like that because the season is what it is and you can't change that. Last year for me sailing the boat was just second nature, whereas this year I'm really having to think about getting and going and then that makes everything else a lot harder. I'm definitely getting into it more and in these light conditions anything could happen.
"The conditions are looking unstable along the south coast. We should have wind on the way to the mark off of the south coast, but the rest is set to be a bit of a gamble. There should be a bit of the breeze getting us to the Needles, but then it's looking very light and unstable from there to Cherbourg. There's a big tidal gate at Start Point and Portland Bill, if you're again the tide there in no wind then you're going to be going backwards basically. This shouldn't affect us too bad if we're further offshore, but if catching a breeze means sailing closer to shore then we have no other option.
"I'm 23rd in the overall rankings and I'm not a million miles away from my top 20 goal. I always said this year I wanted to be top 15, but after the way my season panned out top 20 was much more realistic. I'm about an hour behind 16th, so if I can beat them by an hour then I could still do it, but to finish inside the top 20 would be great for me this year. Anything is possible, but then there's also the alternative of getting stuck in a hole and coming in last."
Sam Goodchild, Team Plymouth: "We leave les Sables d'Olonne and head most likely offshore and then around the outside of Ouessant and all the rocks of Finisterre. Then we come back into the French coast around l'Aber Wrach before heading north across the channel to the Manacles mark 6 miles off Gylly beach on the east side of the Lizard peninsular – then along the south coast of England to the Needles fairway buoy as in almost every Figaro before the final sprint across the channel to a finish in Cherbourg.
"The start is looking pretty windy, so the first six hours of the race, getting out of the bay in 25 knots and then the upwind leg towards the west will be a bit of a wake up form the last two legs dominated by mostly light winds. This year's race has been a pretty difficult experience for me, I maybe approached the race with higher expectations than I should have, but ultimately have been disappointed with my performance having felt I had made some good progress last year. That said I think there are some valuable lessons I have learnt from my preparation for an event as big as the Figaro and having done it 3 times I think I came back almost too relaxed. So with a "what doesn't kill you makes you stronger attitude", I'm looking for the positive learning points.
"As always my Leg 4 objectives are to get a good result after a good race in the pack. The pressure is off for me being out of any sort of decent result overall – so I'm just out to learn what I can and enjoy my self, which inevitably goes hand in hand with a decent result."
The overall British results going into Leg 4
1. Jérémie Beyou/Maitre Coq/10d, 1h, 18', 32"< /br> 2. Corentin Horeau/Bretagne Crédit Mutuel Performance/10d, 1h, 33', 45"/0h, 15', 13"
3. Charlie Dalin/Normandy Elite Team/10d, 1h, 37', 29"/0h, 18', 57"
14. Sam Matson/Artemis 21/10d, 5h, 32', 26"/4h, 13', 54"
22. Rich Mason/Artemis 77/10d, 8h, 3', 52"/6h, 45', 20"
23. Jack Bouttell/GAC Pindar/10d, 8h, 18', 25"/6h, 59', 53"
27. Sam Goodchild/Team Plymouth/10d, 8h, 48', 18"/7h, 29', 46"
28. Henry Bomby/RED/10d, 8h, 52', 20s/7h, 33', 48"
29. Nick Cherry/REDSHIFT/10d, 9h, 3', 7"/7h, 44m, 35"
30. Alan Roberts/Artemis 23/10d, 9h, 11', 45"/7h, 53', 13"
37. Ed Hill/Macmillan Cancer Support/10d, 18h, 50', 19"
Solitaire du Figaro Rookie overall results

1. Gwenolé Gahinet/Safran-Guy Cotten/10d, 5h, 0', 1"
2. Sam Matson/Artemis 21/10d, 5h, 32', 26"/0h, 32', 26"
3. Rich Mason/Artemis 77/10d, 8h, 3', 52"/3h, 3', 51"
4. Clément Salzes/Darwin – Les marins de la lune/10d, 8h, 40', 59"/3h, 40', 58"
5. Alan Roberts/Artemis 23/10d, 9h, 11', 45"/4h, 11', 44"
6. Gwanael Gbick/Made in Midi/10d, 10h, 30', 4"/5h, 30', 3"
7. Sébastien Simon/Bretagne – Crédit Mutuel Espoir/10d, 14h, 40', 19"/9h, 40', 18"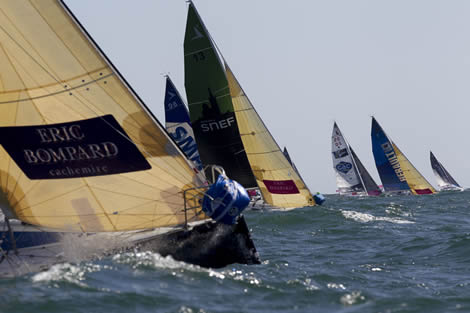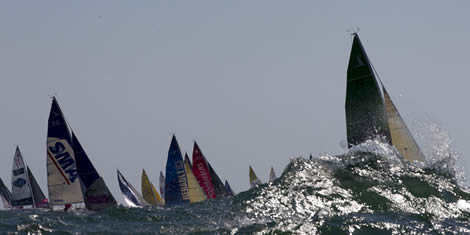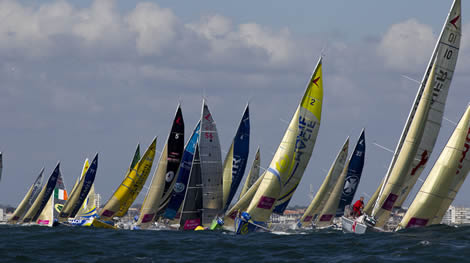 Back to top
Back to top