Breeze fills in
Stage 3 leader Yann Eliès (Groupe Queguiner-Leucemie Espoir) had around 31 miles to make to the final turn for Les Sables d'Olonne and the finish line at 1400 UTC this afternoon. The back to back winner of La Solitaire du Figaro-Eric Bompard cachemire has been modulating his pace nicely, holding off second placed Gildas Mahé (Interface Concept), who is 1.2nm behind, with Corentin Horeau (Bretagne Credit Mutuel Performance) in third at 1.6nm behind the leader.
The pace had eased slightly since the morning but the leading trio were still comfortably among the fastest in the fleet in what has increasingly become a horse race to the turn, where pace is everything and there are really no overtaking lanes.
In the overall standings going into Leg 3, Eliès had a massive deficit of 12h 16m on the overall race leader after losing his mast on Leg 1 and so is really battling for Leg wins. The duel in terms of the race standings is really between Jérémie Beyou (Maitre Coq) in fifth, just 0.9 of a mile behind Corentin Horeau (Bretagne Credit Mutuel Performance) who lies third on this stage from Roscoff to Les Sables d'Olonne.
When they started last Sunday, Beyou – then lying second overall behind Fabien Delahaye, who retired from this leg - had an advantage of 13 minutes and 30 seconds over Horeau.
The fleet for this 45th edition of La Solitaire have been struggling to really understand the forecasts. After two days and two nights suffering with light asthmatic breezes making for slow progress, the northwesterly wind came in through the early morning, stronger and ahead of forecast, to produce a very welcome sprint east towards the BXA mark at the mouth of the Gironde estuary which Eliès should reach this evening. The predictions are that the breeze should remain northwest for the climb north to the Les Sables d'Olonne finish line, which is a further 60 miles.
Beyou observed: "There's some tacking upwind, but if the two lads up at the front decide to keep us in check, there's not a lot we can do about it. A lead of two miles isn't that much, around a quarter of an hour, but two miles upwind isn't the same thing. So we have to narrow the gap now, get rested before BXA to be able to stay at the helm upwind. But, it's going to be complicated to get any rest as the end of the race looks very physical. We've lost a few of the rivals, who were aiming for victory, in particular Alexis Loison."
The British sailors remain locked in what past Vendée Globe winner Alain Gautier described as the 'second division'. The 1989 race winner Gautier is just one of many to have found themselves on the cheap side of the divide which was driven through the fleet as the wind filled in from ahead and the west yesterday. In 17th Gautier was battling to lead the second division which is 13 miles behind the last of the premier league players, Gildas Morvan (Cercle Vert) himself a relatively distant 15.3 miles behind Eliès.
" We're playing in the second division here, so we're aiming to come top of that division." Gautier reported wryly, " It looks like it's straight on with a few minor wind variations in the strength and direction of the wind. There's not a lot we can try to do here, but there's quite a current which upsets things occasionally. We've each got in position to deal with the change in the direction of the wind, but the problem is will the wind do exactly what has been forecast? It's hard pushing the boat forward, as the choppy seas are slowing us down a bit."
Briton Sam Goodchild was remaining philosophical, best of the Brits at two miles behind Gautier - and looking towards the fleet's fourth night at sea – his longest Figaro leg yet in terms of duration. He remains upbeat looking for an opportunity to knock on the final ascent to the spiritual home of the Vendée Globe.
"It could be better but we have some wind and in fact it is almost too much for the kite it is incredibly unstable but at least we are moving and so after spending yesterday and yesterday night not really moving it is nice to be on the way again to the next mark. I am OK, pretty tired and trying to catch up on some sleep but it is a bit difficult because everything is finely balanced, trying to get some sleep and not going too slowly. The time to get some sleep has been during the day and I have not really managed it that well and so I am trying to catch up on it now. At times it is worse and at times it is passable. I am a bit disappointed how it has gone. I feel a bit hard done by the fact I was a couple of hundred metres from the lead and the guys ahead now, yesterday morning and the evening before, and just a gust of wind swept through and carried them off. At first I though OK I am not as fast as them and that was the difference between picking up that new wind and not, and now that is 20 miles.
"The weather, to be honest, is a bit hit or miss. Now we know we have a N'ly sector wind but the finer detail is pretty vague. We have no real files to read anything from what we have got. Tactics at the moment are about going straight and fast and not trying to be too extravagant. It would be nice to think that on that last stretch up to Les Sables d'Olonne there might be some chances but you really dont know from the weather files but really it is a case of going as fast as we can to the next mark. Four nights at sea will be the longest Figaro leg I have done, so far so good, but ask me again tomorrow."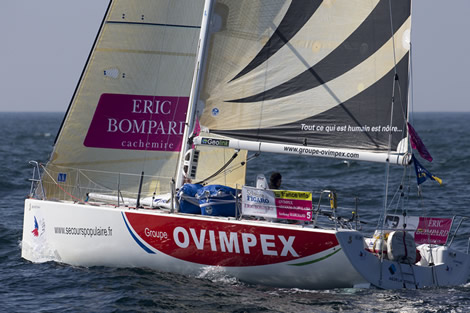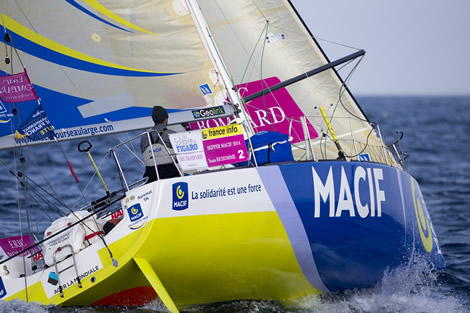 Back to top
Back to top