Belle Ile drift off
Monday June 23rd 2014, Author:
James Boyd
, Location: none selected
For the sailors in La Solitaire du Figaro-Eric Bompard cachemire, racing Leg 3 from Roscoff to Les Sables d'Olonne, the challenge off Kerdonis at Le Belle-Ile this Monday afternoon has not so much been sailing forwards, but instead remaining kedged in a glassy calm and strong currents. At the East Cardinal mark, Les Galères - appropriately meaning problems in French - at the Kerdonis point, the 36 skippers were forced to play a game of patience, waiting for the northeasterly breeze to reappear.
Their fate might be frustrating, but by comparison overall race leader Fabien Delahaye (Skipper Macif 2012) was living his own kind of hell. After losing his port D1 shroud which parted before the start, he had to return to Roscoff restarting some two hours after the fleet had left.
But some 30 miles behind the leaders – where there were more than 24 boats clustered within one mile in terms of DTF – Delahaye could only see gloom and doom ahead and few opportunities to catch up.
"It's hell out here with no wind at all," he said. "I'm having to deal with all the adverse currents in comparison to the others and the wind is dropping off too. I can't see how I can close the gap before the finish. There's a long way to go, but the frontrunners look like extending their gains each time. I must be a good thirty miles behind and it will only get worse. The sea is like a mill pond and I have to get around the fishermen. So far my timing has been rotten!"
The picture has been much brighter for Briton Sam Goodchild on Team Plymouth. After two lacklustre first legs Goodchild made a key move during the first night, staying 0.75 of a mile closer inshore as they set up to pass the La Vielle light and managed to rise progressively from 11th to lead the fleet through the morning, challenged by Gildas Mahé (Interface Concept) at times. The young Brit who finished 11th overall last year, was leading the fleet before the park up really took a grip.
He sounded in much better spirits: "I'm pleased this morning. I'm here with Gildas (Morvan) and Yann (Eliès) just behind me… I dealt well with the Raz de Sein, passing close to the La Vieille lighthouse. Since the sun came up, I've managed to get a few naps. Well, here I am in the lead group, so it's going better than in the first two legs... But we don't really know what will happen between Belle-Île and the Quiberon Peninsula."
"It's a new start! " Adrien Hardy (Agir Recovery) declared of the big park-up. Since Leg 3 left leaving Roscoff yesterday at 1500 the fleet has had to work hard, having what the French solo sail call a 'white night' – one with no sleep.
Team Plymouth was in good company through the Glénans islands archipelago this morning in front of Interface Concept, Yann Eliès on Group Quéguiner-Leucemie Espoir, Yoann Richomme on Skipper Macif 2014 all setting up for the transition at Belle-Île. Until the island the fleet had made good progress, ahead of schedule, until they came up against transition between the gradient northeasterly and easterly breeze to the westerly seabreeze and the inherent battles, meant they had to tackle a big zone of very very light airs.
Also continuing to do well of the international contingent is Dave Kenefick on Full Irish Le Comptoir Irlandais who was in 16th, 0.7 miles off the lead after 27 hours of racing.
As for Claire Pruvot (Port de Caen Ouistreham) the French skipper is heading directly to Les Sables d'Olonne under engine after grounding and damaging four stringers in the hull of her Beneteau Figaro.
Yann Eliès (Groupe Quéguiner-Leucémie Espoir) : "I can't wait to get past Belle-Ile and sail downwind to Odas. This is a key stretch and we can't mess it up. For the moment it's not going too badly. I have done some good stuff and some things that haven't been so good, but there has been nothing serious and when I was good, it was really good. So it's looking positive. Apart from those, who attempted an option off Molène/Béniguet and got left behind, the fleet is still fairly close together."
Gildas Morvan (Cercle Vert) : "We have to keep a constant watch around us to see what's going on. We got here just at the worst moment. The wind came around to the east just as we reached the tip of Belle Ile, so we were forced to tack upwind. The calm tended to bring us all back together, but I'm in the right group, which is good for what lies ahead."
Adrien Hardy (Agir Recouvrement) : "I was pleased with the start, which went well. I had prepared for it with Fred (Rivet) by going out on a RIB the day before. I enjoy sailing in amongst the rocks and I knew it was possible to get ahead here. After that, it was relatively simple, even if they started to catch us from behind. I'm not so good at looking for speed. It was a tricky night with variable winds. After Penmarch we had the wind on the beam and were able to get a little rest. At the moment, the wind is still blowing and we may make it past Belle Ile like that. As for our strategy, there's not a lot to do. I'm up with a group that is well-placed not far from the leaders. If the wind drops off, we may see the fleet begin to stretch out. So, we need to be in the right group to make our getaway. It's going to take a lot of work with the wind astern, as this is a point of sail I don't like that much and you have to be in good shape."
Fabien Delahaye (Skipper Macif 2012) : "It's hell out here with no wind at all. I'm having to deal with all the adverse currents in comparison to the others and the wind is dropping off too. I can't see how I can close the gap before the finish. There's a long way to go, but the frontrunners look like extending their gains each time. I must be a good thirty miles behind and it will only get worse. The sea is like a mill pond and I have to get around the fishermen. So far my timing has been rotten!"
Claire Pruvot (Port de Caen-Ouistreham) : "I'm heading straight for les Sables d'Olonne. I should get there at between one and two in the night. I've already used the engine a little, as I don't want to waste time getting there. We'll see the extent of the damage tomorrow morning. I'll be happy to get there. I was thrown around down below and have two huge bumps on my head, but everything is fine."
Corentin Douguet (Un maillot pour la vie) : "We're just off le Palais (Belle-Ile) and I just remembered I celebrated my twentieth birthday here. I'm in a group that is well placed and should get away from Belle-Ile without losing too much. The night didn't really get off to a good start as my ballast pump packed up, but it's OK now and I can sail along normally. The wind should get up again this evening from the north east so we'll be sailing under spinnaker down to Odas, but it is likely to take quite some time."‏‏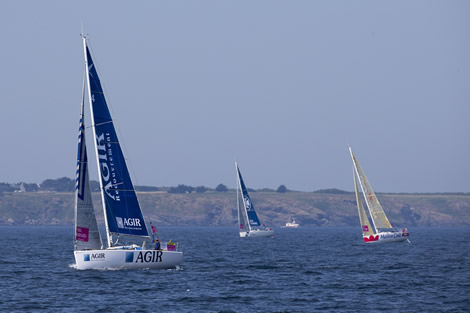 Back to top
Back to top