Elies extends away
Tuesday June 17th 2014, Author:
James Boyd
, Location: none selected
With 80 miles to the Roscoff finish, Yann Elies (Groupe Queguiner) has extended his lead over the rest of the Solitaire fleet. Elies is now 4nm ahead of Corentin Horeau (Bretagne - Credit Mutuel Performance) in second and Roscoff's local hero, Jeremie Beyou (Maitre Coq) in third.
Elies, the pre-race favourite, had been hoping for a third consecutive Solitaire win before losing his mast in Leg 1. We spoke to him this morning as he was racing North of the Isles of Scilly: "The wind is not very stable ... I try to make the best course, hoping that my option is good, but it looks pretty anyway. Always question yourself to see if there is no other possible scenarios and stay focused on what I have to do. It would be a shame to blow the victory at the end. I'll stay attentive."
All but two of the fleet decided to follow Elies' course and stay North of the Traffic Separation Zone, West of the Isles of Scilly. Vendee Globe winner, Alain Gautier (Generali) and Nicolas Jossier (In Extenso Experts Comptables) chose to head South. At the moment the decision does not appear to have paid off, with Gautier dropping from 17th to 23rd but Elies was clearly worried that the "little thieves in the South" may snatch the Leg victory from him.
Alain Gautier, (Generali): "I made the decision at breakfast time. I wanted to make myself eggs and bacon but the boat was heeling, so I told myself that I was going down to get the boat flat! Now that I've passed the southern tip of the TSS, I'm upwind with 15 knots of wind, sun, beautiful conditions. The option was unlikely to work but I had to try. If the wind drops a bit more than expected, it may work. I am fortunate not to target the general classification and suddenly I can afford a little courage."
Overnight, it was Leg 1 winner, Alexis Loison (Groupe Fiva) who was making Elies twitchy. Loison, the overall winner of last year's Fastnet race, sailing double-handed with his father, had made big gains by choosing the most Southerly course to the TSS and climbed from 7th to 2nd. However, Loison has been unable to maintain that advantage today and has dropped back to 7th.
The British and Irish sailors have found this leg difficult. Only Sam Matson (Artemis 21) is currently in the top 20. Matson, who was the first rookie to cross the line in Plymouth, is currently 4nm behind fellow first-timer, Sebastien Simon (Bretagne - Credit Mutuel Espoir). It has been an incredibly frustrating leg for the other Sam, Sam Goodchild (Team Plymouth) in his fourth Solitaire.
Sam Goodchild (Team Plymouth) "I seem to have got it wrong again and lost more places it's extremely frustrating, it seems to be becoming a bit of a habit. It's not that fun at all to be honest, I'm quite a way back, I'm not really happy with my position and there's not real way back or no real way back into it. If I knew what it was I'd done wrong I'd be a bit happier but I don't really know why it's been so expensive going the wrong way or where I went the wrong way, I really don't know. I'm just passing the Isles of Scilly, they look lovely - sunny and sandy beaches, I should maybe stop and go on holiday. We've got sunshine, no clouds in the sky again and about 12kn from NE - basically what we had when we left Plymouth and it hasn't really changed."
The first sailors are likely to cross the finish at around 0100BST. At the moment they're doing around 6kn in 14kn of NE'ly wind. It looks as the wind will build over the next few hours and then drop of again from 2100BST. With a dropping wind and the tides around Roscoff, Leg 2 is not over yet.
Adrien Hardy (Agir recovery): "I have not done the right thing to do zigzags versus current. Now, I try not to have regrets. The wind was very variable between 8 and 15 knots. I was afraid with the TSS, I preferred to play it safe and go above, I think I did a little way too. I will try to steer a little more, it is not very interesting, it's all right, there will be no strategic positioning, the current that can create gaps at the finish. The differences are still made since the passage of Scilly. There will be no revolution, but perhaps small changes. The uncertainty is the wind on arrival at Roscoff. The difficulty will be in the timing. In the afternoon, it will soften, especially with the tide. My ETA to Roscoff? Around 7 am tomorrow morning."
Gildas Mahé (Interface Concept): "I was fifth passing the islands. Beautiful setting with current, wind, what more? It was complicated yesterday, there was a lot to play but it's still a nice nav. So far, there are no options to play big, we anticipate a small wind shift to the right so we will try to go down with the wind. It will depend on the position of the fleet. We cross the current flow so you have to play with it to calculate the timing of arrival at Roscoff to know which side is going to be shifted across the course."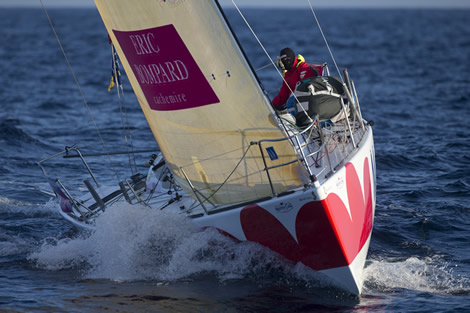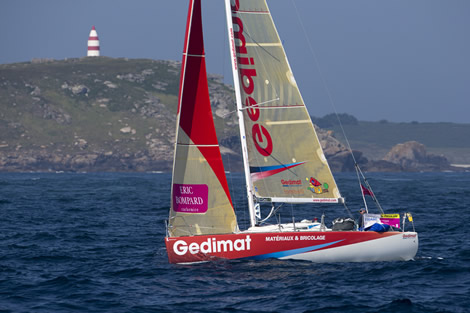 Back to top
Back to top