Green giant out in front
Sunday June 15th 2014, Author:
James Boyd
, Location: none selected
Today the fleet left the English coast in this, the 45th La Solitaire du Figaro - Eric Bompard Cachemire. They won't return to this side of the channel until Leg 4 at the end of the month.
As of 1500BST Gildas Morvan (Cercle Vert) was in the lead and fastest in the fleet, making 12 knots, almost 4 knots faster than Yann Elies (Groupe Queguiner-Leucemie Espoir) in 2nd and Gildas Mahe (Interface Concept) in 3rd.
Morvan led the fleet as the solo sailors passed Land's End around 0500BST this morning.
Morvan reported: "It was a great start, I found it very nice, with good conditions, the flat sea, a North wind coming in slowly….All night it was great fun, a treat…Isles of Scilly were not easy, I went outside the TSS and I lost a little. But okay, it's great conditions, it was more wind than expected going around the Fastnet. I have 15/18 knots from the northeast and boat speed is between 7 and 8 knots. I have not slept too much, but I think I'll be able to enjoy some in the coming hours."
Morvan's decision to go wide of the TSS allowed Yann Elies to move up into first place around 0900BST. Elies, the two-time Solitaire winner and the 'Green Giant' have been jostling for first place ever since.
The fleet is down to 37 boats after Joan Ahrweiller (Region Basse-Normande) was forced to abandon Leg 2 soon after last night's start. His decision to sail too close to Plymouth's breakwater was a costly one. As he recounted: "I broke several floors inside the boat. The floors are reinforcements which stiffen the hull and then one of them peeled off 25 centimetres so water came in."
This is has been a really tough Solitaire for the Normandy skipper, in Leg 1 his mainsail halyard broke and now this. Ahrweiller was making his way to Roscoff today where he has a week to assess and repair the damage before the start of Leg 3.
Before the sailors left Sutton Harbour they described Leg 2 as a pretty straight-forward speed race. However, in the first twelve hours of the Leg the tides have played a significant part - 14 miles now separates the fleet from front to back. British sailor, Sam Goodchild (Team Plymouth) had, had a great start to Leg 2, the skipper was in 4th place at the Radio France buoy in Plymouth Sound. However, he was caught out by the tide at Lizard Point. He's currently in 16th, 4.6nm behind Morvan.
Sam Goodchild (Team Plymouth): "I made a silly error at the Lizard...I didn't look into the tides closely enough I went straight into the tide and 3 or 4 boats went around us…I had a couple of sleeps last night and a couple of short sleeps this morning. At the moment I'm feeling pretty refreshed. We have 12kn of NE'ly wind, sunshine, no clouds, right now."
Of the 8 British sailors taking part this year, 6 find themselves at least 9nm from the leaders including Sam Matson (Artemis 21) who had been leading the rookie division. Sebastien Simon (Bretagne-Credit Mutuel Espoir) is leading the rookie division in Leg 2, he's holding an impressive 4th place, just 1.2nm behind Morvan
Sebastien Simon (Bretagne-Credit Mutuel Espoir): "At the moment I'm pretty happy, I'm saying that I'll take a picture because having Beyou behind me it does not happen every day. I made a good start, I sailed with fresh wind and I have a little gap. I was expecting a wind shadow at Lizard and even if late in coming, it still happened and I did well to pass under it. I had to pass north of the Isles of Scilly and it's a bit that the whole group does. It's really motivating to be in my position and at the same time, we must not get carried away. I try to detach myself a bit of everything and make my own race or I'm not going to take three days."
The fleet has around 100nm to go to the next mark, the Stags South cardinal buoy off the Irish coast, the solo sailors are due to arrive there on Monday morning.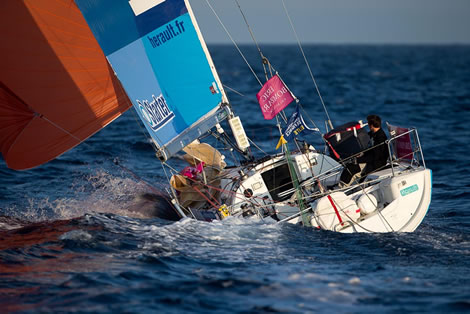 Back to top
Back to top