Late start
The docks crowded with friends, family and well wishers, the eight British Solitaire du Figaro competitors left Sutton Harbour, Plymouth in a blaze of glory at 1620 BST, sailing through the lock with their 30 fellow competitors and out into Plymouth Sound.
Five hours later the 38 Solitaire du Figaro skippers were still sitting just outside Plymouth Sound, as the official 1830 Leg 2 start time was postponed due to a total shut down of the wind.
A cut off point of 'sunset' was put in place for the race committee to start or abandon the 540 mile second leg – a decision that would have been detrimental to the race ready skippers' mental state if the restart was moved to early tomorrow. Fortunately, just after 2100, the wind filled in from the north and acting fast, Race Director Gilles Chiorri commenced the four-minute countdown and Leg 2 (Plymouth, UK to Roscoff, France) of the Solitaire du Figaro got underway at 2126 on Saturday 13th June – three hours behind schedule.
Canning an inshore leg in around Plymouth Sound for the benefit of the crowds watching from the Hoe, the 38 skippers raced on towards the first mark in around 8 knots of fresh breeze.
It was Frenchmen Corentin Horeau (Bretagne Crédit Mutuel Performance) and Gildas Mahé (Interface Concept) who were joint first at the mark, while Team Plymouth's Sam Goodchild rounded the mark first Brit and inside the top 10 – followed by the rest of his fellow countrymen in the 20s and 30s.
Leg 1 winning Rookie and local Plymouth hero Sam Matson was feeling the pressure ahead of the start, but determined to keep cool, calm and collected on the long and fairly light leg to Roscoff, France: "It's almost impossible not to feel the pressure, I've been trying to remove myself and escape from the race as much as possible during the stop over, but obviously I've been feeling it a bit," he admitted honestly prior to the start. "Traditionally I haven't done too well in the lighter winds races, it's always a bit of a gamble and I seem to let myself get down by it quite a lot when I see myself losing it in those conditions. I think this type of racing is about trying to stay cool and relaxed because there is no reason why I should be any slower than anyone else – we're in identical boats!"
The course running from Plymouth, UK to Roscoff, France will take the skippers 540 miles via Fastnet Rock – on two tacks. A healthy 10/11 knots is forecast to hold out until the fleet reach the mark in the Irish Sea, where an area of high pressure sits over the coast of Ireland – likely causing a second 'leaderboard shuffling' shut down: "The main characteristics of the race are light winds and straight lines," Artemis 77 Rookie Rich Mason explained. "It's going to be a race relying on boat speed, as fast as we can go in what wind there will be. My last leg wasn't great, but I've done a few little things to hopefully make sure that my speed is a little better and I hope that the rig is now perfect. It's going to be important to be alert and able to concentrate."
GAC Pindar skipper Jack Bouttell, who will round Fastnet Rock for the sixth time during Leg 2 of the Solitaire, is sure that plenty of onboard supplies will be the key to survival in what is set to be a steady and sunny race: "It looks quite tough again as it's another light wind and long leg, so I've just stocked up on food, water, sun hats and sun cream – everything to get us through the long days in the heat. I think the key to this leg is going to be about trying to sail consistently with good boat speed, but also staying well rested. It will be important to try and focus and be alert at the times that you need to."
After a demoralising start to the 2014 mile race retiring from Leg 1, Macmillan Cancer Support skipper Ed Hill is returning to the second leg with as much gusto and fighting spirit as he had from the off in Deauville – spurred on by the £3000 he has raised in just the first week of the race for his charity Macmillan Cancer Support: "The last leg doesn't matter anymore, it's not been on my mind at all. This second leg for me is going to be about sailing as fast as I can, and also trying to enjoy this race. I didn't have much fun during the first leg, which isn't what this race is about as it's such a great experience. It's important that you enjoy the Solitaire du Figaro for what it is – it's a really special race. I'd love to get into Roscoff and have something to smile about – that would be good."
The current ETA for the Solitaire du Figaro fleet in Roscoff, France is Wednesday 18th June.
Alan Roberts, Artemis 23
"I learned a lot from the first leg as it's quite different from the races we've done previously in terms of ways you can sleep and ways you can sail the boat. It was a lot more of an offshore leg with three Channel crossings as before we've had a lot more coastal stuff so I definitely learnt from that and will try and get my head down when I can. More emphasis on as before I was kind of napping. I was taking very small naps but in this leg I think we can get bigger sleeps so that you can be absolutely on it when you need to. So really having the confidence in the boat and pilot to maximise your time when you can sleep if that makes sense."
Jack Bouttell, GAC Pindar
"It's due to be quite light winds for the whole leg, but there might be a little but of wind right at the end – so it's looking very light and fluky and quite hard work. It's probably 3 ½ to 4 days to the finish now or maybe a little bit longer. There's no wind in the Irish Sea this time, so there's no land effects or anything so sometimes that's better, sometimes that's worse. We will work that out as we go."
"The last time I went round the Rock was on board the Volvo 70, Abu Dhabi Ocean Racing in the Rolex Fastnet Race last year. This is my sixth time round. It's always nice to go round. As long as I'm moving I don't really mind whether I go round in daylight or not."
"The stopover in Plymouth has been great weather, which has made it. It has been nice to be in a place where the prize giving is all in English and the French have had to speak English! It's been really nice and good to come back and here and hopefully it can come back here again next year."
Nick Cherry, REDSHIFT
"It's been a nice stopover. The public have been good and it's just nice to sail into England and feel that you are home. It's a bit easier than being in France. The weather has been great and it's nice to be in Plymouth. I think we have put on a good show for the French sailors. There's maybe not been as big a reception as some of the French ports, but I think it's been friendly and we've put the weather on so it's been good."
"I learnt that my boat is going quick in the last leg, and when I point it in the right direction I've got the potential to do well. There were jut a few moments when I think I was just a bit rusty and I missed opportunities that I could have taken and got a better result. I had a nice time and everything is working and I am poised to do better in the next leg, so will just see how it goes. I was disappointed to be 32nd after Leg 1, I would have liked to be further up but I was close to the pack and in the race so I am excited for this one."
Ed Hill, Macmillan Cancer Support
"We're relying on a light sea breeze for the start, which will drop when we get to lands end it will drop and by the time get to Fastnet Rock it will disappear to nothing due to an area of high pressure of off the coast of Ireland. Because of this the organisation have changed the course, as they were concerned that we might drift off into the nearby TSS zones (shipping lanes) – we're instead going to a mark a little further away from Fastnet Rock to avoid this. I don't think we'll see much more than 10 knots for this Leg."
"I scratched my eye quite badly during the last race, I couldn't see out of my left one on the Monday. I had it checked out during the stop over and I've got to but drops in six times a day and I've got antibiotics as well so that if I do infect it, hopefully I should be ok. I'm going to wear one contact in my right eye, and then sunglasses as apparently I've got quite bad sun damage to my eyes."
"It was funny in the Plymouth supermarket to have Rookie skipper Sebastien Simon run up to me and ask "where's the saucisson", I directed him to the chorizo – but he wasn't having any of it."
Rich Mason, Artemis 77
"It's been nice to be back in England, knowing where to get food and what time everything shuts. It's been quite relaxed, but there's been a lot more media interest than I had thought there would be. I've taken advantage of being at home and stocked up on Malt Loaf, I've bought Tesco's out of it."
"I'm feeling pretty fresh before the start of this leg, but I'm sure the tiredness is accumulative as well as the time. It was interesting with the first leg, because we were at sea that much longer it felt a much more like we were living on the boat. You definitely feel that it's a longer game, during the other races you'd just power through for 48 hours – but with the Solitaire you really have to pace yourself."
Sam Matson, Artemis 21
"There's no big winds forecast for this race, but once out of Plymouth there is going to be about 10 knots. There's going to be a shut down at the time of the start, and again at Wolf Rock just because of the high and the effect of the land – but once we get back past Land's End and on the other side of Wolf Rock, we're forecast to have about 10 to 11 knots and realistically that isn't that light – we're going to be fully stacked with ballast."
"The approach to Ireland will be tactical for sure with the shut down, as it will be when we get to the Scilly Isles and have to decide which side of the TSS (shipping lanes) exclusion zones to sail. We won't know what will be the best way until we get there – it's like trying to sail past a big square island in the middle of the sea that you can't see."
Sam Goodchild, Team Plymouth
"The stop over has been really cool, I think that Plymouth has put on a good show with the Jazz Festival and Lord Mayor's parade on at the same time, there have been a lot of people in the city and hopefully that's helped to build the profile the Solitaire du Figaro and the class a little more in the UK."
"This leg is going to be a lot more open, once you've left Plymouth the only real marks are the one at the Fastnet and then at Roscoff. Speed is going to be key in this leg because of the weather we've got. It's sounds quite straight forward, but the legs of the Figaro are never as simple as they seem on paper."
"So far in this race my boat speed has been my biggest weakness, so it's a bit worrying that that is going to be one of the most important factors in this leg. However I've made some changes, and hopefully that will help so we'll see how it goes in this leg – hopefully I won't be too disappointed in Roscoff."
"As soon as I'm on the dock, I try to put the last leg behind me. I was pretty disappointed after the first leg, but at the same time I know where it went wrong and it wasn't a long bleeding process of me going to the back of the fleet, it happened fairly quickly so it wasn't too bad. Knowing why you have a bad leg doesn't make it any better, but it's not as bad as not knowing what happened at all and not knowing how to improve it."
Henry Bomby, RED
"I had damage to my rigging after the first leg, and my mast had to come out during this stop over. Thanks to the Academy shore team I haven't had to worry about that at all, so it shouldn't affect my start at all. The support was amazing and I haven't had to stress about it at all. The only thing that may affect my speed is that I've had to start from scratch on my measurements, I'd set it up really nicely all season and now I'm going to have to try and test it in the two hours ahead of the start."
"Seeing everyone from the race having a good time in RockFish this week was one of the highlights of this stop over for me. It was a really good nice, with good fish and chips and loads of the French guys said it was the best fish they'd ever had – which was nice to hear. It's really great to have been able to have friends and family here in Plymouth to watch me finish the race and see the boat. Having been doing this for three years now, I'm not home very often and it's been really nice to be able to show people what I do and what it's all about. Hopefully we can have a British stop over every year, as it will really help us with finding sponsorship in the UK "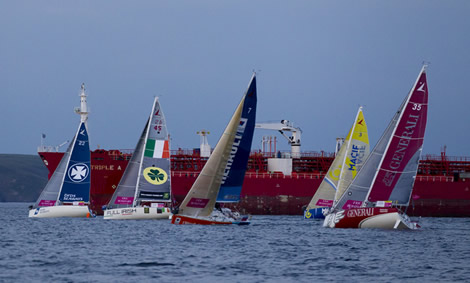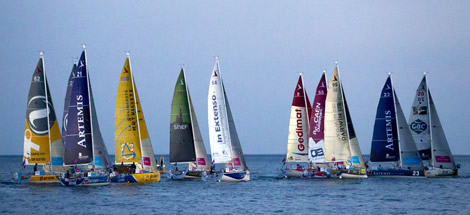 Back to top
Back to top