SAP comes into her own
In a day that challenged even the most experienced Extreme 40 sailors at the Extreme Sailing Series Singapore, it was hard for the teams to keep their cool under the blazing Singaporean sun.
However Alinghi didn't break their stride starting the day as they finished yesterday by winning races to head into tomorrow's finale with a solid, but by no means untouchable, 27-point advantage at the top of the leaderboard.
The form team of the day nevertheless was SAP Extreme Sailing Team, who put in their best performance since joining the circuit last year giving the Danish-flagged team a real shot at their first ever podium finish in tomorrow's final showdown. But with 10 points for a race win and the final double-pointer still to come, the podium is wide open with any team mathematically capable of a podium position.
True to his nature as a laid back Californian, Alinghi skipper Morgan Larson said after racing: "In most venues you would be happy with a 27 point lead, but Red Bull Sailing Team had about that lead going into the final day in Muscat and The Wave, Muscat was able to turn the tables and come away and win. Especially here in this venue, it's very easy to get a couple of last place finishes and eat away 27 points. We're happy with where we are so I think we should be proud of what we've accomplished so far and if it doesn't work out for us tomorrow we shouldn't cry over it."
In the lightest of winds, the Extreme 40 sailors crawled around the boats, trying to make as little movement as possible and keeping the number of manoeuvres on the race course to a minimum was essential and with running race starts held just metres from the VIP area, winning the start and finding clean air often led to winning races.
Race Director Phil Lawrence summed up the conditions: "It's very difficult because the wind comes down the course in streaks and there are calm patches so the sailors have to pick their way around. It is really shifty."
No one found that more true today than defending champion Leigh McMillan and his team on The Wave, Muscat. The Omani team was off its usual pace before a fourth in the final race gave some solace to finish the day in third overall. McMillan has been back before, but never quite this far, and the British former Tornado Olympian admitted it was a big ask to pull this one out of the bag: "It's fair to say that victory is out of the question, but second isn't. There's a bit of work to do by holding onto the podium finish, but I don't think we're going to see the come back with a victory here. If we can manage a podium finish we will be happy with that."
From SAP Extreme Sailing Team the mostly Danish crew, but including Britain's 2009 winning skipper Pete Cumming, seemed to be a different team to the one that struggled in the opening Act in of the year in Muscat, Oman. Co-skipper Jes Gram-Hansen commented: "Since Oman we've really looked into how the other good teams are sailing in the light conditions and try to learn from some of the mistakes that we made. We're definitely sailing better and when you sail better you get more confident, you believe more and you're on a good roll so it's good. We've got work to do tomorrow and we'll try and do well but we won't think too much about our position, and just try and put in some good races."
Roman Hagara, the double Olympic gold medallist and skipper of Red Bull Sailing Team, struggled to get out of the blocks in the opening races, the damage for which was two starting penalties. But the light wind specialist did well to hold his nerve, fighting back with two race wins and heads into the final day in second place. "Today was really important to get some good starts in," he said. "That makes it a little bit easier to maintain a good position but starting from the back it's pretty hard. We just had to wait for our chance."
The fortunes turned for the local invitational entry Team Aberdeen Singapore today, who were consistently mixing it up with the top level Extreme 40 teams, which was greeted with cheers from the public race village. Jerome Clerc enjoyed similar gains aboard his Swiss Realteam, winning two races to finish the day in fifth. Clerc said: "We had a really good day after a hard start to the event. We put that behind us and came back today with a real winning feeling, and the team did a really good job."
Unfortunately the young Kiwis on GAC Pindar didn't share the same luck. The team struggled to replicate yesterday's impressive performance, slipping from fourth to seventh, but with a leaderboard this close, Will Tiller and his crew are still very much in the mix, as is the man who went to London 2012 and collected silver in the 49er class, Peter Burling and Team Korea, who head into the final day in sixth place.
With only 30 points separating second-placed Red Bull Sailing Team and eighth-placed Team Aberdeen Singapore and up to 90 points still ready for the taking, the battle for supremacy in Singapore is far from over.
Results after 22 races
Position / Team / Points
1st Alinghi (SUI) Morgan Larson, Stuart Pollard, Pierre-Yves Jorand, Nils Frei, Yves Detrey 178 points.
2nd Red Bull Sailing Team (AUT) Roman Hagara, Hans Peter Steinacher, Matthew Adams, Pierre Le Clainche, Graeme Spence 151 points.
3rd The Wave, Muscat (OMA) Leigh McMillan, Ed Smyth, Pete Greenhalgh, Musab Al Hadi, Hashim Al Rashdi 145 points.
4th SAP Extreme Sailing Team (DEN) Jes Gram-Hansen, Rasmus Kostner, Pete Cumming, Mikkel Røssberg, Nicolai Sehested 145 points.
5th Realteam (SUI) Jérome Clerc, Bruno Barbarin, Arnaud Psarofaghis, Cédric Schmidt, Bryan Mettraux 141 points.
6th Team Korea (KOR) Peter Burling, Blair Tuke, Mark Bulkeley, Sungwok Kim, Sung Ahn Jung 134 points.
7th GAC Pindar (NZL) Will Tiller, Brad Farrand, Stewart Dodson, Harry Thurston, Matt Steven 129 points.
8th Team Aberdeen Singapore (SIN) Scott Glen Sydney, Robert Greenhalgh, Andrew Walsh, Justin Wong, Rick Peacock 121 points.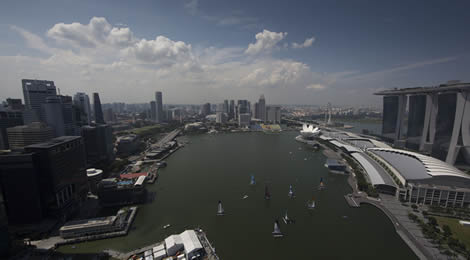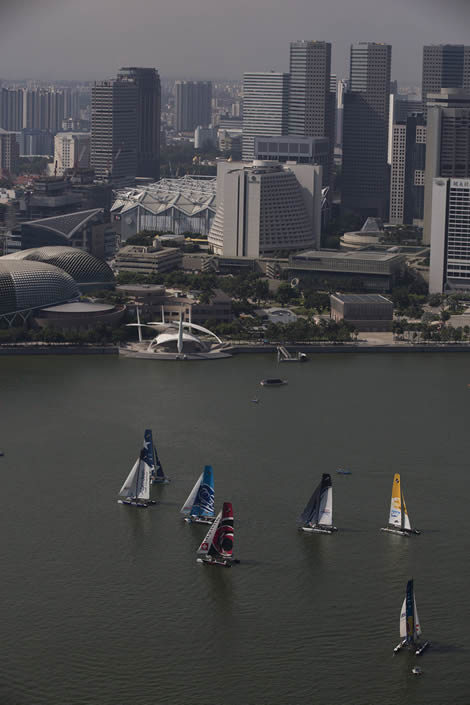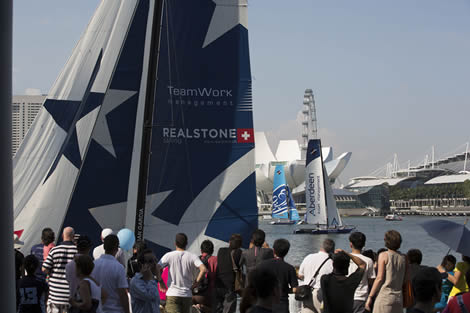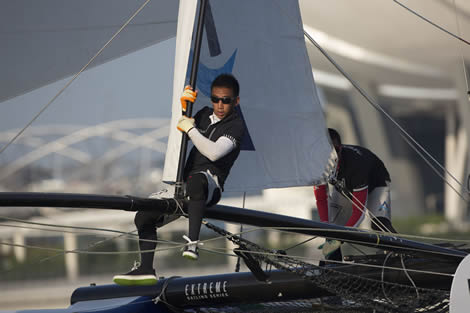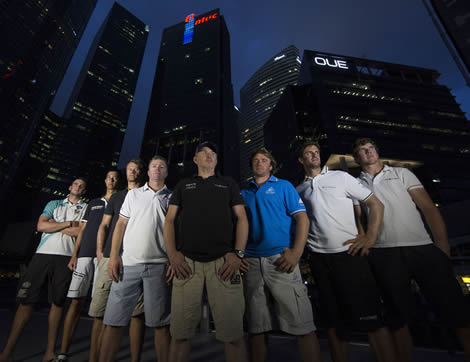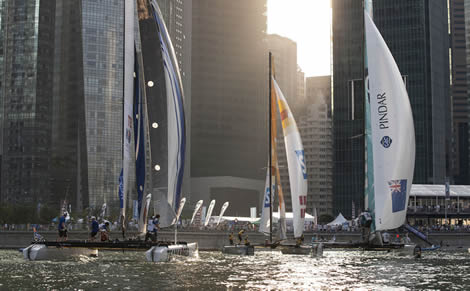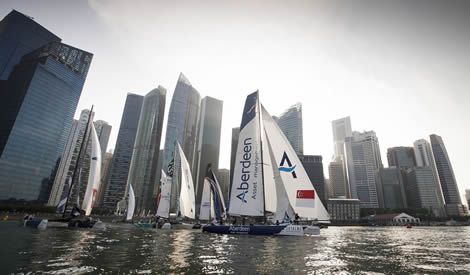 Back to top
Back to top