Vendee Globe: MACIF slows approaching the Doldrums
Wednesday January 16th 2013, Author:
James Boyd
, Location: none selected
Back into the North Atlantic, Vendee Globe race leader Francois Gabart on MACIF has slowly dramatically over the last 24 hours as he approaches the Doldrums, allowing the boats behind to close.
Image above courtesy of Expedition with GRIB files from Predictwind
Positions at 0800 UTC
Pos
Skipper
Boat
Lat
Long
Spd
Crs
VMG
Spd
Dist
DTF
DTL
1 hour aver
24hr aver
1
François Gabart
MACIF
02°48.62'N
28°11.72'W
9.6
52°
8.1
11
263.9
2998.1
0
2
Armel Le Cléac'h
Banque Pop
00°31.41'N
28°05.47'W
13.3
29°
13.1
15.4
369.2
3125.2
127.2
3
Jean-Pierre Dick
Virbac
06°36.80'S
30°10.39'W
16.2
6°
15.8
16.3
391.2
3570.7
572.6
4
Alex Thomson
Hugo Boss
10°23.68'S
33°59.48'W
13.3
10°
13
11.5
275.3
3861.5
863.4
5
Jean Le Cam
SynerCiel
28°18.73'S
40°40.87'W
9.8
4°
9.3
11.9
285.1
4999.4
2001.4
6
Mike

Golding
Gamesa
31°33.13'S
34°58.03'W
10.9
21°
10.9
7.9
189.7
5074.8
2076.7
7
Javier Sanso
Acciona
35°15.62'S
35°52.82'W
12.2
12°
12.1
6.2
147.9
5300
2302
8
Dominique Wavre
Mirabaud
34°50.92'S
40°58.92'W
12.9
17°
12.9
7.4
176.5
5366.9
2368.8
9
Arnaud

Boissières
Akena Verandas
34°25.67'S
44°24.49'W
12
3°
11.1
9.4
226.7
5412.2
2414.2
10
Bertrand De Broc
Votre nom
52°19.27'S
56°19.43'W
11.3
42°
11.1
12.6
302.6
6599.6
3601.5
11
Tanguy

Delamotte
Initiatives Coeur
54°21.49'S
60°37.55'W
14.4
106°
5.1
9.5
228.7
6788
3789.9
12
Alessandro Di Benedetto
Team Plastique
56°37.79'S
82°39.03'W
11.8
91°
11.8
11.9
285.9
7520
4522
RET
Bernard Stamm
Cheminees
Ran out of fuel after hydrogenerator problems (9 Jan)
RET
Vincent

Riou
PRB
Damage to hull and lower shroud after collision with drifting buoy (24 Nov)
RET
Zbigniew Gutowski

Energa
Autopilot failure (21 Nov)
RET
Jérémie Beyou
Maitre CoQ
Broken hydraulic ram (19 Nov)
RET
Sam Davies
Saveol
Dismasted (15 Nov)
RET
Louis Burton
Bureau Vallee
Rammed by a fishing boat, rigging damage (14 Nov)
RET
Kito de Pavant
Groupe Bel
Rammed by a fishing boat, hull damage (12 Nov)
RET
Marc Guillemot
Safran
Titanium keel broke (10 Nov)
Francois Gabart on MACIF crossed the Equator at 1341 UTC yesterday. MACIF's time from the start was 66 days 1 hour and 39 minutes, breaking the previous record of his mentor, Michel Desjoyeaux, of 71 days 17 hours and 12 minutes and giving some indication of how much we can expect the overall race record to fall (touch wood) when MACIF arrives back in Les Sables d'Olonne towards the end of next week.
MACIF was followed across the Equator this morning at 0447 UTC by second placed Armel Le Cléac'h on Banque Populaire, 15 hours and 6 minutes after the race leader.
For the first time since heading up the Atlantic, so yesteday Banque Populaire crossed the track of MACIF and is now further east than the race leader. Banque Populaire crossed the Equator some 80 miles to the east of where MACIF did and perhaps to cover Banque Populaire, or maybe to realign for the Doldrums that lie to the north, so Gabart has taken a big hike to the east over the last couple of scheds (we're remembering MichDes covering Ellen MacArthur when she drew level with him at this stage in the 2000-1 race).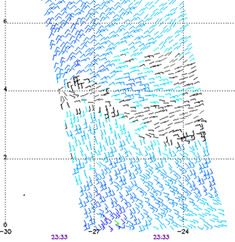 In terms of the Doldrums, satellite wind radar images from last night are currently indicating that at around 28°W, where the two boats are looking set to cross, the Doldrums are relatively narrow - between 3-4.5°N. This means that over the course of today MACIF could be into and out of the Doldrums and into the light NNEerly winds to the north.
Behind third placed Jean-Pierre Dick on Virbac Paprec 3 is still faster than Alex Thomson on Hugo Boss and over the last 24 hours Thomson has lost another 100 miles to Dick, now 290 miles adrift of him. Hugo Boss is currently 135 miles south of the latitude of Recife.
Yesterday Thomson reported: "There will be the natural extension-compression game, so I will probably lose for another day, day and a half, two days and then maybe I'll gain a little bit back as Jean-Pierre goes through the Doldrums. There's a good possibility with my position at the moment that I'm almost undoubtedly going to cross the doldrums further west than all those three boats and in theory a more westerly Doldrums crossing is more secure and less disruptive, so maybe there's a chance to make some miles there.
"The last time I've done this course was in 2003 in the Défi Atlantique when I broke the 24 hour world record in,, so, I'm familiar with the course. For me the chances to catch up are number one the Doldrums and number two hopefully the guys will be slowed by the Azores high and maybe there's a chance of me getting into the westerlies a bit further west of everybody else. We just to wait and see, it's too early to say. At the moment it does look difficult if you're looking a week, ten days ahead at the weather, which isn't very reliable, it doesn't look terribly easy for the leaders to get past the Azores high. So that's positive for me."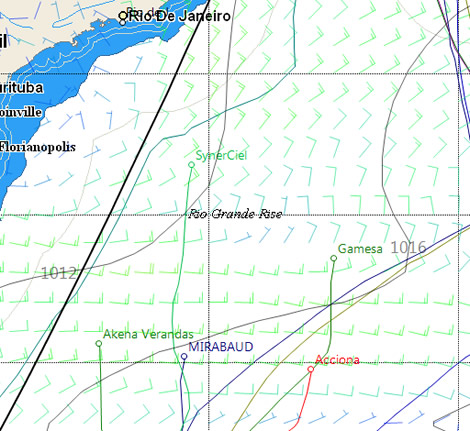 Further down the south Atlantic, Jean le Cam on SynerCiel has regained fifth place from Mike Golding on Gamesa. From being 17 miles behind Golding yesterday morning, le Cam is now 75 miles ahead. However with le Cam ending up in the Rio deadend (he's now 342 miles southeast of Rio), we are likely to see another enactment of the Virbac v Hugo Boss match as the east side of the course comes good in due course for Golding. Saying this Golding is currently close to the latitude when the leaders tacked north but is some 300 miles west of where they made their manoeuvres, so he won't have the same advantage of being on such a hot point of sail as he breaks into the north-northeasterly trades when they fill in today. It may be that Golding takes the hit of a little hitch to the east on the basis that this will reap big dividends longer term on the passage up to the Equator.
This morning Golding reported: "It had been starting to go as per the weather file which was encouraging, but I am on reefed main and the Solent right now with a bit more wind than I expected and I am getting lifted and so I am very confused. But I am pretty sure this is only temporary. It was definitely on its was in terms of what I expected to happen coming true.

"I am still happy with where I am. My routing looks okay. I go further our this side and then tack and should be off. Jean looks like he will just be sucked closer to the coast. And even if it went horribly wrong on this side I still have a lot of runway, and this is giving me a bit of space on the boats behind."
The trio behind le Cam and Golding are managing to keep up with them in the good easterly winds to the north of the high. There remains a substantial west-east split of 423 miles between Arnaud Boissieres' Akena Verandas in the west and Javier Sanso on Acciona 100% EcoPowered in the east. Acciona is now on to a similar track to Golding, while both Boissieres and Dominique Wavre on Mirabaud look set to get caught in the Rio deadend.
Back to top
Back to top