Vendee Globe: Lead duo do a horizon job
Friday December 14th 2012, Author:
James Boyd
, Location: none selected
Overnight the lead duo in the Vendee Globe have passed through the Australia West gate, but more significantly over the last 24 hours have done a 'horizon job' on the rest of the fleet.
Image above courtesy of Expedition with GRIB files from Predictwind
Positions at 0800 UTC
Pos
Skipper
Boat
Lat
Long
Spd
Crs
VMG
Spd
Dist
DTF
DTL
1 hour aver
24hr aver
1
François Gabart
MACIF
47°05.96'S
108°07.51'E
17.3
98°
17
18.2
436.3
13817.3
0
2
Armel Le Cléac'h
Banque Pop
47°10.74'S
107°31.07'E
20.1
106°
20
17.4
416.6
13839.2
21.8
3
Jean-Pierre Dick
Virbac
46°01.90'S
101°32.89'E
10.5
84°
10.4
11.5
276.9
14098.9
281.6
4
Alex Thomson
Hugo Boss
40°11.35'S
100°46.34'E
14.2
149°
12.8
12.9
309.8
14289.3
472
5
Bernard Stamm
Cheminees
39°40.87'S
98°52.40'E
14.1
81°
10.3
14.4
345.5
14378.8
561.5
6
Jean Le Cam
SynerCiel
39°20.43'S
80°52.59'E
11.5
106°
11.2
10.7
257.9
15088.6
1271.3
7
Mike

Golding
Gamesa
36°49.19'S
79°25.33'E
14.4
107°
13.7
8.1
194.4
15227.5
1410.2
8
Dominique Wavre
Mirabaud
38°02.54'S
73°54.70'E
11.2
106°
10.8
9.4
226.6
15410.8
1593.4
9
Javier Sanso
Acciona
40°30.99'S
65°56.51'E
13.5
65°
12.2
11.8
282.8
15735.5
1918.2
10
Arnaud

Boissières
Akena Verandas
39°27.33'S
57°37.30'E
14.8
75°
13.6
11.6
278.1
16121.6
2304.3
11
Bertrand De Broc
Votre nom
39°07.91'S
49°06.63'E
10.2
84°
10.1
13.3
318.5
16517.4
2700.1
12
Tanguy

Delamotte
Initiatives Coeur
40°01.73'S
42°59.06'E
12.4
92°
12.2
11.6
279.6
16805.7
2988.4
13
Alessandro Di Benedetto
Team Plastique
43°42.91'S
28°27.51'E
14.3
134°
8.6
10.9
261.1
17482.5
3665.2
RET
Vincent

Riou
PRB
Damage to hull and lower shroud after collision with drifting buoy (24 Nov)
RET
Zbigniew Gutowski

Energa
Autopilot failure (21 Nov)
RET
Jérémie Beyou
Maitre CoQ
Broken hydraulic ram (19 Nov)
RET
Sam Davies
Saveol
Dismasted (15 Nov)
RET
Louis Burton
Bureau Vallee
Rammed by a fishing boat, rigging damage (14 Nov)
RET
Kito de Pavant
Groupe Bel
Rammed by a fishing boat, hull damage (12 Nov)
RET
Marc Guillemot
Safran
Titanium keel broke (10 Nov)
The tone for the remainder of this Vendee Globe may have been set over the last 48 hours with Francois Gabart on MACIF and Armel le Cleac'h on Banque Populaire speeding off into the distance as Jean-Pierre Dick on Virbac Paprec 3 has had a day of sailing in light winds, attempting to get out of the clutches of the high trying to entrap him from astern. The result has been a dismal one for Dick - while the leaders have continued to average 17-18 knots over this period, Virbac has struggled to make 11. Over the last 24 hour his deficit on MACIF has soared from 121 miles to 280 at the latest sched.
Meanwhile the leaders yesterday evening passed through the Australia West icegate yesterday evening. Positioned to the southwest of the race leader, Banque Populaire crossed the most westerly part of the line of latitude at 46°S at 1944hrs UTC, 21 minutes ahead of MACIF, which was 18 miles further east. They are now heading for the Australia East icegate due south of Australia at 50°S. At the latest sched the western end of this gate is 1114 miles away from MACIF.
At present the lead duo are making solid progress in the southwesterly winds in the northwest quadrant of a giant Southern Ocean depression and they can look forward to packing yet more miles on as they remain in these conditions for the next three days or at least until they reach the next icegate overnight (UTC) on Sunday-Monday.
More pain and loss to the leaders is to come over the next 24 hours for Jean-Pierre Dick as the high catches him. He's currently 60 miles from the western end of the Australia West icegate and in the light southeasterly breeze has cracked off slightly to cross the western end of the gate.
Alex Thomson on Hugo Boss and Bernard Stamm on Cheminees Poujoulat have also made substantial losses on the leaders, 161 miles (or 472 miles behind MACIF) for Thomson over the last 24 hours, or 206 miles for Stamm. Both are currently in 15 knots WNWerlies due south of the substantial area of high pressure west of Australia. However both skippers are waiting for the onset of the depression, formerly known as Cyclone Claudia, and, like a surfer lining up for a wave, Thomson since the last sched has gybed south. The depression is approaching from the northwest, so Stamm will be first to feel its effects tonight. Once they're into this new breeze both skippers will have to belt up and press the pedal to the metal if they are to keep up with this fast moving depression.
Behind them poor Mike Golding is having a tough time on Gamesa. Having made what seemed like a sensible move to head north to be first to pick up the new breeze from Claudia, he instead has been wallowing in the light winds of a trough to the south of the depression. While Golding had hoped to make enough progress to end up on the east side of this system, instead the depression has passed east of him leaving him currently in southerly breeze. As a result Gamesa has lost 259 miles to the leaders over the last 24 hours, the biggest loss across the entire Vendee Globe fleet.
Jean le Cam on SynerCiel meanwhile has taken a different strategy, choosing to take a more southerly route and currently there is around 150 miles north-south split between SynerCiel and Gamesa. Le Cam's hasn't made much better progress than his British rival over the last 24 hours, only that the miles he has sailed have been in the right direction and as a result he has made a 73 mile gain on Golding over this period. Both boats should make slightly better progress today in 15 knot southerlies, but it doesn't look like they will be able to keep up with the fast moving depression as it hurtles off to the southeast.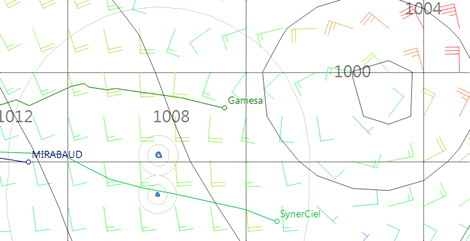 Back to top
Back to top