SAP day
Saturday June 20th 2015, Author:
Nicola Dawson
, Location: none selected
Another relentless day at the Extreme Sailing Series Cardiff presented by Land Rover saw the Extreme 40 fleet complete eight fast paced races in varied 10-23 knots over the tiny 550m track. With no runaway leader of the day, the results were a mixed bag for the teams, as they struggled with the gusty conditions, starting penalties and gear failure.
In a change from yesterday''s winning form, The Wave, Muscat had an unusually low scoring day. Their string of race wins from yesterday were replaced with a string of fourth place finishes adding a conservative (by their standard) 57 points to their total; a respectable result on a day where most teams struggled. Having won in Cardiff for the past two years, McMillan and his experienced crew, including Double Olympic gold medallist Sarah Ayton, go into the final day with a 15 point lead.
Chasing hard in second place, SAP Extreme Sailing Team on 195 points could easily bridge the gap but will need to minimise mistakes. Today the team suffered from a series of start line penalties which cost them, as co-skipper Rasmus Køstner explained: "It was a pretty full on day today with a lot of intense racing and good conditions; it is incredible that it is the third day in a row with 20 knots and a lot of action on the race course. We stepped it up, the starts weren't perfect but we still managed to catch some points on The Wave, Muscat. We got a couple of OCSes and got into trouble but we managed to gain the positions back, so it looks like we are in striking distance for tomorrow."
The real battle of the leaderboard today was for third place between GAC Pindar and Red Bull Sailing Team. After an excellent day's racing yesterday, GAC Pindar, co-skippered by Seve Jarvin and Chris Draper, struggled with consistency and penalties today, posting results that yo-yoed from first to sixth place, which ultimately left them in fourth place at the close of play. "I was silly and I didn't really do the lads proud today," explained Draper. " I got us into trouble quite a few times but it could have easily escalated and turned into an absolute shocker of a day – we kind of salvaged it with a few race wins."
Red Bull Sailing Team was the team of the day, with an impressive three race wins on the tricky course, moving them up to third overall on 183 points going in to the final day, with GAC Pindar seven points behind in fourth. Skipper on board Red Bull Sailing Team, Hans Peter Steinacher commented: "The whole course is quite tricky, coming into the finish you head into a lull and the other teams would come flying in with the pressure doing everything they could to get ahead, whilst all you are trying to do is defend your position. But that is just how it is in short course racing, we love it!"
In the chasing pack several teams suffered gear failure today as the boats and crews were put under pressure, dealing with the gusty conditions on the race course. Gazprom Team Russia finished the day on 163 points, in fifth place, despite a broken winch, but worst hit was Oman Air, which, after four good races, had to call it a day when its starboard mainsheet winch pulled clean off the deck, leaving her crew to limp ashore for overnight repairs ready for tomorrow's finale.
Going into the final day of racing just 27 point separates the top three boats with conditions like today forecast and up to eight races scheduled. Racing kicks off tomorrow from 14.00 BST.
Results after 25 races

1st The Wave, Muscat (OMA) Leigh McMillan, Sarah Ayton, Pete Greenhalgh, Ed Smyth, Nasser Al Mashari 210 points.
2nd SAP Extreme Sailing Team (DEN) Jes Gram-Hansen, Rasmus Køstner, Thierry Douillard, Mads Emil Stephensen, Brad Farrand 195 points.
3rd Red Bull Sailing Team (AUT) Hans Peter Steinacher, Jason Waterhouse, Jeremy Bachelin, Shaun Mason, Stewart Dodson 183 points.
4th GAC Pindar (GBR) Chris Draper, Seve Jarvin, Tyson Lamond, James Wierzbowski, Kazuhiko Sofuku 176 points.
5th Gazprom Team Russia (RUS) Igor Lisovenko, Phil Robertson, Garth Ellingham, Alexander Bozhko, Aleksey Kulakov 163 points.
6th Oman Air (OMA) Stevie Morrison, Bernardo Freitas, Ted Hackney, Ed Powys, Ali Al Balashi 137 points.
7th Team Turx powered by Kaya Ropes (TUR) Mitch Booth, Can Bayulken, Selim Kakış, Diogo Cayolla, Pedro Andrade 137 points.
8th Lino Sonego Team Italia (ITA) Lorenzo Bressani, Enrico Zennaro, Andrea Tesei, Tom Buggy, Stefano Ciampalini 113 points.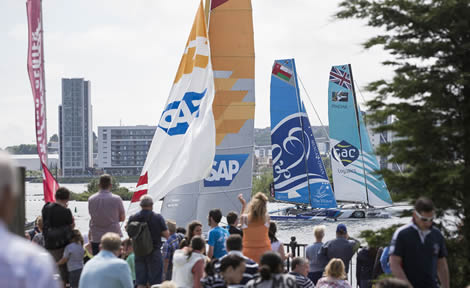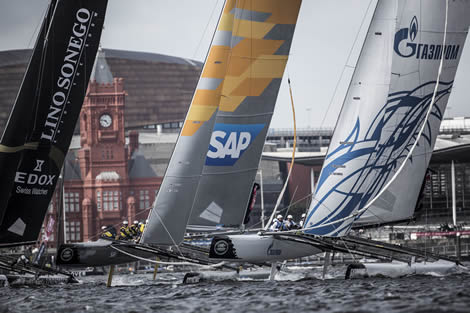 Back to top
Back to top