Solitaire du Figaro sets sail today
The Solitaire du Figaro – Eric Bompard Cachemire sets sail today at 1645 CET. After a week in Bordeaux, the boats moved down the Gironde half way to the sea and moored up in Pauillac last night, prior to today's departure on leg one.
Leg 1 of La Solitaire, although the shortest of this year's four legs, is still longer than any of the warm up races the 27 skippers and 12 Rookies have so far competed in this season. The leg also looks set to be a complicated one, with mix of light and strong winds forecast.
The 461 nautical miles between Bordeaux, France and Sanxenxo, Spain of Leg 1 will see the fleet crossing the Bay of Biscay before rounding Cape Finisterre, and sailing down Spain's west coast.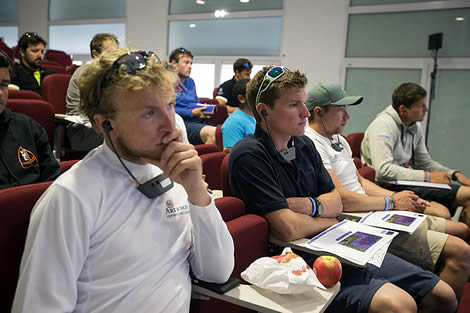 After working towards this race for a year, the eight Artemis Offshore Academy sailors are rearing to go:
"The first leg of this race is looking good for me at the moment," Chatham skipper Sam Matson explained. "I really like the stronger winds, and it's currently looking like we could get up to 25/30 knots upwind down to Cape Finisterre. The Bay of Biscay can be a bit of a trap sometimes, but it can also be a lot of fun to sail in. There will be a lot to be gained from sailing conservatively when we arrive at the more hazardous Spanish coast, being unknown and dotted with rocks and the islands."
Before they reeched the open water, the eight British, one Turkish and 30 French competitors have the rest of the tea-coloured River Gironnde to race down – with the boats crammed into the half mile wide river. A winding passage from the heart of Bordeaux out into the Atlantic Ocean, the Gironde River is a 30 mile slalom of strong tides, sand banks and often debris: "The start of the race is going to be quite interesting," explains Redshift skipper Nick Cherry, about to start his fourth Solitaire. "You've got the current against you to start with. There are plenty of things to hit. There are loads of sandbanks that move around with the tide and course marks that could be very costly if you go round them wrong. My goal for getting out of the river is just to be in a decent shape and not do anything terrible."
Academy Rookies Rob Bunce, Andrew Baker and Robin Elsey are three of 12 first timers (bizuths) competing. Coming together for the first time in Bordeaux, they are both excited and apprehensive as they prepare to face one of the toughest and certainly the most competitive of all offshore races: "I've been training for this for a while, so I'm quite confident really. I'm just going to attack it in the same way I always do, but my main goal is to enjoy myself," Elsey said.
Andrew Baker continued: "It's a tough choice in Leg 1, do you really push it knowing that you can sleep and be okay for Leg 2? Or do you try and save yourself so for Leg 4 so you've got energy left to fight? I've got to work out when to push and when to ease off. Leg 1 potentially could be quite a long leg, so you might not be in port as long as you'd like. In that sense, you don't want to be so broken after the first leg that you can't recover in time for the next legs."
On paper, Leg 1 is the shortest of four and a straight A to B race – from France to Cape Finisterre and round the corner to Spain. The reality is strong winds into fickle winds, strong tides, exhausting upwind sailing and a harsh and unknown coastline. Add to that some of the world's best solo offshore sailors including race favourites Yann Elies (double race winner) and Jérémie Beyou (triple race winner) setting the pace, and you've got yourself a classic Solitaire leg: "It's important to remember the Solitaire is an endurance race, so not blowing yourself on Leg 1 is pretty important. After 461 miles, we've still got 1724 miles to race," Magma Structures skipper Alan Roberts concludes.
Alan Roberts: "I'm feeling quite good and relaxed. I think I'm pretty prepared for this. The boat is in a good place and I'm in a good place mentally. It's looking like quite light winds at the start at the moment, so it's going to be interesting exiting the river. There'll be a lot of current and it'll be pretty tight – we go straight from close contact into full offshore with no coastal component, straight across the Bay of Biscay, so I think that will be quite a hard transition for me."
Robin Elsey: "Getting out of the River Gironde is going to be an interesting one – probably quite tricky and likely quite stressful. I think the Race Director makes sure it's quite a clear passage, so hopefully it'll be okay!
"The rest of the leg looks like it's going to be quite exciting – there is going to be a weather front and there is going to be a lot of reaching. There is going to be a lot of weird things that happen with the weather. I've just got to make sure that I'm always on the right side of the fleet, but I'm sure there'll be plenty of mix ups! It looks like it's going to be pretty light when you go into Sanxenxo, so by that point it's probably going to be a bit of a lottery."
Sam Matson: "The start's going to be a pretty interesting one – it's going to be pretty knackering before we even get into open water, there's about 25 miles of navigation and sandbanks surrounding you, and only about a mile/mile and a half of width to play in. 40 boats crammed into that, all fairly close together, is going to be quite tricky. At the moment I'm feeling okay though, but I'm sure I'll get a bit of pre-race nerves.
"I learned a lot in the first leg of last year's Solitaire. You can only do as much as you can, you just need to save time on whatever you can save time on, and sometimes that is sailing a little more conservatively on these four/five day legs in order to be a bit more competitive towards the end of it – saving a bit of energy and attack. I feel like I'm going into it this year slightly more relaxed than last year, although this is still a very stressful race!"
Andrew Baker: "Leg 1 is A to B – there's no fancy turning marks like the other legs. We start in Pauillac, north of Bordeaux and sail to Spain. We first have to race up the river first though, and it's quite a tight channel. All the boats are going to be really close together, and with a lot of current it could be really interesting. No one's going to want to damage their boat this early in the race. There'll be a lot of chances to make gains, but at the same time you've got to be weary not to do anything stupid. Once we're out the river, it's 300 odd miles until you make landfall at the rocky, hazardous area around the northwest corner of Spain – it's a pretty notorious place to be sailing. The weather so far suggests it's going to be pretty windy when we get there so it'll be proper big boy stuff! It'll be tough because by that point we'll be really tired.
"I think if I can get a good start, it'll really pay off – just got to be careful not to damage the boat! Normally in the races it takes ages for the fleet to spread out, but I think the river could make it spread out pretty quickly."
Nick Cherry: "This is certainly the most prepared I've been for any previous race, I'm doing it better than I ever have before. I tried really hard the last three years to learn going along, so there's lots of little tricks to learn about how to do things better, like managing sleep. I think I'm more relaxed at this stage than I have been before – hopefully that means I've spent more time looking at the crucial things like the changes in the weather and making the boat go fast… it should all lead to a good performance!"
Rob Bunce: "I think the first part of the race is going to be the hardest for sure – we've got 30 miles of a river that really isn't very wide at all. Thirty-nine boats in such a small space is going to be a real challenge. It's really shallow and the mud's never in the same place twice so it'll be very difficult to get out of the river in one piece!
"At the moment it looks quite light at the start, upwind towards Spain, then Monday night is going to be pretty windy so probably quite a few sail changes in the night! From there onwards, the wind swings to the north, then it's downwind all the way to Spain really."
Jack Bouttell: "Leg 1 is in my head in three sections. We've got the exiting of the Gironde river for the start which will probably take between four to six hours, depending on how much wind we have – it's going to be a lot of tacking, there's a lot tide, it's quite an intense way to start a race as we'll be dodging boats because we'll all be so close. There are a lot of marks that we have to respect – it's very easy to go the wrong side of them and if you do, you either get a penalty or you have to go back which is very hard to do against 4 knots of current.
"Then we've got the long trip across Biscay with a finish at Cape Finistre which, at the moment, looks like it could be quite windy. Then the last section to the finish, which could be very tricky light wind. Two years ago, we had a similar leg to this but a bit further south… We had 40 knots at Cape Finisterre and then three hours later we had nothing. It's a very hard finish – often you think you're nearly there but then 10 miles from the coast you're all doing zero knots…"
Henry Bomby: "I think the start will be quite tricky because there'll be many land effects and thermal effects in the river. It's quite important to get out of the river in good shape and that's what I'll be trying to focus on – if I can emerge from the river in touch with the leaders, I'll be pretty happy! There could be a four mile spread over the fleet if we're just two sail reaching the whole way, across Biscay with some sailors more experienced at this tricky configuration. Once we get into the Bay of Biscay, there are quite a lot of transitions, but they're well known transitions. Big weather upwind then spinnaker down into the finish. ETA Wednesday afternoon!"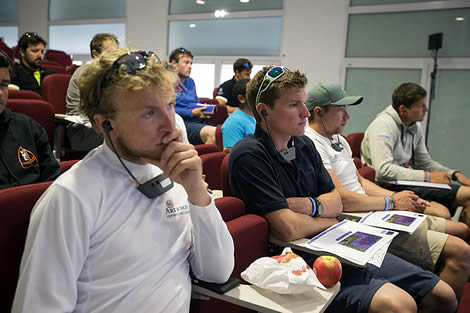 Back to top
Back to top