SAP edges ahead
SAP Extreme Sailing Team put on a winning display on the second day of racing at the Extreme Sailing Series Muscat, scoring four bullets in eight races in the shifty 15 knot northeasterly breeze and lumpy two metre swell, that placed a premium on boat handling.
Co-skippered by Jes Gram-Hansen and Rasmus Køstner, the Danish team displayed a quiet confidence on the water and clearly had a plan: hitting the committee boat end of the start line with precision, avoiding any engagement with the seven other Extreme 40s and trusting the decisions of tactician, Køstner to secure the team's position as overnight leaders with 113 points ahead of the penultimate day tomorrow.
"We had a fantastic day," explained Køstner. "Jes [Gram-Hansen] was starting really well, we had good acceleration off the line, we were able to put ourselves in a situation where we could choose the layline, and could sail fast around the track. Four out of eight race wins is a really great result. We are going to stick to the same game plan tomorrow and see if can keep improving. I know the other guys in the fleet will come back and make a few changes, but there are also things we can do better."
SAP Extreme Sailing Team took an average of 8.38 points per race from a possible 10, and was the average fastest around the track.
A team that struggled with consistency today was two-time Series winner The Wave, Muscat – a nerve-racking position for the home team, after beginning the day in the lead. Tactician Sarah Ayton gave her account of a tricky day on the water: "It was actually quite shifty, the pressure was up and down so you had to treat each leg differently. A great start was key, especially in the big sea state – by getting a good start you could create space to sail the angle you wanted, and that led to race wins. SAP were impressive, so we need to sort it out for tomorrow."
Rounding off the overnight podium, Oman Air stuck with their 'bigger picture' formula, chipping away in the mid-fleet and keeping out of trouble to finish the day just 10 points off the lead.
The choppy conditions took their toll on the boats as the swell from last night's storm caused a series of gear issues as the fleet ploughed through the peaks and the troughs.
First to suffer was Gazprom Team Russia, which was forced to retire from racing after completing only half of the days races. As helm Phil Robertson explained: "Not a lot was going right for us and our speed was just gradually decreasing. We were fighting pretty hard to find out what was going on, then we realised our front beam was collapsing a little under the mast. When we finally figured it out we had to call it a day and get the boat out of the water to minismise any more damage. It is going to be a hard fix, there is a quite a lot of laminating to do on the beam, and then we have to see if we have the spare parts to get it back together." The team from Russia will have a night in the pitlane as the fight to get back on the water tomorrow.
It wasn't all smooth sailing for Red Bull Extreme Sailing Team either. Roman Hagara's team was battling issues with its mainsail halyard for most of the day. Coming into the final race, the problem almost put paid to the team's day on the water, but a quick fix by bowman Shaun Mason at the top of mast got the job done in a race against the clock, and after a sprint to get to the startline, the team posted a third place leaving it fourth overall.
GAC Pindar, Lino Sonego Team Italia and Team Turx powered by Kaya Ropes all achieved podium positions in individual races today, but like The Wave, Muscat struggled with consistency in the tricky conditions.
Tomorrow the forecast is for the wind and swell to subside as Oman once again throws a new set of conditions and challenges at the world class sailors competing here.
Results

1st SAP Extreme Sailing Team (DEN) Jes Gram-Hansen, Rasmus Køstner, Thierry Douillard, Mads Emil Stephensen, Brad Farrand 113 points.
2nd The Wave, Muscat (OMA) Leigh McMillan, Sarah Ayton, Pete Greenhalgh, Ed Smyth, Nasser Al Mashari 106 points.
3rd Oman Air (OMA) Stevie Morrison, Nic Asher, Ted Hackney, Ed Powys, Ali Al Balashi 103 points.
4th Red Bull Sailing Team (AUT) Roman Hagara, Hans Peter Steinacher, Jason Waterhouse, Shaun Mason, Stewart Dodson 96 points.
5th GAC Pindar (GBR) Seve Jarvin, Ian Williams, Marcus Ashley-Jones, Tyson Lamond, James Wierzbowski 84 points.
6th Lino Sonego Team Italia (ITA) Lorenzo Bressani, Enrico Zennaro, Gabriele Olivo, Tom Buggy, Stefano Ciampalini 82 points.
7th Team Turx powered by Kaya Ropes (TUR) Mitch Booth, Edhem Dirvana, Selim Kakış, Diogo Cayolla, Matteo Auguadro 79 points.
8th Gazprom Team Russia (RUS) Igor Lisovenko, Phil Robertson, Garth Ellingham, Alexander Bozhko, Aleksey Kulakov 53 points.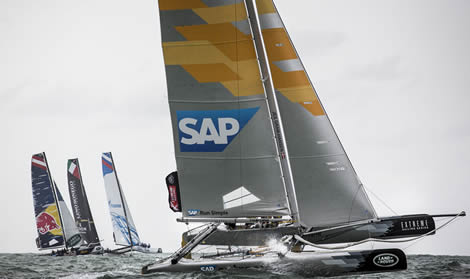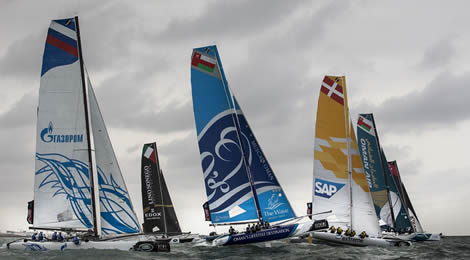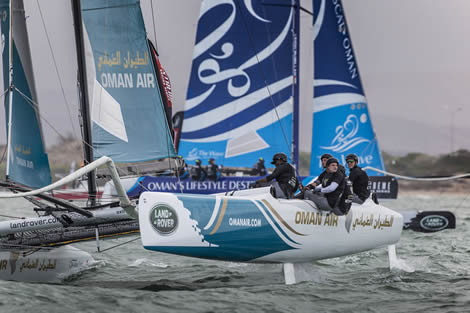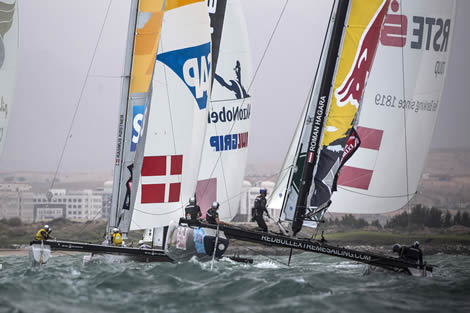 Back to top
Back to top