Alinghi clinch it
Morgan Larson helming Ernesto Bertarelli's Swiss Alinghi team sailed a faultless regatta at the Extreme Sailing Series Singapore on one of the most memorable stadium race courses the Extreme 40 fleet have ever sailed, to claim overall victory in truly spectacular Asian city. Only one race was sailed on the final day in typical light wind Singaporean conditions, but it was one of the most-tense final races ever in the seven-year history of the Series with any of the teams capable of a podium position going into the race.
Shortly after the fleet left the dock, due to the lack of breeze the Race Committee made the call to run non-points scoring exhibition races, and as the racing was all but abandoned, the wind filled in, and the committee was able to complete one more race which changed the face of the results.
According to the SAP analytics, at different stages during the final race, four teams including Alinghi (SUI), Red Bull Sailing Team (AUT), SAP Extreme Sailing (DEN) and Realteam (SUI) were all in podium positions with the constant shuffling of the leaderboard making it anyone's game.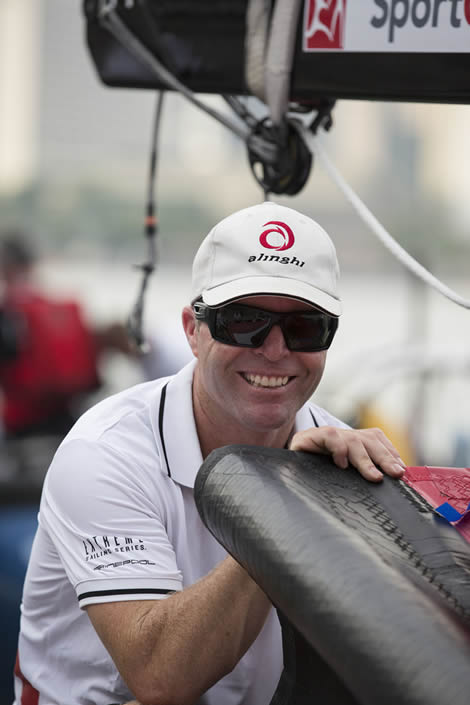 Morgan Larson, who has led the pack since race six, was unflappable and his Swiss team claim a deserved win, their first win since Almeria in 2011. "We're ecstatic!" exclaimed the California helmsman. "It's just been a great week for the team. We had a great time here in Singapore which really helped us to perform. It's a great city, with tough sailing conditions, but that's the same for everybody and we just had that little bit of luck along the way and we also did a great job."
Roman Hagara's Red Bull Sailing Team posed the biggest threat to Larson today, but Hagara knew it was a big ask to overhaul the Swiss in a single race and did well to hold his nerve to finish second, equalling his result in Muscat. "It's always tough when you don't know when the last race is going to happen, but it worked out well for us and it's great for the team. They did a great job on the boat. I think they really deserved it and it's great for the overall standing now." Red Bull Sailing Team is now tied on points with Alinghi at the top of the overall Series leaderboard.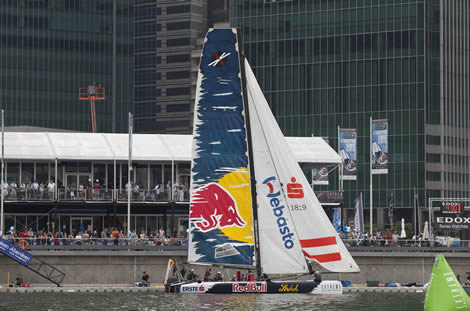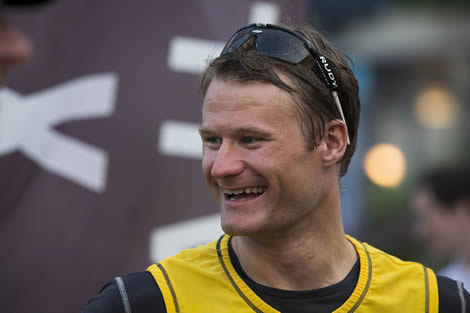 Four days of challenging, light winds on Marina Bay required patience, nerves of steel and a cool head from the Extreme 40 sailors, which SAP Extreme Sailing Team had by the bucket load. The Danish crew came into the final day tied on points with The Wave, Muscat in third place after their best performance on the Series to date yesterday, and a third place in today's race saw the team secure their first ever podium position in third.
Co-Skipper and tactician Rasmus Kostner was beaming after racing. "It's fantastic, I think it is a real milestone for SAP Extreme Sailing Team and we're really happy with a podium finish here," he said. "We've been looking for that for a long time." The icing on the cake for the Danish team is to upgrade from seventh to fourth on the overall Series leaderboard.
Jérome Clerc, in what is only his second Extreme 40 event at the helm of the Swiss Realteam, may have had a hard start to the regatta finishing the second day in seventh place, but over the last two days the 2012 D35 champion hit the accelerator and a second place in today's race ultimately led his team to a fourth place finish overall. "We really didn't expect to see these kind of results so early on in the season but it's really great! We've made a lot of improvements since Oman, the crew did a great job the last two days and I think after today we can confirm we are really improving as a team! We can play against the best for the podium position in the light wind conditions, so now we will have to see if we can manage this in Qingdao."
The biggest surprise of the day perhaps came from The Wave, Muscat. Known for their ability to fight back on the final day, today's single race just wasn't enough for skipper Leigh McMillan and a poor start ultimately cost them the podium. A deflated McMillan explained: "That race was all decided on the start. We thought we had a good strategy, it just didn't quite pan-out for us. The fleet got away and there were no options to come back into the race so it was decided there and then."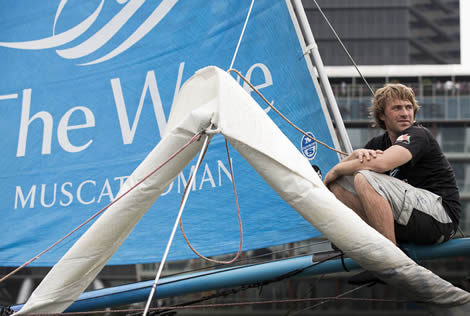 The invitational entry Team Aberdeen Singapore, supported by local event main partner Aberdeen Asset Management, was the local star of the show, with Singaporeans coming out to support them in their thousands, as well as the fans watching the racing live from home on national broadcaster Starhub Sports Arena.
Helm of the local team, Robert Greenhalgh, summed up the feeling among the fleet: "It's been great being in Singapore, it's a great venue for this format of racing. There's been lots of locals watching the racing and I'm sure next year will be bigger and better!"
Next, the Extreme Sailing Series moves on to Qingdao, China's Olympic sailing city, a regular on the Extreme Sailing Series as the fleet return for the third consecutive year over 2-5 May.
Results after 23 races
Position / Team / Points
1st Alinghi (SUI) Morgan Larson, Stuart Pollard, Pierre-Yves Jorand, Nils Frei, Yves Detrey 198 points.
2nd Red Bull Sailing Team (AUT) Roman Hagara, Hans Peter Steinacher, Matthew Adams, Pierre Le Clainche, Graeme Spence 163 points.
3rd SAP Extreme Sailing Team (DEN) Jes Gram-Hansen, Rasmus Kostner, Pete Cumming, Mikkel Røssberg, Nicolai Sehested 161 points.
4th Realteam (SUI) Jérome Clerc, Bruno Barbarin, Arnaud Psarofaghis, Cédric Schmidt, Bryan Mettraux 159 points.
5th The Wave, Muscat (OMA) Leigh McMillan, Ed Smyth, Pete Greenhalgh, Musab Al Hadi, Hashim Al Rashdi 153 points.
6th Team Korea (KOR) Peter Burling, Blair Tuke, Mark Bulkeley, Sungwok Kim, Sung Ahn Jung 144 points.
7th GAC Pindar (NZL) Will Tiller, Brad Farrand, Stewart Dodson, Harry Thurston, Matt Steven 143 points.
8th Team Aberdeen Singapore (SIN) Scott Glen Sydney, Robert Greenhalgh, Andrew Walsh, Justin Wong, Rick Peacock 127 points.
Extreme Sailing Series 2013 overall standings after Singapore
Position / Team / Points
1st Alinghi (SUI) 18 points.
2nd Red Bull Sailing Team (AUT) 18 points.
3rd The Wave, Muscat (OMA) 16 points.
4th SAP Extreme Sailing Team (DEN) 12 points.
5th Team Korea (KOR) 11 points.
6th Team X Invitational 10 points.
7th Realteam (SUI) 10 points.
8th GAC Pindar (NZL) 9 points.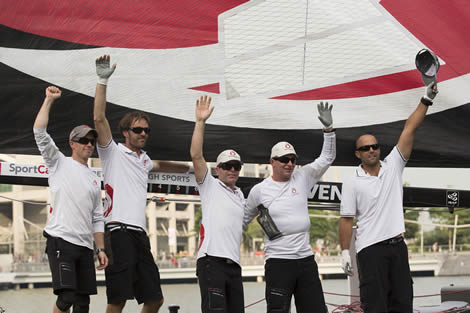 Back to top
Back to top