Alinghi into the lead
The eight Extreme 40 teams competing under the shadow of some of the best modern architecture in the world on Marina Bay Reservoir at the Extreme Sailing Series Singapore felt the pressure, and the heat, from the city turn up a notch today, after a packed 11 race day.
After four early morning races, American Morgan Larson and his Swiss team Alinghi had overhauled Leigh McMillan's The Wave, Muscat team who led going into day two and that's how it remained until the end of the day. But as Larson explained, on this race course, that doesn't mean a thing. "It can be anybody's race at any time. The boundaries keep the fleet tight, and this is any team's game."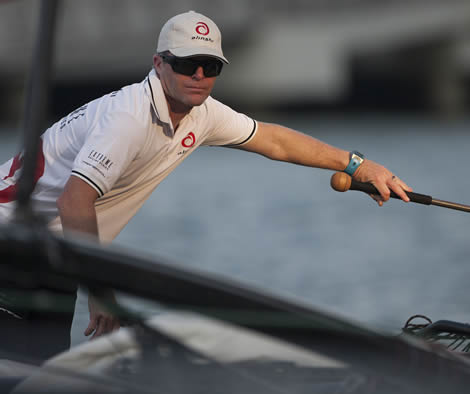 The day's action began in the morning with the Extreme 40 catamarans sent out to race early to take advantage of the morning breeze before seven races were staged this afternoon. Conditions were erratic and challenging, with the breeze funneling between the towering skyscrapers making the racing unpredictable allowing big gains, but also big loses, to be made if teams entered what co-commentator and Nick Moloney called 'no man's land'.
With some races lasting less than six minutes, the pre–start sequence was, as usual, vital on the stadium race courses, and at some point throughout the day nearly all teams caved to the pressure and were OCS. Only the Danish SAP Extreme Sailing Team kept their bows clean. Tactician and co-skipper Rasmus Kostner explained the challenges the fleet face. "Generally I think the wind conditions are changing every 30-40 seconds around the track so it's really about trying to make the most out of the situations you're in and to try to think what's going to happen long-term, but it's just really, really difficult. We actually love it! (the short/tight course). It's full of action and I think the area we're in is just great, it's perfect as you can see a lot of people on the shore, so sailing close to the spectators it's just great." Kostner and his Danish team finish the day in fifth place, and but still within striking distance of the podium.
Despite three races wins by defending Series champions The Wave, Muscat, by skipper Leigh McMillan's standards it was a disappointing day, ending with a 12 point deficit to Alinghi. Red Bull Sailing Team was back on form after spluttering a little yesterday to wrap up the day in third place, 13 points behind McMillan.
The ever-improving invitational home team Team Aberdeen Singapore, with Extreme 40 veteran Rob Greenhalgh at the helm, upped their game today showing they can mix it up and challenge the full Series teams, consistently posting top three results including a race win.
Greenhalgh, who won the first ever Extreme Sailing Series, was however realistic about their chances here racing against the more experienced and highly competitive top-level sailors. "The racing here is extremely close and competitive. The small mistakes turn into big mistakes. We are gelling as a crew and of course there are challenges – certain things only come from sailing together as a team a lot. We are finding our feet and and we're starting to get better, and maybe tomorrow, you never know, we might be that little bit better again."
The young team Kiwi skippers Will Tiller and Peter Burling were out to prove a point here in Singapore today and both are eying the podium in what is only their second ever Extreme 40 event. Will Tiller's GAC Pindar scored two bullets, leaving them tied on points with Red Bull Sailing Team, while Team Korea, skippered by Burling, the London 2012 49er silver of were rewarded after a tough day on the water claiming honours in the Aberdeen Asset Management Challenge Trophy knock out series.
Tomorrow the NeilPryde Windsurf Racing Series starts as the main warm-up act with local windsurfers including Audrey Yong, 2010 bronze medallist from the Youth Olympics, taking to the waters of Marina Bay. One thing is for sure: there will be plenty of moves on the water, as well as on the leaderboard over the next two days.
Saturday and Sunday's racing will be broadcast live on the official website at the amended time of 1700-1830 daily local time (1100-1230 European time) and live to homes around Singapore on national broadcaster Starhub Supersports Arena.
Results after 15 races
Position / Team / Points
1st Alinghi (SUI) Morgan Larson, Stuart Pollard, Pierre-Yves Jorand, Nils Frei, Yves Detrey 122 points.
2nd The Wave, Muscat (OMA) Leigh McMillan, Ed Smyth, Pete Greenhalgh, Musab Al Hadi, Hashim Al Rashdi 110 points.
3rd Red Bull Sailing Team (AUT) Roman Hagara, Hans Peter Steinacher, Matthew Adams, Pierre Le Clainche, Graeme Spence 97 points.
4th GAC Pindar (NZL) Will Tiller, Brad Farrand, Stewart Dodson, Harry Thurston, Matt Steven 97 points.
5th SAP Extreme Sailing Team (DEN) Jes Gram-Hansen, Rasmus Kostner, Pete Cumming, Mikkel Røssberg, Nicolai Sehested 94 points.
6th Team Korea (KOR) Peter Burling, Blair Tuke, Mark Bulkeley, Sungwok Kim, Sung Ahn Jung 93 points.
7th Realteam (SUI) Jérome Clerc, Bruno Barbarin, Arnaud Psarofaghis, Cédric Schmidt, Bryan Mettraux 84 points.
8th Team Aberdeen Singapore (SIN) Scott Glen Sydney, Robert Greenhalgh, Andrew Walsh, Justin Wong, Rick Peacock 83 points.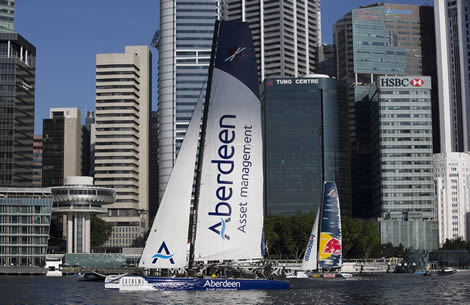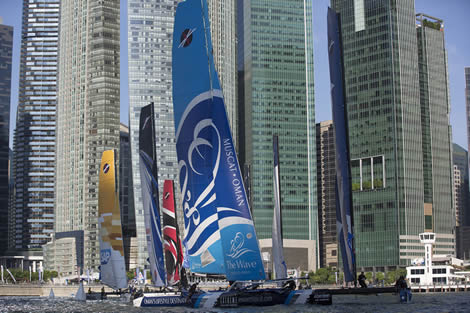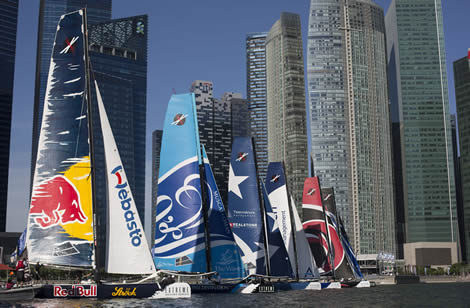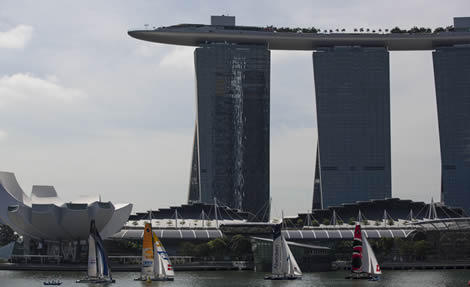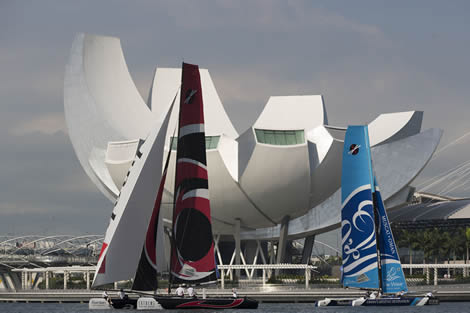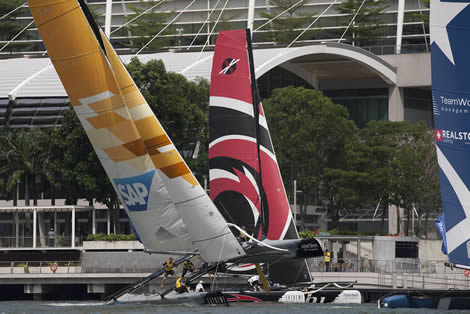 Back to top
Back to top