Omani b-boat Extreme 40 announced
An Omani home nation invitational team for the opening regatta of the 2013 Extreme Sailing Series in Muscat has been unveiled.
Born of the ashes of last year's Oman Air team, Team Duqm Oman will be sailed by a crew including some of the kingpins of Extreme 40 class. It will also bring tomorrow's starting grid up to eight.
Rob Greenhalgh (GBR), winner of the first-ever Extreme Sailing Series in 2007 at the helm of Basilica (and who finished second in 2008 with TeamOrigin), will skipper Team Duqm Oman, sponsored by one of the world's largest Special Economic Zones, Duqm, (a geographical designated Free Trade area) to the southeast of Oman.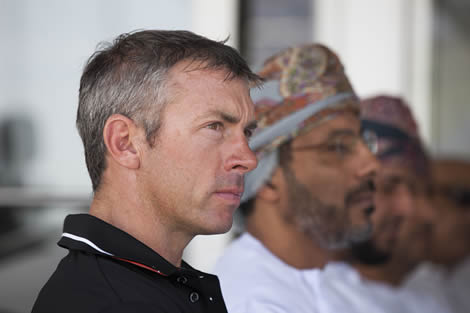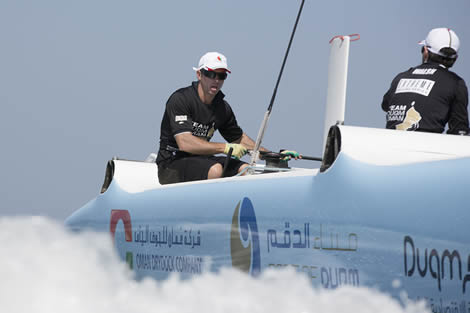 The question everyone dockside at The Wave, Muscat is asking is whether or not Greenhalgh still has that winning magic and given his track record in the Extreme 40s and his sailing CV since then, including his second and third Volvo Ocean Race, make him one of the most experienced all-round sailors in the fleet. "We won the Series in 2007 and came second in 2008 but things have obviously evolved since then: more competitive teams, more boats. I think the racing is probably a little more start dependent and everything has got a lot more professional and the manoeuvres are critical," commented Greenhalgh. "It will be a lot harder than it used to be and we have focused on getting the boat handling nailed down. I will have to get used to the new race format and the reaching starts and focus on making it happen for us on the water."
Greenhalgh is joined by Extreme 40 heavyweights Andrew Walsh (GBR), who shared helming duties on GAC Pindar in 2012, and Will Howden (GBR), an Olympic Tornado crew who came second in the 2012 Series with Oman Air. Also on board from Oman Air is bowman Nasser Al Mashari. The nipper on board will be Welsh Olympic sailor Bleddyn Mon, who competed at four event aboard The Wave, Muscat in 2012.
The action gets underway tomorrow (Tuesday) with forecasts Wetterwelt anticipating blue skies and a building sea breeze due to fill in in the afternoon.
Online fans can watch the stadium racing live online over 6-8 March
Online live video streaming times:
Wednesday 6th: 1600-1700 local time (1300-1400CET)
Thursday 7th: 1545-1645 local time (1245-1345CET)
Friday 8th: 1600-1700 local time (1300-1400CET)
Extreme Sailing Series Muscat, crew lists
Alinghi (SUI)
Skipper/Helm: Ernesto Bertarelli (SUI) / Tactician: Morgan Larson (USA) / Mainsail Trimmer: Pierre-Yves Jorand (SUI) / Headsail Trimmer: Nils Frei (SUI) / Bowman: Yves Detrey (SUI)
GAC Pindar (NZL)
Skipper/Helm: William Tiller (NZL) / Tactician: Brad Farrant (NZL) / Mainsail Trimmer: Stewart Dodson (NZL) / Headsail Trimmer: Harry Thurston (NZL) / Bowman: Shaun Mason (GBR)
Realteam (SUI)
Skipper/Helm: Jérome Clerc (SUI) / Tactician: Bryan Mettraux (SUI) / Mainsail Trimmer: Arnaud Psarofaghis (SUI) / Headsail Trimmer: Cédric Schmidt (SUI) / Bowman: Thierry Wasem (SUI)
Red Bull Sailing Team (AUT)
Skipper/Helm: Roman Hagara (AUT) / Tactician: Hans Peter Steinacher (AUT) / Mainsail Trimmer: Matthew Adams (GBR) / Headsail Trimmer: Pierre Le Clainche (FRA) / Bowman: Graeme Spence (AUS)
SAP Extreme Sailing Team (DEN)
Co-Skipper/Helm: Jes Gram-Hansen (DEN) / Co-Skipper/Tactician: Rasmus Køstner (DEN) / Mainsail trimmer: Peter Cumming (GBR) / Headsail Trimmer: Mikkel Røssberg (DEN) / Bowman: Nicolai Sehested (DEN)
Team Duqm Oman (OMA)
Skipper/Helm: Robert Greenhalgh (GBR) / Tactician: Bleddyn Mon (GBR) / Mainsail Trimmer: Will Howden (GBR) / Headsail Trimmer: Andrew Walsh (GBR) / Bowman: Nasser Al Mashari (OMA)
Team Korea (KOR)
Skipper/Helm: Peter Burling (NLZ) / Tactician: Blair Tuke (NZL) / Mainsail Trimmer: Mark Bulkeley (GBR) / Headsail Trimmer: Sungwok Kim (KOR) / Bowman: Matt Cornwell (GBR)
The Wave, Muscat (OMA)
Skipper/Helm: Leigh McMillan (GBR) / Tactician: Ed Smyth (NZL) / Mainsail Trimmer: Pete Greenhalgh (GBR) / Headsail Trimmer: Musab Al Hadi (OMA) / Bowman: Hashim Al Rashdi (OMA)
Back to top
Back to top