Ladycat ahead
The nine teams participating in the Open de Versoix, third event in the 2012 Vulcain Trophy were forced to wait until 1700 before they could start racing.
After a day of heavy rain, the southwest wind finally broke through the clouds. Only then was the Race Committee of the Club Nautique de Versoix able to hold today's three races, after a change of course in shifty winds of 7-15 knots.
After three races Ladycat leads. Dona Bertarelli's crew did a good job, starting with a fourth place, followed by a win and a second place: "We had a lot of fun sailing today. We finally found the right trimming, we trained hard this week and it paid off. We now have a good speed," Dona said. "This new team is fantastic. We have good group cohesion, and the result is visible: everything worked fine. I found the boat easy to steer and when you have the right speed and maneuvers work out fine, it can only go well."
But the weekend is far from over and the results are tight. The first four teams are just one point from each other. Ladycat is closely followed by another Bertarelli, while the 'kids' of Realstone Sailing are right behind. De Rham-Sotheby's helmed by Philippe Cardis is fourth of the ranking, with one beautiful victory. Artemis, helmed today by Xavier Revil (Tornado World Champion and Banque Populaire Jules Verne Trophy crew), is not far, and perhaps did not show her full potential because of some technical problems.
Okalys-Corum began well in the afternoon, but ended with mixed results. Veltigroup which made a major crew reshuffle prior to this regatta has not found a real cohesion yet. In the last race, the crew of Nickel, poised to have a great result, got a penalty and were unable to catch the fleet.
Tomorrow, the D35 catamarans will be have an appointment at 1300 for the start of the Genève-Rolle-Genève, a coastal race organised by the Yacht Club of Geneva and traditionally the warm-up for the Bol d'Or Mirabaud. But on Sunday, they will return for the second day of the Open de Versoix.
Results after three races Open de Versoix:
1. Ladycat (D. Bertarelli) – 7 points
2. Alinghi (E. Bertarelli) – 8 points
3. Realstone Sailing (J. Clerc) – 9 points
4. de Rham – Sotheby's (Ph. Cardis) – 10 points
5. Artemis Racing (X. Revil) – 16 points
6. Zen Too (F. Le Peutrec) – 17 points
7. Okalys Corum (N. Grange) – 21 points
8. Veltigroup (Simeoni-Lerch) – 22 points
9. Nickel (F.Moura) – 25 points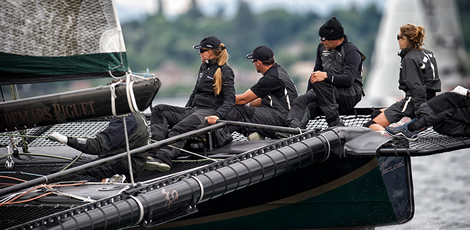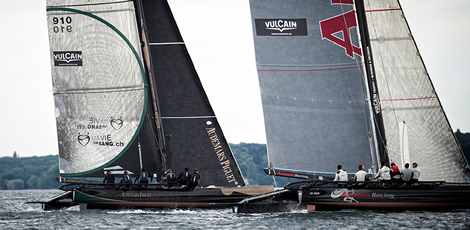 Back to top
Back to top