Ben Ainslie back in charge
After a light opening day, conditions improved on the Bay of Palma today at the Trofeo Princesa Sofia Mapfre with all scheduled races completed by mid-afternoon. The southerly breeze started at 7 knots and built to 10 towards the middle of the afternoon, but remained very shifty across the course area
After three months out of the boat it was business as usual for Ben Ainslie in the Finn, Robert Deaves reports. A first and a second place in Tuesday's two races puts him on top of the 57 boat Finn fleet. Daniel Birgmark (SWE) remains in second while Jonas Høgh Christensen (DEN) drops to third.
In the first race, Ainslie took the win from Jonathan Lobert (FRA) right on the finish line, with the 2008 Olympic silver medalist Zach Railey (USA) crossing in third. Piotr Kula (POL) continued an excellent series with another fourth place and sits in fifth overnight.
Ainslie said, "The day was good but the conditions were tricky, not the typical Palma conditions. Lots of differences of pressure."
In the second race French Olympic choice Lobert didn't fare so well, crossing the line in second again, but picking up an OCS to add to his black flag from Monday. The race was won by Dan Slater (NZL) with Ainslie benefiting from Lobert's premature start to move up to second. In third place was the runner up at the recent Europeans, Vasiliy Zbogar (SLO).
Slater said: "It was 6-9 knots today and a very shifty and patchy breeze. I felt lucky to get clear today it would have been easy to score two races in the mid 20s. In the second race I had an average start and was rolled by Ben and forced to tack then the gaps started to appear and I was able to sail my own race. I led at every mark and the lead got quite close for a while at the top of the second beat when the breeze went a bit funky but I extended down the final run to win by about 15 seconds."
Railey posted a seventh in race four and moves up to fourth overall. "It was a solid but very difficult day. The conditions were very tricky again today with lots of shifts and pressure differences. In the second race I was stuck trying to get from the left and the right just kept coming with pressure. I made the choice to cut my losses early and that allowed me to stay in the race and catch up to a seventh which I was very happy about. Good decisions and speed saved what could have been a 20th."
In the 470 women division, yesterday's leaders Sophie Weguelin and Sophie Ainsworth posted a 9,10 today to maintain a narrow advantage over the Poles, Agnieszka Skrzypulec and Jolanta Ogar who are thrilled with their results so far: "We are very happy with our form here, our objective is to finish in the top ten and we have to maintain this level. This is important for our Olympic selection even if we have yet to select the country in the next World's!"
Emmanuelle Rol and Hélène Defrance (FRA) stay in third after winning the first race and collecting big points in the second. Australian pair Elise Rechichi and Belinda Stowell take the second bullet to place 7th overall. Skandia Team GBR's Olympic contenders Hannah Mills and Saskia Clark got are in 14th.
In the Men's 470, Pierre Leboucher and Vincent Garos (FRA) have managed to hang on to first place. Several teams who suffered high scoring opening day were back in the chocolates with Gideon Kliger and Eran Sela (ISR), European Champions Sime Fantela/Igor Marenic (CRO) and Lucas Calabrese/Juan de la Fuente (ARG) all posting a win and a third. Currently Alvaro Marinho and Miguel Nunes (POR) hold second, one point ahead of Greeks Panagiotis Kampouridis and Efstathios Papadopoulos.
Britain's Olympic contenders Luke Patience and Stuart Bithell suffered an OCS in today's first race...
Australian World Champions Mat Belcher and Malcolm Page are seven points off the lead. "Today was an okay day, not the best day of racing we've ever had but the results were quite good in difficult conditions," said Belcher. "We're happy with how we're racing in conditions that we just don't get in Australia so it's been great practice. We're confident that we're in the hunt and are improving every day. While these light, shifty, bumpy conditions aren't what's expected during the Games in Weymouth it's providing a great opportunity to test our materials and prepare just in case."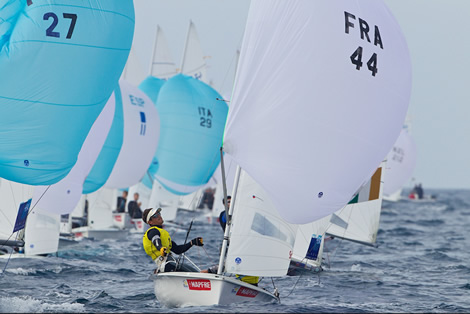 Britain is leading the 49ers where Skandia Team GBR's newest 49er performance squad members Dave Evans and Ed Powys led the charge today, picking up a 1,5,1 to see them elevated to the top of the leaderboard after their six races, albeit on equal points with Danes Jonas Warrer and Soren Hansen.
Cardiff's Evans, and Powys, from Truro, have made steady improvements in their two-year partnership to finish sixth at the Perth World Championships in December. "It feels like we've been thereabouts for a while," said Powys of their rise through the ranks. "We feel we've made some massive improvements over this winter and are very much on an upward trajectory with more to give. It's just about keeping that momentum going and cutting out some of the avoidable mistakes which is what we hope to do this week. It's all going pretty well so far. We got held up a bit at some of the leeward marks yesterday but we had three good starts today which definitely helped.
"Clear breeze and boat speed are really key here, so if you get a good start and your nose in front then often it's relatively straightforward from there. Our objective is to be top 3 and first British. Racing was tricky today with different pressure over the course so we are happy with our results so far."
Early leader Peter Krüger Andersen and Nicolai Thorsell (DEN) suffered from the day's difficult conditions to fall from first to 15th.
For both top teams these results mean a lot as Palma is playing a role in their Olympic selection. The Trofeo Sofia Mapfre is one of a series of observation event for the British but for the Dane, good results could mean a ticket for London.
"This regatta s very important for us!" commented Jonas Warrer the Beijing Gold medallist. "If we keep sailing like that we have a good chance to select for the Games. Today we had good racing especially in the last two races. Good start and speed. We need to keep sailing like that until the end!"
In the Star Hamish Pepper and Jim Turner have moved into first place. After a difficult day on the water, early leaders Rohart/Ponsot (FRA) and the Polish Kusznierewicz/Zycki dropped out of the top ten with the race wins going to Iain Percy/Andrew Simpson and Austrians Hans Spitzauer/Gerd Habermüller, Percy and Simpson now up to third with a 1,7 for their efforts today.
The Beijing Gold medallists made up for their off-key first day when they mis-timed the start of the first race of the regatta. "We decided the five minute gun was the ten minute, and the ten minute was five – basically just complete confusion," Iain Percy explained. "I think we must be going senile in our old age, and started about three minutes behind everyone which was a bit amateur to say the least. But we were able to laugh about it at the time, so that kind of shows that we're fairly happy with how things are going generally.
"In the rest of the races we've had some ups and downs, but some reasonably solid races. It's very shifty and difficult wind and you can't go out and win three races on the trot unless you throw a six three times. There's a bit of that going on, but we're happy with just steady results."
Percy and Simpson are back in competitive action for the first time since the Perth World Championships where their title defence was halted by Percy's back injury. But after a winter of rehabilitation, they are enjoying the opportunity to sharpen up their racing skills.
"Bart made the point before the event that we've basically completed four races in eight months, so we're really rusty on the racing side, which is fine and we always knew that was the case, but over the next few months we've got quite a lot of competitions – the World Championships, here, Hyeres, going into Skandia Sail for Gold and the thing for us is to use those regattas to get race sharp before the Olympics," Percy continued.
"We've been a little bit haphazard around the race course – like the starting incident yesterday, and silly things like that that we just need to iron out, get better at, get more sharp, more aware and more savvy and then work again on hardening up for the Games."
After narrowly missing out on a medal at the ISAF Worlds in Perth, Simon Grotelueschen (GER) is still on form having taking the lead of the Lasers. Australian Tom Burton lies second place overall after scoring a 2-1, while Nick Thompson holds third place. Paul Goodison had an up and down day after crossing the finish line first in both races but find himself black flagged in the first race. European Champion Tonci Stipanovic (CRO) had the best day taking two bullets and climbing to 9th.
In the Radial there were some upsets today. During the first race of the Yellow group, the race was shortened but about 40 sailors went to the wrong mark. As a result, only six sailors complete the race while the rest collected a DSQ. However World Champion Marit Bouwmeester (NED) has taken the lead after a good day where she posted a third and a first. Alicia Cebrian (ESP) hangs on to her second place after racing consistently. Andrea Brewster is top Brit in 17th, while Charlotte Dobson, Alison Young and Chloe Martin were disqualified.
At the Yacht Club de Palma, the Women's Match Racing has concluded its stage one group round robins with the American teams of Anna Tunnicliffe and Sally Barkow both on 6-2 scorelines with Tunnicliffe defeating her team mate to take the lead. The Group Australia's Olivia Price leads with a 7-1 scoreline her sole defeat going to Lucy Macgregor's team, who lie second on 6-2.
The 2.4 were the first class to finish racing. After 4 races Thierry Schmitter (NED) is the new leader after winning a race and placing 3rd on the second race of the day, won by Bjornar Erikstad (NOR).
"We had very light conditions for the second day in a row. But steady enough to have fair racing in the 2.4mR. After winning the Trofeo three times, the only objective is to win it a fourth time. But in an Olympic year, the competition is at its best, so it will be very hard this year to win it again. Nevertheless after 4 races I am able to be on top the leader board, so all my chances are still open. Even if I miss the World champion Damien Seguin here in Palma, Helena Lucas (GBR) seems to be in good shape. Competition is on and very intense." explains Thierry Schmitter.
Results: Women's Match Racing - 2.4mR - 49er - 470M - 470W - Finn - Laser - Radial - Star
Back to top
Back to top