Light start at the Princess Sofia Trophy
Sunshine and light breeze allowed competitors in all classes to gently ease into the start of the 43th Trofeo Princesa Sofia MAPFRE today, after the start was delayed.
Sailing from the Club Real de Palma, the Stars with all favourites on the starting line had a high level of competition. Xavier Rohart and Pierre-Alexis Ponsot (FRA) took the first race and placed seventh in the last to take the lead on equal points with Hamish Pepper and Jim Turner (NZL). Mateusz Kuznierewicz and Dominik Zycki (POL) took the last race to place third overall.
Britain's Iain Percy and Andrew Simpson mis-timed their start in the first race of the regatta, pulling back to 17th after starting two minutes behind the fleet, but bounced back to a fourth in the second race to end the day in tenth overall,
The Australians had a great start in the 470 Men with World #1 Australians Mat Belcher and Malcolm Page, and Sam Kivell with Will Ryan; both teams winning the first race in their groups. However, it is the French pair of Pierre Leboucher and Vincent Garos, second here last year who have taken the lead overall with a fifth and a bullet.
As Leboucher explained: "We had a bad start in the first race but came back to the front; the second was better and it is a very good day in the championship. For us this event is important to test the material. Of course we would like to win here but first of all we need to sail well." The French, selected for the Olympic Games are just a point ahead of Aussie World Champions. "We had light winds today so considering the conditions we are happy and lucky with our results," said Belcher. "It is our first event in Europe so it is good to gauge ourselves with the others, but we need to focus on our sailing."
Mat Belcher added: "It's always nice to win the first race back for the European season. It sets the mood for the season and it was also great to see our training partners get a win as well today, it's rewarding for all of us. The breeze was only between five and eight knots, the sea very choppy and we were racing close to shore in a big fleet which made it a difficult day. To come away with a one and a six is great, we've got new gear and haven't raced for a while so all of our training has paid off. We're not focusing on results too much here, you can sail well and still end up with a 20th, it's more about how we sail together and determining what we need to work on with the new boat."
Britain's Luke Patience and Stuart Bithell will hope for a better second day to improve on their 17, 28...
Impressively the young British team of Sophie Weguelin, 23, and Sophie Ainsworth, 22, who earned their first World Cup podium place at the Miami stage in January, is leading the Women's 470 after posting a third and a second place today. "This is by far our best day in any international 470 event!" said Weguelin. "We had a great training this year with Hannah Mills and Saskia Clark - we learned a lot from them. This is a great start to our regatta but there are still many races to go!"
Ainsworth enthused: "It was a great start to our regatta, and I think our best day's sailing at a World Cup regatta which is fantastic and shows that the training we've been doing over the last few months is paying off," "But it is only day one and there so five more to do and hopefully we can carry on!"
Weguelin continued: "It was pretty busy on the racecourse today. We started as the boys rounded the leeward gate which made it a bit manic. It was very congested upwind and we ended up racing some of the boys at some point!"
The duo are training partners to the 2012-selected team of Hannah Mills and Saskia Clark – who fell foul of the racecourse congestion to sit in 20th after the first day – with Ainsworth feels is paying dividends: "It seems like we have quite a good environment with Hannah and Saskia and our coach Joe [Glanfield] and hopefully we're pushing them on as well as us pushing them on."
The light conditions penalised some favourites with Spanish World Champions Tara Pacheco and Berta Betanzos placing 27th and past world champions Lisa Westerhof and Lobke Berkhout (NED) in 28th. Today also sees the start of the battle between the teams still awaiting Olympic selection: French team of Emmanuelle Rol and Hélène Defrance had a great day in second place overall, while the Brazilians Fernanda de Oliveira and Ana Luiza Barbachan and Polish team of Skrzypulec/Ogar hold third and fourth places respectively.
The light conditions in the first race in the Laser has provided good opportunities for class outsiders to get off to a good start. Andrew Lewis from Trinidad and Tobago won the first race with David Alfonso from Puerto Rico second and Dennis van den Berg (AHO) third, in their respective groups. At the end of the day, consistent results placed Jonasz Stelmaszyk (POL) ahead followed by Skandia Team GBR hotshots Nick Thompson and Paul Goodison.
In the Laser Radial, Australia's Krystal Weir is leading after winning the first race and placing 4th in the second. Results for the top 5 are tight. The Australian is only a point ahead of Alicia Cebrian, the best result for a Spanish sailor on the water today. Third place is held by Cecilia Sarol from Argentina on equal points with Finland's Tuula Tenkanen. Britain's Alison Young and Charlotte Dobson are 21st and 24th overall.
Two Danish teams are leading the 49ers, with Peter Kruger Andersen and Nicola Thorsell one point ahead of team mates Beijing gold medallist Jonas Warrer and Soren Hansen. They both won the last race in their respective groups. Dylan Fletcher and Alain Sign are the leading British boat in third overall with a 4,7,4 to show for their opening day. John Pink and Rick Peacock are poised in sixth, with Dave Evans and Ed Powys just outside of the top ten spots in 11th.
Another Dane in the lead is Jonas Hoegh-Christensen. A win in the first race and a fifth, places him on equal points with Swede Daniel Birgmark in the Finn.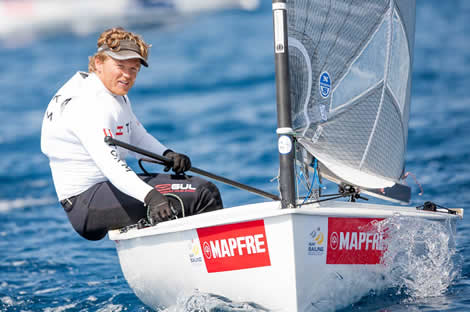 "I had a good start on the windward leg and rounded the top mark in second place behind Daniel Birgmark," said the ex-World Champion. "In the first run, all the guys in front gybed and got in a hole with less pressure, I stayed on their right and increased my lead. On the second race I had an average start but gained lots of places on the run."
In the second race the British sailors were at the front. Andrew Mills (GBR) led throughout, initially from Tomas Vika (CZE), before Ben Ainslie (GBR) and Birgmark pulled through.
Mills said, "The pressure was quite patchy today with some decent size shifts. The right was pretty good on most beats, unlike normal Palma. In the first race I went left although most went right and rounded around 10th. Generally throughout the race there were a few key gusts and shifts which meant big ups and downs during the races. But luckily I did okay on most of those."
"In the second race I won the committee boat and tacked quite early to head to the strong right. Most people went left and at the top mark, CZE85 was close but there was a big gap to the rest of the fleet. Then on the second beat I almost went to far to the left and Ben and Birgmark were looking good for a little bit. I managed to stay ahead though and then extended slightly on the downwind."
At the end of play today, Britain holds third and fourth places with Andrew Mills in third and last year's winner Ben Ainslie in fourth, a steady start in his first competition back following back surgery.
In the women's match racing, after a wait in the morning on shore for the wind to develop, a nice steady 8-12 knot sea breeze filled in for most of the day, for the two groups starting the round robin stage.
After today Group A sees the two American teams of Anna Tunnicliffe and Sally Barkow leading the way with 3 wins each from four matches sailed. Group B only started racing near 1800 this evening, so only two flights were completed with the teams of Lucy Macgregor (GBR), Tamara Echegoyen (ESP), Olivia Price (AUS), and Claire Leroy (FRA) each going undefeated.
Tuesday will see many more flights planned to complete the round robins to select who will move into the Gold Group and automatically into the Quarter Finals and who will need to sail in the Repechage (or second chance) round robin to try to join the Gold Group in the Quarter Finals.
Skandia Team GBR trio of Lucy Macgregor, Annie Lush and Kate Macgregor eventually completed two of their Group B round robin matches late in the day, posting victories against Finland's Silja Lehtinen and USA's Genny Tulloch.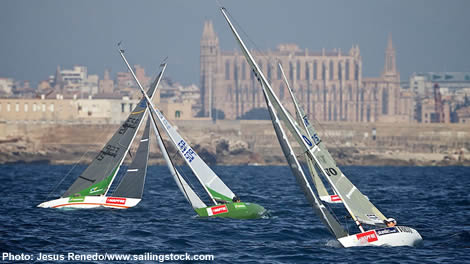 The 2.4 Paralympic event, based out of Calanova, sailed two races. Britain's Helena Lucas showed good form with a win and a second place to take an early lead. Beijing Paralympian Lucas, who described her opening race of the regatta, in which she led from start to finish, as 'pretty cool', admits she was made to work hard to claw back to second in race two.
"It looked like I was getting a good start but then things went a bit pear-shaped so I had to make up a bit on the first beat," she explained. "I had good speed so I pulled through to about fourth or fifth by the windward mark and then had a good run to pull up to second by the bottom mark so just hung in there until the finish.

"It's been a good start but there are still eight races to go so it will be a case of just taking each race at a time and keeping things simple. If in doubt – go fast!"

Skandia Team GBR's Megan Pascoe picked up a 3,9 to sit in sixth overall after the first day.
Racing will resume on Tuesday for all classes.
Women's match racing results:

Stage 1 - Group A:
Anna Tunnicliffe, Molly Vandemoer, Debbie Capozzi - USA : 3 wins - 1 loss
Sally Barkow, Elizabeth Kratzig-Burnham , Alana O'Reilly - USA : 3 - 1
Mandy Mulder, Annemiek Bekkering , Merel Witteveen - NED : 2 - 1
Ekaterina Skudina, Elena Siuzeva, Elena Oblova - RUS : 3 - 2
Silvia Roca, Eva Gonzalez, Lara Cacabelos - ESP : 3 - 2
Lotte Meldgaard, Susanne Boidin, Tina Gramkov - DEN : 2 - 2
Renee Groeneveld, Annemiek Bes , Marcelien de Koning - NED : 2 - 2
Anna Kjellberg, Malin Källström , Lotta Harrysson - SWE : 1 - 3
Rita Gonçalves, Mariana Lobato, Diana Neves - POR : 0 - 5
Stage 1 - Group B:
Lucy Macgregor, Annie Lush , Kate Macgregor - GBR : 2 -0
Tamara Echegoyen, Angela Pumariega , Sofía Toro - ESP : 2 - 0
Olivia Price, Nina Curtis , Lucinda Whitty - AUS : 2 -0
Claire Leroy, Elodie Bertrand , Marie Riou - FRA : 1 - 0
Stephanie Roble, Maggie Shea , Darby Smith - USA : 1 - 1
Stephanie Hazard, Jenna Hansen, Susannah Pyatt - NZL : 0 -1
Silja Lehtinen, Silja Kanerva , Mikaela Wulff - FIN : 0 - 2
Genny Tulloch, Jennifer Chamberlin , Alice Manard Leonard - USA : 0 -2
Silke Hahlbrock, Vera Dubina, Irina Lotsmanova - GER : 0 - 2
Back to top
Back to top