Rolex Miami OCR sets sail today
716 sailors in the 13 classes selected for the 2012 Olympic and Paralympic Games will start racing today at US Sailing's Rolex Miami OCR. Held on Biscayne Bay annually since 1990, the Rolex Miami OCR is the second stop on the ISAF Sailing World Cup 2010-2011 circuit.
Over the weekend competitors have been undergoing final registration and sail measurement at the U.S. Sailing Center in Coconut Grove, where headquarters have been established for this six-day event.
"There are 53 countries represented here," said US Sailing Team AlphaGraphics Coach Luther Carpenter as he made his rounds today, "and the fleets are extremely deep with talent. If someone feels like they have a good chance to finish top-four in every race, then that usually means not all of the top players are here; I don't think there is any sailor thinking that way."
The US has the largest contingent of sailors with 197, while Canada, Great Britain and Italy follow with 97, 39 and 36, respectively. The largest class is Laser with 105 entrants. Laser Radial is the next largest with 58 while Stars are close behind with 57.
The number of world champions and Olympic medalists competing are too numerous to count, and with over 130 national and private coaches registered, it means there will be some serious business going down on the water.
For Brazilian Torben Grael in the Star, the business is proving that he has what it takes to get to the Olympics for a seventh time. The 2009 ISAF Rolex World Sailor of the Year has won five Olympic medals (four, including two golds, in Star class and one in Soling), the highest number won by any individual in sailing, and partnered with crew Marcelo Ferreira at the end of 2009 after he skippered Ericcson 4 to victory (with two legs to spare) in the Volvo Ocean Race. "This is a (world) ranking event and the sailors are at a good level," he said, while doing some last-minute tinkering on his boat. "It's hard to name one person that we will try to beat, as there are ten or more that could maybe win here."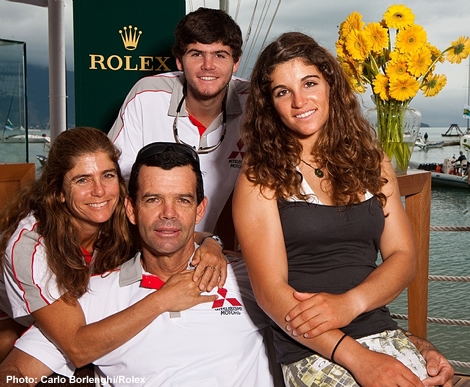 Grael's brother Lars Grael, himself a two-time Olympic medalist is also skippering in Star class with Ronald Weifert, while Torben's daughter Martine Grael, age 20, is competing with Isabel Swan in the Women's 470 class. Among the 470 Women are the current world champions from the Netherlands, Lisa Westerhof and Lobke Berkhout, defending champions Amanda Clark and Sarah Chin and 2008 World Champions Erin Maxwell and Isabelle Kinsolving Farrar.
Luca Dubbini, who sails with with Roberto Dubbini in the Men's 470 says this will be good preparation for his country's Olympic Trials in April. "It is my first time to sail in Miami, and we came early to sail in the North Americans here. We finished 15th, which could have been better, and now we will see how we can do here." He will have tough competition from reigning World Champions, Australians Matt Belcher and Malcolm plus Croats Sime Fanela and Igor Marenic.
Other Olympic classes competing are Finn, Men's RS:X, Women's RS:X, 49er, and Elliott 6m. Paralympic sailors will compete in 2.4mR, SKUD18 and Sonar classes.
For fleet racing in the Olympic classes, the regatta will consist of a five-day opening series running from Monday until Friday followed by a double-point medal race on Saturday.
For the Women's Match Racing in the Elliot 6m, the regatta will consist of an opening series, a knockout series, and a sail-off for boats not advancing to the knockout series.
Competitors in the Paralympic classes will have five days of fleet racing and no medal race.
On the roster is a strong entry from Skandia Team GBR. Some 36 British sailors will compete across 12 of the 13 events , including triple Olympic Champion Ben Ainslie in the Finn class, Nick Thompson in the Laser, and Alexandra Rickham and Niki Birrell in the SKUD class, who all claimed gold in the opening leg of the World Cup series in Melbourne last month.
Finn World Champion Ed Wright has opted to skip Miami, despite having won it last year, but Ainslie, Giles Scott and Andrew Mills will be looking to continue the strong British showing in the Finn class, which led to a clean sweep of World Cup podium spots for GBR at Sail Melbourne.

There was a dramatic build up to the event for Skandia Team GBR's Women's Match Racing World Championship-winning team as crew Annie Lush was rushed to hospital after falling 10ft to the ground from her Elliot 6m boat while it was docked in the boat park. She had a lucky escape, suffering a wound to the head requiring 25 stitches, concussion, a broken nose and dislocated fingers in the fall. She will fly home on Sunday to recover, with Mary Rook, with whom Lucy Macgregor, Lush and Kate Macgregor won their World Championship title in September, now standing in for Lush at the regatta which earned the team a silver medal in 2010.
Skandia Team GBR will have strong hopes in the Laser event, with both world silver medallist and 2010 winner Nick Thompson and Olympic Champion Paul Goodison both in action, with development squad sailor Alex Mills Barton also making his Miami debut.
Bryony Shaw and Nick Dempsey will hold British hopes of silverware in the RS:X women's and men's windsurfing events, while Alison Young in the Laser Radial will hope to repeat her first ever World Cup podium spot – a third place in 2010 – at this year's event.
In the 470 men's event, Skandia Team GBR will be represented by Luke Patience and Stuart Bithell, and Nic Asher and Elliot Willis, while Penny Clark and Katrina Hughes, Sarah Ayton and Saskia Clark will compete in the 470 women's competition, along with Hannah Mills and Katie Archer sailing their first World Cup event since joining forces.
The Rolex Miami Olympic Classes Regatta sees to the return to international competition for 49er duo Paul Brotherton and Mark Asquith, now back on the campaign trail after Brotherton underwent knee surgery last summer after tearing a ligament at the 49er Europeans in July. The pair were forced to sit out of their home World Cup event, the Skandia Sail for Gold Regatta, in August but were back training and in UK domestic competition in the autumn.

Brotherton explained: "I think our focus has been just on trying to get back into the boat – the 49er is a real big handling boat. What was good for us is that after all that time out, we came back to racing for the RYA qualifier in October, which was quite a windy weekend. That gave us the confidence that all was doing well with my knee, and to get in some hard sailing over the autumn and we backed that up with a bit of gym work, added a bit more weight – we're both four or five kilos heavier than we were in the summer, which obviously changes a few things."

Brotherton, who won the Hyeres World Cup regatta with Asquith in April last year, is eager to get back on the race course in Miami and put the hard autumn and winter of training to the test in competition. "I'm really looking forward to it – really looking forward to getting on the startline and getting some racing that counts, and what a great place to be! Great weather, great conditions, and compared to what we've been training in, 20 knots here is an absolute joy.
"We've got a new rig that we're sailing with this week that we've had some pretty good feelings about in training, but tuning and racing are a different thing so we'll be seeing how that rig goes in racing. It looks like we're going to have a variety of conditions so hopefully by the end of the week we'll be in a good position to either include that mast as part of our portfolio or exclude it, and certainly so far it's been pretty positive.

"Our objectives are really to make sure we cement the good communication in that racing tempo, check in with this mast and see if it can cut it across the wind range, and also just to get some time racing against other boats so that when we get into the European season we're back on the money again.

"The training's gone really well, we both feel really well, we've had a good build up to the regatta, and I don't see any reason why we can't come away from here with a good performance."

Brotherton and Asquith's 49er teammates John Pink-Rick Peacock and Dave Evans-Ed Powys will also compete for Skandia Team GBR in Miami.
In the Paralympic Classes, British medal hopes include World Champions Alexandra Rickham and Niki Birrell in the SKUD event, the Sonar trio of John Robertson, Hannah Stodel and Steve Thomas, and Megan Pascoe and Helena Lucas in the one-person 2.4mR event.
Back to top
Back to top