Richomme seals the deal
Yoann Richomme on Skipper Macif 2015 adhered rigidly to his final leg game plan and stuck close to his one real title rival, Skipper Macif team mate Charlie Dalin throughout the 130 mile, 24-hour sprint final leg around the Ile de Yeu, to win the 47th La Solitaire Bompard Le Figaro into La Rochelle by just five minutes and 10 seconds.

Dalin, on Skipper Macif 2015, had led Richomme all the way around the unusually short final leg. He extended his lead by over three-quarters-of-a-mile during the early afternoon transition into a new sea breeze and it looked like Richomme's first Solitaire title was in jeopardy.
But when Dalin crossed the finish line in sixth place at 14.58:36 local time this afternoon, Richomme was 1.4 miles from the line and the only thing standing between him and overall victory was the clock. But, as if on cue, the wind increased, and Richomme accelerated to over nine knots – his fastest speed of the afternoon - to clinch his first Solitaire title. As he approached the line, he knew he had done enough and the 32-year-old Frenchman from Lorient leant back, let the tiller go and raised his arms above his head. With the cheers of well-wishers ringing in his ears, he stood and punched the air before rocking back onto the side deck in sheer joy.

"I was quite scared actually," admitted Richomme of his run against the clock to secure victory. "The wind can drop off. You can so easily get slowed down for two or three minutes and that got me worried. I had done the calculations beforehand in terms of what I had to do. "I have dreamt of doing this for so long but you can't ever imagine what it feels like now, what this is like. It is going to take me a long time to grasp what this means.
"I feel so great. I don't even feel tired now. It is such a huge achievement and you don't ever really think you will do it. It was a very tough Solitaire. The winds were so unstable all the time. It was hard to sleep on all three-and-a-half legs. But I have never pushed so hard. I have never pushed myself so hard. I have never trimmed the boat so much. I think Charlie and I just raised the level a bit this year. We did so much tuning of the boats together, even more than I have done on any programme over the last 13 years of my sailing career. We do so much mast and rudder trimming, always tiny changes to the sail trim. We have done an awful lot.

"I have done more than most other skippers. Charlie is very driven, very aggressive and pushes himself so hard. I learned a lot from sailing with him on the AG2R LA MONDIALE although we did not finish it. We messed it up. That seems so far away right now. It was Charlie's boat so congratulations to him to get the boat set-up and back in the top of the fleet so quickly.

"We race for the same sponsor, we have the same preparateur and we share a lot of things. We stay in the same houses and try to have the best possible approach to every aspect of our sport. We are professional and have a cook working with us through the race so we don't lose time in the restaurants. There are so many little things that we have raised the game with.

"There has been some tension and we have not really spoken much. But there has not been much to say. We know each other well. I have known him since 2006. We can talk about anything. I don't know what this will do for my career. I want to take some time now and think about it. Professionally I want to keep on getting better. I want to be involved in bigger and better projects. I want to do the Vendée Globe or the Volvo, that is for sure. If at one point it slows down I might do something else. I love crewed racing. I miss it a lot. I come from the Tour de France and I am not a big fan of single-handed racing but I do it because it is the single most competitive circuit that I know where you can actually make a living. A Volvo would be amazing me. But at the moment I just want to see."

This was the first time in the 47 editions of the multi-stage, solo offshore racing championship that one team has taken the top two positions. Richomme and Dalin's Skipper Macif 1-2 completes the sponsorship programme's remarkable portfolio of blue riband victories, now adding the Solitaire to the Transat Jacques Vabre, the Vendée Globe, the Route du Rhum-Destination Guadeloupe and the Transat bakerly.

Brothers-in-arms, Richomme and Dalin have trained together in the Skipper Macif colours out of the famous Pôle Finisterre training base that has produced winners of the last 14 Solitaires, strengthening each other's game. Richomme and Dalin were dismasted 154 miles from Madeira in April when racing together in the Transat AG2R La Mondiale two-handed transatlantic which they started as favourites to win.

Richomme's winning race

Richomme may have finished second on leg 1, but he had put four minutes and 30 seconds on the skipper who would be his closest rival through the race...Dalin. Significantly, into Cowes the top-four skippers already had one hour or more on those chasing.
Leg 2 was where Richomme laid the foundations for his overall victory, winning into Paimpol, but adding a further 26 minutes to his lead over second placed Dalin, who was third.
On leg 3, Paimpol to La Rochelle, Richomme led, but he let Dalin off the hook during the early morning beat from the BXA turning mark past the Isle d'Oléron. Dalin finished ahead – winning after Xavier Macaire was penalised – and took 16 minutes back from the Solitaire leader. Richomme started the last, all-Macif showdown leg 14 minutes and 8 seconds ahead of Dalin.
Richomme, 32, always listens to music when he is racing. "I could not race without it," he says - is something of a late starter to offshore racing. It was only 16 years ago on a family cruise across the Atlantic with his father that his passion for sailing offshore was really ignited.
In 2003 he enrolled on a yacht design degree course at Southampton Institute and immediately set up a student project to compete in the 13-stage, 1,000-mile Tour Voile. He managed three subsequent Tour Voile projects.
Moving into the Figaro class, Richomme worked as preparateur for Charles Caudrelier and Nicolas Lunven before starting out on a low budget Solitaire programme in 2010, going on to finish second rookie. It was only on his third attempt at the Skipper Macif programme that he was chosen. Richomme won his selection to the Skipper Macif project in 2014. Dalin was chosen the following year.

The Skipper Macif project is one arm of what is one of France's biggest and most successful sailing sponsorships. The giant insurance company, which has a large leisure marine division, supports grass roots training of cruising sailors in concert with the Féderation Francaise de Voile. The Skipper Macif initiative is focused on the Solitaire, selecting and nurturing talent over a three-year period. The company has a long history of sailing sponsorships but started the Skipper Macif programme in 2008. The competitive selection process includes practical exams, race results, media training and psychological profiling to measure motivation. The reward is a top-level programme with highly successful preparateurs – boat technicians who prepare and maintain the boats – dedicated coaches within the Pôle Finisterre training centre in Port La Fôret, meteo training, strength and conditioning and nutritional support.

The most successful graduate is the prodigious François Gabart who was selected to the programme in 2009 and finished second in the Solitaire in 2010, becoming France's solo offshore champion that year. Successively Gabart then won the Transat Jacques Vabre and Solo B2B on his Macif-backed IMOCA 60, a prelude to becoming the youngest ever winner of the Vendée Globe at 26-years-old in 2012-13. Gabart is now engaged in setting solo records on the giant 30-metre maxi trimaran Macif.
The Brits
After four legs between Deauville, Cowes, Paimpol and La Rochelle, totalling almost 1,500 nautical miles of solo offshore racing, Alan Roberts posted this year's top British result in 16th, with 2016 winning Rookie Will Harris less than an hour behind in 17th.

The final 130-mile race around the Ile d'Yeu was a nail-biter from start to finish. Lasting just 20 hours, as the 39-boat fleet battled strong tides, light winds and a blazing sun. After 1,365 miles, the race was decided in the final 100.

Meanwhile, arriving half an hour after leg 4 winner, Gildas Morvan on Cercle Verte, the top-British competitor Alan Roberts arrived on the dock in the sunshine in La Rochelle, surrounded by his teammates and cheered into the harbour by the crowds.
He was disappointed the race was over. "I'm kind of sad to see the Solitaire coming to an end," said Roberts. "I live to go racing and now its over. I don't really like finishing racing and coming ashore."

Of his overall performance, he added: "I was down on speed during this Solitaire and I feel that my result was a bit governed by the first leg. I just never really sparkled in speed department like I felt I had in other years, but I had some really good comebacks to finish every leg.

"I understand a lot more and have an additional experience of the Solitaire under my belt – I feel like a better sailor," he concluded. Roberts is sure to be back for another year."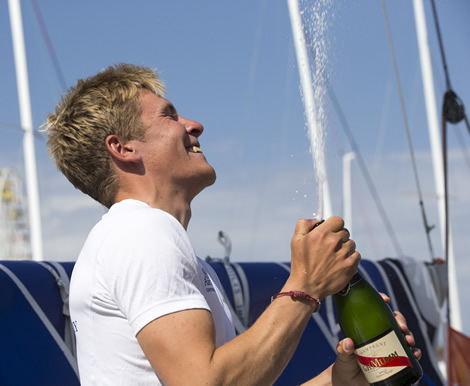 Next on the British podium was an elated Will Harris. Setting out to win the Rookie division, the 22-year-old skipper today made his ambition a reality: "After thousands of miles I can't believe it all came down to the final two," he said, celebrating on the dock with a magnum of Pol Roger Champagne while draped in a Union Jack. "Pierre (Quiroga) pushed me so hard over that final leg, I was always looking over my shoulder. The race was amazing, such a great thing to be a part of.
"I am amazed. In my dreams that leg could not have gone better. As it was a night race I could keep pushing and pushing and I did not need that much time to rest. Getting top rookie was my main goal but to get an eighth and push my overall result up in the rankings is just great. And to beat Yoann across the line was a good feeling. When the new sea breeze came in Pierre (Quiroga, rookie rival) made a good tactical choice and I followed him and I got through Yoann. I get on well with Pierre, we are good friends, and before races we always line up together and are very close."
Just five minutes behind Harris in the combined elapsed time results was Redshift skipper Nick Cherry. Cherry completes the top-three British results in 18th place on his fifth Solitaire. Greeted by his mum, Anne, he was happy with the consistency of his sailing, but frustrated at his overall result. He is already looking forward to his next crack of the whip.

"I'm comfortable with my final position, even if a bit disappointed at not being further forward," he said. "It's not just the racing you go through, there is also all the winter training and preparation – it's those long nights at sea in January that are the most difficult. Racing is always a pleasure, no matter what."

He continued: "I just want to get a result. It's frustrating to have come here five times and not really have had a strong result yet. But it's a hard race and not everyone can do well, so I'm still motivated to keep on trying."

Next on the leaderboard was Chatham skipper Sam Matson. After a disappointing start to the race following breakages, Matson pulled the rabbit out of the hat on Leg 2, securing his best result of the race - a 12th. After a further two legs, Matson finished 21st overall on his third Solitaire.

Four places behind Matson in 25th was Robin Elsey on Artemis 43. Despite sustaining some impressive damage to the underside of his Figaro after hitting a rock on Leg 2, Elsey put in a consistent performance across all four legs.

Racing his second Solitaire Bompard Le Figaro, #SeaChange skipper Andrew Baker finished the race 26th overall, while British Rookies Mary Rook was 32nd, with Hugh Brayshaw 35th.

Every skipper who took part in the race achieved something significant today, completing a gruelling solo offshore marathon that only a select few will ever be good enough to start. Regardless of the result, all eight of the British sailors, the 29 French, the one Swiss and one Turkish sailor can be proud of what they have achieved.
Charles Darbyshire, GBR, project manager Artemis Offshore Academy said: "Winning the Rookie division is not the key to future success but it is an important rite of passage. When you look at who has been top rookie in the past, almost all the top names of French sailing, then it will be great for Will. And for him to have such a great battle with Pierre all the way around, to finish with an eighth place in the final leg, it is great to see.

"I think most of the British sailors will be disappointed with where they have ended up, all for different reasons. But if you were not in the top-eight after the end of Leg 1 then you were not in the game anyway. That may have had a knock-on effect. Alan Roberts could never really improve on where he was after Leg 1 and that is hard mentally through the rest of the race. Particularly this year we had such high expectations. Sometimes the race does not go your way. It was the toughest course I have seen since I have been watching since 2003. The conditions were not so tough but if you were not in absolutely the right place at the right time it spat you out the back. But it was a great contest. In the last 10 miles between Yoann and Charlie the race was won and lost, and won and lost, so many times."

Results

| | | | | | | | |
| --- | --- | --- | --- | --- | --- | --- | --- |
| Pos | Boat-skipper | Leg 1 | Leg 2 | Leg 3 | Leg 4 | Combined | Time to 1st |
| 1 | SKIPPER MACIF 2014Yoann Richomme | 3d 9h 33m 13s | 2d 20h 0m 29s | 2d 17h 18m 56s | 0d 20h 52m 34s | 9d 19h 45m 12s | - |
| 2 | SKIPPER MACIF 2015Charlie Dalin | 3d 9h 37m 43s | 2d 20h 26m 29s | 2d 17h 2m 34s | 0d 20h 43m 36s | 9d 19h 50m 22s | 0h 05m 10s |
| 3 | GENERALINicolas Lunven | 3d 10h 33m 58s | 2d 20h 22m 9s | 2d 17h 10m 3s | 0d 20h 34m 4s | 9d 20h 40m 14s | 0h 55m 02s |
| 4 | ARMOR LUXErwan Tabarly | 3d 9h 25m 54s | 2d 21h 11m 46s | 2d 17h 53m 53s | 0d 20h 37m 21s | 9d 21h 8m 54s | 1h 23m 42s |
| 5 | GEDIMATThierry Chabagny | 3d 9h 40m 48s | 2d 21h 41m 18s | 2d 17h 6m 57s | 0d 20h 42m 28s | 9d 21h 11m 31s | 1h 26m 19s |
| 6 | GROUPE FIVAAlexis Loison | 3d 10h 59m 14s | 2d 21h 15m 29s | 2d 17h 9m 9s | 0d 20h 40m 4s | 9d 22h 3m 56s | 2h 18m 44s |
| 7 | SOFINTHER - UN MAILLOT POUR LA VIECorentin Douguet | 3d 10h 35m 53s | 2d 21h 18m 52s | 2d 17h 37m 10s | 0d 20h 55m 30s | 9d 22h 27m 25s | 2h 42m 13s |
| 8 | GUYOT ENVIRONNEMENTVincent Biarnes | 3d 10h 52m 15s | 2d 21h 59m 31s | 2d 17h 26m 36s | 0d 21h 8m 23s | 9d 23h 26m 45s | 3h 41m 33s |
| 9 | CHEMINS D'OCEANSXavier Macaire | 3d 11h 33m 50s | 2d 21h 41m 51s | 2d 17h 8m 1s | 0d 21h 5m 16s | 9d 23h 28m 58s | 3h 43m 46s |
| 10 | SOURIRE A LA VIEChristopher Pratt | 3d 10h 54m 27s | 2d 21h 50m 37s | 2d 17h 44m 37s | 0d 21h 5m 3s | 9d 23h 34m 44s | 3h 49m 32s |
| 11 | BRETAGNE - CMB PERFORMANCESébastien Simon | 3d 11h 48m 17s | 2d 21h 35m 5s | 2d 17h 36m 25s | 0d 20h 59m 32s | 9d 23h 59m 19s | 4h 14m 07s |
| 12 | BELLOCQ PAYSAGESMartin Le Pape | 3d 11h 43m 48s | 2d 22h 17m 16s | 2d 17h 29m 12s | 0d 21h 1m 5s | 10d 0h 31m 21s | 4h 46m 09s |
| 13 | OVIMPEX - SECOURS POPULAIREAnthony Marchand | 3d 13h 40m 32s | 2d 21h 55m 4s | 2d 17h 26m 51s | 0d 20h 50m 49s | 10d 1h 53m 16s | 6h 08m 04s |
| 14 | TEAM VENDEEBenjamin Dutreux | 3d 12h 57m 8s | 2d 21h 54m 49s | 2d 17h 41m 26s | 0d 21h 38m 16s | 10d 2h 11m 39s | 6h 26m 27s |
| 15 | CERCLE VERTGildas Morvan | 3d 16h 40m 27s | 2d 20h 31m 14s | 2d 17h 56m 26s | 0d 20h 31m 56s | 10d 3h 40m 3s | 7h 54m 51s |
| 16 | ALAN ROBERTS RACINGAlan Roberts | 3d 15h 53m 50s | 2d 22h 10m 58s | 2d 17h 42m 21s | 0d 21h 27m 30s | 10d 5h 14m 39s | 9h 29m 27s |
| 17 | ARTEMIS 77Will Harris * | 3d 17h 7m 55s | 2d 22h 7m 55s | 2d 17h 58m 46s | 0d 20h 52m 17s | 10d 6h 6m 53s | 10h 21m 41s |
| 18 | REDSHIFTNick Cherry | 3d 16h 59m 11s | 2d 22h 34m 24s | 2d 17h 40m 28s | 0d 20h 57m 44s | 10d 6h 11m 47s | 10h 26m 35s |
| 19 | SKIPPER ESPOIR CEMPierre Quiroga * | 3d 17h 2m 40s | 2d 22h 40m 20s | 2d 17h 42m 50s | 0d 20h 54m 10s | 10d 6h 20m 0s | 10h 34m 48s |
| 20 | FAUN ENVIRONNEMENTArnaud Godart Philippe | 3d 13h 23m 5s | 2d 22h 31m 54s | 2d 20h 52m 22s | 0d 21h 34m 5s | 10d 6h 21m 26s | 10h 36m 14s |
| 21 | CHATHAMSam Matson | 3d 18h 34m 24s | 2d 21h 51m 24s | 2d 17h 59m 7s | 0d 21h 18m 46s | 10d 7h 43m 41s | 11h 58m 29s |
| 22 | LA SOLIDARITE MUTUALISTEDamien Guillou | 3d 16h 38m 17s | 2d 22h 27m 7s | 2d 18h 33m 19s | 0d 22h 28m 58s | 10d 8h 7m 41s | 12h 22m 29s |
| 23 | UN BATEAU POUR DEMAINArthur Le Vaillant | 3d 15h 46m 20s | 2d 23h 5m 38s | 2d 19h 35m 49s | 0d 21h 50m 25s | 10d 8h 18m 12s | 12h 33m 00s |
| 24 | REGION NORMANDIESophie Faguet | 3d 16h 6m 35s | 2d 22h 37m 0s | 2d 19h 36m 42s | 0d 22h 23m 50s | 10d 8h 44m 7s | 12h 58m 55s |
| 25 | ARTEMIS 43Robin Elsey | 3d 18h 52m 14s | 2d 22h 40m 8s | 2d 17h 56m 8s | 0d 21h 31m 20s | 10d 8h 59m 50s | 13h 14m 38s |
| 26 | #SeaChangeAndrew Baker | 3d 18h 53m 5s | 2d 23h 14m 51s | 2d 19h 44m 30s | 0d 21h 36m 5s | 10d 11h 28m 31s | 15h 43m 19s |
| 27 | TEAMWORKJustine Mettraux * | 3d 23h 13m 37s | 2d 22h 15m 50s | 2d 17h 53m 4s | 0d 21h 52m 34s | 10d 13h 15m 5s | 17h 29m 53s |
| 28 | SAFERAILDamien Cloarec | 3d 23h 42m 0s | 2d 22h 12m 0s | 2d 18h 1m 12s | 0d 21h 28m 42s | 10d 13h 23m 54s | 17h 38m 42s |
| 29 | PORT DE CAEN OUISTREHAMClaire Pruvot | 3d 17h 19m 12s | 2d 22h 44m 41s | 2d 23h 30m 15s | 0d 22h 40m 35s | 10d 14h 14m 43s | 18h 29m 31s |
| 30 | TEAM VENDEE FORMATIONMarc Noesmoen * | 3d 22h 36m 2s | 2d 22h 54m 0s | 2d 18h 20m 35s | 0d 22h 39m 47s | 10d 14h 30m 24s | 18h 45m 12s |
| 31 | PRESQU'ILE DE RHUYS – MIRAMARBenoît Hochart | 3d 23h 48m 2s | 2d 22h 51m 48s | 2d 18h 13m 48s | 0d 23h 47m 55s | 10d 16h 41m 33s | 20h 56m 21s |
| 32 | ARTEMIS 37Mary Rook * | 4d 0h 7m 45s | 2d 23h 3m 14s | 2d 23h 25m 49s | 0d 22h 3m 14s | 10d 20h 40m 2s | 24h 54m 50s |
| 33 | HORS LA RUEYves Ravot * | 3d 23h 51m 27s | 2d 23h 4m 6s | 3d 1h 9m 15s | 0d 22h 23m 56s | 10d 22h 28m 44s | 26h 43m 32s |
| 34 | LES PERLES DE ST BARTHArthur Prat | 4d 7h 16m 55s | 2d 22h 39m 38s | 2d 18h 47m 38s | 0d 22h 1m 10s | 10d 22h 45m 21s | 27h 00m 09s |
| 35 | ARTEMIS 23Hugh Brayshaw * | 3d 23h 39m 21s | 2d 22h 45m 10s | 3d 5h 15m 4s | 0d 22h 14m 16s | 11d 1h 53m 51s | 30h 08m 39s |
| 36 | BRETAGNE - CMB ESPOIRAymeric Decroocq * | 4d 10h 0m 50s | 2d 22h 59m 59s | 2d 19h 29m 45s | 0d 21h 25m 27s | 11d 1h 56m 1s | 30h 10m 49s |
| 37 | #THEOENFIGAROThéo Moussion * | 4d 6h 16m 30s | 3d 1h 15m 29s | 3d 3h 15m 4s | 0d 23h 48m 50s | 11d 10h 35m 53s | 38h 50m 41s |
| 38 | DEAUVILLECécile Laguette * | 4d 7h 50m 50s | 2d 23h 22m 54s | 3d 5h 15m 4s | 0d 22h 35m 33s | 11d 11h 4m 21s | 39h 19m 09s |
| 39 | RENOVAL / 1 JOUR 1 HOMME 1 ARBRETolga Ekrem Pamir | 4d 9h 50m 50s | 3d 4h 51m 13s | 3d 2h 2m 17s | 1d 0h 37m 43s | 11d 17h 22m 3s | 45h 36m |
Back to top
Back to top