Victory for Richomme
Yoann Richomme, the 33-year-old sailor from Lorient, at the helm of Skipper Macif 2014, scored an impressive win at the end of an intensely competitive second leg of the Solitaire Bompard Le Figaro today.
After taking over the lead from the initial pace-setter, Gildas Morvan on Cercle Vert, Richomme hung on to first place as the 39 strong fleet raced across the English Channel from Land's End and made two fast passages of the Chenal du Four and a tour of the Iroise Sea.

Richomme was chased all the way to the line by Nicolas Lunven on Generali, plus his team mate, Charlie Dalin on Skipper Macif 2015 as well as Morvan, but he arrived at the finish at Paimpol 22 minutes ahead of Lunven, 26 minutes ahead of Dalin and 31 minutes before Morvan.

More importantly he was around one hour and 11 minutes ahead of leg one winner Erwan Tabarly who had just a seven-minute cushion over him going into this leg. Thus Richomme has secured his pace at the top of the provisional overall standings.

For Richomme, who discovered sailing when he crossed the Atlantic with his family in 2000, this was a first leg win in the Solitaire on his seventh attempt at this gruelling, four-stage unofficial world championship of solo offshore racing. After that voyage he studied yacht design at Southampton University and was a regular competitor with a student team on the Tour de France a Voile.

After graduating in 2006 he worked as a preparateur for skippers Charles Caudrelier and Nicolas Lunven before joining the Figaro circuit himself in 2010 when he finished second in the rookie rankings. His best overall finish to date has been fourth in 2013. Now he knows he is in the perfect position to clinch his first overall win coming into the halfway stage of this four leg event.

After one of the toughest opeing legs in the history of the vent, leg two was marginally easier with – in relative tearms – in slightly more predicatable weather. But it remained a real test with a long beat down the English coast complete with tidal gates and wind-holes before the challenging sector of the course in strong winds in the rock-strewn Iroise Sea.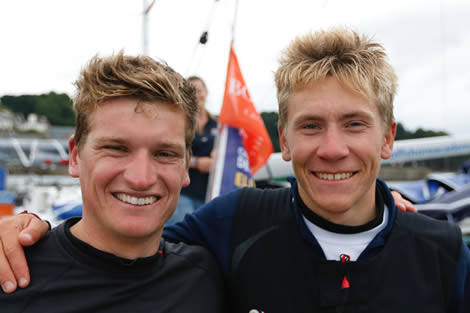 Chatham skipper Sam Matson was the first Brit home in 12th, while Solitaire Bompard Le Figaro first timer Will Harris aboard Artemis 77 finished 16th to take the coveted Rookie division lead.

Departing from Cowes on Sunday, Matson and Harris were both looking forward to the fast conditions forecast for the second stage, Matson particularly relishing in the stronger weather usually akin to sailing offshore. Finishing 25th after Leg 1 following damage to his headsail, the 25 year old from Exmouth was determined to make his come back on Leg 2.

Speaking on the dock after the finish, the skipper reported: "I'm pretty tired right now, but happy that I got into good position and managed to hold it to the end of the race.

"I'm really happy with how the leg went and that I was able to stay with the front pack. Sailing fast upwind out of the Solent was really fun. Luckily I knew the waters well through there, so I was able to get into a good position and then I just had to try to maintain it."

Finishing the leg after two days, 21 hours, 51 minutes and 24 seconds at sea, Matson said he had very little sleep. The race was short, fast and intense.

"The weather was pretty tricky on this leg again," he said. "Although we had good breeze, at Ushant we were against the tide the whole way. Every time we turned a mark, the tide turned with us. It felt like really slow progress and was one of those moment where you wondered if it would ever end.

"From the moment we got onto the French coast there was no sleeping at all. I think I had 30 minutes sleep on the last day, and when I did sleep I lost out. There just wasn't the option to sleep, there were rocks everywhere."

For Harris, Leg 2 was a second chance at taking the Rookie podium. Leading the first timer division for much of the first stage of the race, Harris succumbed to exhaustion in the final hours. Seizing the opportunity, his closest competitor Pierre Quiroga sailing Skipper Espoir CEM overtook and beat Harris to the Needles finish line by just five minutes.

Going into the second stage, Harris was determined to close the gap and reclaim his Rookie title. Resting and recuperating on home turf in Cowes, he went into the race a man on a mission.

"Going across the Channel I had good speed, but the leg started to drag a bit towards the end," said Harris. "Along the coast of England I decided to go offshore with just a handful of other boats, one of them was Sam (Matson). We managed to catch the new breeze first and I must have gained 10 to 15 places with that one move. I was really happy with that.

"From there I just worked to maintain my position. I was 14th coming into the Raz de Seine, but I knew I had a long way to go still, so I tried to stay awake for the last 24 hours and fend off as many people as I could."

Completing the 430nm leg today after two days, 22 hours, seven minutes and 55 at sea, the 22-year-old from Surrey finished 11 places ahead of Quiroga in 27th, putting him almost 30 minutes ahead in the overall Rookie standings.

Justine Mettraux (Teamwork) was the second Rookie finisher in 19th on Leg 2, eight minutes behind Harris and now third in the overall 'Bizuth' rankings. Quiroga was the third Rookie over the line and is now second overall.

Unable to sail into Paimpol today due to the regions complicated tidal system, top Rookie Harris was his elated with his result, celebrating with his team on the docks in Lézardrieux.

"I'm really happy to have won the Rookie division in this leg, and to be leading overall," he beamed. "But the Rookie race is definitely not over. There was a 23 hour split between the Rookies on the first leg, and that could easily happen again. Pierre (Quiroga) is not too far behind me, the race is still on for sure!"

Further down the fleet, Alan Roberts aboard Alan Roberts Racing finished in 17th and is now 17th on the overall leaderboard. Nick Cherry sailing Redshift finished Leg 2 in 23rd position and Robin Elsey racing Artemis 43 in 26th.

The general consensus on the dock was that the leg was very tiring and allowed for very little sleep as Cherry explained.

"I don't really remember when the last time was that I got some real sleep on that leg," he said. "I think I was asleep when I missed a gybe and went way over the lay line, but I was definitely supposed to be asleep. This is as tired as I've ever been on a Figaro."

"I think my decisions making was impaired by tiredness. The best moment of the race for me was probably coming out of the Solent. It was really great to have all that support and I was in a good position there," he concluded.

Another of the British Rookie clan, Hugh Brayshaw racing Artemis 23 finished 29th, three places higher than on Leg 1. Andrew Baker aboard #SeaChange is in 30th and British female Mary Rook aboard Artemis 23 finished in 34th.

The stopover in Paimpol looks set to be a quick turnaround, with a parade of sail tomorrow to delivery the boats into the harbour followed by a series of briefings. The sailors will spend just two days in Brittany, before setting off on Leg 3 to La Rochelle on Saturday.
Standings after leg 2

| | | | | | |
| --- | --- | --- | --- | --- | --- |
| Pos | Boat skipper | Leg 1 | Leg 2 | Combined | Time to 1st |
| 1 | SKIPPER MACIF 2014Yoann Richomme | 3d 9h 33m 13s | 2d 20h 0m 29s | 6d 5h 33m 42s | - |
| 2 | SKIPPER MACIF 2015Charlie Dalin | 3d 9h 37m 43s | 2d 20h 26m 29s | 6d 6h 4m 12s | 0h 30m 30s |
| 3 | ARMOR LUXErwan Tabarly | 3d 9h 25m 54s | 2d 21h 11m 46s | 6d 6h 37m 40s | 1h 03m 58s |
| 4 | GENERALINicolas Lunven | 3d 10h 33m 58s | 2d 20h 22m 9s | 6d 6h 56m 7s | 1h 22m 25s |
| 5 | GEDIMATThierry Chabagny | 3d 9h 40m 48s | 2d 21h 41m 18s | 6d 7h 22m 6s | 1h 48m 24s |
| 6 | SOFINTHER - UN MAILLOT POUR LA VIECorentin Douguet | 3d 10h 35m 53s | 2d 21h 18m 52s | 6d 7h 54m 45s | 2h 21m 03s |
| 7 | GROUPE FIVAAlexis Loison | 3d 10h 59m 14s | 2d 21h 15m 29s | 6d 8h 14m 43s | 2h 41m 01s |
| 8 | SOURIRE A LA VIEChristopher Pratt | 3d 10h 54m 27s | 2d 21h 50m 37s | 6d 8h 45m 4s | 3h 11m 22s |
| 9 | GUYOT ENVIRONNEMENTVincent Biarnes | 3d 10h 52m 15s | 2d 21h 59m 31s | 6d 8h 51m 46s | 3h 18m 04s |
| 10 | CHEMINS D'OCEANSXavier Macaire | 3d 11h 33m 50s | 2d 21h 41m 51s | 6d 9h 15m 41s | 3h 41m 59s |
| 11 | BRETAGNE - CMB PERFORMANCESébastien Simon | 3d 11h 48m 17s | 2d 21h 35m 5s | 6d 9h 23m 22s | 3h 49m 40s |
| 12 | BELLOCQ PAYSAGESMartin Le Pape | 3d 11h 43m 48s | 2d 22h 17m 16s | 6d 10h 1m 4s | 4h 27m 22s |
| 13 | TEAM VENDEEBenjamin Dutreux | 3d 12h 57m 8s | 2d 21h 54m 49s | 6d 10h 51m 57s | 5h 18m 15s |
| 14 | OVIMPEX - SECOURS POPULAIREAnthony Marchand | 3d 13h 40m 32s | 2d 21h 55m 4s | 6d 11h 35m 36s | 6h 01m 54s |
| 15 | FAUN ENVIRONNEMENTArnaud Godart Philippe | 3d 13h 23m 5s | 2d 22h 31m 54s | 6d 11h 54m 59s | 6h 21m 17s |
| 16 | CERCLE VERTGildas Morvan | 3d 16h 40m 27s | 2d 20h 31m 14s | 6d 13h 11m 41s | 7h 37m 59s |
| 17 | ALAN ROBERTS RACINGAlan Roberts | 3d 15h 53m 50s | 2d 22h 10m 58s | 6d 14h 4m 48s | 8h 31m 06s |
| 18 | REGION NORMANDIESophie Faguet | 3d 16h 6m 35s | 2d 22h 37m 0s | 6d 14h 43m 35s | 9h 09m 53s |
| 19 | UN BATEAU POUR DEMAINArthur Le Vaillant | 3d 15h 46m 20s | 2d 23h 5m 38s | 6d 14h 51m 58s | 9h 18m 16s |
| 20 | LA SOLIDARITE MUTUALISTEDamien Guillou | 3d 16h 38m 17s | 2d 22h 27m 27s | 6d 15h 5m 44s | 9h 32m 02s |
| 21 | ARTEMIS 77Will Harris * | 3d 17h 7m 55s | 2d 22h 7m 55s | 6d 15h 15m 50s | 9h 42m 08s |
| 22 | REDSHIFTNick Cherry | 3d 16h 59m 11s | 2d 22h 34m 24s | 6d 15h 33m 35s | 9h 59m 53s |
| 23 | SKIPPER ESPOIR CEMPierre Quiroga * | 3d 17h 2m 40s | 2d 22h 40m 20s | 6d 15h 43m 0s | 10h 09m 18s |
| 24 | PORT DE CAEN OUISTREHAMClaire Pruvot | 3d 17h 19m 12s | 2d 22h 44m 41s | 6d 16h 3m 53s | 10h 30m 11s |
| 25 | CHATHAMSam Matson | 3d 18h 34m 24s | 2d 21h 51m 24s | 6d 16h 25m 48s | 10h 52m 06s |
| 26 | ARTEMIS 43Robin Elsey | 3d 18h 52m 14s | 2d 22h 40m 8s | 6d 17h 32m 22s | 11h 58m 40s |
| 27 | #SEACHANGEAndrew Baker | 3d 18h 53m 5s | 2d 22h 49m 51s | 6d 17h 42m 56s | 12h 09m 14s |
| 28 | TEAMWORKJustine Mettraux * | 3d 23h 13m 37s | 2d 22h 15m 50s | 6d 21h 29m 27s | 15h 55m 45s |
| 29 | TEAM VENDEE FORMATIONMarc Noesmoen * | 3d 22h 36m 2s | 2d 22h 54m 0s | 6d 21h 30m 2s | 15h 56m 20s |
| 30 | SAFERAILDamien Cloarec | 3d 23h 42m 0s | 2d 22h 12m 0s | 6d 21h 54m 0s | 16h 20m 18s |
| 31 | ARTEMIS 23Hugh Brayshaw * | 3d 23h 39m 21s | 2d 22h 45m 10s | 6d 22h 24m 31s | 16h 50m 49s |
| 32 | PRESQU'ILE DE RHUYS – MIRAMARBenoît Hochart | 3d 23h 48m 2s | 2d 22h 51m 48s | 6d 22h 39m 50s | 17h 06m 08s |
| 33 | HORS LA RUEYves Ravot * | 3d 23h 51m 27s | 2d 23h 4m 6s | 6d 22h 55m 33s | 17h 21m 51s |
| 34 | ARTEMIS 37Mary Rook * | 4d 0h 7m 45s | 2d 23h 3m 14s | 6d 23h 10m 59s | 17h 37m 17s |
| 35 | LES PERLES DE ST BARTHArthur Prat | 4d 7h 16m 55s | 2d 22h 39m 38s | 7d 5h 56m 33s | 24h 22m 51s |
| 36 | DEAUVILLECécile Laguette * | 4d 7h 50m 50s | 2d 23h 22m 54s | 7d 7h 13m 44s | 25h 40m 02s |
| 37 | #THEOENFIGAROThéo Moussion * | 4d 6h 16m 30s | 3d 1h 15m 29s | 7d 7h 31m 59s | 25h 58m 17s |
| 38 | BRETAGNE - CMB ESPOIRAymeric Decroocq * | 4d 10h 0m 50s | 2d 22h 59m 59s | 7d 9h 0m 49s | 27h 27m 07s |
| 39 | RENOVAL / 1 JOUR 1 HOMME 1 ARBRETolga Ekrem Pamir | 4d 9h 50m 50s | 3d 4h 51m 13s | 7d 14h 42m 3s | 33h 08m 21s |
Back to top
Back to top