Tabarly claims leg one
Erwan Tabarly, skipper of Armor Lux, last night won the gruelling, lengthy opening leg of the Solitaire Bompard Le Figaro. Tabarly, nephew of the great 'Eric', crossed the finish line off the Needles Fairway buoy to the west of the Isle of Wight at 20:27:57 UTC making his elapsed time for the leg from Deauville via the Ower and Wolf Rock, three days, nine hours, 25 minutes and 54 seconds.

As Tabarly crossed the finish line, second-placed Yoann Richomme on Skipper MACIF 2014 was within sight at less than half a mile behind. The duo made a key breakway from the other fleet leaders on Wednesday morning off Start Point when they managed to hold breeze, when their nearby competition was becalmed. The duo swapped positions at one point but Richomme made a small mistake and slipped behind into second again.

Since winning the Transat AG2R La Mondiale two-handed transatlantic race from Concarneau to Saint Barth's, sailing with co-skipper Thierry Chabagny (Gedimat), in April this year, Tabarly has been considered one of the favourites to win the 2016 Solitaire. He has been trying to win the annual multi-stage solo race since 2000 but has never finished better than third overall. 




On finishing Erwan Tabarly commented: "I managed to stay in the leading group throughout so I am satisfied but it was complicated. Yoann (Richomme) and I were side by side within a length of each other 70 miles from the finish. I managed to go faster than him and overtake. There were twists throughout the whole race and we were not unhappy that it ended there (with the shortened course). With the storms, we wondered if it would be a lottery.

"I am really very happy. This is the first leg I have won. I have been six times on the podium, each time it is played to my disadvantage and I did not desire to be second again.

"I will not get carried away, there are still four stages. There are many formidable competitors including the two Macif skippers. I will enjoy this first place for now and we'll see for the later stages."

Yoann Richomme added: "It was a beautiful leg that ended well. I made a few mistakes at Owers, but I managed to find the speed, come back, and if someone had told me that I would lead at Wolf Rock I would not have believed it!

"It was great fun. It was a really varied stage, with all possible conditions. 30-35 knots upwind, soft under spinnaker. It was hard to keep up, to find the moments to sleep or to eat.

"Erwan beat me, he was the fastest and it was well deserved! I am disappointed not to have won of course, but when you see some of the damage (to the other boats) I am very happy, I'm in it for the rest of La Solitaire."
While this morning, it appeared that the lead duo might have achieved a race-winning lead (rather than just a leg-winning one), Charlie on Skipper Macif 2015, who led from the outbound leg to Wolf Rock managed to claw his way back to finish just four and a half minutes astern of Richomme.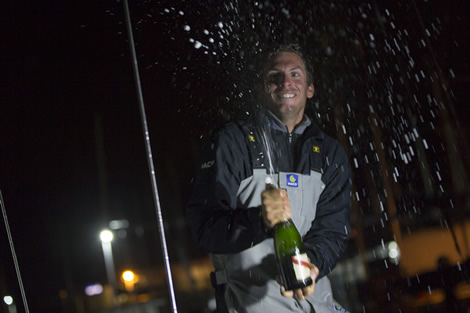 "It's good to finish within 11 or 12 minutes of the first boat. It was important not to lose this stage and I've done that," he said. "There have been many magical moments like these tacks near the rocks, it was really beautiful. The arrival was magical with fog banks. You could not see 20 meters around the boat, it was pretty strange.

"I'm happy to be in Cowes, I have sailed in the Solent before. The shortened course, with hindsight, was good. It would have been difficult to get around the Isle of Wight. I am satisfied, it's only positive. "
So far 24 of 39 starters have finished (two boats have retired). First Brit home was Alan Roberts in 17th place, six hours and 28 minutes astern of Tabarly. After Will Harris' strong performance on this leg aboard Artemis 77, it was ultimate Pierre Quiroga on Skipper Espoir CEM who claimed this prize on leg one by just five minutes.
Pos
Boat / Skipper
Finished
Leg time
1
ARMOR LUX - Erwan Tabarly
22/06/2016

at 22:27:54
3d 9h 25m 54s
2
SKIPPER MACIF 2014 - Yoann Richomme
22/06/2016

at 22:35:13
3d 9h 33m 13s
3
SKIPPER MACIF 2015 - Charlie Dalin
22/06/2016

at 22:39:43
3d 9h 37m 43s
4
GEDIMAT - Thierry Chabagny
22/06/2016

at 22:42:48
3d 9h 40m 48s
5
GENERALI - Nicolas Lunven
22/06/2016

at 23:35:58
3d 10h 33m 58s
6
SOFINTHER - UN MAILLOT POUR LA VIE - Corentin Douguet
22/06/2016

at 23:37:53
3d 10h 35m 53s
7
GUYOT ENVIRONNEMENT - Vincent Biarnes
22/06/2016

at 23:54:15
3d 10h 52m 15s
8
SOURIRE A LA VIE - Christopher Pratt
22/06/2016

at 23:56:27
3d 10h 54m 27s
9
GROUPE FIVA - Alexis Loison
23/06/2016

at 00:01:14
3d 10h 59m 14s
10
CHEMINS D'OCEANS - Xavier Macaire
23/06/2016

at 00:35:50
3d 11h 33m 50s
11
BELLOCQ PAYSAGES - Martin Le Pape
23/06/2016

at 00:45:48
3d 11h 43m 48s
12
BRETAGNE - CMB PERFORMANCE Sébastian Simon
23/06/2016

at 00:50:07
3d 11h 48m 7s
13
TEAM VENDEE - Benjamin Dutreux
23/06/2016

at 01:59:08
3d 12h 57m 8s
14
FAUN ENVIRONNEMENT - Arnaud Godart Philippe
23/06/2016

at 02:25:05
3d 13h 23m 5s
15
OVIMPEX - SECOURS POPULAIRE - Anthony Marchand
23/06/2016

at 02:42:32
3d 13h 40m 32s
16
UN BATEAU POUR DEMAIN - Arthur Le Vaillant
23/06/2016

at 04:48:20
3d 15h 46m 20s
17
ALAN ROBERTS RACING - Alan Roberts
23/06/2016

at 04:55:50
3d 15h 53m 50s
18
REGION NORMANDIE - Sophie Faguet
23/06/2016

at 05:08:35
3d 16h 6m 35s
19
LA SOLIDARITE MUTUALISTE - Damian Guillou
23/06/2016

at 05:40:17
3d 16h 38m 17s
20
CERCLE VERT - Gildas Morvan
23/06/2016

at 05:42:27
3d 16h 40m 27s
21
REDSHIFT - Nick Cherry
23/06/2016

at 06:01:11
3d 16h 59m 11s
22
SKIPPER ESPOIR CEM - Pierre Quiroga *
23/06/2016

at 06:04:40
3d 17h 2m 40s
23
ARTEMIS 77 - Will Harris *
23/06/2016

at 06:09:55
3d 17h 7m 55s
24
PORT DE CAOUISTREHAM - Claire Pruvot
23/06/2016

at 06:21:12
3d 17h 19m 12s
Back to top
Back to top