Tense finish in Transat AG2R La Mondiale
Monday April 25th 2016, Author:
James Boyd
, Location: none selected
Close finishes to marathon ocean yachts races are becoming standard fare these days and the Transat AG2R La Mondiale proved it was no exception with an incredibly dramatic finish at the Caribbean island of St Barts today.

After completing a 3,800 nautical mile course from Concarneau in Brittany, but having travelled 4,932 miles through the water, the jubilant French duo of Thierry Chabagny and Erwan Tabarly, on board the Figaro Beneteau II Gedimat took the honours.

After 22 days, one hour and six minutes at sea, and sailing at an average speed of 9.32 knots over the total distance, they finished just four minutes and four seconds ahead of second-placed Nicolas Lunven and Gildas Mahe on Generali.

"My feeling? A sense of happiness," said Chabagny after swigging on a large bottle of ice-cold champagne on the dockside. Tabarly summed up his feelings equally succinctly: "Happy, happy, happy."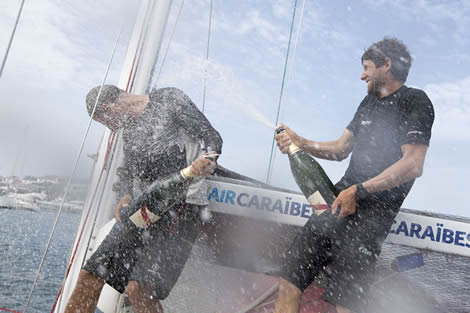 For the French pair this was an especially sweet victory after they were forced to retire from the last race in 2014 when their boat dismasted. "We were frustrated not to get to St Barts then," said Chabagny. "So this is like two pleasures at once – it's great," he added.

Behind them the third and fourth placed boats, AGIR Recouvrement co-skippered by Adrien Hardy and Vincent Biarnes, and Bretagne-CMB Performance, sailed by Sebastien Simon and Xavier Macaire, got in just 30 and 40 minutes respectively after Gedimat. In fifth placed Cercle Vert, crewed by Gildas Morven and Alexis Loison was only three minutes further back.

The rush of boats across the line off the harbour at Gustavia, St Barts' capital, was the climax of a fascinating race in which the top-five boats in a 15-boat fleet traded places all the way across the Atlantic from the Cape Verde Islands.

Gedimat held the lead in the overall standings for 20% of the time, as the battle at the head of the fleet raged over 530 hours of non-stop racing. But crucially her experienced crew, who between them have raced in 15 Transat AG2Rs and started among the favourites for victory, managed to hold onto the initiative in the final, nail-biting stages.

But right up until the last few hours of the race, as the breeze died away in the early hours of the Caribbean morning, it was still impossible to pick a winner. Gedimat, Generali and AGIR Recouvrement were all in the mix as their exhausted crews worked for every tenth of a knot of boat speed as their 33-footers stole along in the darkness between Barbuda and St Barts.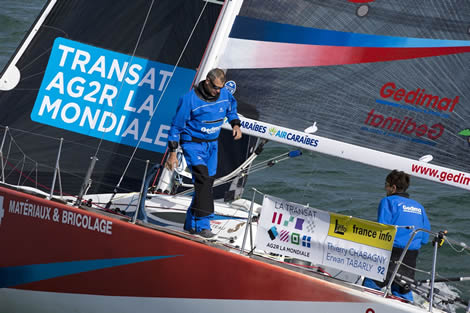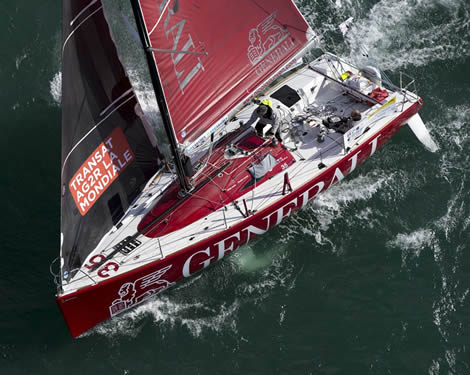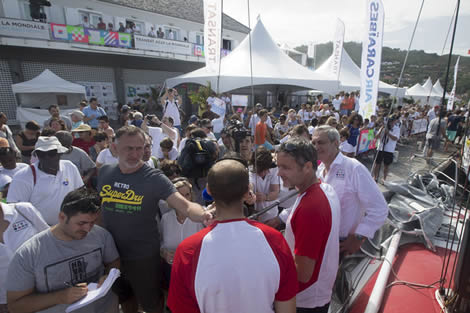 Brits in sixth
Two ecstatic young British sailors hit the dock in St Barts today, delighted to have completed their first transatlantic race and to have finished sixth in a fleet of 15 in the Transat AG2R La Mondiale.

Sam Matson, 25, and Robin Elsey, 23, both graudates of the Artemis Offshore Academy, scored the best ever finish in the race by an all-British crew.

They made a good start but early in the piece – off Cape Finisterre –they briefly separated to the east from the leading bunch, who pushed west early. It proved a costly error, allowing the top-five boats to get away.

But Matson and Elsey never let-up in their chase, in what turned out to be an extraordinarily competitive race, and were delighted to get to the finish after around 530 hours of racing inside the top-half of the fleet.

They reached St Barts after 22 days, four hours and 15 minutes at sea and just three hours and nine minutes behind the winning boat, Gedimat, co-skippered by the French pairing of Thierry Chabagny and Erwan Tabarly. For both Matson and Elsey this had been their longest time at sea and they were elated at completing the race.


"It was incredible and getting here is the coolest thing ever," enthused Matson. "Twenty-two days to fight to get here and it feels unbelievable to have arrived – so good." Elsey was of the same mind. "It's such a good feeling – we fought really hard to get here – it's brilliant."

Elsey, the top rookie in last year's Solitaire Bompard Le Figaro, was more than satisfied with his first go at a long distance short-handed race. "We are really happy with it," he said. "We sailed really well. We got on really well. We made clear choices and when we made bad ones we just got on with them. We kept our heads in the game the whole time even when we were detached from the fleet. We kept going, worked hard and got back into it."

Matson agreed: "There is not a lot we could change to be honest. We literally did everything we had to do to make sure we stayed in it and to make sure we stayed competitive. Just task-setting every day and pushing every day to make sure we got a sense of achievement and challenge day-in, day-out."

What came over loud and clear was that these two sailors had genuinely got on while racing a small, noisy and often uncomfortable boat over 22 days. "We both have quite similar racing styles and we are similar characters," said Elsey. "We were out there to enjoy ourselves – that is the reason why we do these races – and we want a great result and that comes with enjoying it."

Matson concurred. "There were times when individually we might have got a little bit frustrated – not with each other – but with the scenario or maybe just tired or whatever, but we could vent a bit of that at the co-skipper and know he was not going to worry about it. For sure we probably said to each other every other day 'it doesn't matter, just crack on," he said.

The moment off Finisterre that defined the race for the sole British crew in an otherwise almost entirely French fleet, was something both men were philosophical about. They put their meteo error down to inexperience and admitted that, at the time, they could not understand why the leading boats were pushing to the west while they stayed east on a more direct route.

"That was inexperience more than anything," said Elsey. "Once we had worked that out and worked out what they were doing, we worked really hard to get back into it. Twenty miles from the finish earlier today (when Gedimat crossed the line), we couldn't have been happier with the way we had fought the whole race."

Both men will now return to Europe to prepare for the Figaro. Matson, who was 13th overall last year, has learnt that taking a bit more food and making himself a little more comfortable need not necessarily mean an uncompetitive boat. "I am going to go into the Solitaire feeling a little more relaxed about what I am taking and making sure I have some comforts on board. If I race the Figaro like this, then I know I will come out of it feeling happy and having had a good race," he said.

Elsey says his confidence has only been boosted by knowing that he and Matson were on the pace at all times over three weeks of open ocean racing. "It's just a bit more confirmation of the importance of just enjoying yourself and working hard and enjoying the racing and the results will come at the end of the day," he said.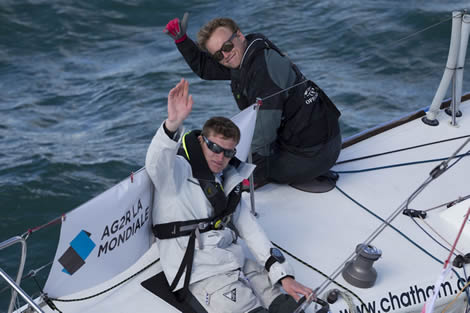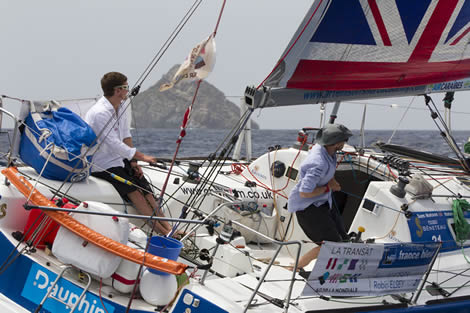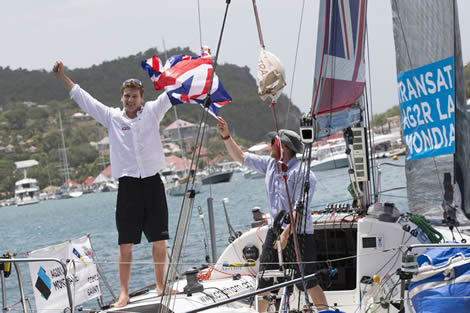 Top eight finishers

| | | | | | | |
| --- | --- | --- | --- | --- | --- | --- |
| Pos | Boat | Skipper | Co-skipper | Finished at | Time | Av speed |
| 1 | GEDIMAT | Thierry Chabagny | Erwan Tabarly | 25/04/2016 14:14 | 22d 1h 6m 53s | 7.35 |
| 2 | GENERALI | Nicolas Lunven | Gildas Mahé | 25/04/2016 14:18 | 22d 1h 10m 57s | 7.35 |
| 3 | AGIR RECOUVREMENT | Adrien Hardy | Vincent Biarnes | 25/04/2016 14:43 | 22d 1h 35m 41s | 7.35 |
| 4 | BRETAGNE - CMB PERFORMANCE | Sébastien Simon | Xavier Macaire | 25/04/2016 14:55 | 22d 1h 47m 52s | 7.34 |
| 5 | CERCLE VERT | Gildas Morvan | Alexis Loison | 25/04/2016 14:58 | 22d 1h 50m 55s | 7.34 |
| 6 | ARTEMIS | Sam Matson | Robin Elsey | 25/04/2016 17:23 | 22d 4h 15m 53s | 7.31 |
| 7 | BELLOCQ PAYSAGES - SAVEURS DE CORNOUAILLE | Martin Le Pape | Eric Péron | 25/04/2016 18:47 | 22d 5h 39m 11s | 7.29 |
| 8 | FULGUR - EVAPCO | Milan Kolacek | Pierre Brasseur | 25/04/2016 19:59 | 22d 6h 51m 27s | 7.27 |
Back to top
Back to top