First casualties
Monday October 26th 2015, Author:
Andi Robertson
, Location: none selected
The first 24 hours of the Transat Jacques Vabre have been fast in a building breeze. But the Bay of Biscay and an Atlantic low pressure system will hit most of the fleet this evening and tomorrow bringing giant confused seas and big winds with gusts over 40 knots. There is no big surprise in store. The ominous system has been lurking west of Ireland for some time, but is only moving slowly southeast before it fills and loses some of its intensity later on Tuesday. But the duos in all four classes have been preparing as best they can for the tough conditions, drysuits and boots are on now and may be for 48 hours or more.

The big question in the 20 boat IMOCA class is prudence or push? Prudence is Alex Thomson and Guillermo Altadill's watchword this week with their brand new Hugo Boss. They lead the class by virtue of their solid sailing and their position to the east, making more south closer to the direct course, but the British skipper warned today that their cotton wool approach – to protect their brand new boat – will lose them one day by Cape Verde against the boats which have gone west to get under the depression quicker, through to the more favourable breezes first.
Thomson said of their first night: "It was not too bad but we caught a very big lobster pot off Cherbourg and so we had to stop many times. We lost at least 10 or 12 miles but apart from that it has not been too bad. Our option is to try and stay south to try and avoid conditions which are too strong. Our boat is only eight days old and so we don't we feel it is very prudent to go the fastest route and so it looks healthy, we lead the fleet today but the long term shows we will be one day behind by Cape Verde.
"It is wet on deck. We have 20-25 knots, the wind is forward of the beam and it is very choppy seas. It is a bit grey. But we had a good night. We cannot complain. We had a few little teething problems, nothing major but of course it takes a long time to learn a boat like this properly. So we feel pretty happy where we are. We both got a couple of hours sleep which is good and so we feel healthy"
With time on the water so vital between now and the start of next year's Vendée Globe, Thomson – as with others – cannot afford to have his new boat spend any more time in a boatyard than what is programmed over the coming months. Hugo Boss leads a group of five IMOCAs including Kito de Pavant and Yann Reginau on Bastide-Otio and MACSF sailed by cousins Bertrand De Broc and 2009 winner Marc GuillemotF.

But pushing hard to the west, 230 miles west of Land's End and arc-ing NWW is the group led by Sébastien Josse and Charles Caudrelier on Edmond de Rothschild who have about 240 miles of pain to get to the favourable, NWlies and the best angle. The risk is significantly higher for this group – winds over 40 knots and seas of seven metres – but the rewards are expected to me much greater. Edmond de Rothschild is about three miles ahead of SMA, sailed by Paul Meilhat and Michel Desjoyeaux, with Vendée Globe runner-up Armel Le Cléac'h and Erwan Tabarly on Banque Populaire VIII about two miles further back . For this group, especially, tonight is likely to be the biggest break or make night of the race.

Sadly robbed of the chance to chose is Jérémie Béyou on Maitre CoQ. The Bay of Morlaix skipper, who has been an early retirement from his first two Vendée Globes due to rig damage in 2008 and keel ram failure in 2012, has had to retire after just ten hours of hard racing. He and co-skipper Philippe Legros pulled into Lorient at around 0815 this morning with damage to the forestay, but were expecting to be able to restart.

The Maitre CoQ team's statement said "Following the damage that happened at around 2300 yesterday evening to a mainstay attachment, which holds the mast up from the front, Jérémie Beyou and Philippe Legros, who were in fourth place, were forced to make their way to Roscoff, which they reached this morning at 0830. The shore team and suppliers analysed the situation and attempted to replace the faulty part. In spite of their hard work, late today they were unable to guarantee that the replacement part would be solid enough to allow the two sailors to head back out to sea without any worries."

In his statement Beyou confirmed his team are evaluating the options, whether to deliver their boat to Saint Bart for the Saint Bart to Port La Foret race or to get the boat into the yard and to get sailing earlier next year.
Elsewhere in the IMOCA class Louis Burton on Bureau Vallée said: "It's going, it's wet, it goes very fast but everything is fine on board. It seems to be the belief that the route to the west will be the best. We made that choice yesterday before leaving. We have one reef in the mainsail and have between 25 and 30kts of wind with cross sea coming in from the west. We expect more wind and bigger seas as we get to the depression. We take a bit of a risk, but we take it step by step, and to be honest we are not yet really into the rhythm of the race."

Eric Bellion, on Stand As One said: "The atmosphere is damp. Sam (Goodchild) has just woken up and we will put another reef in. All is well. We are going to the west, we have made our decision and will stick with it. But we know the seas will be big and the waves big but we will just stick with it. We are happy to be at sea, we have a great atmosphere with Sam."

Adopteunskipper.net, skipper Nicolas Boidevézi : "We were not so good off the start line, it took us some time to get into the game but we managed to get up here with the boats of our generation. It will be hard at the end of the day today, from about early evening. We expect gusts of over 40kts and seas up to eight metres. We continue to push west. The centre of the depression is a little more north than we expected and we adapt. And there are still very many things we learn about our boat."

Yann Eliès on Queguiner-Leucemie Espoir: "We are sailing with one reef and J2 with a wind of 30-35kts. It is wet because we are making 20kts since we left the top of Contentin. For now we have two to three metres of swell from our stern quarter. We are not close to the optimum route to Brazil but this is the investment we make. We make the choice and we hope it will be the good one. We hope the strategic plan will pay off. We have to get around the centre of the depression by the south. We have our dry suits on and will have them on for a while. I am lucky to have a guy like Charlie with me. He is a guy who loves the breeze and the melee that comes with the big winds. He is super motivated but trusts me because he has a bit less experience than me in these conditions."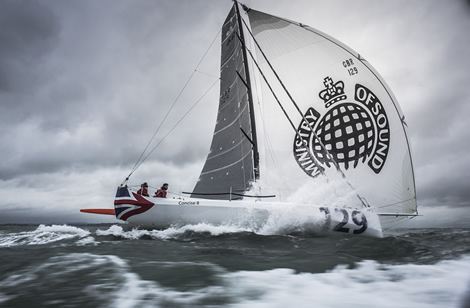 In Class 40 Club 103 is heading for a Lorient pitstop due to a bow and spinnaker pole problem. But at the head of the fleet, making good speeds are Bretagne Crédit Mutuel Elite, sailed by two time Solitaire du Figaro winner Nicolas Troussel and Corentin Horeau. The French duo appear to be going for the more conservative option, 108 miles to the southeast of the Anglo-French duo on Team Concise, Jackson Bouttell and Gildas Mahé. After holding the early lead, Team Concise is placing their faith in the northwest option, most extreme of the fleet along with Solidaires en Peloton, which is right alongside them, some comfort through a night which could be pivotal. And Concise 2, Philippa Hutton Squire and Pip Hare have a steady course and a lot of faith in their well proven boat, happy to go west too.

The Ultimes, leaders of the course, are already down into the westerly breeze, Sodebo Ultim leading MACIF by 17 miles, now tacked and heading for Cape Finisterre 105 miles in front of their bows at 1700 UTC this afternoon.

Yves Le Blevec, skipper of Actual in the Ultime class added: "We are getting close to attacking a front which will see us with 35-40 knots in a couple of hours time. We are well rested after last night, we sailed relatively conservatively. Now we are dressed warmly and will reduce sail over time. We will take a reef in the mainsail. We must adapt the boat and the course to protect it but without losing time unduly. We expect the worst seas tonight. Now we have two metres waves but we are expecting much more. The other are further west and they are more radical than us but we give ourselves a speed limit to avoid damaging the boat and ourselves."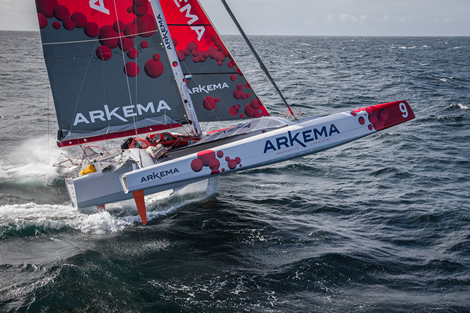 Back to top
Back to top