100 point lead for Ireland
In contrast to the frustration of yesterday's two unfinished races, today three inshore races were successfully held at the Brewin Dolphin Commodores' Cup, bringing the Royal Ocean Racing Club's biennial flagship event for national teams with amateur crews back on schedule.

With five inshore races sailed Ireland has now established a solid lead of nearly 100 points, on 176 followed by GBR Red in second on 275.5 and with France Green and GBR Scotland jockeying for third place on 291.5 and 292.5 respectively. After today's second race just five points separated second from fifth place in the team rankings.

Principal Race Officer Stuart Childerley bravely set up a start line off Osborne Bay just to the east of Cowes for today's first windward-leeward race, sailed in a light northeasterly. Robert Lutener's Cutting Edge, sailing in GBR Red, nailed the start mid-line and found better pressure in the middle of the course to lead at the weather mark from American Marc Glimcher's Ker 40 Catapult in the Irish team. In the light winds throughout the day it paid to be out in front in clear air and, in the first race, Cutting Edge managed to remain ahead of Catapult to win by 19 seconds on corrected with Eric de Turkheim's A13 Teasing Machine third for France Green.

Cutting Edge helmsman, Royal Yachting Association Chairman Stacey Clark, explained: "We managed to get off the start line in clear wind and were off and away. We've had some fantastic racing with Catapult, really close boat on boat stuff the whole time, but both of us conscious that we are IRC racing." With Figaro sailor and UK Match Racing Champion Nick Cherry calling tactics, Cutting Edge has been sailed well all week, demonstrating good tactics and boat handling, which Clark attributes to the long time the crew has been together - it originally came together 15 years ago for the Rolex Fastnet Race.

The second race was started in the same northeasterly wind, but saw a substantial right shift on the first upwind leg. In this it was the turn of GBR Scotland's big boat, James McGarry's Swan 45 Eala of Rhu to make her mark.

Tactician Kevin Sproul described it: "We had a good start and got clear immediately. There were some big shifts out there, but we got on to the first one and it was a nice one that gave us a jump on everybody else and from there we could sail our own race. The boat goes well downwind in the light stuff, which gave us a bigger lead. Then on the second upwind leg when they moved the mark, we thought it would pay to be right so it was made pretty easy for us. We didn't have too many decisions to make."

Eala of Rhu went on to win the race by more than two minutes from Michael Boyd and Niall Dowling's Grand Soleil 43 Quokka 8 sailing in the Irish team.

The race was unusual for having match racing-style starboard weather mark roundings. Stuart Childerley explained: "This was for a tidal offset. With an ebbing tide and a northeast wind, if we had stayed with the port rounding we would have had a very biased run. You couldn't do that with a one design fleet, but I think it provided better racing."

After race two the sea breeze filled in, killing the northeasterly, but the race management team hung on and the patient wait by the crews provided the opportunity for some alternative watersports including an impressive wakeboarding display (attached to the main halyard) behind Yeoman of Wight crew and some halyard swinging on Cobra and Fatjax.

After a catalogue of delays due to the arrival of ships in the Solent and wind shifts, plus three general recalls, a third race finally got off late in the afternoon once a southeasterly breeze had established. This final windward-leeward was claimed by France Green's Teasing Machine, finishing on the water behind yet another close match race between the two leading Ker 40s.

"We had a good start," explained Teasing Machine's owner, Eric de Turkheim. "We had a bad start on the second race and paid the price. Being a big boat you have the speed so if you can make a good start you are ahead and then it is a question of managing the pressure."


Tomorrow the classic course round the Isle of Wight is scheduled, one of the main attractions of the Brewin Dolphin Commodores' Cup, in particular for the visiting teams. However the forecast indicates this will provide a 'challenging day' for competitors. Kevin Sproul and the Eala of Rhu crew have experience of this from this year's light wind Round the Island Race which took them 10 hours to complete... "and we were nearly first home. It is a very similar forecast to tomorrow. I just don't see the point of us going around the back of the island if there is no breeze whatsoever and having a drift back, so I am a bit twitchy about that."

Given this prospect, leader of the Irish team, Anthony O'Leary is also twitchy. "We will need that 100 point lead if they send us around the Isle of Wight tomorrow. It could turn into a lottery." Ireland has previous experience in this event of being ahead and seeing victory slip through their fingers. O'Leary continues: "It may well be 100 points, but it is 40 points per boat tomorrow and even more on Saturday. But it is nice to be in that position, and we're there because of the team effort today which was just fantastic."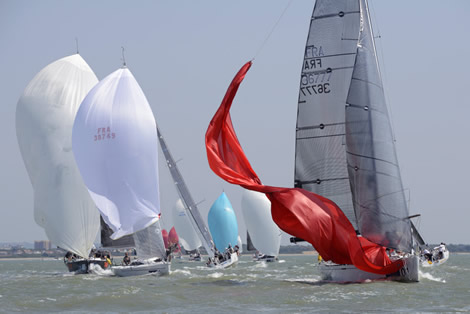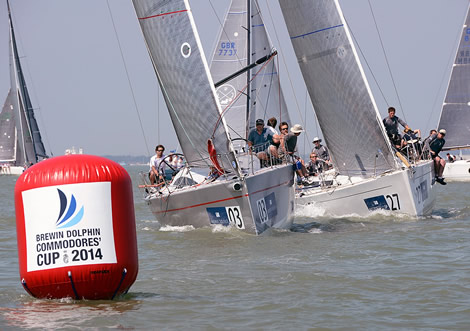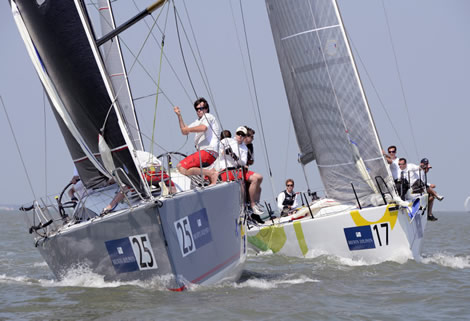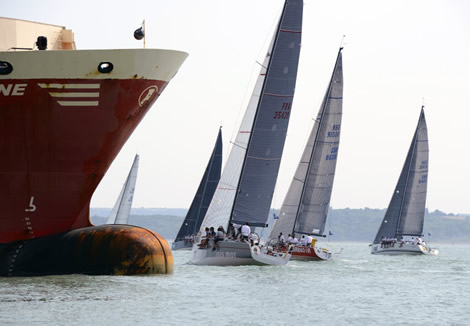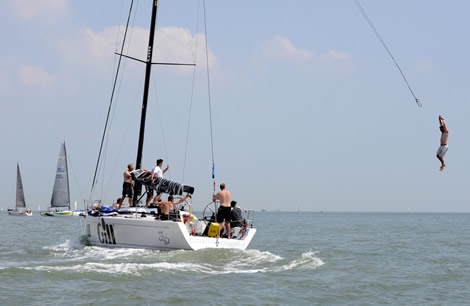 Team results

| | | |
| --- | --- | --- |
| Pos | Team | Points |
| 1 | Ireland | 176 |
| 2 | GBR Red | 275.5 |
| 3 | France Green | 291.5 |
| 4 | Scotland | 292.5 |
| 5 | France Blue | 301 |
| 6 | France Red | 334 |
| 7 | GBR White | 342.5 |
| 8 | France White | 410.5 |
| 9 | GBR Blue | 411.5 |
Boat results:

| | | | | | | | | | | | |
| --- | --- | --- | --- | --- | --- | --- | --- | --- | --- | --- | --- |
| Pos | Boat | Type | Team | TCC | R1 | R2 | R3 | R4 | R5 | R6 | Tot |
| | | | | | | | PF2.5 | | | | |
| 1 | Cutting Edge | Ker 40 | GBR Red | 1.199 | 10 | 8 | 5 | 1 | 5 | 4 | 33 |
| 2 | Catapult | Ker 40 | Ireland | 1.21 | 7 | 4 | 7.5 | 2 | 13 | 6 | 39.5 |
| 3 | Eala Of Rhu | Swan 45 | Scotland | 1.181 | 2 | 2 | 37.5 | 4 | 1 | 5 | 51.5 |
| 4 | Teasing Machine | A13 | France Green | 1.174 | 4 | 27 | 2.5 | 3 | 16 | 1 | 53.5 |
| 5 | Goa | A40 | France Blue | 1.088 | 6 | 6 | 17.5 | 10 | 10 | 7 | 56.5 |
| 6 | Antix | Ker 39 | Ireland | 1.131 | 1 | 1 | 50 | 6 | 3 | 2 | 63 |
| 7 | Quokka 8 | Grand Soleil 43 | Ireland | 1.1 | 23 | 5 | 27.5 | 7 | 2 | 9 | 73.5 |
| 8 | Cobra | King 40 | GBR Red | 1.118 | 3 | 3 | 40 | 21 | 6 | 11 | 84 |
| 9 | Chenapan3 | A35R | France Green | 1.042 | 9 | 13 | 15 | 22 | 14.5 | 18 | 91.5 |
| 10 | Localletterbox Zero II | Mills 39 | GBR White | 1.117 | 5 | 7 | 62.5 | 9 | 9 | 3 | 95.5 |
| 11 | Yeoman of Wight | J/109 | GBR Blue | 1.028 | 14 | 10 | 30 | 14 | 11 | 19 | 98 |
| 12 | Eleuthera | Grand Soleil 44 R | France Red | 1.111 | 8 | 24 | 35 | 12 | 14.5 | 8 | 101.5 |
| 13 | Zephyr | First 40 | Scotland | 1.092 | 17.5 | 16 | 25 | 15 | 8 | 21 | 102.5 |
| 14 | Pen Koent | First 40.7 | France Red | 1.047 | 15 | 17 | 20 | 17 | 22 | 22 | 113 |
| 15 | Hooligan VII | Ker 40 | GBR White | 1.192 | 27 | 11 | 10 | 27 | 24 | 14 | 113 |
| 16 | Inis Mor | Ker 39 | France Blue | 1.123 | 25 | 9 | 45 | 8 | 7 | 24 | 118 |
| 17 | Beelzebuth 3 | Grand Soleil 40 | France Red | 1.061 | 16 | 20 | 42.5 | 5 | 23 | 13 | 119.5 |
| 18 | Dunkerque Plaisance - Gill Racing Team | A35 | France White | 1.03 | 17.5 | 18 | 22.5 | 18 | 27 | 17 | 120 |
| 19 | Codiam | Grand Soleil 43 | France Blue | 1.102 | 12 | 19 | 32.5 | 19 | 19 | 25 | 126.5 |
| 20 | INO | Corby 36 | GBR White | 1.081 | 11 | 22 | 55 | 16 | 20 | 10 | 134 |
| 21 | Dusty P | First 40 | GBR Blue | 1.079 | 22 | 23 | 52.5 | 11 | 12 | 15 | 135.5 |
| 22 | Aurora | Corby 37 | Scotland | 1.094 | 19 | 25 | 57.5 | 13 | 4 | 20 | 138.5 |
| 23 | Nutmeg Sparkling Charter | J/122 | France White | 1.077 | 26 | 26 | 12.5 | 23 | 25 | 27 | 139.5 |
| 24 | Motivé | Farr 30 | France Green | 1.056 | 13 | 21 | 47.5 | 24 | 18 | 23 | 146.5 |
| 25 | MUSIX | Grand Soleil 37 | France White | 1.026 | 20 | 14 | 60 | 20 | 21 | 16 | 151 |
| 26 | Fatjax | X 37 | GBR Red | 1.037 | 24 | 12 | 67.5 | 26 | 17 | 12 | 158.5 |
| 27 | Diamond Jem | J/109 | GBR Blue | 1.025 | 21 | 15 | 65 | 25 | 26 | 26 | 178 |
Back to top
Back to top