First four IMOCA 60s home
Following PRB's victory in the Transat Jacques Vabre's IMOCA 60 class yesterday, so the first four boats have arrived in Itajaí with Marc Guillemot and Pascal Bidégorry on Safran claiming second place at 16:43:23. They were followed just half an hour later, at 17:15:07 UTC, by Jérémie Beyou and Christopher Pratt on Maître CoQ, while Bernard Stamm and Philippe Legros on Cheminees Poujoulat took fourth place at 00:19:44 this morning.
Images courtesy of Expedition Navigation Systems and PredictWind
Winner in 2009 and second back in 2007, this is Safran third Transat Jacques Vabre podium in four races, a reward for all the development work done firstly on the design of the boat and the technological contribution from the many companies within Safran. This came after a difficult last 24 hours when in a dash for the line they have been overtaken by Maitre CoQ on Saturday night.

Safran's average speed for the 5450 mile 'theoretical course' was 13.08 knots but in reality she sailed 5748 miles at a 13.93 knot average. This speed is around four knots faster than Safran achieved in her Transat Jacques Vabre in 2007. It should be noted that Safran was only beaten in this race by PRB, a more modern sistership to Safran, built using her moulds.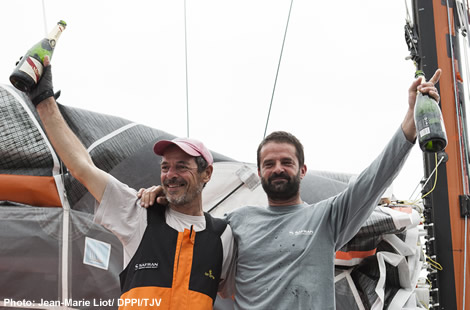 Skipper Marc Guillemot commented: "This was a tough race from start to finish. I have rarely seen such an intense race. With Pascal, we were constantly on the attack. It was a long course. There was no time to ease off even for a second, if you wanted to avoid getting punished immediately. We're really pleased about finishing second, as we thought it a bit ambitious to aim for the podium, but we fought with determination against some powerful competitors. It's funny because PRB, the winner is Safran's little sister (with three years between them): both came out of the same mould. These are both excellent boats. We discovered Safran was able to do some new things. I thought I knew her perfectly, but today I can say that we managed to raise her up a notch. At no point did we fear breaking her. Off Cape Frio we may have been a bit too greedy trying to pull something off, which ended up costing us dearly. We have had a fine battle with Maître Coq since the start of the race. Several times, we found ourselves in sight of each other, which really pushes you forward."
Pascal Bidégorry: "I'm happy, of course. Firstly with this fantastic second place, but also simply to finish, as this has been exhausting for us and I'm not against getting a bit of rest. The pace was incredibly intense during these 17 days of racing. We got on well with Marco, but that wasn't a surprise. On the other hand, I wasn't expecting it to be so tiring and intense. It was crazy last night: We were sailing at speeds you normally expect from multihulls… 25, 26 and even 27 knots. We were constantly under water with as much sail as possible on the boat. We had to fight hard for this second place. But it was during the race that the pace was infernal. You could even say we didn't ever have any time to ease off at all."
On arriving in a close third place, the Maître CoQ crew commented: "What a fight and for the whole duration of the race. Normally there's a match race between two or three boats, not five continuously (or almost). There were many lead changes and, in addition to the intensity of the race, it was important to look after the boat and its gear."
There is now pause in the arrivals as the next group is awaited. This group is led by Louis Burton and Guillaume Le Brec on Bureau Vallee, the 2008 generation Delta Dore Farr design. However they are having a good race with other similar generation boat including Bertrand de Broc and Arnaud Boissières on Votre Nom Autour du Monde (ex BritAir) and Poles Zbigniew Gutkowski and Maciej Marczewski on Finot-Conq sistership Energa (ex Hugo Boss), who are within 35 miles of her. This group is approaching Cabo Frio with Energa taking a more offshore route south.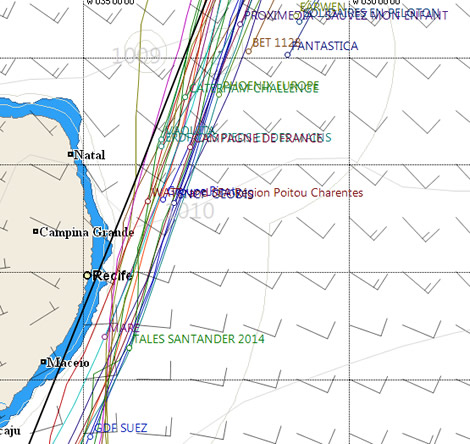 Overnight the Class40 leader, Sébastien Rogues and Fabien Delahaye's GDF Suez has passed Recife with 1258 miles still to go to the Itajaí finish line. She remains 107 miles ahead of second place, where Spain's Alex Pella and Pablo Santurde on Tales Santander 2014 is attempting an overtaking manoeuvre on Jörg Riechers and Pierre Brasseur's mare. 10 miles behind 24 hours ago, Tales Santander 2014 is now less than a mile behind mare, taking a more offshore course.
There is now a considerable margin of around 160 miles back to fourth placed Watt & Sea Région Poitou Charentes, sailed by Yannick Bestaven and Aurélien Ducroz.
Among the British interested in the race, Halvard Mabire and Miranda Merron on Campagne de France still hold ninth place, 339 miles off the lead with Mike Gascoyne and Brian Thompson on Caterham Composites in tenth a further 60 miles back.
At present the St Helena high is a long way south, so the Class40s aren't likely to see the wind backing further than the east until they arrive at Cabo Frio to the east of Rio.
Michelle Zwagerman reports from Croix du Sud:
There comes a time in each adventure when not all is rosy. Today was such a day. After a night of bouncing from one thunder squall to the next (even if you can see the big ones on radar, you can't always dodge them), we came into a south easterly breeze and sighed with relief thinking that we were now free of the squally doldrums, when "whack" (just as we were enjoying our Sunday brunch), a huge downpour of rain, over 30 knots of wind and us looking at our full main sail against the rigging thinking Oh Shit. We didn't have our wet weather gear on, so both of us soaked to the bone. We check the sail after and spot a chafe spot where it hits the top spreader. We drop the main and Pat repaired the chafe patch. We also notice chafe on the 2nd reef tack line. Pat is repairing this when another smaller squall hits us. So we continue south and we are now in the south easterlies proper. But TWD is not a nice 120 as expected, but 135, so we are close hauled.
This for 3 days before we reach Brazil coast. And the squalls continue. We ducked past one, and went in front of another, but as sun set we can see the horizon full of them. With no moon until early morning, it will be a very dark night, so it will be another night of radar watching and being ready to reef. We see that we are the slowest boat, and we loose ground to those boats just in front, and Ecoelec and Obportus gain on us with every POS report. The boat is not slow, we are too cautious, too reluctant to push the boat too much. Remember our first goal is "to arrive". We also plan to sell her as soon as she is back in France. So we want to take care of us and her.
Michelle
Back to top
Positions at 0630 UTC
Pos
Boat
Crew
Lat
Long
VMG
Crs
Dist
DTF
DTL
2 hrs
24hrs
MOD70s
1
EDMOND DE ROTHSCHILD
Sébastien Josse - Charles Caudrelier
#######

2
OMAN AIR MUSANDAM
Sidney Gavignet - Damian Foxall
#######

Multi 50s
1
FENETREA CARDINAL
Erwan Leroux - Yann Eliès
#######

2
ACTUAL
Yves le Blevec - Kito de Pavant
#######

3
RENNES METROPOLE / SAINT-MALO AGGLOMERATION
Gilles Lamiré - Andrea Mura
22 22.21' S
40 50.24' W
8.6
196
175.1
498.72

4
VERS UN MONDE SANS SIDA
Erik Nigon - Samy Villeneuve
20 05.21' S
37 14.30' W
17.4
209
244.6
748.22
249.5
ABD
ARKEMA - Region Aquitaine
Lalou Roucayrol - Mayeul Riffet

ABD
MAITRE JACQUES
Loïc Fequet - Loïc Escoffier

IMOCA 60s
1
PRB
Vincent Riou - Jean Le Cam
#######

2
SAFRAN
Marc Guillemot - Pascal Bidégorry
#######

3
MAITRE COQ
Jérémie Beyou - Christopher Pratt
#######

4
CHEMINEES POUJOULAT
Bernard Stamm - Philippe Legros
#######

5
BUREAU VALLEE
Louis Burton - Guillaume Le Brec
19 32.72' S
37 25.43' W
11.7
189
177.2
759.7

6
VOTRE NOM AUTOUR DU MONDE
Bertrand de Broc - Arnaud Boissières
19 06.59' S
37 28.87' W
12.9
190
193
775.23
15.52
7
ENERGA
Zbigniew Gutkowski - Maciej Marczewski
20 51.01' S
35 44.52' W
7.9
191
201.2
794.36
34.66
8
INITIATIVES-CŒUR
Tanguy de Lamotte - François Damiens
17 52.54' S
35 38.08' W
4.8
174
203.2
899.04
139.34
9
TEAM PLASTIQUE
Allesandro Di Benedetto - Alberto Monaco
18 03.79' S
35 13.40' W
4.8
174
172.2
912.57
152.87
ABD
MACIF
François Gabart - Michel Desjoyeaux

Class40s
1
GDF SUEZ
Sébastien Rogues - Fabien Delahaye
11 06.45' S
34 52.70' W
13.9
205
279.1
1258.64

2
MARE
Jörg Riechers - Pierre Brasseur
9 15.76' S
34 35.78' W
12.8
207
281.1
1365.68
107.04
3
TALES SANTANDER 2014
Alex Pella - Pablo Santurde
9 28.60' S
34 07.84' W
14.9
199
291.1
1365.91
107.26
4
WATT

and SEA Région Poitou Charentes
Yannick Bestaven - Aurélien Ducroz
6 44.00' S
33 47.60' W
9.9
203
254.1
1523.77
265.12
5
GROUPE PICOTY
Jean-Christophe Caso - Aymeric Chappellier
6 41.75' S
33 29.65' W
10.6
202
253.5
1532.99
274.35
6
SNCF-GEODIS
Fabrice Amedeo - Armel Tripon
6 45.68' S
33 17.23' W
10.3
197
253.8
1534.52
275.88
7
ERDF-DES PIEDS ET DES MAINS
Damien Seguin - Yoann Richomme
5 42.19' S
33 32.50' W
10.6
219
263.4
1586.53
327.88
8
VAQUITA
Christof Petter - Andreas Hanakamp
5 34.69' S
33 31.66' W
10.6
196
264.8
1593.77
335.13
9
CAMPAGNE DE FRANCE
Halvard Mabire - Miranda Merron
5 43.78' S
32 59.51' W
11.9
201
262.2
1598.15
339.51
10
CATERHAM CHALLENGE
Mike Gascoyne - Brian Thompson
4 46.85' S
33 05.03' W
10
205
230.9
1648.14
389.5
11
PHOENIX EUROPE
Louis Duc - Stéphanie Alran
4 44.61' S
32 27.46' W
10.6
202
261.1
1665.21
406.57
12
BET 1128
Gaetano Mura - Sam Manuard
3 56.25' S
31 53.93' W
11.9
208
269.1
1723.11
464.46
13
FANTASTICA
Stefano Raspadori - Pietro D'Ali
3 59.87' S
31 10.48' W
12
209
279
1738.64
480
14
PROXIMEDIA - SAUVEZ MON ENFANT
Denis Van Weynbergh - Jean-Edouard Criquioche
3 25.07' S
32 03.03' W
10.6
204
252.4
1747.76
489.12
15
SOLIDAIRES EN PELOTON
Victorien Erussard - Thibaut Vauchel-Camus
3 22.27' S
30 56.74' W
11.9
216
280.1
1778.42
519.78
16
EÄRWEN
Catherine Pourre - Goulven Royer
3 15.40' S
31 00.98' W
11.1
222
272.9
1782.71
524.07
17
APRIL / DELTACALOR
Lionel Regnier - Tim Darni
1 21.91' S
31 39.08' W
10.1
202
225
1865.4
606.76
18
MATOUBA
Bertrand Guillonneau - Sébastien Audigane
1 45.45' S
30 27.46' W
10.6
201
249.1
1878.25
619.61
19
MR BRICOLAGE
Damien Rousseau - Matthieu Alluin
2 21.22' S
28 30.39' W
11.2
211
262.1
1901.59
642.94
20
CROIX DU SUD
Michelle Zwagerman

- Patrick Conway
1 09.53' N
29 55.66' W
7.2
205
189.7
2050.4
791.76
21
OBPORTUS 3
Olivier Roussey - Philippe

Burger
1 34.55' N
28 57.71' W
8.3
220
206.4
2097.4
838.76
22
ECOELEC-FRANTRONIC
Eric Darni - Florent Bernard
4 17.17' N
29 05.07' W
7.2
205
203.3
2242.48
983.83
23
11TH HOUR RACING
Hannah Jenner - Rob Windsor
8 50.67' N
26 01.45' W
9.3
198
219.6
2566.7
1308.06
ABD
DUNKERQUE Planète Enfants
Bruno Jourdren - Thomas Ruyant

ABD
MARIE-GALANTE
Dominique Rivard- Wilfrid Clerton

ABD
CONCISE 8
Ned Collier Wakefield - Sam Goodchild
Back to top