MACIF edges ahead
Tuesday November 19th 2013, Author:
James Boyd
, Location: none selected
In the Transat Jacques Vabre, both MOD70s are now safely berthed in Itajaí with Edmond de Rothschild taking honours yesterday afternoon (local time). Oman Air-Musandam crossed finish line in Itajaii, Brasil, at 23:04:09 CET in second place, 5 hours and 15 seconds behind after 11 days, 10 hours, 4 minutes and 9 seconds at sea.
Images courtesy of Expedition Navigation Systems and PredictWind
The Omani tri's skipper Sidney Gavignet said on his arrival: "Of course when you are a competitor you want to win, but in the meantime I think we raced well and it wasn't to be this time. Sebastien and Charles on Edmond de Rothschild did a superb job and although we almost caught them they managed to stay just out of our reach to win the race," said on arriving at the dock in Itajaii to a crowd of well wishers. "We didn't win but we did well and we are incredibly lucky to be pilots of these machines!"
The Franco-Irish crew of Gavignet and Damian Foxall kept the pressure on averaging 21.77 knots of boat speed throughout and closing the gap to 21nms at one point, before suffering hydraulic issues and falling back again.
Of the doublehanded aspect of the race race Gavignet said: "Sailing the boat with two is great, although that doesn't mean to say that I don't like sailing the boat with six! I was saying to Damian as we came in now that going back to sailing fully crewed after this adventure will be really strange!
"In fact we got used to it much quicker than we thought. For all four of us – Damian, myself, Sebastien and Charles – we are all much more confident with the boat now and if ever there is a single-handed event with these boats in the future, this will have been a very valuable experience," he said.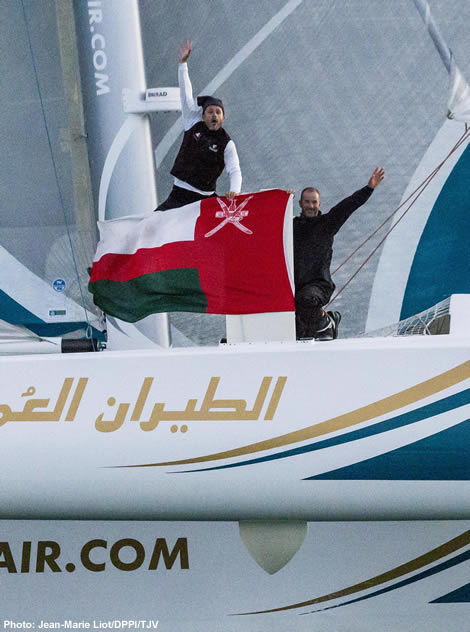 In Foxall's last Transat Jacques Vabre in 2005 he was was airlifted to safety from the upturned hull of the Foncia ORMA 60. He was delighted to have completed the race, making it his third. "Gitana really deserve the win, they made less mistakes than we did and I think the most important thing when you finish an event like this is to have no regrets, we would change very few small things that we could have done a bit better, but we crossed the finish line very happy with the 12 days at sea.
"The toughest moment was going around Finisterre, where we went into defensive mode thinking of the long term whereas in reality we needed to push and stay with the strategic game heading in the right direction and getting south fast because the further south you got and the sooner you got there the better the conditions became for the following week. We dropped off the back a bit at this stage.
"And the other difficult moment was when we had fought our way back up to the other guys – I think we were within 20miles of them – and we lost the hydraulics on the rig (about 36 hours ago).
"There was a balance of very difficult and lighter moments, by the 3rd or 4th day we were starting to recover and realised how much we had put in. One of our main objectives was to get here in good shape and I think we have managed to achieve that – we said that If we got here in good shape then that meant that we had managed the machine correctly within the limits of what we should be doing."
Next arrivals are set to be the Multi50s where Erwan Leroux and Yann Eliès on FenetreA Cardinal continue to lead the charge down the Brazilian coast. She is just approaching the latitude of Salvador de Bahia, however she has the ever present threat of Yves le Blevec and Kito de Pavant on Actual who over the last 24 hours have closed from 36 to 28 miles astern, holding a position slightly to leeward.
The FenetreA Cardinal crew reported this morning: "Here it's war, since the Doldrums we have had the wind on the beam, where the boat is the fastest, it's great! But must continually trim the sails in the gusts and remain hyper vigilant. Added to that is a big sea. On deck its like a fire hose and its been like that for the last 30 hours. And to spice things us Actual is on the attack."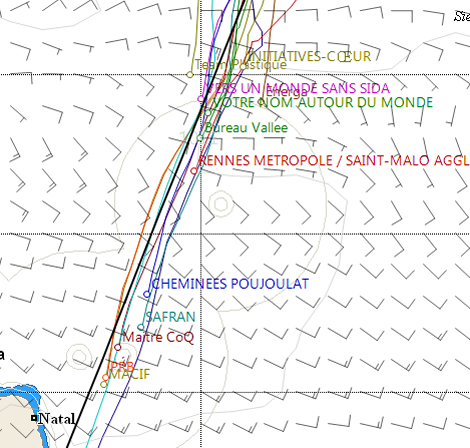 448 miles behind FenetreA Cardinal, MACIF has overnight finally managed to put some ocean between her and Vincent Riou and Jean le Cam on PRB at the front of the IMOCA 60 fleet. The lead duo have just passed Fernando de Noronha (the islands off the Brazilian coast that are a turning mark in the Volvo Ocean Race) and MACIF has around 200 miles to go before she reaches the latitude of Recife.
The IMOCA 60s are currently in a 'rich get richer' phase with the Vendee Globe heroes on MACIF now 189 miles ahead of fifth placed Cheminees Poujoulat, compared to 131 24 hours ago. Behind them the older IMOCA 60s are currently tackling the Doldrums, with quite a good race developing between the back five, with 150 miles behind sixth placed Bureau Vallée and backmarker Vendee Globe skipper Tanguy de LaMotte's Initiative Coeurs.
The Class40s continue to have a lot of race track ahead of them, 2731 miles for perennial leader GDF Suez. Next stop is the Doldrums, still around 300 miles, or a day's sailing away for Sebastien Rogues and Fabien Delahaye's butterscotch-coloured Mach 40. The relative positions of the leaders remains pretty much the same with sistership, mare, 56 miles back and a similar distance back is the third placed boat. Here there has been a change with the clearly pacy Botin Partners design, Tales Santander 2014, sailed by Alex Pella and Pablo Santurde having overhauled Halvard Mabire and Miranda Merron on Campagne de France yesterday afternoon. However the fight for third is turning out to be a great one with seven boats now within 60 miles and just nine mile separating fourth from eighth.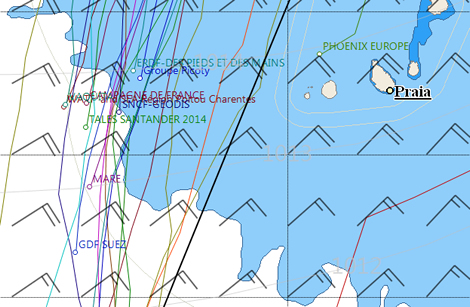 Back to top
Back to top