IMOCA 60s in the Doldrums
Sunday November 17th 2013, Author:
Andi Robertson
, Location: none selected
The Transat Jacques Vabre's MOD70 match race is very close to its conclusion, but with less than 45 miles between leaders Sebastien Josse and Charles Caudrelier on Edmond de Rothschild and long time pursuers Sidney Gavignet and Damian Foxall on Oman-Air Musdandam. They have been working constantly on the deck, snatching brief naps in the shelter of the small cuddy.
Gavignet reported today that physically they are starting to feel the effects of their unrelenting work rate: "We are getting close to the finish and are in good shape on board. For the first part of the race we were operating very much as a duo, but now we're able to operate single-handedly more and more which helps a lot with getting enough rest in order to be sharp and fresh to keep the speed up during the next watch.
"We are helming a lot and our hands are suffering for it, not quite bleeding yet, but not far off – we've been on this tack almost exclusively since Cape Finisterre. Right now we are doing 21 knots of boat speed." Gavignet told his team earlier today "There are still some challenges to come before Itajai; we have to get through a small front with very little wind behind it, there will be a little from the north and a little from the south. It will be pretty tricky for both boats.
"In the meantime, I am going to get dry and sleep for 20minutes before heading back up on deck and getting on the attack for three hours!"
A trough is squeezed between two high pressure zones, resulting in a cloudy, difficult transition zone, which will mean a slow down for the leader before escaping again. Gavignet and Foxall are making sure they will be fully energised for the final night.
Oxygen

In the IMOCA 60s, MACIF has only just managed to edge ahead of PRB, as the two leaders fought into the first of the southeasterly trade winds. Making 16 knots on the afternoon sched suggests Francois Gabart and Michel Desjoyeaux have an edge which might multiply initially on the 750 mile fetch and then reach towards Recife on the corner of Brazil.
The Class40 has seen the contraction in the peloton become more noticeable as the leaders run into lighter wind. Now just four miles separates third from sixth, Campagne de France (Miranda Merron and Halvard Mabire) dropping a couple of places over the early afternoon. Merron said this afternoon: "We are into a bit of a snakes and ladders phase right now so we really need full concentration as we get into a bit of a light patch. The boats behind will be catching so we have to minimise that effect.
"We lost out a bit with the staggered start which did advantage the boats which went out first, and again at Finisterre, but we really have been pushing hard to get back into it."
Speaking of their strength together as a duo, certainly one of the most enduring partnerships in the Class, Merron pointed out that more than 36,000 miles of sailing together, means they are able to push their boat to constant high average speeds.
Quickest through much of the day has been Mike Gascoyne and Brian Thompson on Caterham Composites, who are driving hard to try and recoup the miles they lost making a big repair to their mainsail. Lying 11th the British duo believe they have a good chance to come back.
Talking on the live radio vacation with Paris, Gascoyne said: "It is great to be getting a chance to catch up the leaders, to make up some lost ground. I think it cost us about 150 to 170 miles we had a big rip across the main, just under the third batten, two thirds of the way down, going down one metre and across to within 30cms of the luff of the sail. So we lowered it on deck, looked at the material we had and unfortunately because we shredded the A5 as well we had some of it, the A5, available. So basically we repaired that all of the next day, hoisted it and 9 the following evening. We were conservative, baby'd it a bit, and it had moved a little but the key area by the leech of the sail was rock solid.
"We have just built it up and up since yesterday and we are pretty pleased with the ranking this morning and we are going well. The group we were with, Proximedia and that, we have left them behind and are chasing into the group ahead.
"We know the guys in front have slowed up and it is our turn to enjoy it.
"For us the guys up the front are going to be held up a little bit with lighter winds, the high is moving down and so we should hold the stronger winds and we think that looking at the leaders, if it goes the way it is looking we could be under 100 miles behind at the Doldrums. And I think that if that was the case, with a pretty straight route down there, we have the advantage of looking down the track and see what's going on and we will be coming down quickly."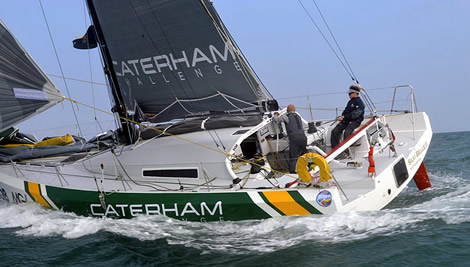 Back to top
Back to top