All to play for in the IMOCA 60s
Tuesday November 12th 2013, Author:
Andi Robertson
, Location: none selected
On the Transat Jacques Vabre's 5,450 mile long race course from Le Havre to Itajaí, Brazil small changes or differences can quickly become significant. On the fifth day of the race as some of the class leaderships become well established, maintaining a positive mindset and continually focusing on the small detail can prove vital.
Racing past Madeira in solid trade winds, the IMOCA 60 class remains the closest, most open, competitively fought at this time. While PRB, with Vincent Riou and Jean Le Cam, took the lead this afternoon again, there is still just 43 miles between first and fifth. Four of the top five, all latest generation boats, have taken at least one turn in the lead.
The MOD70s are passing the Cape Verde islands and setting up for the Doldrums. Long time leaders Edmond de Rothschild, sailed by Sébastien Josse and Charles Caudrelier, have gybed west and so conceded miles to Sidney Gavignet and Damian Foxall on Oman Air-Musandam.
Class40 finds the heat of the real action in the peloton where small miles are won and lost. While there has been some compression in frustrating light winds and sloppy seas off Cape Finisterre – what Germany's Jorg Reichers this afternoon termed "the Spanish Doldrums" - the escape into the relative slingshot of the Portuguese trade winds has been good for the top two boats especially, GDF Suez, of Sébastien Rogues and Fabien Delahaye, and the Riechers and co-skipper Pierre Brasseur on mare.
Riechers reported: "We escaped our competitors at Cape Finisterre. Only GDF Suez has also escaped the Spanish Doldrums trap; We are very happy on board we are just confused we thought Fado (traditional Portuguese ballads) are slow music, now it is more like German techno out here".
Escape

Both leading Class40s were making speed in double figures this afternoon, while the ten boats behind were all making 3-5 knots maximum. And in the weather pits were a clutch of crews including Mike Gascoyne and Brian Thompson on Caterham Challenge, Sam Goodchild and Ned Collier Wakefield on Concise 8, and Miranda Merron and Halvard Mabire on Campagne de France. All were struggling to make two knots of boat speed.
The MOD70s were revelling in the perfect conditions as they passed by the Cape Verde islands with Edmond de Rothschild gybing more to the west to start to line up for the Doldrums perhaps, allowing Oman Air-Musandam to recover back to just under 30 miles behind in terms of DTF.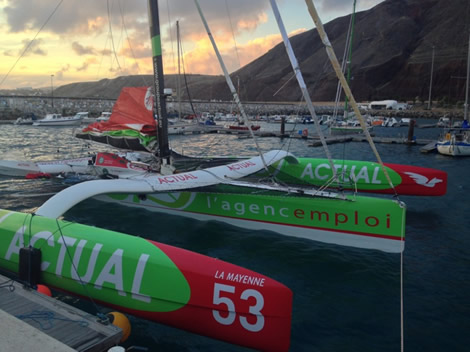 Actual's pit stop in Madeira may have been less than one hour for the erstwhile Multi 50 leader, but the gains by Erwan Le Roux and double Solitaire du Figaro winner Yann Eliès now add up to more than 100 miles.
Pitting

The pit stop to replace their wind vane appears to have cost Actual, but the short halt in Muxia to accomplish the same operation did not damage Rogues and Delehaye who managed to slide almost immediately down into the first of the Portuguese trade winds. The Spanish duo Alex Pella and Pablo Santurde also managed to minimise their down time in La Coruna early today. They arrived in around 0400 and left close to 1000hrs after repairing the pin of their lower rudder bearing on the starboard side. The pair left in good shape returning on a southbound course this afternoon in seventh place.
From Jesus Renedo / www.sailingstock.com

Looking ahead at the Doldrums ,the MOD70s see a complicated, wide and active band to push through. Their target passage looks to be around 30°W and 8°N where it remains narrower, but with active squalls and well developed. Both are looking at a very respectable six days and some hours from Le Havre to the Equator.
Meanwhile Mayeul Riffet reported from the upturned hull of Arkema-Région Aquitaine, still awaiting rescue: "We are sitting here in our new "loft" waiting for the tow boat to get here to take us and it should be here in the middle of the night. We dived a bit yesterday and tried to cut away some of the rigging, mast and boom. We are going to wait for the divers to arrive and will be able to work out depending on the sea state whether we try and turn the boat over or not. At 4 am in the middle of the night I got out and came across a huge fishing trawler and he really wanted to insist on towing us but we managed to try and explain in a mixture of English and Portuguese that we were waiting for a trawler to pick us up. It was worrying because we did not want them to get close and damage the boat. When Lalou gets tidying it is quite something! The Dutch tug going out to meet us is specialised in towing The wind and sea is worse, so they are now drifting and are 220 miles from the coast."
Back to top
Back to top