Different horizons
British Class40 sailors Ned Collier Wakefield and Sam Goodchild are expected in Le Havre tomorrow after a tough battle to get their new, recently launched Jason Ker-designed Class40 Concise 8 fully prepared in time for Sunday's start of the Transat Jacques Vabre.
The young duo may have been pressed for time, but have left nothing to chance. After being forced to retire from the race two years ago just after they had taken the lead in the Class 40 and battling through the last big storm of the race, they discovered some delamination in the forward sections of their boat's hull and had to retire into the Azores. But they report that they are in good shape, ready to make delivery from the Concise base in Hamble to Le Havre.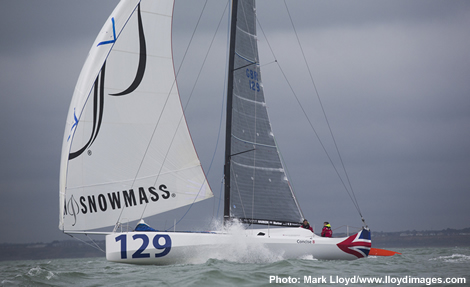 "We are waiting for the wind to die to get going," said skipper and the team's project manager, Ned Collier Wakefield. "We still have 40 knots, but it is dropping fairly quickly and we should get going fairly soon. We have been watching the weather very closely."
To make sure nothing untoward happened on their final night in Hamble Yacht Services before leaving, Collier Wakefield decided to sleep on their boat through the storm force winds on Sunday night. "I got a little sleep," he continued. "I was more worried something would come crashing into us during the night. Actually I probably got better sleep than I would at sea! Otherwise we are getting there and will be ready to go shortly.
"The Race Committee has been very understanding. To be honest we just ran out of time. We had to get new spreaders made in Cape Town at the last minute. There has been some work to do with the rig and rudders. Andy Meiklejohn has been great in helping us set up the rig. We have had a few problems with the kick up rudders but have a good solution now. They have had a good test now and we are confident."
Concise 8 has had ten days of sea trials. including a tough sail down to Ushant and back from Hamble.
"We are incredibly impressed with the boat," continued Collier Wakefield of the brand new boat. "We brought her back upwind in big seas and did some proper slamming. The performance is especially good reaching, I am sure we have one of the quickest boats when the wind is between 95-130° especially. And we have had some great sailing under the big kites."
The new Concise has a much more inboard chainplate position, which allows them to set big upwind Code Zero sails, especially potent for pushing through light wind transition zones.
"The boat has the Transat Jacques Vabre and Route du Rhum as two key events," said Collier Wakefield. "We looked at a lot of historical weather data for the races and developed a potent hull form. The rig is a little heavier for this set up, but we did a lot of work with the sail and rig development, with Chris Williams and Scott Ferguson and so it feels like we have a proper closed loop, grand prix set up."
Collier-Wakefield is confident he knows their new boat better than any of his rivals, having been in the yard in China throughout the build "Yes, we have not had the time we might have wanted on the water, but we have had great guys involved all the way through."
While the young Brits are gunning for line honours, elsewhere in the Transat Jacques Vabre's Class 40 fleet there are many committed and talented amateur sailors, living out their dreams. Some of them have limited expectations of winning, looking simply to enjoy the experience and challenge of getting to south Brazil safely while sailing to the best of their ability.
Among the fleet are osteopaths, surgeons, project managers, emergency doctor, company directors, who are taking time out from their careers to take on the Transat Jacques Vabre.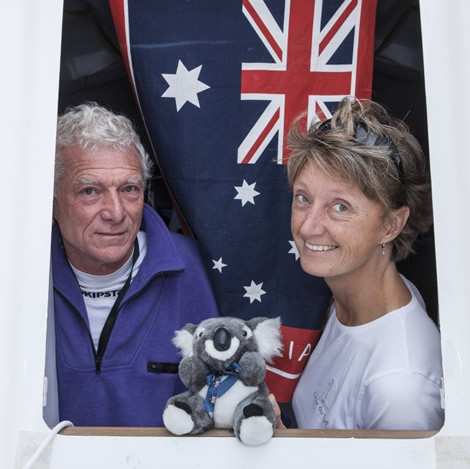 Among them are Australians Michelle Zwagerman and Pat Conway. "It started last year in April. We bought the boat and have done it all ourselves. For us, it is a huge challenge," says Zwagerman. "We feel both excitement and fear. We'll have to control our anxiety during gales, but most of the time, it will be fantastic. Dolphins, the moon, the stars, I am looking forwards to some great moments."
A significant hurdle making it to the start is raising adequate funds. Damien Rousseau, skipper of Mr Bricolage explains: "I started without money, but wanted to realise a childhood dream. I took the big chance and plunged into debt. I thought it was no worse than buying a nice car but I finally also found myself a sponsor who has helped me do it a bit more comfortably."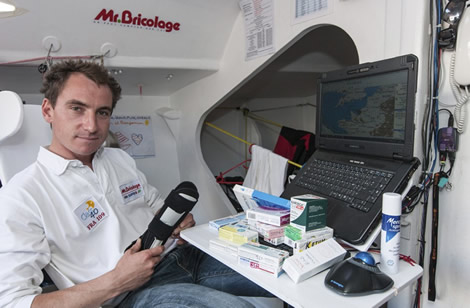 Rousseau has been able to race in various events in preparation including a good ninth place in Les Sables-Horta-Les Sables. But, in contrast, without a sponsor Dominique Rivard, skipper of Marie-Galante, has had to draw on his own money: "I took a bank loan to buy a boat at EUR 250,000. Everything is very expensive, I have put another EUR 80,000 euros in the pot since, and I have worked 70 hours a week."
All of these sailors are on a break from their daily lives and careers: some see it as big step towards new adventures, others a unique one off experience, like Pat Conway: "Our boat is already for sale and once we have completed the Transat Jacques Vabre we return a normal life in Australia."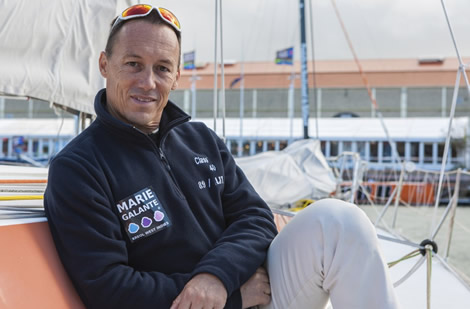 Back to top
Back to top